How to Check a Daycare Background: 9 Easy Steps
Do not worry if you are a parent concerned about potential red flags while investigating a daycare's background. I know you will be curious to know what key authorities oversee daycare centers' background checks and what criteria they use to evaluate them.

Your child's safety is the most important thing, and checking the daycare background can feel tricky, but it is essential. It's like going on an adventure to find out about the daycare center. To help you with the process of checking a daycare background. I have curated these 9 easy steps.

1. Research and Gather Information about daycare
2. Read online reviews and testimonials
3. Verify Licensing and Accreditation
4. Visit the Daycare Center
5. Interview the Staff
6. Check References
7. Check Daycare License Validity
8. Identifying Red Flags or Concerns
9. Verify References and Credentials

Reading this blog post will equip you with the knowledge and tools to make informed decisions when choosing a daycare for your children.
I have armed with the detailed 9 steps by step process to check the background of the daycare, including potential red flags to look at while investigating so that you feel empowered to actively ensure your child's safety and well-being.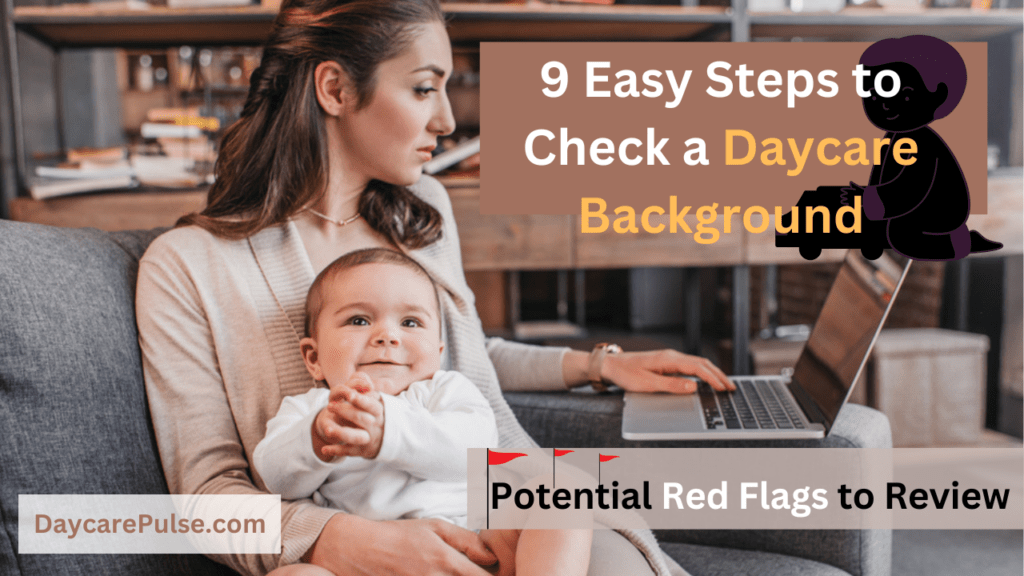 9 Easy Steps for Background Check Process
Choosing a daycare center involves careful research and thoughtful consideration. Following these comprehensive steps will help to ensure you have all the information needed to make an informed decision:
1. Research and Gather Information
Gather basic details, including the daycare's name, address, and contact details.
Check out GreatSchools for comprehensive information about schools and daycare centers in your area, including parent reviews.
2. Read Reviews
Look for online reviews and testimonials from other parents on platforms like Yelp and Google Maps Reviews.
Review sites like Child Care Aware provide feedback from parents and comprehensive daycare listings.
3. Verify Licensing and Accreditation
4. Visit the Daycare Center
Schedule a visit to observe the daycare's environment, cleanliness, and safety measures.
Ask about their health, safety, and emergency procedures. The Centers for Disease Control and Prevention (CDC) provides health and safety procedures guidelines in daycare settings.
5. Interview the Staff
6. Check References
Ask for references from the daycare center and contact these references to inquire about their experience.
Review any complaints or violations reported to the state childcare licensing agency.
7. Identify Red Flags
Be vigilant for any red flags during your visit or your research.
Review the daycare's social media accounts for any concerning reviews or comments.
Read on: Daycare Inspection Reports
8. Verify References and Credentials
Check the credibility of the daycare center by contacting previous employers, verifying qualifications and certifications, and contacting licensing authorities.
9. Conclude Your Research
After gathering all this information, assess whether the daycare center meets your expectations and standards.
Following these steps ensures that your chosen daycare center will provide your child with a safe, nurturing environment.
Related: http://www.daycarepulse.com/how-to-look-up-daycare-violations/
Frequently Asked Questions
1. What's the Meaning of a Background Check?
A background check is a process used to verify that a person is who they claim to be. It provides an opportunity to check and confirm the validity of someone's credentials such as their education, employment history, and other past activities. Choosing a daycare center involves thoroughly investigating the daycare's operation, staff qualifications, safety procedures, and standing with parents and regulatory bodies.
2. What Questions Should I Ask for a Child Care Program Background Check?
When performing o a background check on a daycare center, consider asking questions such as:
Is the daycare center licensed and accredited?
What qualifications and experience do the staff hold?
Are staff subject to background checks?
What is the staff-to-child ratio?
Can the daycare provide references from parents who have used their services?
What are the health, safety, and emergency procedures in place?
3. What Does a US Family Child Care Home Background Check Include?
In the United States, a comprehensive background check for daycare centers could encompass several elements, including checking the daycare's licensing status, verifying staff qualifications and background checks, contacting references, reviewing parent reviews and complaints lodged with the state childcare licensing agency, and more.
Read on: http://www.daycarepulse.com/how-to-report-a-daycare-to-the-state/
Conclusion
Selecting a daycare is a critical decision for parents. It requires detailed research and scrutiny. This guide is a thorough checklist parents can follow to ensure they place their child in a safe, nurturing environment that meets all regulatory standards.
This involves conducting a comprehensive background check that covers licensing, staff qualifications, safety procedures, and parent experiences. By following these steps, parents can gain peace of mind about their choice of daycare.