Daycare Inspection Reports
As a daycare owner you do already understand the importance of providing a safe and nurturing environment for children.
But in order to keep up with regulations, you must also prepare for daycare inspection reports.
After conducting an on-site visit, Child Care Licensing produces daycare inspection reports to ensure the safety and quality of care. The finalized daycare inspection reports are typically uploaded to state run childcare sites.
Inspection evaluates the operation's compliance with minimum standards, rule and law. The inspector can cite a deficiency if the operation is in violation of minimum standards, rule or law.
This process ensures that all relevant information is easily accessible for parents and guardians, allowing them to make informed decisions about their children's care.
In this blog post, we'll explore types of daycare inspection, how to best prepare for them, and how inspection report can affect daycare operations.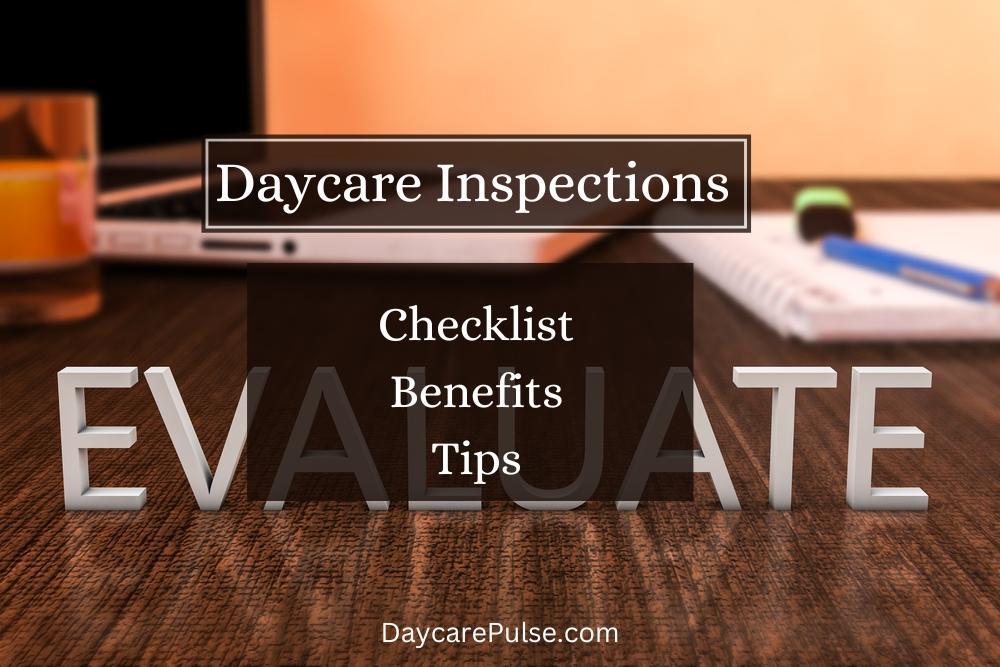 5 Types of Daycare Inspection
There are several types of daycare inspections that a facility may be subjected to.
1. Initial Evaluation Inspection
The most common inspection is the standard program licensing inspection which may be referred to as a "initial evaluation inspection". During these inspections, licensing staff conducts an on-site review of the facility to ensure the safety and quality of programs provided.
2. Monitoring Inspection
A compliance or monitoring inspection is conducted when a facility fails to meet the minimum standards for health, safety and cleanliness. The purpose of these inspections is to identify deficiencies and ensure that corrective action has been taken to prevent any further issues.
Typically, these inspections are held following a major infraction or chain of violations.
3. Complaint Inspection
These inspections are conducted when the state receives a complaint from parents, staff or visitors. This inspection is usually more comprehensive, as it seeks to uncover the truth behind the complaint and ensure that corrective action is taken if necessary.
4. Renewal Inspection
At license renewal time, programs are subjected to a licensing inspection. This is done to verify that the program still meets all standards necessary for continued license.
5. Annual Unannounced Inspections
All licensed programs are required to have an annual, unannounced licensing inspection or inspections.
These inspections are designed to ensure that the program upholds its minimum standards and complies with all state laws pertaining to childcare.
Unannounced inspections are an essential component in assessing and safeguarding against possible high-risk areas and potential hazards.
Daycare inspection checklist
Now that you understand the various types of inspections your daycare facility may be subjected to, it's time to start preparing for them.
Here are some tips for how you can best prepare your daycare facility for inspection:
Have all necessary documents, such as policies and procedures, readily available for review.
Ensure that all staff are adequately trained and have the necessary skills and knowledge to perform their duties.
Adhere to any regulations concerning the right way of transporting kids by employees, substitutes and volunteers.
Maintain a safe and healthy environment by cleaning and sanitizing regularly.
Ensure that safety measures such as fire extinguishers, smoke alarms and emergency exits are working properly.
Review the staff-to-children ratios to ensure that it meets state requirements.
Make sure that the facility is adequately stocked with food and other supplies needed for daily operations.
Ensure that all applicable permits and licenses are up to date.
Have a plan in place for addressing any complaint from parents or guardians regarding child abuse.
Undertake criminal background checks of all prospective employees – it's a must!
Use this form for drill inspections every three months for a quick evaluation of your childcare facility: Daycare Inspection Checklist Form
Daycare Inspection Report
The results of the daycare inspection report are used to determine whether or not a facility is in compliance with state regulations and laws.
The report typically includes a list of violations, recommendations for corrective action and/or requirements to be met in order to remain in compliance. A facility may be required to correct any noted deficiencies or face possible sanctions, including a license suspension.
It is important for daycare owners to stay informed about the inspection process and to take any violations seriously.
Commonly Cited Violations in Daycare Inspections
Common violations noted in daycare inspection reports include:
Unsanitary conditions
Lack of supervision or inadequate staff-to-child ratios
Lack of education materials or activities
Improperly stored and administered medication
Unsafe environment due to lack of safety measures
Lack of fire extinguishers, smoke alarms and emergency exits
Inadequate record-keeping or improper records management.
Tips for Ensuring Compliance with Daycare Regulations
In order to ensure compliance with daycare regulations, daycare owners should review the laws and guidelines in their state or country. They should also conduct regular self-evaluations and include staff and parents in the process.
Pay close attention to fire and safety regulations.
It is also important to ensure that all staff members are up to date on their training and certifications, and that the facility is properly stocked with supplies.
Furthermore, it is important to keep up-to-date records of all activities, including employee and visitor logs.
How do you assess the quality of a daycare?
Inspectors assess the quality of a daycare facility by considering many factors, such as the number and qualifications of staff members, the physical environment and safety measures in place, educational materials and activities, cleanliness, fire safety, and records management. Inspectors also look at the facility's overall compliance with local and state regulations.
They may review complaints or reports of abuse or neglect. After assessing these factors, the inspector will issue a report with their findings and recommendations for improvement.
So consider all these factors while assessing quality and service of your daycare.
Benefits of Regular Daycare Inspections
Regular daycare inspections are beneficial to both the facility and its staff in a number of ways.
It helps ensure that all safety regulations and other requirements are met, which helps to protect both the children and the staff.
Regular inspections also help facilities stay in compliance with local and state laws.
Online availability of inspection reports show the staff and parents that the facility is serious about providing a safe environment for its children.
Regular audits are vital for daycare proprietors to detect any potential problems quickly and take proactive measures before the situation becomes critical.
Conclusion
Daycare inspections are a necessary part of running a successful and safe daycare facility.
Owners should take the time to familiarize themselves with the inspection process and ensure that their facility is up to code.
Coping with inspections can be overwhelming, yet conducting regular self-evaluations can help you feel more confident.
Plus, daycare inspection reports are a fantastic way to promote your service free of charge! See the bright side – these evaluations actually serve as an opportunity for positive recognition of your hard work.
So cheer up and good luck!