Daycare Handbook Examples | 13 Sections to Cover
For parents seeking the perfect daycare, nothing describes it better than a comprehensive and informative handbook.
Here are some beneficial example sections that you should always incorporate into your handbook:
Introduction
Schedule
Policies and procedures
Emergency procedures
Contact information
Learn an example of a well-written handbook that provides clear information about the daycare's regulations, expectations, policies, and procedures to parents and help them feel confident about leaving their child in your care.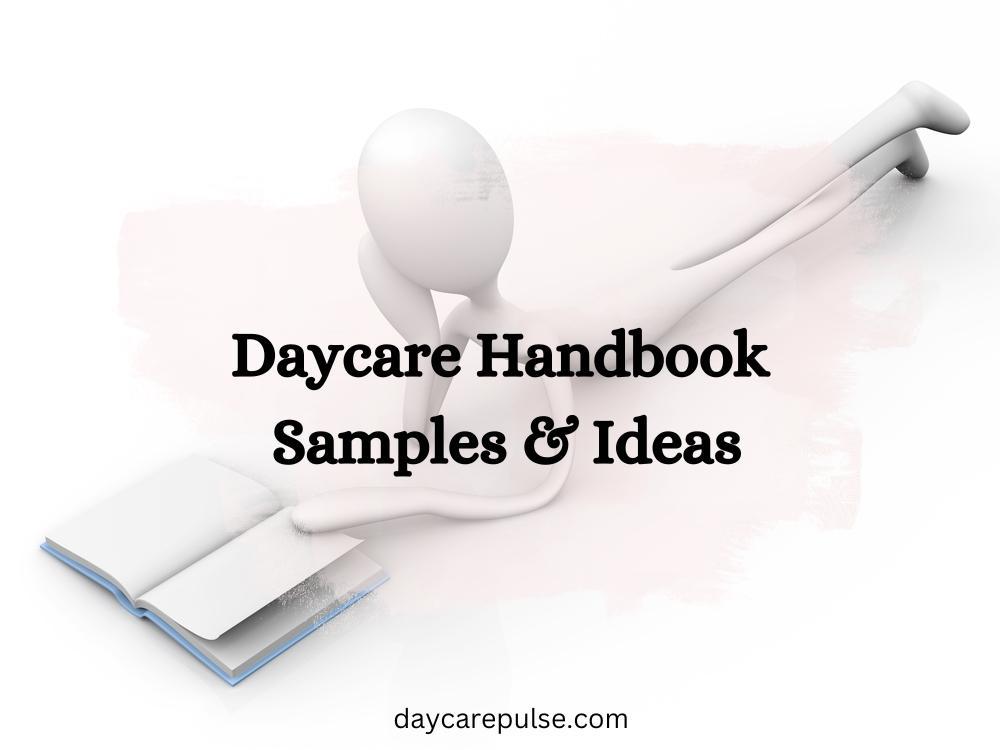 Examples of Topics Covered in Daycare Handbooks
Your handbook serves as a first impression for potential clients, making it essential you portray yourself in the best possible light.
Your daycare handbook must be well-organized, concise, and informative – giving parents all the necessary data to make an educated and favorable choice about enrolling their children in your facility.
Here are a few sections that I'd suggest you must include in your handbook:
Daycare Overview
Start off your introduction to your childcare facility with meaningful lines and visuals that capture the essence of what you stand for: your vision, Motto, experience, faculty and facilities. Keep it concise yet powerful – avoid superfluous details in order to get the message across as effectively as possible!
Tip: While it is not typical to include photographs in handbooks, I would recommend going against the grain and embracing this approach. A vibrant, visually stimulating manual will capture attention for a longer period of time and be more enticing.
Example:
Our Motto is- "Nurture minds, Inspire creativity!"
Or
Introduction/ Hello, Parents!

Welcome to our childcare facility, where we strive to provide an environment that is both stimulating and nurturing. We promote learning through discovery, exploration and self-expression in a safe setting with experienced faculty members who understand the importance of developing the whole child.
Our facilities are well-equipped for children ages 2-6 years old, providing plenty of opportunities for play, learning activities and making memories!
Daycare Policies
This section should contain the rules and regulations of your daycare. It's important to have expectations in place for both parents and staff, so it's beneficial to keep this concise and crystal clear.
Example:
We operate from 7am – 6pm, Monday-Friday.
All staff and parents must adhere to the daycare's health and safety policies.
We require 24-hour notice for any absences and vacations.
We allow healthy snacks. However, no candy or sugary drinks are allowed at any time.
You might also want to read: Can Daycare Kick Out a Child?
We understand parents may have specific needs or requests from time to time; therefore, we allow for reasonable flexibility. However, if the rules are not followed, or situations arise that we consider disruptive, we reserve the right to make changes and/or terminate services.
Staff Details
This section should include the bios and qualifications of each staff member as well as information about the curriculum being taught.
You might also want to read: Do You Need a Degree to Open a Daycare?
Example:
Our teachers are certified in Early Childhood Education, and our curriculum is based on the Creative Curriculum. We focus on developing children's language, literacy, math and science skills through hands-on activities and exploration.
Themed projects are also incorporated into our plan to bring the learning process to life.
We value the relationship between home and school. Therefore, we encourage regular parental involvement and communication with teachers via email or phone.
You might also wan to read: Daycare Teacher Duties
Facilities
This section should provide an overview of the facilities you offer. Again, visuals would be beneficial here!
Example:
Our daycare is located in a safe and secure environment with plenty of space for both indoor and outdoor activities. We have an array of age-appropriate toys, books, and creative elements to ensure each child is developing in an enriching environment.
We provide regular outdoor activities, such as nature walks and playgrounds.
We have a healthy and clean snack menu, etc.
You might also want to read: Online Daycare Inspection Reports
Hours & Days of Operation
This section should outline the hours and days of operation, including pick and drop schedules, policies on holidays and other pertinent information.
Example:
Our daycare operates from 7am-6pm, Monday-Friday. We are closed on weekends and major holidays.
We require parents to pick up their children no later than 6pm. If you are running late, please notify us as soon as possible.
We also offer flexible drop-off times for parents who have busy schedules. And the list goes on!
Enrollment Details
This section should include details about the enrollment process, such as required forms and documents, payment information, eligibility criteria etc.
Example:
To enroll your child in our daycare, we require the following documents:
A completed application form.
Immunization records.
Proof of address and ID documents (passport, driver's license etc.).
Financial details and payment information.
We also require a non-refundable registration fee that covers administrative costs.
You might also want to read: Daycare Enrollment Process
Fee Structure
Now this section could be covered in the enrollment part as well, but I'd suggest you highlight it separately. Provide a clear outline of the fee structure, payment methods, subsidies and any other related information.
Example:
We offer flexible fee payment options. Payment can be made in monthly, quarterly or yearly installments.
We also provide a discount for families with multiple children enrolled in our daycare.
Additionally, we accept subsidies from the government for eligible families. Please contact us for more information on subsidies and payment options.
Health Care Policies
This is a critical section and one that should not be overlooked. Provide information on health care policies, such as illness policy, medical emergencies, child behavior and first aid procedures.
You might also want to read: How long is hand, foot and mouth contagious for daycare?
Example:
We have a strict illness policy in place to ensure all our children remain healthy and safe.
If your child exhibits any signs of illness or has an elevated temperature, we will contact you and request that your child is picked up immediately.
In case of a medical emergency, we will contact you and/or 911 as soon as possible.
We also have a zero-tolerance policy regarding violence and aggressive behavior. We will take appropriate disciplinary measures to ensure the safety of all our children.
You Might Also Want to Read: Best First Aid Kit for Daycare
Finally, we have trained staff members to administer first aid in case of any minor injuries.
Parents Rights
This section should outline parental rights and responsibilities, such as the right to view records, policies for visitation and other important information.
You might also want to read: Daycare Parents Board Ideas
Example:
As a parent, you have the right to visit our daycare at any time after prior notice or during visitation hours.
Any child must be picked up and dropped off by an authorized guardian.
You have the right to inquire about your child's everyday activities, etc.
As a parent, feel free to drop an email regarding your concerns and complaint.
You Might Also Want to Read: Can Daycare Refuse to Release Child to Parent
Program Structure
This section should outline the daycare program, such as activities, curriculum, meal program and other important information.
Example:
We offer age-appropriate activities that foster creativity, physical activity, social skills and language development.
Our meals are carefully planned and meet nutritional standards.
Our daycare program follows the curriculum set forth by the provincial government.
We also organize field trips and special activities to keep the kids engaged and entertained.
You might also want to read: Daycare Schedule Ideas
Child Abuse & Complaints
This should include policies regarding child abuse and complaints, including processes for filing a complaint and reporting abuse.
You might also want to read: Can a child get kicked out of daycare for biting?
Example:
We have a strict policy against any form of abuse and neglect.
All staff members have gone through a thorough background check before joining us, and we take any complaint of abuse seriously.
You might also want to read: How to Look Up Daycare Violations?
We also have a clear process for filing complaints and reporting any cases of suspected abuse.
If you ever suspect any abuse, reach out at our official email address or contact number.
You might also want to read: Why Does Daycare Need Social Security Number?
Sick Days/ Schedule Interruptions
Finally, this section should include information on policies for illness and schedule changes.
Example:
In the event that your child is unwell and necessitates a day off from daycare, it's important to keep their authority informed.
Daycare could call you in an emergency to take the child home in case of sickness.
Additionally, you can take them home before or after drop-off time as long as you provide adequate notification in advance.
You might also want to read: When to Keep Baby Home from Daycare?
Acknowledgment
By obtaining the signatures of parents in this section, you ensure that not only do they grant their approval for all handbook details but also acknowledge these as well.
Example:
By signing below, I acknowledge that I have read and understood the contents of this handbook.
I agree to abide by the policies and procedures outlined within.
Signature of Parent/Guardian ____________________________.
Date_____________ .
Benefits of Having a Detailed Daycare Handbook
Having a detailed daycare handbook that outlines all the policies and procedures can prove to be incredibly beneficial. Not only does it help lend credibility to your daycare business, but it also provides parents and employees with an understanding of what is expected from them.
Additionally, the handbook sets clear boundaries and expectations, which helps create a more positive environment overall.
Info: Having a handbook also serves as a great reference document for daycare owners.
You might also want to read: How to Promote Your Daycare Business?
Tips for Writing a Comprehensive Daycare Handbook
Creating a comprehensive daycare handbook doesn't have to be a daunting task. Here are some tips that may prove to be helpful:
When creating your daycare handbook, it's important to keep it concise and easy to understand. You may want to include a few examples of daycare handbooks from other centers so that you can get an idea of what to include.

Your daycare handbook should also be written in a clear, straightforward manner.

Be sure to include the contact information of your staff, as well as any other relevant information that parents and employees need to know.

Lastly, it's important to review your handbook annually and make adjustments as needed.
How to Ensure Your Daycare Handbook is Up-to-Date
One way to ensure your daycare handbook is up to date is by reviewing it bi-annually. Consider making changes to your handbook as necessary based on feedback from parents and employees.
You can also set up an anonymous survey for your staff and parents to provide feedback on the daycare's policies and procedures or to share any new suggestions.
It's also important to stay informed on any new laws and regulations that may apply to your daycare business.
The Value of a Well-Written Daycare Handbook
Creating a detailed, well-written daycare handbook can make all the difference when it comes to providing quality care for children.
From your daycare handbook, parents could understand their responsibilities and the expectations of their children's care. This includes policies concerning payment, drop-off and pick-up times, rules regarding behavior, any special requirements for children with allergies or illnesses, and more.
You might also want to read: Daycare Sign Board Ideas
For employees, the handbook could outline expectations related to communication, punctuality, and time off. It can also include policies surrounding the use of mobile phones in the daycare, as well as what employees should do in the event of an emergency.
By having extensive information readily available, both employees and parents are better equipped to make informed decisions which will significantly reduce the transition rate.
You might also want to read: Daycare Bulletin Board Ideas
Conclusion
Crafting an accurate daycare handbook is absolutely essential for any daycare facility. You'll be able to structure your entire guide quickly and efficiently with the right workflow.
Don't forget that it's just as important to make sure all content within your manual is truthful and pertinent!