13 Parent Board Ideas for Daycare | Childcare Info Board
A parent board in your daycare's hallway can be an effective tool to communicate with parents without the hassle of individually updating each parent.
Here are some of the best engaging and informative ideas for a daycare parent board:
Weekly menus
Pictures of weekly activities
Staff bios
Urgent notices
Events calendar
Policy Reminder
Keep on reading to learn 13 amazing parent board ideas that parents would love to engage with. You will also learn 3 easy steps to get your parent bulletin board done in just a day without much effort.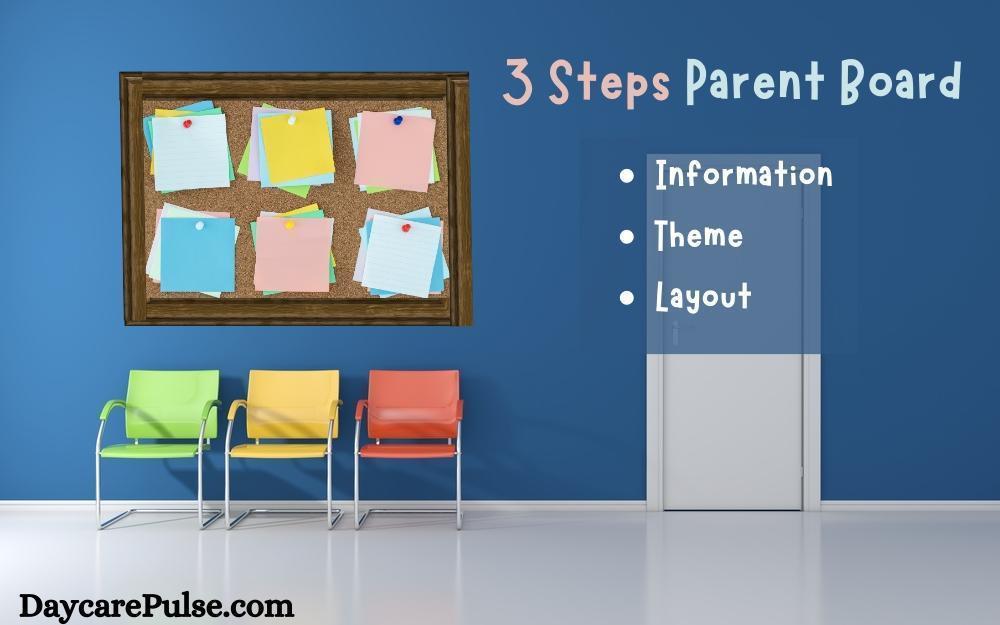 What to Include on Daycare Parent Board
Some of my favorite parent board ideas for daycare include:
Daily Sheets: Such as meals and how much was eaten, nappy changes, sleep times, etc. Try to ensure that they can be understood by additional language families by using pictures or symbols where possible.
Support Information: For parents who have concerns, it would be helpful to know who is responsible for specific tasks in the daycare and who is able to address certain concerns.
Notice & Reminders: Post notices and reminders about upcoming events and health policies, monthly or annual fees, event registration deadlines, etc.
Gallery & Graphics: Don't let your parent bulletin board be boring, they can be fun like other bulletin boards. Showcase the children's artwork, daycare life, and other creative activities. Include a daycare directions map, staff pictures, etc.
Educational Stuff: Include educational stuff for parents regarding child development, better parenting, motivational quote, etc. You can simply use printable pdf file for that purpose.
You might also want to read: Daycare Handbook Example
13 Daycare Parent Board Ideas
There are many things you can include on your daycare parent board. Here are a few ideas:
Event & Holiday Calendar: This is a great way to let parents know about upcoming events, such as field trips, holidays, fundraising and parent-teacher conferences.
Staff and their Qualifications: This is a good way to introduce parents to the staff and their qualifications.
Children and their Birthdays: This is a fun way to celebrate the children's birthdays and let parents know when their child's special day is coming up.
Parent's Note to Staff: This is a space where parents can leave notes for the staff, such as questions or concerns.
Staff's Note to Parent: This is a space where the staff can leave notes for parents, such as reminders about upcoming events or praise for their child's behavior.
Children's Artwork: This is a great way to showcase the children's work and let parents see what they're learning.

You might also want to read: Daycare Birthday Board Ideas

Photos of the Children and Staff: This is a fun way to build a sense of community and let parents see what their child is up to at daycare.
Newsletters or Notices: This is a good way to share important information with parents, such as changes in the daycare's policies or procedures.
Quotes About Parenting: This is a fun way to inspire parents. You can post some super cute pictures of kids' shenanigans and relevant funny quotes to help parents have a good laugh.
Articles About Child Development: This is a good way to help parents learn more about their child's development.
Tips for Raising Happy and Healthy Children: This is a great way to help parents with their parenting journey.
A Space for Parents to Share their Own Photos and Stories: This is a fun way to build a sense of community among parents.
Parent of the Month: To inspire other parents, give a shout-out to those parents who have consistently picked up their children on time this month and have enthusiastically participated in our daycare events and volunteer opportunities.

You might also want to read: Bulletin Board Ideas for Daycare
Do's and Don't of Parent Board in Childcare
Even if you provide a wealth of resources on a parent board, you may not be able to attract any parents' attention.
This does not necessarily indicate that there is an issue with your information. Here are some do's and don'ts for creating a successful daycare parent board:
Do:
Be inclusive. Make sure the parent board is useful for all parents, regardless of their language or cultural background.
Be organized. Keep the parent board updated and organized so that parents can easily find the information they need.
Highlight Important Information. Use the top or most prominent section of the parent board to communicate with parents about upcoming events, changes in the daycare's policies, or anything else that's important.
Be respectful. Avoid adding warning notices or other negative messages to the parent board. send them via personal contact details.
Don't:
Too Much Information: Don't overload the parent board with too much information. Keep it simple and easy to read.
Personal Grievances: Don't use the parent board to air your personal grievances with parents or staff.
Business Promotion: Don't use the parent board to solely promote your own business or products. Make it resourceful for parents as well.
Forgetting Parents: Don't forget to involve parents. Ask for their feedback and opinions on the content of the parent board.
5 Tips for Creating a Successful Parent Board
Here are some tips for creating a successful daycare parent board:
Choose a location that is easily accessible to parents.
Make sure the parent board is at eye level and easy to read.
Use bright colors and eye-catching graphics to attract attention.
Keep the parent board updated with fresh content regularly.
Encourage parents to contribute to the parent board by sharing their photos, artwork, or advice.
3 Steps for Parent Bulletin Board Design
Here are three steps for designing a successful parent bulletin board:
1. Decide the Purpose of the Bulletin board
What do you want to achieve with the bulletin board?
Would you like to communicate information, promote a message, or simply decorate the space?
After you have answered these questions clearly, determine the content. Make sure that the information or materials you include align with your purpose.
For example, if your goal is to encourage parents to use your parent board to communicate with you, then focus on information that is relevant to parents. Add a feedback section, offer short educational resources for parents, and provide them with the opportunity to contribute to the parent board.
2. Choose a Theme or Color Scheme
You can choose a color scheme that reflects the tone of your daycare or pick one that is based on a season or holiday. Parents won't mind some fun decor, either!
This will help to unify the look of the bulletin board with your overall daycare seasonal decor and make it more visually appealing.
3. Plan the Layout of the Bulletin Board
Plan the organization of the content, decide on the sections to include, allocate appropriate space for each section, and determine how to highlight sections based on their importance.
Tip: You can also use "Ready-to-use" parent board kit from Etsy to make this task even more easier!
Frequently Asked Questions
1. What do you put on a parent board?
You can put a variety of things on a parent board, such as:
Event and holiday calendars
Staff and their qualifications
Children and their birthdays
Parent's notes to the staff
Staff's notes to parents
Children's artwork
Photos of the children and staff
Newsletters or notices
2. Why are parent boards important?
Parent boards are important because they can help to:
Communicate with parents
Build a sense of community
Promote the daycare's services
Showcase the children's work
3. What do you put on a classroom board?
A classroom board is a great way to:
Communicate with students
Promote learning
Showcase student work
Create a positive learning environment
4. What is on the bulletin board?
The bulletin board can be used to display all sorts of information, such as:
Decoration
Early Learning stuff
Quotes about parenting
Articles about child development
Notices and Newsletters
Conclusion
Parent boards are a valuable asset for any daycare facility, and there are infinite possibilities for creative and innovative ways to implement them.
By creating a dynamic and interactive communication space, you can enhance the parent and staff connection.
These parent board ideas are just a few of the many possibilities that can help personalize your parent board.
So, start implementing these ideas and create the most engaging and informative parent board at your daycare facility.