Best Backpack for Daycare | Kids & Budget Friendly
Daycare backpack mark the transition of your a baby to a big kid, and give your toddler a sense of independence and responsibility.
But with so many different backpacks in the market, it can take time to know which is suitable for your child according to their need and health.
The best daycare backpack for toddler must have these features:
Size: right size for a toddler, not too heavy.
Style: chest strap, padded shoulder straps, comfortable back panel, multiple compartments.
Material: durable material, polyester, nylon, canvas.
Price: $10-50.
Based on these factors, we have recommend some of the top-rated backpacks for toddlers. This guide also includes practical tips approved by parents on selecting the right size, style, and bag material for child's health and safety.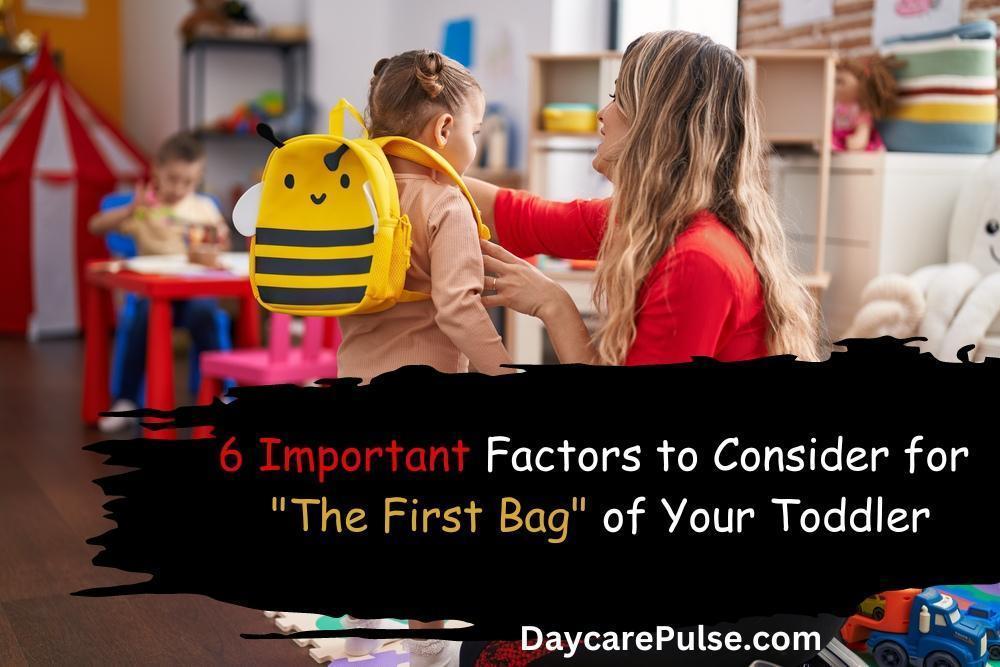 The Best 4 Backpacks for Daycare Toddlers
1. Best Personalized Toddler Backpack
Ten Littles Recycled Backpack: This recycled backpack is made with family-friendly fabric and a personalized design. This toddler bag features the following:
Made with non-toxic, Oeko-Tex-certified material.
Water-proof lining for easy cleaning.
Padded shoulder strap, back panel, and chest strap.
Spacious main pocket that can fit a variety of items
Interior multi-name tag to make it personalized
2. Best Backpack with Chest Strap for 2-3 Years Old
Skip Hop Toddler Backpack: This backpack is a great option for toddlers starting to walk independently.
It has a chest strap to help keep the backpack in place, and it is lightweight and comfortable.
The backpack has a spacious main compartment, a front pocket, and two adjustable side mesh pockets for storing your toddler's belongings.
It is also made of a durable material that can withstand the wear and tear of a toddler.
3. Best Children's Leash Backpack with Harness for 1 Year Old
ibestby Toddler Backpack with Anti-Lost Harness: This backpack is perfect for younger toddlers who need a bit more security.
It has an anti-lost harness that easily attaches to your little one's wrist.
The backpack also has a padded strap and chest panel.
A long adjustable leash puller, and spacious pocket for storing snack box.
It is also made from a durable material and has an adorable animal design that your toddler will love.
4. Best Themed Water-proof Backpack for Preschool
BTOOP Water-proof Toddler Backpack: This "dump truck" themed backpack is my favorite for little men. Horizontal design of it wouldn't hit the back of your toddler's knees while walking.
Spacious two zippered compartments/ pockets.
Two side mesh pockets for water bottles.
Made of durable water-resistant material (polyester) which is lightweight and easy to clean.
Padded shoulder straps and adjustable chest buckle to relieve weight.
Tips for Buying the Right Backpack for a Toddler
Here are a few tips for finding the best backpack for your toddler:
Start by measuring your toddler's back. This will help you narrow down your choices and ensure you find a backpack that fits properly.
Consider your toddler's personality and preferences. What kind of colors and patterns do they like? Do they have any favorite cartoon characters or animals?
Check reviews and ratings. Reading reviews from other parents is a great way to gauge the quality of backpacks before you buy them.
Compare the price tags of different brands. It's always important to compare prices to get the best value for your money.
Don't be afraid to spend a little more. A good quality backpack will last longer and save you money in the long run.
6 Factors to Look for in a Backpack for Daycare Toddlers
1. Size
For toddlers, it's better to use smaller bags made of lighter materials and with fewer compartments. Having too many places to put things can make them more likely to lose or forget their items.
You can keep all other necessary Items in a "daycare bag".
You might also like to read: Best Bag for Daycare Everyday Use
2. Style
The backpack should be something that your toddler will like and be proud to carry.
Choose a style that your toddler likes, whether it's cartoon characters, animals, colors, or patterns.
Consider searching for backpacks that have reflective strips. These not only add fun for kids during nighttime but also aid in identifying kids in parking areas during the evening.
Also, make sure that they are easy to open and lock. Toddlers are not much handy with tricky locks, so it's best to opt for bags with easy-open and close zippers.
3. Comfort
The backpack should provide comfort and ample support to the child's back, neck, and shoulder to prevent pain and injury.
Look for backpacks with padded straps and back panels that can evenly distribute the weight across the body. The straps should be adjustable and not too tight to avoid constricting blood flow.
A backpack with a chest or waist strap can distribute the weight more evenly, relieve pressure on the child's shoulders, and prevent it from bouncing while walking or running.
4. Material
Another factor to consider when selecting backpacks is durability. Toddlers and young children often treat backpacks as a part of their play and toss them around carelessly.
It is essential to pick a backpack made of high-quality materials that can withstand their rough and tumble play and still hold up over time.
To avoid having to change bags for minor incidents like food spills or container leaks, consider buying a bag that has a waterproof lining and is made of an easy-to-clean material.
5. Safety
To ensure safety, it is recommended to avoid bags with multiple small accessories that toddlers can easily remove and potentially choke on. Additionally, it is advisable to avoid bags made from toxic materials or with sharp edges or corners.
6. Storage
When selecting a backpack for toddlers in daycare, make sure to choose one that has enough room to fit all the items they need. Most daycare bags should be able to hold a few books, art supplies, and snacks.
You might also want to read: What to Pack for Daycare?
Frequently Asked Questions
1. What size backpack for toddler daycare?
The best size for a toddler daycare backpack is one that fits comfortably and securely on the child's back. 12 inches is, however, considered the best size for a toddler's backpack.
2. Do you need a backpack for daycare?
Yes, a backpack for daycare is important as it helps children carry their essential items, such as books and art supplies.
3. What size backpack for preschoolers?
The ideal size for a preschooler's backpack is around 13-14 inches.
4. What age can a child wear a toddler backpack?
Most children can start wearing a toddler backpack when they are 2-3 years old.
Conclusion
There are a variety of backpacks on the market that caters to the needs of both parents and their children. When choosing a backpack for daycare, it's essential to consider factors like durability, functionality, and design.
Our list of the top 4 best backpacks for daycare includes options that cover all these criteria, with something to suit every budget and style. We hope our guide has helped you in your search for the perfect backpack for your child's daycare.