Daycare Flooring Ideas: Flooring Magic for Little Feet
The floor of a daycare center is more than just a surface – it's a landscape for countless activities and experiences and choosing the right flooring for a daycare center can be quite a puzzle. Don't be tense, I've got you covered!
In this blog post, you'll explore solutions for daycare flooring. I've highlighted 10 key characteristics to consider, along with five innovative ideas. Additionally, I've included six creative ideas for small spaces in a daycare center.
After reading this, you'll be armed with a wealth of innovative, high-quality, and fun-filled flooring ideas that are both time-saving and practical.
Let's dive in and find the perfect flooring!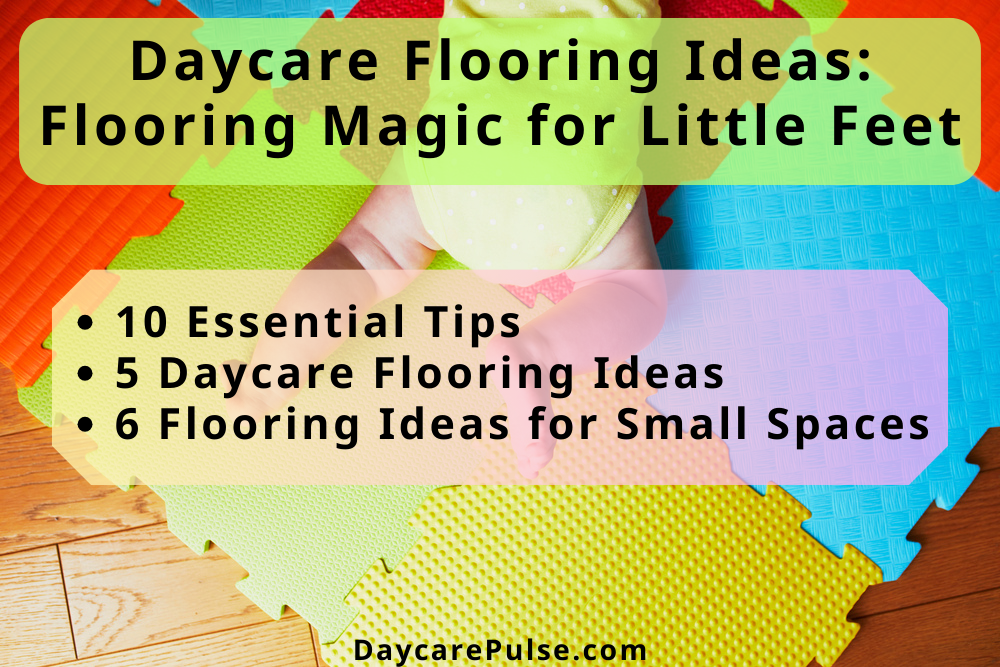 Daycare Flooring Ideas: 10 Characteristics to Consider
When deciding on the perfect daycare flooring, there's more to consider than just vibrant colors and fancy designs.
By selecting the perfect flooring, you can effortlessly convert cold floors into warm and welcoming play areas.
This guide titled "Daycare Flooring Ideas: 10 Characteristics to Consider" will walk you through the critical aspects you need to keep in mind, ensuring a safe, fun, and comfortable environment for the little ones.
Let's dive deep into the world of daycare flooring and help you make an informed decision!
Explore options: Compare different daycare flooring materials based on their comfort, ease of maintenance, and aesthetic appeal.
DIY installation: Save money by installing the flooring yourself, especially for smaller spaces where peel-and-stick flooring can be a suitable choice.
Prioritize safety and hygiene: Opt for non-slip surfaces that are easy to clean and sanitize, while avoiding carpet tiles in eating areas for better hygiene.
Embrace colors and textures: Choose vinyl flooring in vibrant colors, textured vinyl tiles, or linoleum flooring to create a playful and stimulating environment.
Optimize space: Utilize foam interlocking puzzle daycare floor mats or rolled-up rubber mats to create portable spaces, or consider interlocking grass floor tiles or plastic floor tiles for easy cleaning in play areas.
Noise reduction matters: Opt for materials like cork flooring or carpet tiles that absorb noise, creating a peaceful learning environment and reducing distractions.
Let's be sustainable: Think about the environment by choosing recyclable or eco-friendly materials, such as bamboo or cork.
Durability is key: Daycare centers have high traffic, so the flooring should be highly durable and able to withstand wear and tear. Consider options like luxury vinyl tile (LVT) or commercial-grade carpeting.
Comfort is a priority: Aim for soft, cushioned surfaces that are comfortable for children to sit and play on, like thick, high-quality carpets or padded linoleum.
Allergenic properties matter: Lastly, consider the allergenic properties of the flooring. It's best to avoid materials that harbor dust mites or other allergens, which could be harmful to children with allergies.
5 Daycare Flooring Ideas
Now that we've discussed the key characteristics to consider when choosing daycare flooring, let's explore some specific Daycare Flooring Ideas.
Remember, choosing the right flooring is not just about aesthetics, but also about creating a safe, clean, and comfortable environment for the little ones.
Get ready as we explore some awesome choices!
Rubber Flooring
Rubber flooring is considered one of the best materials for daycare centers.
It offers a safe, water-resistant, non-slip, and easy-to-clean surface.
It also provides a soft, cushioned base that is gentle on little feet and resistant to impact.
Rubber flooring Reduces foot injuries and fatigue, especially for daycare staff that needs to stand for long hours.
Decreases the chances of injury, for example, if a child falls when running, it acts as a sponge.
It is also sound-absorbing, eco-friendly and recyclable, and easy to install.
Offers a wide array of inexpensive design and pattern options.
Vinyl Flooring
Vinyl flooring is a popular choice for daycare centers due to its durability and long life span.
It is waterproof, resistant to scratches and scuffs, and easy to clean and maintain.
Its non-porous surface makes it impervious to staining from spills and accidents commonly seen in a childcare setting.
Due to its durability, it stands up well to heavy foot traffic.
Less expensive than many other flooring options and easy to install.
Can mimic the appearance of hardwood or tile without the extra cost or care.
It is an environmentally friendly alternative to carpeting and wood flooring
Foam Mats
Foam mats offer a comfortable, safe surface for children to play and learn.
They are perfect for nap rooms, playrooms, and areas where kids crawl or roll around.
Interlocking puzzle mats are easy to install, portable, and come in different shapes, sizes, colors, and textures.
The cushioning effect reduces the risk of injury.
You can find foam mats in various thicknesses.
Foam mats also reduce the need for unnecessary furniture for sitting.
Natural Linoleum Flooring
Linoleum flooring is an excellent flooring material for daycare centers.
It is a naturally renewable material free of PVC and other synthetic materials, making it safe for children. Some other benefits of natural linoleum are:
Durability and long-lasting.
Environmentally friendly and made from natural materials.
Hypoallergenic and anti-bacterial.
Easy to clean and maintain.
Resistant to water and stains.
Available in a wide range of colors and patterns.
Carpet Flooring
Carpet flooring is a popular option for daycare centers because:
It provides a soft, comfortable surface resistant to impact and slips.
It also helps reduce noise levels and can be easily replaced.
Provides Insulation to your space for energy savings.
Also helps in noise reduction.
Many cost-effective aesthetics and design options are available.
Daycare Flooring Options for High-traffic Areas in Childcare
When it comes to preschool flooring ideas and daycare floors, it's crucial to consider high-traffic areas in a bustling childcare center.
Opting for durable flooring options and the best daycare floor mats is key to ensuring longevity while keeping the little ones safe and happy.
Let's explore some top-notch picks!
Entryways and Hallways
Laminate flooring is a durable and affordable option for entryways and hallways.
It is available in a variety of colors and styles.
Laminate flooring is less soft than some other flooring materials. It can also be slippery when wet, so it may not be the best choice for areas where children will be crawling or playing on the floor.
Another option for outdoor or entryway flooring is ceramic tiles. They are durable and easy to clean but can be hard and cold underfoot.
You might also want to read: 10 Daycare Entrance Ideas
Play Areas
Rubber, among other flooring materials, is a great option for kids' play areas because it is soft yet durable, easy to clean, and slip-resistant.
Rubber floor tiles come in various colors and styles, which can stimulate playful activity.
Additionally, rubber flooring is more durable than foam mats and can retain its shape even when kids run and jump on it daily.
You might also want to read: Daycare Play Room Ideas
Eating Areas
Vinyl plank flooring is a great option for the eating area of a daycare center. It is easy to clean and maintain, budget-friendly, and available in various colors and styles.
It provides an inviting atmosphere while being durable enough to stand up to spills and messes.
Padded cork underlayment layer or cork tiles are also a great option because they offer insulation and are resistant to moisture, preventing mold growth. Furthermore, they help to reduce noise levels in the eating area due to their sound-absorbing properties.
Bathrooms
Vinyl sheet flooring is the best option for bathrooms. It is waterproof and easy to clean. Vinyl flooring is better suited to endure high levels of foot traffic and moisture.
Consider choosing special vinyl bathroom flooring with additional underlayment for added slip resistance.
You might also want to read: Daycare Bathroom Ideas
6 Creative and Fun Daycare Flooring Ideas for Small Spaces
Let's now explore the concept of tailoring your daycare flooring to the unique needs of small spaces.
By leveraging creative design and strategic placement, you can maximize utility, safety, and fun even in the most compact areas.
Whether it's a cozy reading corner or a mini indoor playground, I've got some exciting ideas to share!
🌞 Outdoor-Inspired Synthetic Grass Flooring: Turn indoor spaces into a mini outdoors with synthetic grass flooring. It's soft, allergen-free, and adds a pop of color.
🎨 Color-Pop Epoxy Flooring: Create a vibrant and cheerful atmosphere with epoxy flooring in bright, bold colors. It's durable, easy to clean, and perfect for artistic expression.
🌿 Eco-friendly Cork Flooring: Offer a touch of sustainability with eco-friendly cork flooring. It's warm, comfortable and reduces noise, making it great for nap time.
💡 LED Embedded Flooring: Bring in a futuristic feel with LED-embedded flooring. It's safe, fun, and ideal for creating interactive learning experiences.
🧩 Themed Puzzle Mats: Opt for themed puzzle mats like animals, letters, or numbers. They're educational, fun and double as toys.
🦓 Animal Print Carpeting: Make learning fun with animal print carpeting. It's a great way to introduce children to different animals, and it's also warm and cozy.
You might also want to read: Small Home Daycare Setup Ideas in a Living Room
Frequently Asked Questions
What kind of flooring is best for daycare?
PVC Vinyl is one of the best flooring materials. It is an ideal choice for areas with heavy foot traffic because it is affordable and long-lasting.
Additionally, vinyl sheets can have various under foam layers that can enhance fall absorbency and make it safer for children.
Vinyl flooring is also easy to clean and maintain because of water and stain resistance.
What is the best floor finish for a classroom?
For a classroom, it's important to choose a floor that is easy to clean. A vinyl floor finish with a soft underlayment can be ideal as it provides traction and comfort while being easy to clean and maintain.
Additionally, carpet tiles are good options with their sound-absorbing properties that help to reduce noise levels. If your budget allows, rubber flooring can offer the advantages of both carpet and vinyl flooring.
What is the easiest flooring to take care of?
Laminate flooring is the easiest to take care of. It does not require waxing or buffing and can be cleaned using a damp mop.
Vinyl flooring is also considered the easiest material to maintain because it is stain-resistant, water-resistant, and non-porous.
What flooring is safe for babies?
Rubber flooring is considered safe for babies. Its soft surface provides a cushioning effect that protects babies from injury due to falls or tumbles.
Additionally, rubber flooring is non-allergenic, easy to clean, and resistant to bacterial growth, ensuring a safe and healthy environment for little ones.
Is laminate safe for babies?
Laminate flooring is generally safe for babies. It is a durable material that resists scratches and dents, making it suitable for high-traffic areas.
Laminate flooring is also easy to clean, which helps maintain a hygienic environment for babies.
However, one should ensure that the laminate used is low-VOC (Volatile Organic Compounds) to minimize any potential health risks.
Conclusion
Choosing the right flooring for a daycare center is essential for creating a safe and fun space and an inviting environment for children.
With the various options available today, it's important to consider factors such as safety, durability, ease of maintenance, and budget when making a decision.
Understanding the unique needs of each area in a daycare center and exploring creative ideas for small spaces can help us create a functional and super fun environment that fully supports the growth and development of children! 😄
I hope this guide has provided valuable insights and inspiration for choosing the perfect daycare flooring, ideal for creating an ideal kids' play space.
Happy decorating! 🎨🌈👶