Best Toys for Daycare | Must have toys for all daycares
Daycares need to provide age-appropriate toys and activities to keep children engaged and happy in their care.
But what toys are best for daycares and preferred by parents?
Toys that promote imaginative play, fine motor skills, and problem-solving abilities are the best toys for daycare. Most preferred daycare toys options are:
Toys that imitate real-life things
Push and pull toys
Books & Balls
Water & sand tables
Problem-solving toys
Art materials
Keep reading for time and money-saving lists of safe toys for infants, educational toys for toddlers, and toys that multiple age groups can use in your daycare.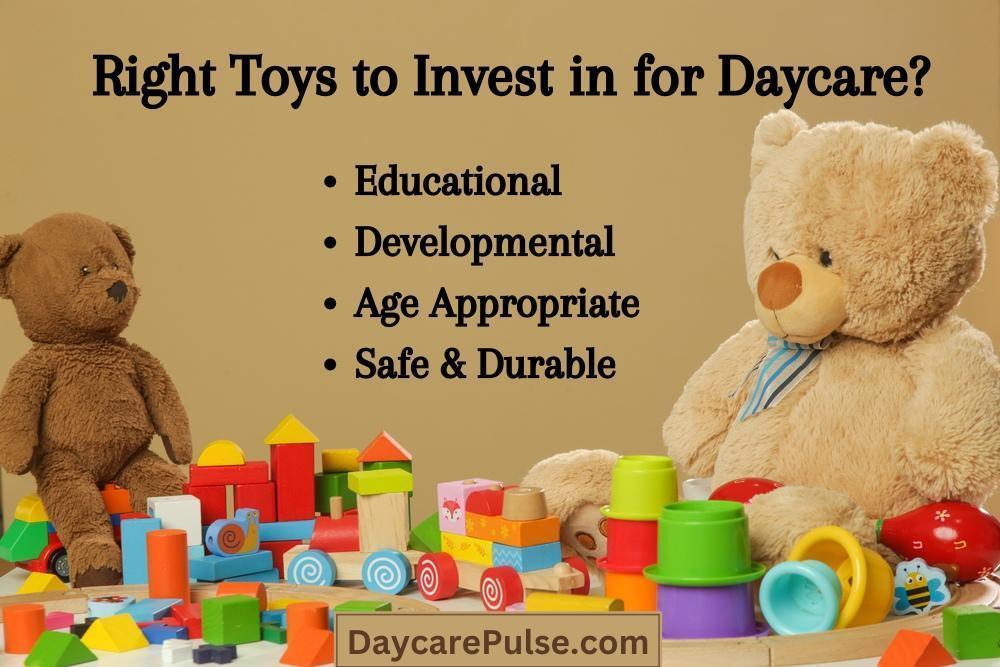 Toys for Infants & Babies
For infants and babies, the best toys cater to their senses.
Soft toys that they can hold on to, like stuffed animals, small toys with different textures, and toys they can visually interact with are great options.
In addition, toys that can be shaken and make noise(not too loud), like musical instruments, are also perfect to grab their attention. Examples of these toys include rattles, teething toys, and plush animals.
1. Sensory Toys
Sensory toys stimulate the senses of touch, hearing, sight, smell, and taste. This type of toy can help babies and toddlers develop their coordination and fine motor skills. Sensory blocks, interesting textures, and educational toy tablets are great examples of such toys.
2. Toys from Amazon
When looking for toys, Amazon is an excellent resource, as they offer a wide variety of toys for all ages. Look for toys that have a high rating and many reviews. This ensures that the toy is of high quality and has been used and enjoyed by many. For instance:
Toys for Toddlers
For toddlers, toys that enhance their imagination and creativity are the ideal choice.
Typically, toddlers enjoy toys that have sounds and lights and can double as educational toys.
Favorite educational toys of toddlers include:
Toys for Multiple Age Groups
Some toys are versatile enough to be enjoyed by children of multiple age ranges.
Building blocks, such as the Mega Blocks First Builders, and magnetic blocks, such as Magna-Tiles and Tegu Magnetic Wooden Block Set, encourage creativity, cognitive development, and imaginative play while providing endless entertainment for children of varying ages.
Kids love busy boards as well. Busy boards can include activities like zippers, buttons, and switches and also offer a versatile option that can be enjoyed by multiple children of different age groups at a time.
You can DIY your own busy bulletin boards: Bulletin Board Ideas for Daycare
Educational Toys for Daycare Skills
Children in daycare should have access to toys that promote their social, cognitive, and physical development. Here are some examples:
Social Skills
Dolls, dramatic play items like play kitchens, dress-up clothes, and puppets can help kids learn to play with each other and develop social skills.
Play-Doh and other modeling clays can help develop fine motor skills, and children can learn about shapes, colors, and textures.
Language Skills
Books, picture cards, and puzzles can help children develop their language, vocabulary, and pronunciation.
Magnetic toys and wooden blocks help children develop cognitive and problem-solving skills.
Cognitive Skills
Building blocks, puzzles, and other construction toys allow children to problem-solve creatively.
Busy boards provide sensory experiences and allow children to experiment with cause and effect.
Stacking cups and blocks is perfect for developing dexterity and building coordination.
Physical skills
Finger paints, in-door ride-on toys, and building blocks develop gross motor skills.
Outdoor play toys like push-and-pull toys, swings, and other safe rides motivate kids to participate in active play, helping their physical development.
You might also want to read: Outdoor Daycare Ideas
5 Factors to Consider When Choosing Toys for Daycare
When selecting toys for your daycare, it is crucial to consider the following factors to ensure kids' safety and to avoid unnecessary complaints from parents:
1. Safety
The safety of the toys should be of utmost importance. Choose toys that are made of non-toxic materials and do not have sharp edges to avoid accidents. Toddlers have mysterious ways to get themselves injured from apparently safe things!
2. Age Appropriateness
Choose age-appropriate toys for different age groups of the children under your care.
For instance, toy cars would be of more interest to toddlers, while infants would prefer stuffed animals and plush baby dolls.
Avoid movie characters that are not for their age, and avoid using toys with lots of tiny accessories.
3. Versatility
Look for toys that can be used in different ways so that children don't get bored with them.
Open-ended toys are a blank canvas for children's imaginations.
These toys have no specific instructions or rules, so daycare children can use them however they want. This allows them to explore their creativity and problem-solving skills, and to come up with new and innovative ways to play.
Some examples of open-ended toys include:
Building blocks
Playdough
Art supplies
Natural materials
Loose parts
4. Durability
Kids in daycare would spend most of their time playing, so select toys that can withstand rough play and lots of wear and tear. This could include high-quality toys. They would cost you a bit more but could also last longer and save you frequent shopping time and effort.
5. Educational value
Be it a home daycare or commercial childcare center, daycares are considered as early learning centers as well. Choose toys that are not only fun but also promote learning and development in toddlers.
You might also want to read: Daycare Play Room Ideas
Shopping Tips for Daycare Toys
Always look for deals when shopping for daycare toys. You can find great deals on Amazon or other online retailers.
Wait for the holidays. Many retailers have sales on toys around holidays, such as Christmas and Black Friday.
Push and pull toys are excellent for toddlers, as they help develop their motor skills and coordination.
Look for toys made of high-quality materials that are durable and safe.
Opt for second-hand stores to buy budget-friendly yet high-quality daycare toys.
Include art supplies for toddlers' playtime. They are less expensive and best for keeping kids engaged.
Watch YouTube videos for easy DIY Learning Toys for Toddlers.
Ask parents for toys donation.
Lastly, don't forget to invest in storage spaces for your toys to keep them organized.
Frequently Asked Questions
1. What toys should you have at daycare?
It is best to have a mix of toys that promote social, cognitive, and physical development and cater to different age groups.
2. What are 3 toys that are appropriate for babies?
Rattles, teething toys, and soft plush toys are appropriate for babies.
3. What toys should every toddler have?
Toddlers should have a mix of toys that promote their imagination, creativity, and fine motor skills. Examples include building blocks, interactive games, and toys that make noise.
4. Which toy is the most developmentally appropriate for an 18 to 24-month-old child?
Building blocks, push-and-pull toys, and play-doh are the most developmentally appropriate for this age range.
Conclusion
Choosing the right toys for your daycare can be a daunting task, but it is essential for providing a safe and enriching environment for the children under your care.
When selecting toys, it is crucial to consider the children's age, safety, versatility, durability, and educational value.
Furthermore, toys that promote social, cognitive, and physical development are best.
By keeping these factors in mind, you can create a space that will foster the development of the children under your care.