Daycare Playroom Ideas: Step By Step Guide To Setup Playroom
As a daycare owner, you must understand the significance of providing creative and enjoyable activities for the children in your daycare.
Whether starting from scratch or looking to spice up the playroom, many ideas are always out there! But why settle for the same old games when you can get creative and enjoy some fun and sometimes downright silly daycare playroom ideas? Here are 5 Quick steps to set up a daycare playroom.
Plan the Layout For Daycare Playroom
Purchase Essentials For Daycare Playroom
Set Up Playroom Play Areas and Zones
Organize Toys and Materials in Playroom
Decorate Daycare Playroom
I have curated 5 steps guide including all essentials to buy, must-have toys for the daycare playroom, and playroom setup ideas to engage more customers in your daycare and to help kids get more excited about playing.
So let those imaginations of having a perfect daycare playroom run wild read on for our best tips and tricks!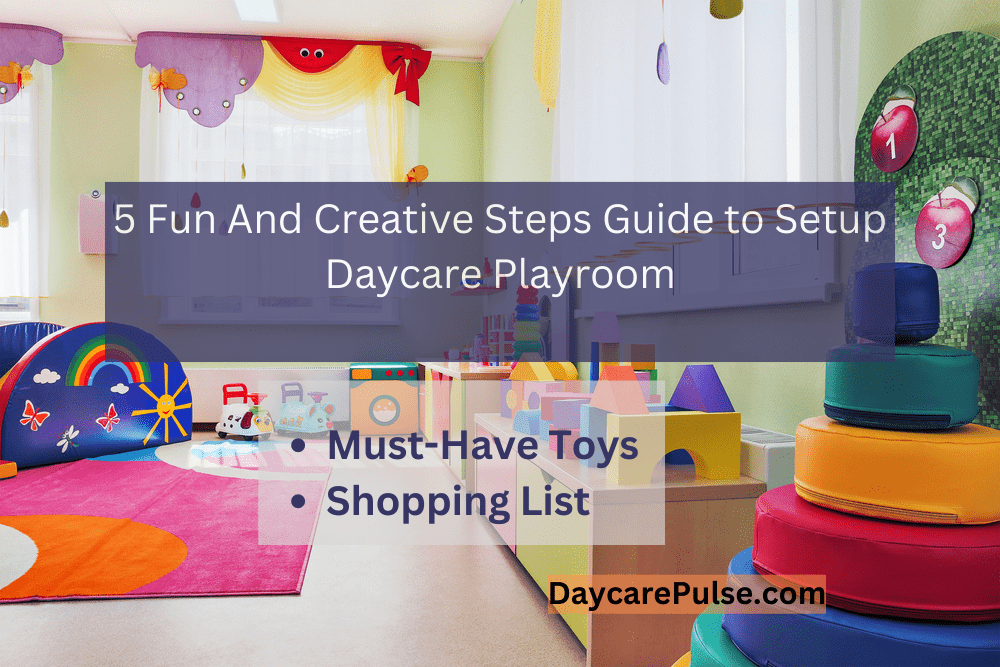 5 Quick Steps for Kids' Playroom Home Daycare Setup
Here are 5 quick steps for kids' playroom home daycare setup:
You may also like to read: 7 Important Daycare Room Setup Ideas
Step 1: Plan the Layout For Daycare Playroom
Space Assessment: Evaluate available space and determine the layout requirements.
Dimensions: Consider the size and shape of the playroom to optimize space utilization.
Play Areas: Define specific areas for different activities, such as art, reading, imaginative play, construction, and sensory experiences.
Traffic Flow: Plan the movement paths to ensure safe and efficient navigation within the playroom.
Safety Measures: Implement outlet covers and corner guards to create a secure environment.
Floor Plan: Create a visual representation of the playroom layout for reference during setup.
Step 2: Purchase Essentials For Daycare Playroom
Child-Sized Furniture: Invest in tables, chairs, and shelves suitable for children's size and comfort.
Age-Appropriate Toys and Learning Materials: Select toys and materials that align with children's developmental stages and promote learning.
Storage Solutions: Use bins, shelves, and labeled containers for organized storage of toys and materials.
Safety Equipment: Ensure the playroom has outlet covers and corner guards to minimize potential hazards.
Comfortable Seating: Include seating options that provide a cozy space for reading or relaxation.
Step 3: Set Up Playroom Play Areas And Zones
Art Corner: Create a designated area with art supplies for children to explore creativity.
Reading Nook: Design a comfortable space with cushions and various age-appropriate books to encourage reading.
Imaginative Play: Set up an area with props and toys to foster storytelling and role-playing.
Construction Zone: Allocate space for building blocks, puzzles, and other constructive play materials.
Sensory Area: Create an engaging space that stimulates children's senses through tactile, visual, and auditory experiences.
Step 4: Organize Toys And Materials in Playroom
Toy Categorization: Sort toys based on type and age appropriateness for easy access and organization.
Clear Bins: Use transparent bins to store toys, making it easier for children to identify and retrieve items.
Labeled Containers: Label containers to ensure everything has its designated place, promoting orderliness.
Toy Rotation: Periodically introduce and rotate new toys to maintain children's interest and excitement.
Clean-up Routine: Establish a routine where children learn to clean up after playtime, fostering responsibility and tidiness.
Step 5: Decorate Daycare Playroom
Color Scheme: Choose a vibrant, child-friendly color scheme that enhances the playroom's atmosphere.
Children's Artwork: Display children's artwork prominently to celebrate their creativity and foster a sense of ownership.
Educational Posters: Hang posters introducing academic concepts like numbers, letters, and shapes.
Child-Friendly Decorations: Include decorations like wall decals and mobiles that appeal to children's interests.
Plants or Natural Elements: Incorporate plants or natural elements to create a calming and refreshing ambiance.
To Buy Checklist For Daycare Playroom
Certainly! Here's a checklist for the buying list of items for a daycare playroom:
1. Furniture and Equipment
Child-sized tables and chairs
Shelving units for toy storage
Bookshelves for displaying books
Comfortable seating options (cushions, bean bags, etc.)
Nap mats or cots for rest time
Changing tables and supplies (if applicable)
2. Toys and Learning Materials
Building blocks and construction sets
Puzzles of varying difficulty levels
Art supplies (crayons, markers, paint, paper)
Musical instruments (drums, xylophones, shakers)
Pretend-play items (kitchen sets, dolls, dress-up costumes)
Learning games and educational toys
Manipulative toys (sorting, stacking, counting)
Sensory play materials (sand, water table, sensory bins)
Large motor skill toys (balls, ride-on toys, tunnels)
3. Storage Solutions
Compartments or baskets for toy organization
Labeled containers for easy identification
Shelving units with adjustable shelves
Storage cabinets with lockable doors (for potentially hazardous materials)
4. Safety Equipment
Outlet covers to childproof electrical outlets
Corner guards to protect sharp edges
Safety gates for restricted areas
Cabinet locks for securing cleaning supplies or dangerous materials
First aid kit and emergency supplies
5. Miscellaneous Items:
Art easels and drawing boards
Mirrors for self-discovery and exploration
Play kitchen appliances and utensils
Soft play mats or rugs
Age-appropriate books and storytelling props
Whiteboard or chalkboard for interactive learning
Age-appropriate technology devices (tablets, interactive learning systems)
Consider the children's age range and developmental needs when selecting items for your daycare playroom.
Additionally, it's essential to prioritize safety, durability, and educational value when making purchasing decisions.
Must-Have Toys for Daycare Playroom
Consider the following must-have toys for a daycare playroom:
1. Age-Appropriate Toys
Stacking and nesting: toys help develop hand-eye coordination and problem-solving skills. Look for sets with different sizes, shapes, and textures.
Shape sorters: These toys assist in shape recognition and fine motor skill development. Choose ones with various forms and corresponding holes.
Activity cubes: These multi-sided toys feature different activities like sliding beads, spinning gears, and shape sorting. They promote sensory exploration and cognitive development.
Giant foam blocks: These soft and lightweight blocks are safe for children to stack, build, and knock down. They enhance gross motor skills and spatial awareness.
Consider reading: Daycare Infant Room Ideas: Design for Infants and Babies Room
2. Educational and Interactive Toys
Alphabet and number puzzles: Introduce letters and numbers while improving fine motor skills. Select ones with bright colors and easy-to-grasp pieces.
Counting and sorting: toys help children learn numbers, colors, and basic math concepts. Look for sets with manipulatives like counting bears or linking cubes.
Magnetic letters and numbers: These magnets are perfect for introducing early literacy and numeracy skills. They can be used on magnetic boards or refrigerator surfaces.
Interactive learning systems: Consider educational electronic toys that provide interactive games and activities covering a range of subjects such as language, math, and science.
3. Gross and Fine Motor Skill Development Toys:
Ride-on toys: These toys promote balance and coordination. Choose age-appropriate ride-on toys like tricycles, balance bikes, or push cars.
Puzzles with larger pieces: Opt for puzzles with chunky pieces that are easy to grasp and manipulate. They enhance hand-eye coordination and problem-solving abilities.
Lacing cards: These cards feature punched holes around the edges for threading laces through. They improve fine motor skills and hand dexterity.
Play tunnels: These collapsible tunnels encourage crawling, climbing, and active play. Look for tunnels with vibrant colors and sturdy construction.
4. Sensory Play Materials:
Sensory balls: These textured balls engage children's sense of touch and help develop hand strength and coordination. Look for balls with various textures, sizes, and colors.
Play dough or modeling clay: These materials provide sensory stimulation and improve fine motor skills. Consider non-toxic options in different colors.
Water play toys: Choose waterproof toys such as pouring cups, floating boats, and water wheels for sensory exploration and water-based play activities.
Musical instruments: Include instruments like tambourines, xylophones, or shakers to promote auditory development and rhythmic exploration.
5. Role-Play and Imaginative Play Toys:
Dolls or action figures: These toys encourage nurturing, storytelling, and imaginative play. Look for diverse options that reflect different ethnicities and occupations.
Play kitchen sets: Provide children with play kitchen accessories, including pots, pans, and pretend food. These toys promote imaginative cooking and social interaction.
Dress-up costumes: Include a variety of costumes like superhero capes, princess dresses, and career outfits to inspire imaginative role-playing and storytelling.
Puppet theater and puppets: Set up a puppet theater with tools to encourage dramatic play and storytelling.
Frequently Asked Questions
1. What Are the Safety Considerations for Daycare Playroom Setup?
Safety is paramount in a daycare playroom. Some important considerations include:
Ensuring that furniture and equipment are sturdy and child-safe.
Installing outlet covers and corner guards to protect children from potential hazards.
Creating clear pathways and removing any tripping threats.
Regularly inspecting toys and materials for any signs of wear or damage.
Following guidelines for age-appropriate toys and materials.
Providing proper supervision and adhering to child-to-adult ratios.
2. How Should I Set Up Activity Zones in a Daycare Playroom?
Setting up activity zones helps organize the playroom and encourages children to engage in different types of play. Here are some suggestions:
Designate a reading corner with comfortable seating, a bookshelf, and soft lighting.
Create an art station with a table, chairs, art supplies, and a display area for children's artwork.
Establish a construction area with building blocks, construction sets, and mats for building structures.
Allocate a sensory play space with tactile materials, sensory bins, and musical instruments.
Incorporate a pretend play area with costumes, props, and a play kitchen or dollhouse.
3. What Tips Do You Have for Space Optimization in a Daycare Playroom?
Optimizing space in a daycare playroom ensures a safe and functional environment. Consider the following tips:
Arrange furniture and play areas to maximize open space for movement and supervision.
Utilize wall-mounted or vertical storage solutions to free up floor space.
Prioritize multi-purpose furniture, such as storage benches or tables with built-in storage.
Use labels or picture cues to help children identify and return toys to their designated storage areas.
Use furniture or room dividers to create separate zones without restricting visibility or movement.
Conclusion
Designing and setting up a daycare playroom requires careful thought and consideration to create a safe, engaging, and functional space for children.
You can create an environment that promotes learning, creativity, and social interaction by following safety considerations, setting up activity zones, optimizing the space, and selecting appropriate toys and materials.
Safety should always be a top priority when setting up a daycare playroom. Measures such as childproofing electrical outlets, using corner guards, and ensuring proper supervision are crucial for creating a safe environment for children to explore and play.