Home Daycare Ideas For Decorating: 8 Budget-Friendly Decoration Ideas
Are you the proud owner of a home daycare? Decorating home daycare will give visitors an excellent impression when they step into your space, and the decorations can also be used as teaching tools.
To make your home daycare engaging, it's essential to incorporate various themes:
Select child-friendly colors
Create DIY wall materials
Choose suitable furniture and layout
Establish sensory play areas
Implement colorful storage solutions
Decorate the nap area
Optimize lighting and ambiance
Transform your home daycare with these 8 unique decoration ideas! Discover tips to save money while creating a vibrant environment. Plus, get a shopping list for all the essential décor items. Make children and parents happy, boost your daycare's credibility, and attract more customers. Read on to elevate your home daycare and stand out from the crowd.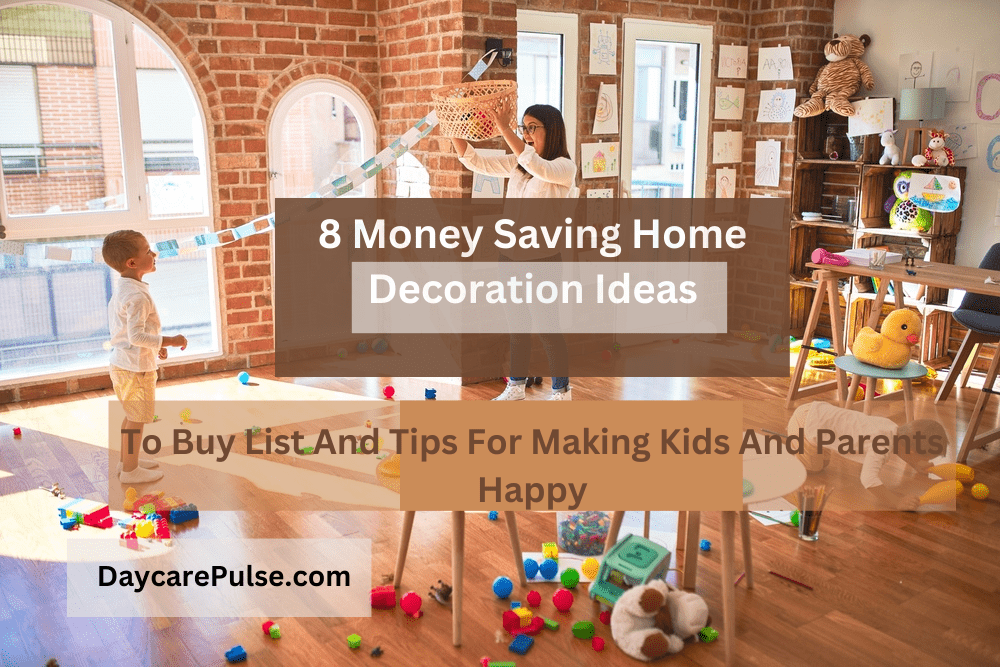 1. Themes for Home Daycare Center Decorations
Themes are a great way to personalize and make your space more vibrant. Incorporating themes into the home daycare can be as simple as having an animal theme or something that reflects the interests of children.
You can also have themes based on holidays such as Christmas, Halloween, and Thanksgiving to keep things fresh and exciting.
Nature Inspired Theme
Bring the outdoors inside by incorporating nature-themed artwork, decals, and posters.
Create a garden corner with potted plants and teach children about plant care.
Introduce sensory activities like exploring natural materials such as sand, rocks, and leaves.
Organize nature walks and encourage children to observe and appreciate the environment.
Adventure Time Theme
Set up a cozy reading nook with various storybooks, pillows, and blankets.
Decorate the space with posters depicting popular fantasy worlds or adventure destinations.
Arrange dress-up costumes to inspire imaginative play.
Host themed days, such as a pirate or princess day, where children can engage in role-playing activities.
Educational Themes
Create a dedicated learning corner with educational toys, puzzles, and games.
Display alphabet charts and number posters to promote early literacy and numeracy skills.
Incorporate theme-based activities that align with educational objectives, such as counting seashells or identifying natural shapes.
Arrange visits from professionals to introduce children to different career paths.
Gender Neutral Theme
Opt for themes that appeal to all children, such as outer space, animals, or a multicultural celebration.
Avoid stereotypical colors or motifs and focus on creating an inclusive environment.
Encourage cooperative play and teach empathy and respect for diversity.
Incorporate books and materials that represent diverse cultures, genders, and abilities.
2. Paint Color Selection for Home Daycare
Choosing the right colors for your home daycare can considerably impact how children interact and learn. Bright and vibrant colors attract kids, but creating a warm atmosphere is essential instead of overwhelming them with stimulating hues.
Child-Friendly Colors
Choose calming colors like pastels or neutrals for the main walls to create a soothing atmosphere.
Use vibrant accent colors for furniture and accessories to create excitement and stimulate creativity.
Incorporate color psychology to foster specific moods, such as green for tranquility or yellow for energy.
Consider using washable or low-VOC paints for easy maintenance and a healthier environment.
Chalkboard Paint
Create a chalkboard space for children to express their creativity and practice writing skills.
Chalkboard paint is easy to apply and provides endless opportunities for learning through play.
Magnetic Paint
Add a magnetic wall and introduce magnet-based activities to promote problem-solving skills.
This type of paint is beneficial for teaching concepts such as numbers, letters, shapes, and colors.
3. DIY Wall Material for Home Daycare
Transform your home daycare walls into an interactive learning experience with DIY wall materials. You can use existing items around the house or purchase inexpensive craft supplies to liven up the environment.
Bulletin Boards
Create bulletin boards to showcase children's artwork, achievements, and upcoming activities.
Include interactive elements like Velcro shapes or pockets to encourage children's participation.
Incorporate a daily schedule to help children anticipate and understand the routine.
You may also like to read: Bulletin Board Ideas for Daycare| Types of Boards, Design Ideas, Do's & Don'ts
Posters
Display educational posters featuring shapes, colors, animals, and more to support learning.
Rotate posters regularly to maintain children's interest and introduce new concepts.
Personalize posters with children's names and pictures to enhance their sense of belonging.
Picture Walls
Dedicate a wall to display photos of the children engaging in various activities.
Arrange the pictures chronologically to document their growth and memorable moments.
Invite parents to contribute images to create a collaborative and sentimental display.
Art and Crafts
Encourage children to explore their artistic side with watercolor paints, crayons, and paper.
Provide a designated area for art and crafts projects where children can create without worry of messes.
Alphabets Wall
Design an alphabet wall where a corresponding object or animal creatively represents each letter.
Encourage children to touch and explore the letters while learning their sounds.
Incorporate textured elements or incorporate tactile materials for a multisensory experience.
4. Furniture and Layout for Home Daycare Room Ideas
Furniture and layout are crucial in creating an inviting and safe environment for children. Consider the age range of the children, the amount of space available, and the necessary equipment to ensure optimal comfort and learning opportunities.
You may also read: Where Can I Buy Daycare Furniture? | 9 Quick Cleaning Tips
Child-Sized Tables
Provide small tables and chairs that are proportionate to the children's height.
Arrange them in clusters to facilitate group activities and encourage social interaction.
Ensure the furniture is sturdy and safe, with rounded edges and non-slip surfaces.
Bean Bags
Create a cozy reading or lounging area with colorful bean bags.
Use bean bags as flexible seating options during circle time or storytelling sessions.
Opt for bean bags with removable and washable covers for easy maintenance.
Floor Cushions
Scatter soft floor cushions throughout the daycare space to provide comfortable seating options.
Use pillows during storytime or for quiet activities like puzzles or drawing.
Incorporate a variety of textures and colors to stimulate children's senses.
Small Sofas
Introduce child-sized sofas where children can relax and engage in imaginative play.
Choose sofas with durable, easy-to-clean fabrics to withstand daily wear and tear.
Create cozy corners with sofas and pillows for children to retreat and unwind.
5. Sensory Play Area for Home Daycare:
Design a sensory play corner where children can explore and learn through hands-on activities. Incorporate items stimulating their senses, such as sand, water, scented dough, or lightboxes.
Art Corner
Set up an art corner with easels, paints, crayons, and art supplies.
Encourage children to explore their creativity through painting, drawing, and sculpting.
Provide smocks or aprons to protect clothing and foster independence during messy play.
Reading Nook
Create a dedicated reading nook with a bookshelf filled with age-appropriate books.
Add comfortable seating, cushions, and soft lighting to create a cozy and inviting space.
Rotate books regularly to maintain children's interest and expose them to different genres and topics.
Toys and Sensory Items
Offer various toys that cater to different developmental stages and interests.
Incorporate sensory items like textured balls, musical instruments, and sensory bottles.
Encourage open-ended play that allows children to explore and engage their senses.
6. Colorful Storage Solutions for Home Daycare Center
Organize toys, books, and supplies in colorful bins or drawers to foster independent play. Choose brightly colored containers that contrast with the walls for easy visibility.
Open Shelves
Use open shelves to store toys, books, and art supplies, making them easily accessible for children.
Display items in an organized and visually appealing manner, making clean-up more engaging for children.
Label shelves or use picture labels to promote independence in tidying up.
Labeled Bins
Use colorful, labeled bins or baskets to categorize and store toys and materials.
Teach children to sort items into the appropriate containers, fostering organization skills.
Ensure the containers are durable and child-friendly, with no sharp edges or small parts.
Colorful Storage Cubes
Incorporate colorful storage cubes with removable drawers or baskets for versatile storage.
Customize each cube for puzzles, building blocks, or art supplies.
Opt for cubes that can be easily stacked or rearranged to adapt to changing needs.
7. Nap Area Decoration for Home Daycare
Design a comfortable nap area that promotes relaxation.
You may also read: Daycare Nap Room Ideas | Complete guide to setting up Sleep area
Affordable Bedding Options
Select comfortable and affordable bedding options, such as soft cotton sheets and blankets.
Use waterproof mattress protectors to ensure hygiene and easy cleaning.
Offer children a choice of stuffed animals or cozy pillows for comfort during nap time.
DIY Pillowcases and Blankets
Add a personal touch by creating DIY pillowcases and blankets with child-friendly prints.
Involve children, allowing them to choose their favorite fabrics or patterns.
Label each child's bedding to avoid mix-ups and promote a sense of ownership.
Colorful Flooring
Opt for vibrant and durable flooring options like foam mats or carpet tiles.
Choose colors that complement the overall theme of the daycare and create a visually stimulating environment.
Ensure the flooring is soft and safe for children to crawl, walk, and play on.
8. Lighting and Ambiance for Home Daycare Room Setup Ideas
Select lighting options that create an inviting and calming atmosphere. Strategic use of natural light can help reduce energy costs while promoting a cheerful living space.
Natural Light Utilization
Arrange the daycare space to maximize natural light by positioning play areas near windows.
Use sheer curtains or blinds that allow diffused light to create a soothing and inviting atmosphere.
Incorporate light-filtering materials or mobiles to cast beautiful patterns as the sunlight passes through.
Natural Elements
Introduce natural elements like plants, seashells, or small rocks to connect children with nature.
Utilize wooden furniture or decor to add warmth and a touch of personality to the environment.
Discuss the importance of nature with children, encouraging them to care for and appreciate their surroundings.
Soft and Warm Lighting
Use warm-toned light bulbs or adjustable lamps to create a cozy and calming ambiance.
Install dimmer switches to control the intensity of light during different activities.
Consider incorporating soft lighting in the nap area to promote relaxation and a peaceful atmosphere.
4 Tips For Budget Friedly Home Daycare Decorations
Here are five tips for budget-friendly home daycare decorations, including repurposing and upcycling. Let's dive in and discover how to transform your daycare space affordably and creatively.
1. Repurposing and Upcycling
Give new life to old items by repurposing them for your daycare. For example: Transform wooden crates into bookshelves or storage units for toys.
Use mason jars as colorful pencil holders or to store art supplies.
Repaint and repurpose old picture frames as displays for children's artwork.
Fun Fact: Repurposing and upcycling save money, helps reduce waste, and promote environmental sustainability.
2. DIY Decorations
Get crafty and make your decorations using inexpensive materials. Some ideas include creating paper garlands using colorful construction or scrapbook paper.
Make sensory bottles using empty plastic bottles and materials like glitter, beads, or sequins.
Design and print your own educational posters or alphabet charts.
Fun Fact: DIY decorations allow you to personalize your daycare space and showcase your creativity.
3. Thrift Stores and Garage Sales
Explore thrift stores and visit garage sales to find affordable and unique items for your daycare. Consider Hunting for durable toys, puzzles, and books in good condition.
Search for colorful bins, baskets, or storage solutions at a fraction of the cost.
Look for inexpensive rugs or carpets to add warmth and comfort to your space.
Fun Fact: Thrift stores and garage sales often offer hidden treasures and unexpected finds that can add character to your daycare.
4. Collaboration with Parents and Local Businesses
Engage parents and local businesses to contribute to your daycare's decorations. Try: Asking parents to donate gently used toys, books, or art supplies.
Request artwork or handmade crafts from parents to display in your daycare.
Partner with local businesses to obtain donations or discounts on furniture, decor, or educational materials.
Fun Fact: Collaboration with parents and local businesses enhances your daycare's decor and fosters a sense of community and shared ownership.
Checklist For Decorating Home Daycare
Here's a simple checklist for decorating your home daycare:
Wooden crates for storage or bookshelves
Mason jars for organizing small items
Old picture frames for displaying artwork
Construction paper or scrapbook paper for DIY decorations
Empty plastic bottles for sensory bottles
Art supplies like markers, paints, and glue
Gently used toys, puzzles, and books from thrift stores or garage sales
Colorful bins, baskets, or storage solutions
Inexpensive rugs or carpets
Pinecones, seashells, or rocks for natural decor
Potted plants or fresh flowers for greenery
Nature-themed artwork or posters
Donations from parents (toys, books, art supplies)
Artwork or handmade crafts from parents for display
Collaboration with local businesses for furniture or materials
Child-sized tables and chairs
Bean bags or floor cushions for seating
Small sofas for comfortable seating
Art supplies like paper, crayons, and paints
Alphabet charts and number posters
Storage solutions like open shelves, labeled bins, or colorful storage cubes
Bedding options like sheets, blankets, and pillows
Lighting options such as lamps or string lights
Cleaning supplies for maintenance and hygiene
Remember to prioritize safety by ensuring furniture is sturdy, materials are non-toxic, and toys are age-appropriate. Adapt the checklist based on your specific needs and space available. Happy decorating!
Frequently Asked Questions
1. Are There Any Guidelines or Regulations Regarding Home Daycare Decorations?
Guidelines and regulations for home daycare decorations may vary depending on your location. It's essential to check with your local licensing or regulatory agency to understand any specific requirements or restrictions related to safety, cleanliness, and age-appropriate decorations.
2. How to Maintain Home Daycare Decorations?
Maintain home daycare decorations by regularly cleaning and sanitizing the space, ensuring toys and materials are in good condition and free of hazards, and monitoring for wear and tear. Create a system for organizing and storing decorations to keep the space tidy and easily accessible.
3. How Can I Create Separate Spaces or Zones Within a Limited Area?
To create separate spaces or zones:
Maximize your limited area by using furniture, dividers, or bookshelves.
Utilize rugs or different flooring to define areas, such as a reading corner or art station.
Consider using visual cues like wall decals or signage to designate specific areas and provide a clear understanding of each zone's purpose.
Conclusion
In conclusion, decorating your home daycare is a unique and fulfilling task. It lets you create a welcoming and exciting space for the children.
Using budget-friendly ideas like reusing and making things yourself, finding good deals at thrift stores or garage sales, adding elements from nature, and working with parents and local businesses, you can transform the daycare into a beautiful place. Taking care of the decorations and organizing them nicely is essential, too, so that everything stays clean and safe.