Daycare Nap Room Ideas | Complete guide to setting up sleep area
Healthy sleep is vital to keep children happy and comfortable in daycare.
If you are having trouble putting toddlers to sleep in your daycare or planning to renovate the nap room, Here are few inspiring and sleep-inducing ideas:
Choose a calming color scheme
Add soft lighting
Use noise-reducing materials
Personalize the space 
Manage room temperature
Use comfortable nap mats
Maintain proper nap-room hygiene
I have created a simple checklist that will help you choose an ideal design for your nap room, along with a detailed list of items to purchase. This will help you ensure that your nap room is space-friendly, safe and sleep-inducing.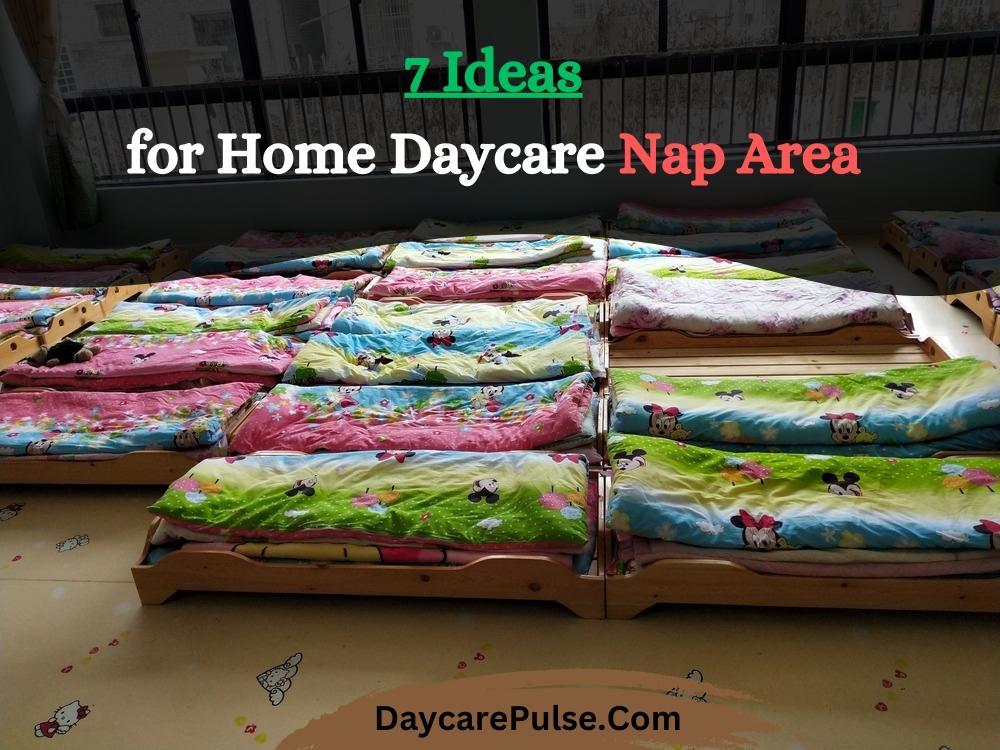 7 Important Ideas for Daycare Nap Room
1. Space Setup
To properly furnish your daycare nap room, start by determining the amount of space you have and how many children will be using the area. If you have limited space and infants will be using the area, consider using bassinets instead of cribs. For toddlers, you can maximize space by using bunk beds or portable roll-up travel mats.
2. Beds, Matts, Cribs
To ensure safety, it is essential to check the size, comfort, and security of beds, mattresses, and cribs.
Buying cribs for babies and quilted washable mattresses for toddlers is typically a wise investment.
Sharp edges, loose or broken parts in cribs and mats should also be avoided.
For daycare crib regulations, follow this link: Daycare Crib Regulations
3. Age Groups
When preparing the daycare nap room, it's important to remember the children's ages. Different age groups have different sleep and rest requirements, including the appropriate bedding type for each group.
Additionally, time schedules will differ for babies and toddlers. Pre-nap activities should also be age-appropriate.
You might also want to read: How to Get Toddler to Nap at Daycare?
For infants and babies, you might need white noise machines. Toddlers could enjoy naptime stories or have an interest in room decorations. Some toddlers may also require a stuffed toy or "lovey" to sleep with.
Some kids might like to have their milk bottles before falling asleep.
4. Safety
Safety is a top priority in daycare nap rooms and all other areas of the facility.
For infants, make sure that all cribs are secured and bolted down properly. Avoid putting heavy pillows, blankets, or stuffed toys in the baby's cot.
Provide separate crib and matt to each child. And avoid placing cribs or mats near cords or curtains.
Additionally, always check for any small objects or choking hazards in the area on a regular basis.
Store cribs and mats away from the reach of children after nap time. And sanitize each mat, crib, and bedding weekly.
You need to constantly supervise children during their nap time so it's wise to put security cameras in the nap area as well.
5. Light Management
Light management is important for the daycare nap room, as too much light can delay the onset of melatonin (the sleep hormone needed to fall asleep) disrupt sleep and cause restlessness.
To create a suitable nap environment, you will need to install thick curtains or blinds to block out sunlight.
Consider using glow-in-the-dark roof decorations or purchasing nursery night lights if complete darkness is not preferred.
6. Storage Space
Storage space is important in daycare nap rooms as it can help organize bedding and other items.
Ensure that the storage space is easily accessible to all staff members to avoid disturbing kids' sleep due to inevitable movements.
To prevent the room from becoming too cluttered, consider adding wall cabinets and ensure there is plenty of space for children to move around comfortably.
7. Room Temperature
Room temperature is important in daycare as it can play a significant role in children's sleep quality.
Maintaining a room with a comfortable temperature will help your kids sleep better during nap time.
To keep the temperature comfortable, install an air conditioner or fan in the room and use appropriate bedding.
If you have large windows, consider using blackout curtains to regulate light and temperature.
Daycare Nap Room Design Ideas
There are a few key elements to consider when planning your nap area décor.
When considering paints and decorations, opt for neutral colors that will help create a calming atmosphere.
Incorporate wall art that depicts familiar nature scenes; these can provide visual stimulation and fascinate young children.
Use roof decorations like glow-in-the-dark stars to add a soothing and comforting ambiance.
Choose soft toys such as animals, dolls, or stuffed teddy bear figures to help toddlers sleep peacefully.
Use vibrant and fun-shaped sleeping mats for toddlers.
Use fairy string lights in nap room decor within safety limits.
Use natural soothing scents like lavender essential oil spray in the kids' nap rooms. Clean and tidy spaces automatically induce sleep in children.
Use white noise or other sounds like nature sounds (such as water), or even a relaxing lullaby can help.
Also, add rugs or carpets in the nap room to make it more cozy.
Complete Shopping List for Daycare Nap Room
To encourage healthy sleeping habits among children in daycare, it is crucial to establish a comfortable environment for napping.
You can save money and avoid purchasing unnecessary items by using my comprehensive shopping list for setting up a budget-friendly nap room.
1. Sleeping Mats & Cots
The first and foremost thing for daycare nap rooms is obviously sleeping mats for kids and cots for babies.
But now the question is what kind of mats and cots to buy for your daycare?
Cribs:
Cribs are suitable for infants and toddlers. Consider investing in convertible cribs that can be adjusted for infants of different ages. Choose a crib that is designed with safety in mind to ensure your child's sleeping environment is secure.
Sleeping mats:
Sleeping mats are essential for nap time as they provide comfort and support. For better usability, opt for mats with machine-washable materials or covers and folding designs.
To pick the best mats for your daycare, Read on this article: Best Nap Mat for Daycare
2. Storage Bins & Shelves
Storage bins and shelves are essential for storing books, toys, blankets, pillows, and other items. You can use them to organize the kid's belongings during nap time.
Choose storage bins that have a lid to keep away dust and bugs.
3. Lighting Fixtures
Lighting is a very important factor when it comes to nap areas.
You need to create a soothing environment for the kids by setting the right kind of lighting in the room.
Invest in dimmers or night lights to control light intensity.
Lighting fixtures such as wall sconces, fairy lights, and chandeliers can create a cozy atmosphere in the nap room. They provide soft lighting that helps kids relax and fall asleep faster. Plus, they can also be used to add a decorative touch to the room.
4. Soft Toys
Soft toys such as stuffed animals and pillows provide comfort and security during nap time. They can also be used as a distraction to keep the kids relaxed while sleeping.
While it's common for children to bring their own stuffed toy or lovey for nap time at daycare, it's always useful to have some spares in the daycare nap room just in case.
5. Sound Machines and Fans
Sound machines and fans are essential for creating a perfect nap-time environment.
Sound machines have proven effective in canceling outside noise and helping kids relax and fall asleep faster.
On the other hand, fans help circulate fresh air, which aids in better sleep quality.
6. Blankets & Pillows
Toddlers and babies tend to get cold quickly, so consider buying soft and lightweight blankets for them. Additionally, comfortable and lightweight pillows would also be beneficial.
You might also want to read: Best Blankets for Daycare
7. Curtains & Carpet
Curtains are important in a nap room as they control the intensity of light entering the room.
Choose blackout curtains or thick blinds if you need total darkness in your nap space.
For carpets, choose ones that are soft to the touch and easy to clean. Low-pile carpets or rugs can be used for daycares as they provide a comfy and cozy feel.
You might also want to read: Daycare Flooring Ideas
8. Mattress Pads
Mattress pads are essential for providing extra comfort and cushioning to the sleeping mats. Invest in waterproof mattress pads that are easy to clean and hypoallergenic.
9. Carbon Monoxide Monitors/ Detectors
Carbon monoxide (CO) detectors are important for daycare nap rooms as they help detect the presence of this dangerous gas.
Installing CO detectors in childcare centers is crucial to comply with state regulations and to provide a safe sleeping environment for children.
6 Tips to Make Childcare Nap Area Sleep Friendly
Choose age-appropriate and familiar themes like stars and sky for young children's nap spaces. Avoid intricate designs that could catch kids' interest and disturb their sleep.

Use a firm mattress for babies under the age of 2 years to avoid the risks of SIDS.

Use microfiber or hypoallergenic materials for children's bedding.

Frequently sanitize your nap area to avoid the spread of germs.

Keep enough walking distance in-between sleep mats and cots.

Make use of color psychology and use soft pastel color themes for your nap room.
Frequently Asked Questions
How long should nap time be in daycare?
Nap time in daycare should typically last for about an hour or two. This depends on the age of the children and can adjust accordingly.
What is the best temperature for a nap?
The ideal temperature in a nap room should be between 68 to 72°F (20 to 22°C). Keeping the temperature cool.
Where do babies nap at daycare?
Daycare centers usually have separate nap rooms or areas for babies and toddlers. The sleeping space is usually comfortable, safe, and free of distractions in state-regulated daycares.
How do daycares handle naptime?
Daycare centers typically have a set nap schedule and routine that they follow. They use soothing activities to help the kids relax, such as reading stories or playing soft music. They also ensure that each child is comfortable with their blankets and pillows before starting nap time.
How do daycare workers get babies to nap?
Daycare workers use a variety of strategies to help babies and toddlers fall asleep. These include dimming lights, playing white noise or lullabies, providing comfortable blankets and pillows, and using soothing massage techniques. Additionally, they also use rocking chairs or swings to help the children relax.
Conclusion
Having a nap room or dedicated nap area in daycare is essential for providing children with the rest they need.
It also helps them to be better rested and more energized throughout their day.
To create an ideal sleep environment, daycare owners should focus on hygienic sleep areas and pre-nap activities foremost.
Improving the design of nap rooms with elements such as appropriate lighting fixtures, comfortable blankets and pillows, soundproof curtains and soft carpets, quality mattress pads, and safety features such as carbon monoxide monitors can further enhance the overall relaxation experience.