Open House Ideas for Daycare: Unique Ideas, Tips And Guide
Hello daycare owners!!
Do you want to promote your daycare and get more parents in the door?
Look no further! In this blog post, I will walk you through 9 fantastic ideas for hosting an open house for your daycare.
They include:
Themed Open House
Interactive Stations
Parent-Child Bonding Activities
Staff Showcase
Sample Classes
Parent Testimonials
Refreshments and Snacks
There's something here for everyone, from fun family activities to projects that bring out their creative sides. I have curated 9 open house ideas for daycare, tips and guide to conduct an open house. So you can market your daycare to more parents, and showcase activities, staff and equipment resulting in gaining new customers.
So roll up those sleeves; it's time to plan a fantastic open house!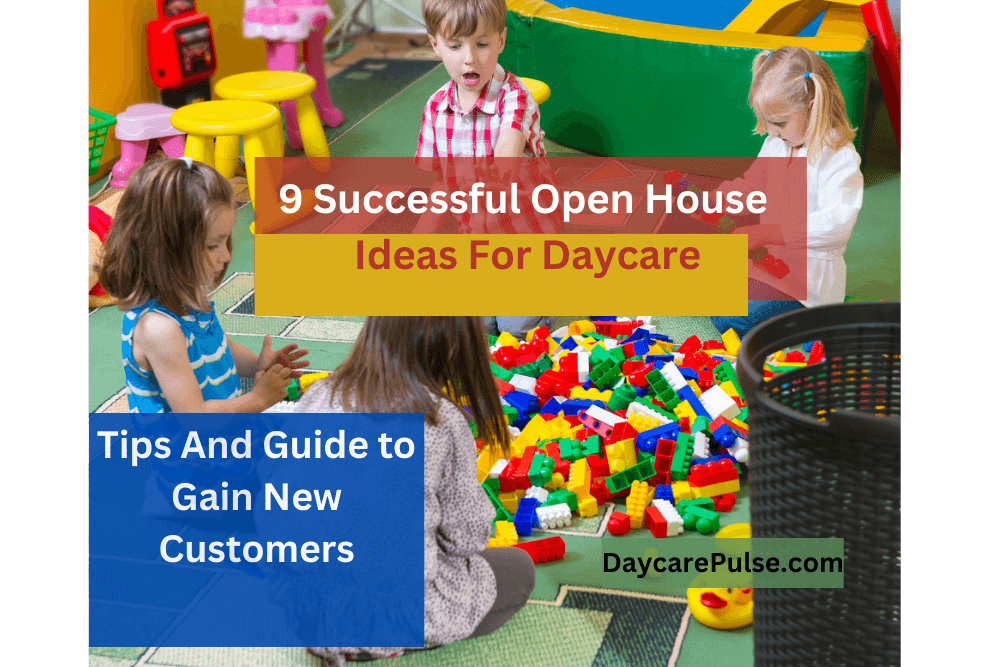 9 Unique Open House Ideas for Daycare
It's the perfect opportunity to showcase your facility, engage parents, and create a fun-filled experience for everyone involved.
To help you plan a memorable event, we've compiled a list of unique open-house ideas that will leave a lasting impression. Let's dive in and get inspired!
You may also like to read: How to Promote Your Daycare Business – DaycarePulse.com
1. Themed Open House
A themed open house is a great way to add some excitement and interest.
Choose a theme that resonates with your daycare, such as animal-themed activities or a science-related topic for older children.
Selecting a Theme
Choose a fun and engaging theme that will capture the imagination of children and parents alike.
The possibilities are endless, whether it's a pirate adventure, a superhero extravaganza, or a magical unicorn party.
Decorations and Signage
Transform your daycare into a whimsical wonderland with themed decorations and colorful signage.
Create a welcoming atmosphere that sets the stage for an exciting day ahead.
You may also like to read: Daycare Sign Ideas | Child Care Signage
2. Themed Activities for Children
Introduce activities that revolve around your chosen theme.
For example, if you host a pirate-themed open house, introduce a treasure hunt or create an obstacle course filled with tasks and challenges.
Interactive Stations
Set up various activity stations throughout the daycare that align with your chosen theme.
From arts and crafts to sensory play and pretend play areas, ensure there's something for every child to enjoy.
Engaging Children and Parents in Interactive Games or Crafts
Encourage parent-child bonding by organizing interactive games or crafts in which families can participate.
It's a fantastic way to create lasting memories and foster community.
3. Staff Showcase
Introduce parents and children to the excellent staff who make your daycare unique.
Have each staff member give a brief presentation about themselves, their role at the daycare, and why they love what they do.
Allowing Staff Members to Showcase Their Talents or Expertise
Highlight the skills and talents of your daycare staff by enabling them to showcase their expertise.
Let their unique abilities shine, whether it's a musical performance, storytelling session, or magic tricks.
Providing Mini-Workshops or Demonstrations for Parents
Offer mini-workshops or demonstrations that provide parents valuable insights into early childhood development.
From sensory play techniques to positive discipline strategies, empower parents with the knowledge they can apply at home.
4. Sample Classes
Provide a sample of your daily classes, such as language or music classes.
Parents can get firsthand experience and see how their children will benefit from the activities you provide.
Offering Shortened Versions of Typical Daycare Classes
Give parents and children a glimpse into your daycare's curriculum by providing shortened versions of typical classes.
Whether it's a music class, yoga session, or science experiment, let them experience the educational and enriching activities you provide.
5. Parent Testimonials
Encourage parents to share testimonials about their experiences at your daycare.
Requesting Testimonials From Satisfied Parents
Reach out to satisfied parents and request testimonials about their experience with your daycare.
Ask them to share what they love most about your center and how it has positively impacted their child.
Displaying Testimonials and Sharing Success Stories During the Event
Showcase these testimonials during the open house to provide social proof and instill confidence in prospective parents.
Share success stories and heartwarming anecdotes that highlight the unique qualities of your daycare.
6. Refreshments and Snacks
Offer light refreshments and snacks during the open house. It's a great way to show parents you care and make them feel comfortable.
Setting up a Refreshment Station for Parents
Create a designated area where parents can enjoy refreshments and mingle with each other.
Offer a selection of beverages and light snacks to keep their energy levels up throughout the event.
7. Raffle or Giveaways
Create a fun atmosphere by hosting a raffle or offering giveaways during the open house.
Organizing a Raffle With Prizes for Attending Parents
Hold a raffle for parents who attend the open house, with exciting prizes such as discounted daycare rates, gift certificates, or educational toys.
It adds an element of excitement and gives parents an extra incentive to participate.
Providing Small Giveaways or Promotional Items
Offer small giveaways or promotional items, such as branded keychains or pens, as a token of appreciation for parents' attendance. It's a thoughtful gesture that leaves a lasting impression.
Photo Booth
Create a photo booth area with fun props for parents and children to capture memorable moments.
Encourage families to let loose, strike a pose, and take home a souvenir from the event.
How to Prepare for the Open House?
Now that you have great ideas for your daycare open house let's discuss how to prepare best. Start planning early and create a checklist of tasks that must be completed before the big day.
1. Setting a Date and Time
Choose a date and time that works best for your daycare staff and prospective parents.
Consider weekends or evenings when parents are more likely to be available.
2. Creating a Checklist of Tasks
Make a detailed checklist of all the tasks that must be completed before the open house.
This includes cleaning and organizing the facility, preparing materials and handouts, and arranging refreshments.
3. Promoting the Event
Use various promotional channels to spread the word about your open house.
Utilize social media platforms, your daycare's website, and local community boards, and even distribute flyers in nearby neighborhoods.
How to Conduct a Successful Open House?
Now that you know how to plan and prepare for the open house, let's discuss how to conduct a successful event.
1. Welcoming and Greeting Visitors
Have a designated staff member or team to welcome and greet visitors as they arrive warmly.
A friendly smile and a welcoming atmosphere go a long way in creating a positive first impression.
2. Providing a Brief Introduction to the Daycare
Start the event with a brief introduction about your daycare, its mission, and the values you uphold.
Highlight what sets your daycare apart and why it's an excellent choice for parents and their children.
3. Offering Guided Tours of the Facility
Divide the open house attendees into small groups and assign staff members to guide them through the facility.
Showcase different areas, such as classrooms, outdoor play areas, and specialized learning spaces.
4. Highlighting Key Features and Programs
During the guided tours, highlight the key features and programs that make your daycare unique.
Emphasize the quality of your curriculum, the qualifications and expertise of your staff, and any special enrichment activities you offer.
5. Addressing Parents' Questions and Concerns
Please set up a designated area or time where parents can ask questions or express their concerns.
Ensure staff members are prepared to provide accurate and helpful answers to address inquiries or hesitations.
Tips for a Successful Open House Event
Here are some tips on preparing for the event and conducting it in a way that will leave a lasting impression on prospective parents.
1. Staff Preparation and Training
Ensure that your team is well-prepared for the open house.
Conduct training sessions to familiarize them with the event agenda, their roles and responsibilities, and how to engage with parents effectively.
2. Creating a Welcoming Atmosphere
Pay attention to the ambiance and decor of your daycare during the open house.
Use colorful decorations, display children's artwork, and create a warm, inviting atmosphere reflecting your daycare's nurturing environment.
3. Providing Informative Materials and Handouts
Prepare informative materials, such as brochures, flyers, or information packets, that parents can take home.
Include details about your daycare's philosophy, curriculum, enrollment process, and contact information.
4. Collecting Contact Information for Follow-Ups
Have a sign-up sheet or digital form available for parents to provide their contact information to receive further updates or schedule a follow-up visit.
This allows you to maintain communication and nurture prospective leads.
5. Requesting Feedback from Attendees
After the open house, send attendees a follow-up email or survey requesting feedback.
This helps you gauge their experience, identify areas for improvement, and demonstrates your commitment to continuous growth.
Frequently Asked Questions
1. What Is the Main Objective or Goal of the Open Houses Events?
The main objective of an open house event is to allow parents to learn more about your daycare and its programs.
It aims to showcase your daycare's unique features, benefits, and educational approach while fostering a sense of community and building relationships with parents.
2. How Can We Showcase the Unique Features and Benefits of Our Daycare Program?
To showcase the unique features and benefits of your daycare program, you can:
Provide guided tours of the facility, highlighting key areas and explaining how they contribute to a nurturing and stimulating environment.
Display children's artwork, projects, and achievements to demonstrate creativity and learning at your daycare.
Share success stories and testimonials from satisfied parents who have witnessed the positive impact of your daycare on their children's development.
Offer demonstrations of activities, such as music, art, or language lessons, to showcase your program's educational and engaging aspects.
Provide informative materials, brochures, or handouts outlining your daycare's curriculum, philosophy, and unique features.
3. What Preschool Open House Ideas Can We Offer to Engage Both Children And Parents?
There are various activities and demonstrations you can offer to engage both children and parents during the open house, such as:
Interactive games or crafts stations where parents and children can participate together.
Mini-workshops or demonstrations led by your staff, showcasing their talents or expertise in music, art, or storytelling.
Sample classes that provide a glimpse into your daycare's daily routine and curriculum, allowing parents and children to experience the engaging and educational activities firsthand.
Demonstrations of fun activities that parents can do with their children at home, encouraging parent-child bonding and extending the learning experience beyond the daycare.
4. How To Do Marketing of Open House Event on Social Media?
Marketing your open house event on social media is a great way to spread awareness and engage with prospective parents.
Create an event page on Facebook or other social media platforms to inform people about the event's date, time, and location.
Post exciting facts or snippets about your daycare's programs, values, and unique features.
Conclusion
Hosting an open house for your daycare is an exciting opportunity to connect with parents, showcase the unique aspects of your program, and foster a sense of community. By offering engaging activities, informative demonstrations, and a welcoming atmosphere, you can leave a lasting impression on parents and create a positive image of your daycare.
Remember to highlight your program's benefits, features, and successes and provide ample opportunities for parents to ask questions and interact with staff. With careful planning and execution, your open house can be a memorable and impactful event that helps parents make informed decisions about their child's early education and care.