10 Daycare Entrance Ideas: Childcare And Daycare Designs
Are you a daycare owner looking to create an inviting entrance for potential customers? Look no further! Setting up an attractive doorway can make all the difference in encouraging new parents to your facility.
Here are the top 10 daycare entrance ideas:
Install secure access systems
Interactive Wall
Name Wall
Picture Wall
Nature Corner
Reading Nook
Information Corner
Welcome Board
Invest in durable flooring
Designated area for staff's personal belongings
Keep reading for 10 ideas that guarantee improved safety and security for your daycare facility, increased aesthetics and a welcoming first impression for staff, students and visitors.
Read all the details about important factors, an easy-to-use shopping list, 10 helpful tips and 5 benefits of designing your daycare entryway.
Transform the look of your daycare today!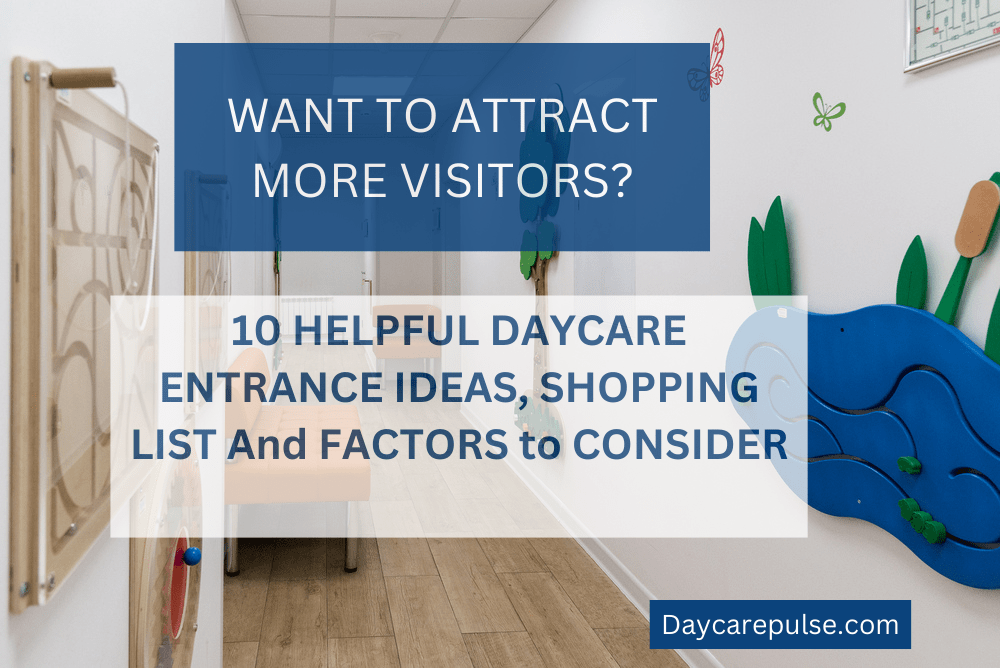 10 Daycare Entrance Ideas
Daycare entrance ideas are essential for creating a safe and secure environment for children.
1. Install Secure Access Systems or Cameras
You are most likely questioning whether a high-security hallway system is appropriate. Put your worries to rest; parents appreciate daycares prioritizing their children's safety and security.
Installing cameras or other surveillance systems can ensure that only authorized individuals may enter and leave the area, keeping all kids safe from harm.
2. Name Wall
Create a personalized name wall where each child's name is prominently displayed. Use colorful letters or customized nameplates to make it visually appealing. It not only helps children feel a sense of ownership but also helps them recognize and learn their names.
3. Picture Wall
Dedicate a wall space to display pictures of the children and their daily activities. Parents and children will enjoy seeing memorable moments captured during their time at the daycare.
Update the images regularly to keep them fresh and engaging.
4. Nature Corner
Set up a nature-inspired corner near the entrance. Incorporate elements like a small garden with child-friendly plants, a mini waterfall or fountain, and a sensory path made of natural materials like pebbles, wood, or grass.
It provides a calming and immersive experience as children enter the daycare.
5. Reading Nook
Create a cozy reading nook or mini library near the entrance with child-sized bookshelves, comfortable seating, and various age-appropriate books.
Encourage children and parents to spend a few minutes reading together before starting the day.
6. Information Center
Allocate a space near the entrance as an information center. Display important announcements, schedules, and newsletters on a bulletin board or digital display.
Include a section for parents to leave notes or communicate with the staff quickly.
7. Welcome Board
Have a dedicated welcome board near the entrance that displays the name of the daycare, the staff members' names and pictures, and a warm greeting for parents and children.
Decorate it with colorful borders or child-made artwork.
You may also like to read: Bulletin Board Ideas for Daycare| Types of Boards, Design Ideas, Do's & Don'ts
8. Invest in Durable Flooring
Invest in a durable flooring option like tile or vinyl that is simple to clean and maintain. A spotless, attractive floor will keep both kids and their parents contented and satisfied.
Read also: Daycare Flooring Ideas |Safe Childcare Floor
9. Interactive Wall
Install an interactive wall panel near the entrance where children can engage in hands-on activities. Include sensory boards, puzzles, gears, or magnetic tiles that promote exploration and fine motor skills.
Read also: Daycare Wall Decoration Ideas
10. Designated Area for Staff's Personal Belongings
Creating a secure and organized environment is essential in the workplace, so daycare centers should offer designated areas for their staff's belongings.
Lockers or cabinets should be available to all employees to protect their items while communicating professionalism throughout the center. These solutions will help foster an atmosphere of safety and reliability and reinforce trust between employers and employees.
Shopping List for Setting Up Daycare Entrance
Having suitable materials on hand is essential when setting up daycare entrance ideas. To ensure that you have all the necessary supplies for a successful installation, consider adding these items to your shopping list:
Security cameras and access control systems
Appropriately sized signage
Rugs or carpeting
Plants and greenery
Furniture and decor
Storage and organization solutions
Cleaning supplies
Artificial turf or outdoor-friendly flooring
Playground equipment and toys
Wall accents and decorations
Lighting fixtures
Entryway benches or seating areas
Locks and other security measures.
By taking stock of your needs, you can easily create a compelling shopping list for setting up your daycare entrance ideas. With all the suitable materials, you'll be well on your way to creating a warm and inviting atmosphere for parents and children!
5 Benefits Of Investing in Good Daycare Entrance Ideas
Investing in creative, innovative daycare entrance ideas can have a lasting positive impact on your facility. Its unique appeal will provide an improved experience for families visiting the center and may even attract new customers.
Plus, introducing eye-catching designs and concepts into your facility's layout could increase customer satisfaction beyond the initial impression of entering through the doors!
1. Safety and Security
To ensure the safety of your daycare facility, invest in advanced security measures like access control systems and CCTV cameras.
With these protective features installed, you can rest assured that your establishment is safe from intruders.
2. Improved Aesthetics and Curb Appeal
For a welcoming and inviting atmosphere, aesthetically pleasing plants and toys are essential. By investing in high-quality entrance ideas for your daycare facility, you can make sure that visitors have an enjoyable first impression when they arrive.
3. Increased Customer Satisfaction
A well-designed daycare entrance will welcome customers and provide a positive first impression. This can increase customer satisfaction, loyalty, and business referrals.
4. Brand Recognition
Good signage and design can create brand recognition, leading to word-of-mouth marketing and increased visibility in the community.
You may also like to read Daycare Sign Ideas | Child Care Signage. Daycare signs are more than just décor. Learn how to design unique sign boards for successful advertisements and more clients.
5. Cost Savings
Investing in good daycare entrance ideas can save money in the long run because the proper design will create a safe and attractive environment for customers without needing additional maintenance or repairs.
10 Tips to Implement Daycare Entrance Ideas
Ready to make your daycare stand out from the competition? Remember that careful implementation is critical when selecting the perfect entrance ideas for your facility. To ensure the successful execution of these innovative strategies, follow our 8 tips below on how to deploy them most effectively!
Invest in quality signage that is visible from the entrance.
Update regularly to stay ahead of trends by adding new colors, textures, furnishings and tech solutions.
Create a plan that focuses on high-impact ideas and allocates the budget accordingly.
Research options for hiring professionals.
Have regular maintenance checks.
We are creating a comprehensive training program for staff.
Educate staff on the importance of staff privacy; separate entrances and exits should be established. Regular maintenance must always occur to maintain its pristine condition after selecting the right daycare entrance ideas and earmarking sufficient funds.
Utilizing calm colors such as yellow, green, and blue is a fantastic way to set the tone for positivity. It's a fact that warm colors attract people while creating a cozy atmosphere.
Provide Open Entryway-Constructing an easy-to-access and calm portal that is secure enough only to allow authorized personnel entry would be a great solution.
You can also install secure automated access systems like facial recognition, biometrics and other methods to control entry. It will guarantee that only authorized personnel have access to your facility.
Furthermore, consulting a professional and creating an instruction program for personnel will guarantee that all your daycare entrance suggestions are correctly applied.
5 Factors to Consider for Setting Up Daycare
Planning is crucial to ensure success when setting up entrance ideas for daycare. Here are five key factors to consider when you're ready to get started:
1. Safety and Security
Ensure your facility has the necessary security measures, such as access control systems, locks, CCTV cameras and other protective features.
2. Welcoming Atmosphere
Introduce eye-catching colors and textures to create a warm, inviting environment when visitors arrive at your daycare entrance.
3. Organized and Efficient Layout
Utilize an organized layout for convenience and efficiency regarding daycare design concepts.
4. Communication and Information
Invest in quality signage that is visible, informative and easy to read.
5. Regulatory Compliance
Ensure you're meeting the government regulations when setting up daycare entrance ideas, such as creating open areas for parent access.
By following these five factors and taking stock of your needs, you can successfully implement the best daycare entrance ideas for your facility.
You may also like to read: Home Daycare Ideas For Decorating: 8 Budget-Friendly Decoration Ideas
Frequently Asked Questions
1. What is the Target Market for Child Care?
The target market for child care typically consists of families with young children. It includes parents, grandparents, nannies and other caregivers who need quality daycare services.
2. What are the 5 Cs of the Target Market?
The five C's of the target market are Context, Customers, Convenience, Cost, and Competition. Businesses should consider these five C's when marketing child care services to create an effective plan for targeting their ideal customers.
3. Who are The key Customers of the Childcare Center?
The key customers of daycare are typically parents or guardians with young children who need quality daycare services. These customers may also include nannies, grandparents and other caregivers with young children in their care.
4. How Can I Setup My Daycare Entrance Staying On Budget?
When setting up a daycare entrance on a budget, creating a comprehensive plan focusing on high-value activities while keeping costs low is essential.
It includes selecting the right entrance ideas, earmarking sufficient funds and creating a maintenance plan to keep it pristine. Additionally, consulting with a professional is highly recommended when setting up a daycare entrance.
5. What Preschool Activities Can Be Offered At Daycare Centers?
Preschool activities offered at daycare include academic activities such as reading, writing and math; art activities such as drawing and painting; physical activities such as sports and dance; social-emotional activities such as role-playing and problem-solving; and creative play.
Daycares may also offer field trips or educational programs that expose children to different cultures, animals, and the natural environment.
Conclusion
Designing and implementing a triumphant daycare entrance is essential to the childcare business. By taking stock of your needs, budgeting appropriately and investing in quality signage, you can create an inviting atmosphere that will leave a lasting impression on parents and children alike.
Providing preschool activities such as reading, writing, art, and physical and social-emotional activities is essential in creating a triumphant daycare entrance. As always, consult a professional when setting up your daycare entrance to ensure you stay on budget and meet government regulations.
With my 7 tips, you can have a successful exit that will attract new customers and keep existing ones coming back!
Good luck!