Can You Work at a Daycare at 16?
Are you 16 years old and curious if you can work at a daycare? Do you need to know what the requirements are for this role?
I have good news for you. Yes, you can work at daycare when you are 16! If you're aged 16, working at a daycare is an excellent opportunity. With the right attitude and dedication, you can work your way up in the daycare or use it as a stepping stone to explore other options.
I have curated the blog post with all the necessary information to get started working at daycare! So, let's arm ourselves with knowledge and jump right into it! Believe me, nobody is too young to work at a daycare. All you need is to be passionate about working at a daycare.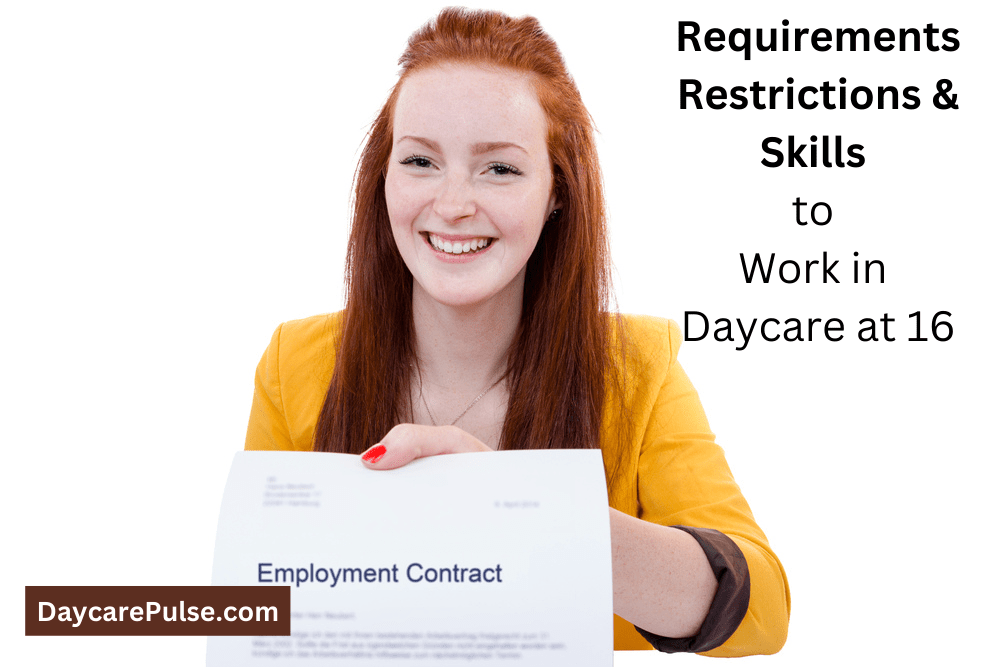 Requirements for Working in a Daycare
Before working at a daycare, you must fulfill specific requirements. Depending on your residence, it may be necessary to acquire a work permit before commencing employment.
Furthermore, inform yourself about any restrictions regarding working hours and overtime pay (if applicable).
To demonstrate you are eligible to work, you must furnish relevant paperwork and complete a detailed background check.
Requirements to Obtain a Work Permit
To obtain a work permit, you must fulfill several criteria, including:
Being at least 16 years old
Having the consent of a parent or guardian
Not having any criminal convictions
Being enrolled in school and attending classes regularly.
Restrictions on Working Hours
Most states enforce a limit on the number of hours one can work per week, typically at most 10 hours for individuals aged 16 and 17.
Nevertheless, if you demonstrate that these regulations will obstruct your ability to gain employment or advance in an educational program, there are exceptions available.
How to Find a Daycare Job at 16?
If you have met the legal requirements, it's time to start searching for an ideal daycare job. Networking is an essential step to finding a daycare job!
Go through the job descriptions. Make connections with daycare workers to know about their journey of working at the daycare.
Make sure to speak with friends and family members regarding any available opportunities they may know of. Additionally, consider reaching out directly to daycares to inquire about their hiring policies and openings.
You may want to read How Old Do You Have To Volunteer at Daycare?
What Skills Do You Need For Childcare?
Do you know achieving success in daycare requires specific qualities and skills? These skills include.
The ability to remain composed during challenging moments
Patience for difficult children
Understanding child safety regulations
Comprehending each young learner's capabilities
The combination of these invaluable traits is integral to becoming an effective daycare worker.
4 Benefits of Working at a Daycare at 16
Do not get confused. Have faith in yourself and your decision. Working at daycare can bring you a lot of benefits. You will acquire invaluable skills and knowledge through an immersive experience in child development by working at a daycare.
Learning to comprehend children's maturation process better and teaching them effectively is your golden opportunity! Here are the 4 reasons to consider working at the daycare.
Get a head start on your employment history. Building your resume will give you an advantage when you apply for more complex jobs later.
Earn a steady wage and haveaccess to benefits. Depending on the location and daycare, you could earn up to $12 an hour or more for your services.
Get reliable work hours if you're not attending school full-time. Many daycares offer flexible scheduling options that may suit your lifestyle.
Develop a passion and start a career in daycare. If you enjoy working with children, this could be the beginning of something great!
Do you know you can work at a daycare without any experience? I have an interesting read for you. How To Get A Job At A Daycare Without Experience?
Frequently Asked Questions
1. What Age Do Most Daycare Workers Hire?
Most daycare workers are hired at 16 or older. Depending on the locality and specific facility, some age restrictions could exist; nevertheless, it's best to inquire about each daycare's hiring policies.
2. What Is The Youngest Age to Work at a Daycare?
The youngest age you can legally work at a daycare is 16. However, there may be exceptions depending on the location and type of daycare.
4. What Do Most Daycares Pay?
The amount of money you can make depends on the location and type of daycare. Depending on the situation, you could earn up to $12 an hour or more for your services.
The compensation for daycare workers is substantial, with an average annual salary of $27,490 in 2021. Salaries range from a minimum of $18,000 to a maximum of $37,000.
5. What Does Daycare Pay to Teachers?
The salary for a daycare teacher may vary depending on location, experience and level of education. The Bureau of Labor Statistics cited the median salary for daycare teachers in 2021 to be $30,210 per year.
Conclusion
Working in daycare can be an immensely gratifying and lucrative experience! It is deeply satisfying to give support and direction to children and gain valuable work history.
However, it's always crucial that you inform yourself of the legal prerequisites before commencing your job at the daycare center; for instance, having a valid permit or abiding by any limitations on working hours.
Remember to ask about their regulations so that you are following them correctly and maintaining compliance with all rules! Following these guidelines, you can confidently embark on your journey to becoming a daycare worker at 16!