How Old Do You Have To Volunteer at Daycare?
Are you ready to work in the world of childcare? Looking to spice up your resume with some fun volunteer work but need help figuring out where to start? You may be overlooking daycare centers for volunteering opportunities.
The minimum age requirement for volunteering at a daycare typically varies from state to state. Generally, the minimum age requirement for volunteers at daycare is 16 years old.
Don't worry; look into these 6 eligibility requirements and 7 guidelines to volunteer at daycare. Moreover I got 4 state and local regulations. I have gotten 3 easy to follow steps for volunteering in the beautiful world of childcare.
So that you may feel empowered and excited to contribute to the wonderful world of childcare, as they gain clarity on eligibility requirements, guidelines, state and local regulations, and discover three easy-to-follow steps to get involved.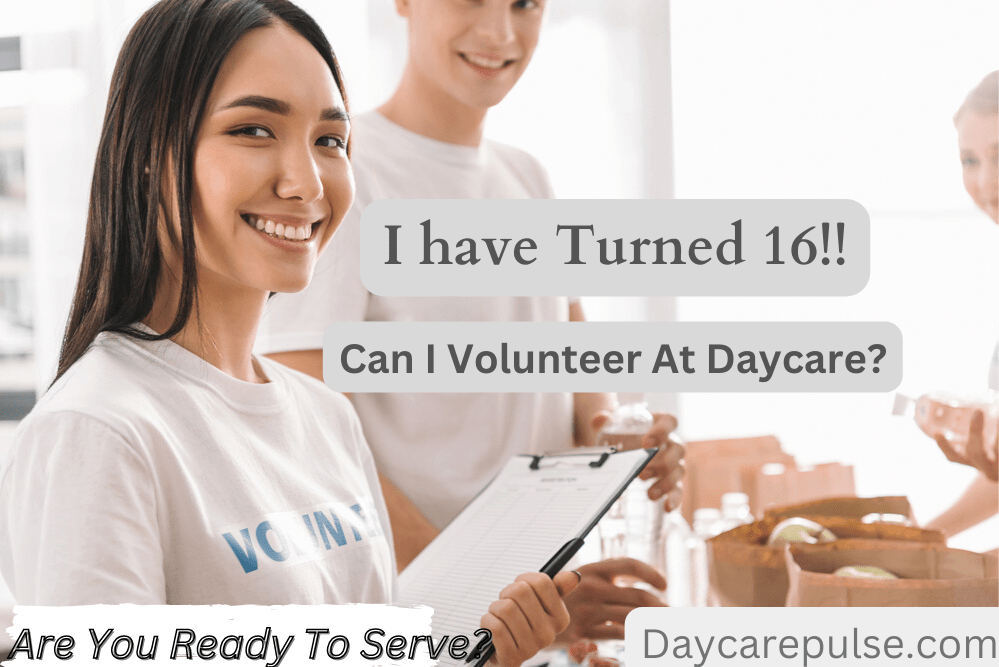 6 Eligibility Requirements to Volunteer at Daycare
If you want to work at a daycare, specific eligibility requirements exist. Generally, volunteers should meet the following criteria.
Be at least 16 (but check with individual daycares for specific age requirements).
Possess the necessary qualifications and certifications such as CPR certification or first aid training.
Be able to pass a background check.
Have the necessary skills and experience in working with children.
Follow all state and local laws and regulations regarding daycare volunteer positions, such as licensing and insurance requirements.
Investing in a daycare position requires commitment – ensure you're ready to stick around for however long is needed!
In addition, some daycares may have specific guidelines and requirements for volunteers. It's important to review these before applying for a position.
How Old You Have to Be to Have a Job at Daycare?

The minimum age requirement to work at a daycare facility varies by state. Generally, you have to be 18 to be eligible for the position.

Read on How Old Do You Have To Be To Work At A Daycare?

However, some states may also allow younger teenagers with parental permission or other qualifications to work at daycare. It is essential to check with the individual daycare for their specific age requirements.
7 Guidelines to Volunteer at Daycare
When volunteering at a daycare, following the guidelines set out by the daycare is essential. These 7 general guidelines may include the following.
Respect all participants, including other volunteers and children.
Follow the rules and procedures set by the daycare.
Always act professionally and be courteous to other staff members.
Ensure your safety as well as the safety of those around you at all times.
Dress appropriately and maintain a neat appearance.
Refrain from using any type of drugs or alcohol while on the premises.
Do not bring any weapons to the daycare facility.
You may also want to read about Do Daycare Jobs Drug Test?
4 State and Local Restrictions
Awareness of state and local restrictions for volunteering at daycare is essential. These restrictions may include the following.
1. Age Limits
With parental permission, most states require volunteers to be a certain age, usually 16 or at least 14.
2. Supervision Requirements
Volunteers must be supervised by an adult and other qualified personnel while working with children.
3. Licensing And Insurance Requirements
Some states have licensing or insurance requirements for daycare facilities and volunteers.
4. Criminal Background Checks
Volunteers must be able to pass a criminal background check to be eligible for the position.
Note: It's important to review state and local regulations before applying for a volunteer position.
Other Considerations
When considering volunteering at daycare, you should take other factors into account. These may include:
Can you commit the necessary time and energy to the volunteer position?
Do you have the proper skill set to help the children in your care?
Are you comfortable taking on additional responsibilities like supervising other volunteers or helping with administrative tasks?
Do you have any allergies or medical conditions that could limit your ability to volunteer?
These are essential questions to consider before applying for a volunteer position.
Related: Can You Work at a Daycare at 16?
3 Steps for Volunteering at Daycare
Once you have determined that you are eligible and capable of volunteering at daycare, there are several steps that you must take to begin the process. These steps may include the following.
1. Screening and Training Requirements
You must pass a criminal background check and may need to attend additional training courses or workshops.
2. Paperwork and Forms
You must submit various paperwork, such as a volunteer application, liability waiver form, and other documents.
3. Finalize the Placement Agreement
Once you follow all requirements. You must sign a placement agreement with the daycare and begin your volunteer role.
5 Benefits of Volunteering At Daycare
Volunteering at daycare can be an enriching experience. You will be able to help children develop and grow, but you may also benefit from many of the perks associated with volunteering in this field. Some of these benefits include:
1. Building Employment History
Volunteering can provide valuable work experience that could lead to future job opportunities.
2. Developing Relationships
You can build strong relationships with the children, their families, and other staff members.
3. Personal Satisfaction
Watching the children learn and grow can be immensely rewarding.
4. Learning New Skills
Volunteering at a daycare facility provides an opportunity to learn more about childcare-related topics such as safety, nutrition, and education.
5. Having Fun
Many daycare centers host special activities and events, providing exciting volunteer opportunities.
How Can You Apply for Paying Jobs At Daycare Centers?
In addition to volunteering, you may also be able to apply for paying job opportunities at daycare centers.
Depending on your qualifications and experience, numerous positions, such as assistant teachers or activity coordinators, could interest you. Researching the various available roles and ensuring you meet all the requirements before applying is essential.
When applying for a job at a daycare, you should keep several other factors in mind. Depending on the specific position and state or local laws, you may need to meet particular requirements to be eligible for employment.
If you pursue this opportunity, ensure you know all local laws and regulations. Additionally, be prepared to take the necessary steps to become an approved volunteer. Good luck!
Read my insightful blog about How To Get A Job At A Daycare Without Experience?
4 Things to Consider Volunteering at daycare
Volunteering at daycare is a fantastic way to give back and positively impact children's lives. Here are things to consider if you want to volunteer at daycare.
1. Time Commitment
Volunteering at a daycare requires an ongoing commitment. Depending on the necessary hours and availability, you may need to dedicate specific days and times or be flexible with your schedule.
2. Potential Expenses
You may need to invest in the necessary equipment, such as uniforms, or pay for any training courses required.
3. Proper Attire
Depending on the daycare's policies, you may need to dress in a certain way or wear a specific uniform.
Read on What Do Daycare Workers Wear?
4. Professionalism
Maintaining a professional attitude and appropriate behavior while volunteering at a daycare facility is essential.
By understanding these considerations, you will be better prepared for your volunteer experience and make a meaningful contribution to the children and their families.
Can You Be a Public Service Volunteer?
Yes, you can be a public service volunteer. Public service volunteering is a great way to give back and positively impact the lives of those around you.
Various public service opportunities are available depending on your skills, experience, and interests. These could include working with homeless or at-risk youth programs, assisting in disaster relief efforts, and providing educational opportunities to underserved communities.
You may also be able to volunteer for a local government agency or community organization.
When considering public service volunteering, it is essential to think about your skills and interests.
Look for opportunities matching your strengths and passions to maximize your volunteer experience.
Also, before signing up, could you research the organization to ensure you are comfortable and familiar with their mission and values? It will help you ensure that your volunteer experience is meaningful and rewarding.
Red Cross Daycare Volunteering
Volunteering with the Red Cross at daycare centers is a great way to help children and families in need. The Red Cross offers a variety of volunteer opportunities at local daycare centers, from providing educational activities for children to assisting in administrative tasks.
To become a Red Cross daycare volunteer, you must be 18 and pass an extensive background check. Depending on the specific role, additional requirements may apply.
In addition to the satisfaction of helping others, Red Cross volunteers receive training and support from staff members and recognition for their service.
Conclusion
Volunteering at daycare centers is a beautiful way to give back and positively impact the lives of children and families. By researching your local laws, requirements, and policies, you can ensure to prepare for the application process.
No matter your age, volunteering at daycare centers can be a rewarding and meaningful experience. So don't hesitate to look for volunteer opportunities today and get involved in your community!
We hope this guide has been helpful as you consider volunteering at daycare centers. Good luck!