How to Tell Daycare You Are Leaving? | Daycare & Childcare Leaving Tips
Are you worried about how to tell your Daycare that you are leaving? Leaving Daycare can be difficult and stressful, especially if you have developed relationships with the staff and other children there.
I have curated 5 steps to tell daycare you are leaving, 3 letter templates for daycare withdrawal, Do's And Don'ts for Daycare Services Cancellation.
With all this information, you will feel empowered, confident, and relieved in navigating the process of informing daycare about a kid's departure on crafting a professional and polite withdrawal letter.
Let's get started!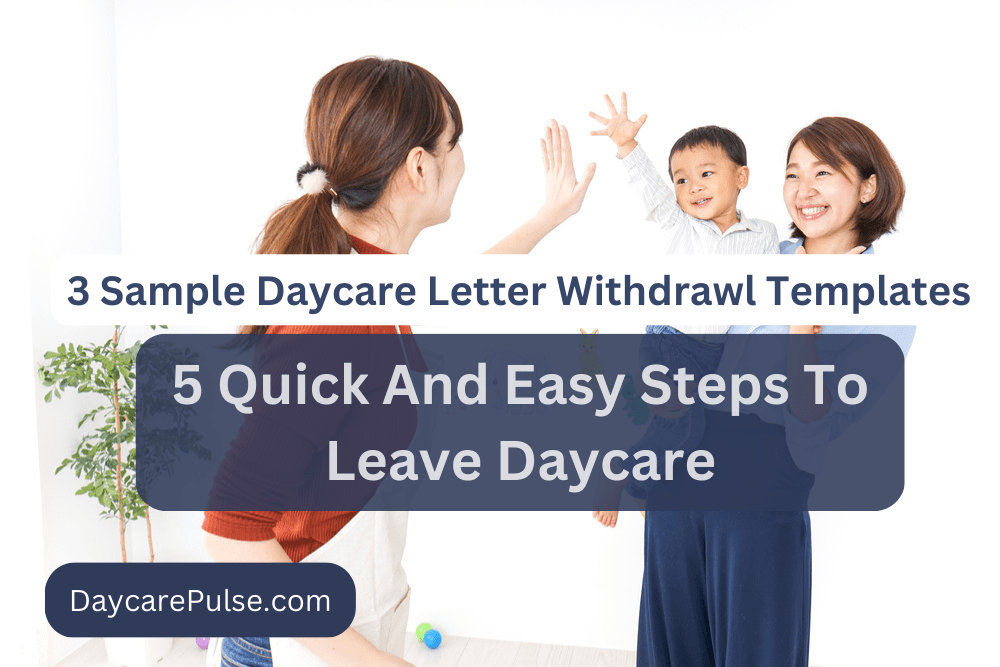 Telling Daycare You Are Leaving: Important Considerations
Deciding to inform your daycare that you are leaving can be a daunting task.
This section aims to guide you through the process of how to tell daycare you are leaving, highlighting the important considerations to bear in mind to ensure a smooth transition.
Timing Considerations
Communicate your intention to leave at least a month in advance, allowing the daycare center to adjust operations.
The notice period enables the daycare to find a replacement, plan for changes, and prepare the other children for the departure.
Arrange a face-to-face meeting with the person in charge to show respect and professionalism.
Advance Notice
Giving advance notice when leaving the daycare is a polite and respectful gesture. Ideally, this notice should be provided one month prior to your child's last day.
The notice should clearly state your departure date and reasons, if you choose to share them. Effective communication helps minimize any confusion.
It is recommended to share a copy of the notice with the person in charge and your child's primary caregiver to ensure everyone is aware of the situation.
End of Contract
Carefully review the daycare contract before notifying them of your departure. Pay attention to termination notice, fees, and penalties.
Fulfill all requirements in the contract for ending services, which may include paperwork and settling fees.
Discuss any questions or concerns about contract termination with daycare management to prevent misunderstandings or conflicts.
Mid-Term Withdrawal
Consider the contractual implications of withdrawing your child from daycare mid-term, as there may be penalties for breaking the contract.
Review the contract for any specific procedures to follow when making a mid-term withdrawal.
Emergency
In the event of an emergency that requires immediate withdrawal from the daycare, notify the center as soon as possible.
Consult your contract to understand the repercussions of an emergency withdrawal and be prepared for any potential penalties.
Announcement Types
Informing the daycare of your departure requires choosing the most appropriate method based on your relationship with the staff and reasons for leaving.
Verbal Notification
Verbal notification is important when informing the daycare about your departure. It should ideally be given a week in advance to allow sufficient time for necessary adjustments.
Written Notice
If you are unable to schedule a face-to-face meeting, a written notice is an appropriate alternative. It should clearly state your departure date and reasons for leaving.
Formal Letter
A formal letter is a professional and effective way to notify the daycare providers of your departure.
Email
Email is another convenient and efficient way to communicate your departure date and reasons for leaving. It also provides a reliable record of your notice.
5 Steps To Tell Daycare You Are Leaving
Following these 5 steps will help make telling Daycare that your child is leaving easy for everyone.
It also helps to ensure a clear line of communication between you and the daycare owner so everyone is on the same page.
Lastly, these steps allow you to express gratitude for their hard work and dedication in caring for your child.
Re-Read the Contract Carefully
Before you tell Daycare you are leaving, it is essential to read and understand your contract with the daycare center. It will inform you precisely what conditions your child has to go, such as giving ample notice or paying additional fees.
Ensure these terms so everything is clear and easy regarding leaving.
Once you have read through the contract and determined the necessary steps, mention your child's last day at Daycare. It will give the daycare owner ample notice so they can adjust their schedules accordingly.
Complete Documentation
It is also essential to complete any necessary paperwork before you tell the Daycare you are leaving.
Please complete documentation correctly and promptly so everything goes smoothly when it comes time to leave.
Give Daycare Withdrawal Notice
You should also provide the daycare center with a withdrawal notice. This document includes your name and contact information, your child's Name, their last day at Daycare, and any additional details relating to leaving.
You must ensure this document contains all the correct information so the Daycare can file it correctly.
Write to Daycare Owner
To inform them you are leaving, crafting a farewell letter to the daycare center is essential. It's advantageous to give them your rationale for departing and offer gratitude for their commitment when your child attended their facility.
When composing this notice, make sure it exudes professionalism and politeness. If you require assistance constructing one, refer to our sample letter at the end of this blog post as guidance!
Have a Meeting With the Daycare
Meeting with the Daycare is essential when telling them you are leaving. It gives you a chance to discuss any issues or questions that may have come up. Provide an opportunity for them to express any concerns they might have.
Having this conversation face-to-face can also help ensure that all necessary paperwork is completed correctly and everyone is on the same page.
Send Follow-up Email
After you have had your meeting with the daycare owner, it is a good idea to send a follow-up email. It allows you to restate critical information and provide additional information you may have missed.
It can help to ensure that all paperwork is completed correctly and on time and provide a formal record of your conversation with the daycare owner.
These steps help you provide a clear line of communication between you and the daycare owner so that everyone is on the same page.
How to Write Daycare Withdrawl Letter?
When formatting your letter, you should mention these 8 things.
Use a professional tone
Have a clear language
Include Date
Contact Information
Body Paragraphs [last day of your child's attendance, any additional fees, and other relevant details]
Additionally, you can express your appreciation for their care and dedication over the time your child has been at the center.
What Should You Include in Your Daycare Withdrawl Letter?
When penning your Daycare's farewell letter, make sure you include the following pertinent details:
Your name and contact information to ensure accuracy
The date you wrote the letter, so there is a record.
Namely, your child's identity as well as their final day at the center
A brief explanation for why you are discontinuing services with them. • Any fees arising due to ending care early or any other expenses associated with leaving.
Lastly, an affirmation that all required documentation has been finished before your kid's last visit on-site.
Furthermore, please take the opportunity to thank your daycare owner for their attentive care and dedication over the time your child has been at the center.
Expressing gratitude is an excellent way to promote a beneficial relationship between you and them. Also, if any other information needs mentioning, please include it!
Do's and Don't's for Daycare Services Cancellation | Tips and Tricks
Here are the do's and don't for daycare services cancellation.
Do's of Daycare Service Cancellation
Make sure to alert your daycare owner with ample warning when you decide it's time to move on. It gives them a chance to prepare and make a smooth transition adequately.
With a formal letter or email, kindly inform the school of your child's last attendance day and any other details required for their departure procedure.
Taking the time to thank your daycare provider face to face for their loving care and commitment throughout your child's stay at the center is essential. Establishing a good bond with them can help foster trust and mutual respect toward one another in no time.
To protect yourself from any additional charges or conflicts arising from an early departure, complete all the necessary paperwork correctly.
Dont's of Daycare Service Cancellation
Don't forget to gather all essential documentation; this is fundamental for filing any childcare expenses tax credits.
Don't wait to put off tomorrow what you can do today! It is essential to contact your daycare provider in advance regarding any alterations made to the original arrangements.
Don't forget to Provide ample time and notice to daycare.
Don't forget to be polite and respectful as you inform them of your decision. Your words will reflect the facility's competency and effectiveness in delivering service.
Following these do's and don'ts for daycare center leaving will ensure a smooth transition out of the program while establishing good relationships with your daycare provider.
3 Letter Templates For Daycare Withdrawal
I have crafted the 3 best letter templates for daycare center withdrawal to make the process easy and understandable.
Please choose any templates you like and fill in the relevant details.
Template 1 For Daycare Withdrawal
[Date]
[Daycare]
[Address]

Dear [Daycare Owner],

I enrolled my kid named [NAME OF CHILD] since [DATE]. I am happy with your service; however, my [son/daughter] will start school next year and no longer need Daycare. Therefore, I want to discontinue his enrollment at [Daycare] practical [DATE].

I understand this is a two-week notice, so that I will pay for two weeks until [DATE]. Please let me know if there are any questions or concerns regarding my request.

Sincerely,
[Your Name]
Template 2 For Daycare Withdrawal
[Date]
[Daycare]
[Address]

Dear [daycare director name],

I am writing to inform you that I will withdraw my child from Daycare for [amount of time] effective [Date]. I hope to have my child back in your care at the beginning of [Date].
[Reasons and concerns you have]

Please let me know if there are any questions or concerns.

Sincerely,
[Name]
Template 3 For Daycare Withdrawal
[Date]
[Name of Daycare]
[Address of Daycare]

To Whom It May Concern,

I am writing to notify you of withdrawing my child from [Daycare]. I must take this action due to following reasons:
[List reasons]
Please accept my apologies and best wishes for your continued success.

Sincerely,
[Your Name]
Process of Finding a New Daycare Provider
Uncovering the perfect daycare provider for your little one can be intimidating and nerve-wracking. To help you identify a great fit, here are some tips to follow when on the search:
Outline your priorities: Consider factors like location, operation hours, tuition fees, and other features important to you.
Reach out to your network: Seek advice from people who have used daycare services and trusted figures like pediatricians and family members.
Vet daycare services: Review online reviews and visit centers to observe staff demeanor and ambiance.
Cost-Benefit analysis: Evaluate prices and services to find the best value for your money, considering budget limits and personal requirements.
Frequently Asked Questions
How Much Notice Do You Give To Daycare Before Leaving?
Giving at least two weeks of notice is recommended before ending your child's enrollment at a daycare provider.
It provides the Daycare with staff enough time to prepare for the change and make necessary adjustments. Some daycare facilities may require more than two weeks' notice, so check with them beforehand.
How Do You Say Goodbye To a Daycare Provider?
If you are returning from a daycare provider with positive feelings, expressing your gratitude towards them is essential.
Express how privileged you have been to receive their services and that they acted as a family for your little one – make sure the staff knows! You can even give them a card or thoughtful gift when saying farewell; this small gesture will mean so much more than words ever could.
Conclusion
Quitting Daycare can be difficult, but following the steps outlined in this blog can ensure you make the best decision for yourself and your child.
Writing a daycare withdrawal letter is essential, as it helps provide a clear communication line between you and the owner.
Additionally, researching potential new daycare centers can help ensure your child has the best experience possible in their new environment.
Take the time to follow these steps; you can rest assured knowing that you have made the right decision for your family. Good luck!