What Do Daycare Workers Wear? | Comfy & Professional Outfit
Hey there, fellow daycare superheroes 🦸‍♀️!!
Finding an outfit that meets the daycare dress code can be tricky. So what is the best thing for you to wear? 
To answer your questions in detail, I have thoroughly researched this topic and listed the top 7 options.
Tops
Outerwear
Bottoms
Footwear
Accessories
Outer Layers
Uniforms
This blog post will discuss 7 type of attire, and 8 points for the daycare dress code, including dress code for different occasions and childcare roles. And guide on ensuring your dress code fits within the guidelines of professionalism and practicality.
Read detailed information about 7 types of daycare attire to know what should be worn there.
Keep Scrolling!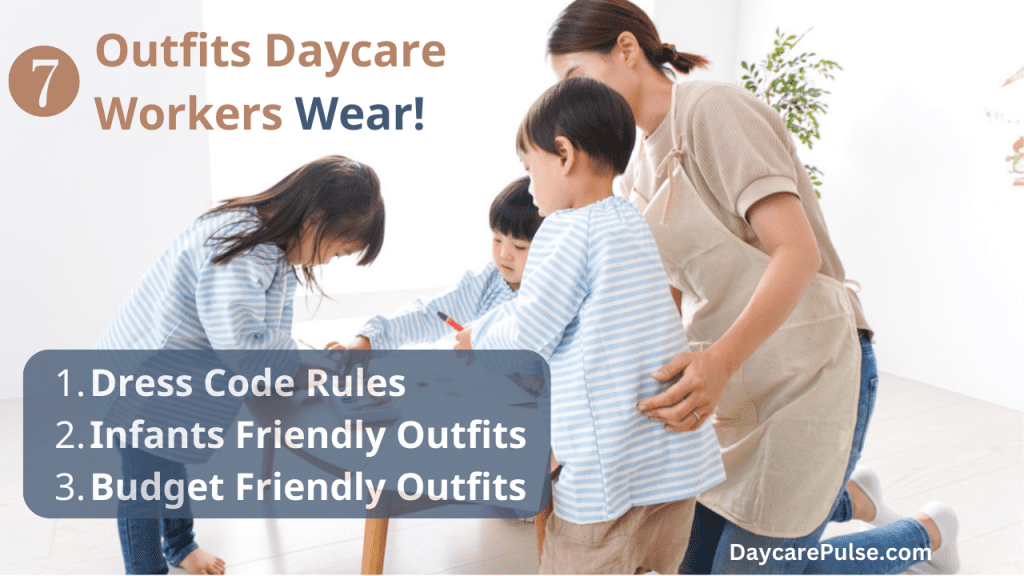 What Do Daycare Workers Wear : 7 Clothing Options
You were wondering what to wear to make your busy day at the daycare as comfy and stylish as possible.
I have covered you with these 7 clothing options to keep you feeling great while making a difference for those little ones.
Tops
Graphic T-shirts – These are a hit with daycare workers. They are comfortable and allow you to express your personality and engage with the kids through fun designs and characters.
Custom Tees – Personalize your daycare experience with tees featuring your favorite quotes or artwork. It's a fantastic conversation starter and adds a unique touch to your attire.
Blouses or Button-Up Shirts – Blouses and button-up shirts are a great choice if you want to dress it up. They're professional yet comfortable, perfect for those special occasions or meetings.
Scrubs – The go-to choice for many daycare professionals. Scrubs are incredibly comfortable and easy to clean, making them ideal for the messier aspects of the job.
Aprons – Protect your clothes while keeping supplies handy. Aprons are a daycare worker's best friend and come in various styles and colors to suit your taste.
Outerwear
Smock – A smock is an excellent option if you're looking for extra protection without sacrificing comfort. It's like a shield against spills and messes!
Vests – Vests are versatile and can be layered over your tops to add style and warmth. Plus, they come in various materials and colors, so you can find one that suits your daycare's dress code.
Bottoms
Comfortable Pants – You'll be constantly on the move, so choose pants that allow freedom of movement. Elastic waistbands and breathable fabrics are your friends.
Skirts – Opt for skirts for a more feminine look. Just make sure they're knee-length or longer for practicality.
Overall – Overalls are making a comeback, and they're perfect for daycare workers. They're comfy, functional, and oh-so-cute!
Culottes – For a trendy yet practical choice, consider culottes. They offer the freedom of movement of pants with a skirt style.
Footwear
Closed-Toe Shoes – Safety first! Closed-toe shoes protect while keeping your feet comfortable during long days.
Sneakers – Comfort is essential; sneakers offer excellent support when you're constantly on your feet.
Clogs – Slip-resistant clogs are an excellent choice for daycare workers who want style and functionality in their footwear.
Colorful Socks – Add a pop of color to your outfit with fun and vibrant socks. It's a small detail that can brighten your day.
Accessories
Name Badges or Lanyards – Keep track of who has a name badge or lanyard. It also helps the kids get to know you better.
Hair Accessories – Keep your hair in check with cute hair accessories. They're practical and add a touch of style to your look.
Toy or Stuffed Animal – Don't forget your secret weapon for soothing upset kids – a pocket-sized toy or stuffed animal!
Childproof Jewelry – If you like to accessorize, use childproof jewelry like silicone teething necklaces. They're safe and stylish.
Outer Layers
Jackets or Cardigans – Layering is the name of the game. Jackets and cardigans keep you warm and can quickly be taken off when you're on the move.
Raincoats – Be prepared for outdoor activities with a reliable raincoat. It's a must-have for those unpredictable weather days.
Hats – Shield yourself from the sun during outdoor playtime with a comfortable hat. It adds a dash of style and sun protection.
Uniforms
Custom Daycare Uniforms – If your daycare has a specific uniform, consider customizing it with your personal touch. It's a great way to stand out while maintaining professionalism.
Themed Uniforms – Embrace themed uniforms for special occasions or holidays. Kids love it, and it adds a festive vibe to the daycare.
So there you have it: daycare attire that's comfortable and lets your personality shine.
Choose what suits you best; remember, your smile and care are the best accessories you can wear! 😊👕👖👟
Did you know What are Daycare Workers Called?
Dress Code For Daycare Employees : 8 Deciding Points
What you wear isn't just a fashion statement when nurturing little ones.
Ensuring the safety, comfort, and positive environment every child deserves is crucial.
So, let's dive into the 8 deciding points regarding the dress code for daycare employees.
1. Prioritizing Comfort and Functionality
Long hours and physical demands are the norm.
Opt for comfy attire that lets you move freely.
2. Suitable Footwear for Daycare Workers
Closed-toe shoes are a must for protection.
Slip-resistant soles keep you steady even during spills and playtime.
3. Haircare and Personal Hygiene
Use hairnets or ties to keep hair secure.
Go easy on fragrances to prevent allergies among the little ones.
4. Dress Code and Uniforms
Explore familiar daycare uniforms for convenience.
Child-friendly attire with appropriate colors and graphics is a win.
5. Positive Messages and Environments
Avoid intimidating clothing. Choose outfits that spread positivity.
Name tags help in identification and create a welcoming atmosphere.
6. First Aid Preparedness
Always be prepared!
Ensure your attire helps your ability to provide first aid.
7. Adapting to Weather Conditions
Layer up for temperature changes.
Remember outdoor activity clothing, sun protection, and winter gear.
8. Cultural Sensitivity and Inclusivity
Respect cultural and religious preferences when selecting your attire.
Familiarize yourself with daycare attire policies and guidelines.
Read on : Daycare T-shirt Design Ideas
Pro Tips to Follow Daycare Fashion
Now, let's talk daycare fashion! 🌟

Graphic T-shirts – These are a hit with daycare workers. They're more than just comfortable. They're a canvas for positive messages and fun designs. 

Kids love Them; they're a great conversation starter for your little charges. Plus, they're easy to layer when the weather throws you a curveball.

Scrubs in Daycare Work – Some daycare workers swear by scrubs. They're breathable, easy to move in and come in various colors and patterns. 

Just make sure they meet your daycare's dress code requirements.
Dress Code for Different Childcare Roles
I know you're dedicated to making each day a memorable adventure for those little bundles of joy.
But let's get real: what you wear to the daycare can make a big difference in your day.
Here's the lowdown on dressing the part for different roles:
1. Dress Code Variations for Daycare Teachers
👩‍🏫 Daycare teachers, your attire is crucial! Comfort is critical, but so is professionalism.
Opt for comfy yet presentable clothing. Graphic T-shirts? They're a hit with daycare workers. They look cute and fun and can spark great conversations with the kiddos.
2. Dress Code for Nursery Staff and Preschool Teachers
👶👧 Our nursery staff and preschool teachers are the architects of early education. Dress professionally, but add some child-friendly elements.
Think colorful tops and playful accessories. You want to be approachable and engaging.
3. Infants Daycare Outfits
🍼 Handling our littlest bundles of joy? Simplicity is your best friend. Choose soft fabrics and avoid anything with complicated buttons or zippers.
Onesies and comfy leggings are your go-to. And yes, graphic T-shirts work here, too – babies love staring at those cute designs!
4. Toddler Daycare Outfits
👦👧 Toddlers are like little tornados of energy, right? It would help if you were ready for action. Opt for durable clothing that withstands paint, dirt, and hugs.
Comfortable jeans or leggings and, of course, graphic T-shirts are ideal. Let your outfit match their enthusiasm!
Remember, it's not just about looking good; it's about feeling great and being ready for all the adventures that daycare life throws your way.
So, keep it comfy, colorful, and fun, just like the daycare! 💫🌈
Daycare Worker Attire For Different Occasions
Let's dive into the daycare worker attire guide and help you dress the part for every situation.
1. Dressing for a Daycare Interview
First impressions matter! Opt for a professional yet approachable look when you're headed for a daycare interview. Here's what works:
A Smart Blouse or Shirt – Choose something neat and comfortable.
Slacks or a Skirt – Stick to solid colors or subtle patterns.
Closed-Toe Shoes – Comfort is key!
Minimal Accessories – Keep it simple, and let your personality shine.
Remember, confidence is your best accessory!
2. First Day of Daycare Outfit
Ready for your first day? Make it memorable and comfortable:
Graphic T-shirts – These are a hit with daycare workers. They're fun and friendly, and kids love them!
Comfy Jeans or Slacks – Stay practical for a day full of activities.
Sneakers or Comfortable Flats – You'll be on your feet often.
A Warm Smile – Your most essential accessory!
Get ready for a day of adventures!
3. Everyday Daycare Setting
Your daily attire should balance comfort and professionalism:
A mix of Graphic Tees and Solid Tops – Keep things interesting.
Casual Pants or Capris – Stay mobile for playtime.
Closed-Toe Shoes or Comfortable Sneakers – Comfort is king.
Hair Tied Back – Safety first!
Prepare for a day of laughter and learning!
4. Special Events and Celebrations
Time to celebrate those birthdays and milestones:
Dressier Outfit – Think semi-casual with a touch of flair.
Fun Accessories – Sparkly earrings or a colorful tie.
Closed-Toe Shoes – Safety remains a priority.
You're the life of the party!
5. Professional Development and Meetings
For those critical gatherings:
Business Casual – Dress to impress.
Blouse or Collared Shirt – Keep it polished.
Dress Shoes – A touch of formality.
Show your commitment to growth!
6. Parent-Teacher Conferences
Meeting the parents? You got this:
Business Attire – Dress professionally.
Dress in Pants or a Skirt – Keep it classy.
Closed-Toe Heels or Loafers – Show you mean business.
Confidence is your superpower!
4 Benefits of Wearing Infant-Appropriate Clothing
Daycare providers who wear infant-appropriate clothing often find that they have several benefits.
1. Builds Trust
It helps them to build trust with the parents of the infants in their care. Parents want to know that their child is cared for by someone competent and professional.
And someone wearing clothes that are appropriate for the situation can help give them this impression.
2. Grabs Child Attention
Wearing infant-appropriate clothing can help daycare providers bond with the infants.
Babies are often attracted to bright colors and patterns, and by wearing clothes that interest them, daycare providers can help create a positive connection.
3. Feels Comfortable
Wearing infant-appropriate clothing can help daycare providers feel more comfortable and confident when working with infants.
It is essential when working with very young babies, who can be delicate and require great care.
4. Looks Professional.
Finally, wearing infant-appropriate clothing can help daycare providers establish themselves as experts in their field.
Parents often look for someone they feel is an expert on infant care, and by dressing the part, daycare providers can help demonstrate their knowledge and expertise.
Choose Your Outfit Carefully
Daycare can be messy, and you want to ensure your clothing is comfortable and practical.
Too loose clothing can get caught on things or become a tripping hazard.
You also want to avoid anything with drawstrings or tassels, which can pose a choking hazard.
On the other hand, clothing that is too tight can be uncomfortable and restrict your movement.
Look for clothing made from breathable fabrics like cotton or linen, and ensure it has plenty of room to move.
It's also a good idea to avoid anything with sharp edges or small parts, as these could pose a danger to curious infants.
You will want to ensure your clothes are brightly colored and easy to see. It will help the children to identify you quickly and make it easier for you to spot them if they wander off.
Finally, you will want to avoid wearing jewelry or scented products, as these can be a choking hazard or cause an allergic reaction.
With some planning, you can ensure your clothing is comfortable and safe for working with infants.
Dress Code Policy
Guidelines might vary between different facilities. Some facilities allow workers only leggings & T-shirts, while others prefer standard uniforms such as Khaki pants + logos featured on top; some may also require business office staff to dress professionally.
So projecting an image suitable towards prospective clientele–whatever suits you best depends largely upon where exactly this job falls.
Did you know : Are Daycare Workers Teachers?
3 Ways to An Affordable Wardrobe
You can do a few things to ensure your wardrobe is affordable and meets all safety requirements.
1. Thrift Shops
Shop at thrift stores or consignment shops for clothing. You can find great deals on clothing this way, and it's usually easier to find items that meet safety requirements since they've already been made.
2. Light Fabric
Look for clothing made from natural fibers like cotton or linen. These materials are affordable and breathable, making them ideal for summer weather.
3. Take Your Measurements
Ensure you know your measurements before shopping online or in stores. This way, you can be sure that the clothing you're buying will fit you properly.
Ensure to read the labels on clothing items carefully to ensure they meet all safety requirements. By following these simple steps, you can ensure your wardrobe is affordable and safe.
Explore : 6 Daycare Positions
Frequently Asked Questions
1. Do Daycare Workers Wear Scrubs?
Scrubs can be a practical choice for daycare workers, especially those working with infants and toddlers.
They are comfortable, easy to clean, and can handle the messier aspects of childcare.
However, it's not a strict requirement, and many daycare centers allow more casual attire.
It's a good idea to check with your daycare center's dress code policy to see if scrubs are recommended or if your clothing choices are flexible.
2. What Are Childcare Uniform Ideas?
Childcare uniforms vary widely, but comfort, practicality, and professionalism are essential. Some childcare uniform ideas include:
Polo shirts or branded daycare shirts – They are comfortable and can be customized with your daycare's logo.
Casual slacks or khakis – Comfortable bottoms that allow for movement.
Aprons or smocks – These can help protect your clothing from spills and messes.
Comfortable closed-toe shoes – Footwear suitable for being on your feet throughout the day.
Ultimately, your uniform should align with your daycare center's dress code policy and be suitable for the tasks you'll be performing.
3. Are Smocks For Daycare Teachers Essential?
Smocks can be a valuable addition to a daycare teacher's wardrobe. They help protect your clothing from spills, paint, and other messes that are part and parcel of working with young children.
While all daycare centers might not consider them essential, many teachers find them useful.
It's worth checking with your center to see if they provide smocks or if bringing your own is recommended.
4. Is it Okay to Wear Cargo Pants And a Shirt to Daycare?
It is generally acceptable to wear cargo pants and a T-shirt to daycare. However, it's essential also to consider the dress code policy of your specific daycare center.
Some centers may have stricter guidelines for staff attire, while others may allow more casual clothing such as cargo pants and t-shirts. It's always best to check with your supervisor or HR department.
Conclusion
Although it may seem a hassle, taking the time to dress appropriately for your work with infants can make all the difference in terms of their comfort and yours.
Wearing clothes designed for this environment ensures you and the babies are as comfortable as possible.
And since most infant-appropriate clothing is affordable and easy to care for, there's no reason not to take advantage of these benefits!