Daycare T-shirt Design Ideas | Child care shirts
Custom daycare t-shirts are a great way to promote your daycare center while creating unity among staff and children.
While designing or buying your daycare T-shirt, keep these ideas in mind:
Use bright colors and fun graphics
Incorporate the daycare's theme or values
Don't forget to add daycare logo in design
Use easy to care for and durable fabric
Use a child's drawing as the basis for your design
Use humor or funny graphics in your design
In this post, I will provide outside the box design ideas and tips to help your daycare's t-shirts become talk of the town.
This design guide will help you avoid uninteresting and inappropriate designs that could be a good use of your money.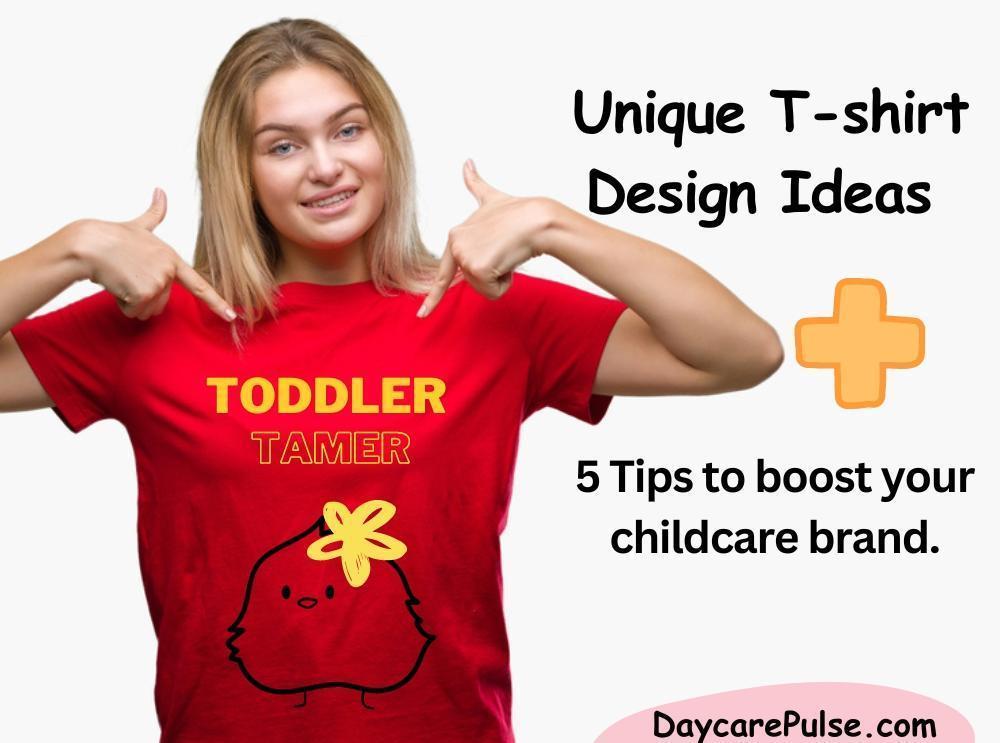 7 Design Ideas for Daycare T-shirts
Design ideas for daycare t-shirts needs to be decent and interesting at a same time.
Also daycare t-shirts serve more purpose than just being a stitched piece of cloth. They can be use for branding, to create sense of uniformity and obviously to add more colors and fun to your everyday daycare life.
1. Customized Promotional T-shirt Design Ideas
Getting customized designs with your daycare center's name or logo is an effective way to promote your newly opened daycare. You can even customize t-shirts for children, which will help spread the word to other parents in their community.
2. Funny T-shirt Designs for Childcare
Funny t-shirts are always a hit with kids and parents. You can feature funny quotes, jokes, or cartoons that everyone can relate to. These t-shirts will help create a fun atmosphere for the daycare and ensure everyone is having a good time.
3. Seasonal Themes T-shirt for Childcare
Themes like Halloween, Christmas, and Easter are always popular with kids at daycare.
You can create t-shirts featuring these seasonal themes and colors to capture the season's spirit.
These designs will also make great holiday gifts for parents and children.
You might also want to read: Daycare Theme Ideas
4. Cute T-shirt Design Ideas for Daycare
Young children love cute and funny designs!
Choose bright colors, cartoon characters, or animals with fun expressions to make the kids smile.
These t-shirts will surely be a hit with everyone at your daycare center!
You might also want to read: What do Infants Wear to Daycare?
5. Uniforms Ideas for Childcare Staff
Uniforms are a great way to create a professional look within your childcare center.
You can opt for personalized t-shirts with each staff member's name printed on them, or you can go for simple designs that feature your daycare logo and address.
Having a group t-shirt design for daycare uniforms is another wonderful idea. It's both practical and enjoyable. You can have custom-made t-shirts for every class in your daycare, featuring each child's name, designated color, and fun characters.
Ensure that whichever design you select is comfortable and stylish so that it does not become monotonous for the staff and kids.
6. Educational Designs
Using educational t-shirt designs is a great way to engage children in learning.
You can create shirts featuring numbers, letters, or basic shapes that the kids can practice while having fun.
These designs can also serve as great souvenirs for parents to remember their children's early years at your daycare center.
7. Positive Messaging Designs for Toddlers
Positive messages are always a great way to promote and encourage healthy habits in children. You can create custom t-shirts with positive statements such as 'Be Kind', 'Be Brave', and 'Be Confident'.
These designs aim to foster positive values in children, motivating them to become their best selves.
You might also want to read: What do daycare workers wear?
Where to Order T-shirts for Daycare
Many online retailers offer custom t-shirt printing services for daycares.
Some popular options include CustomInk, Zazzle, and Spreadshirt. You can also check with local screen printing shops in your area.
Few of my favorite designs are:
5 Tips for Designing Daycare T-Shirts
Working at a childcare center comes with huge set of responsibilities. And yes you can't randomly choose your t-shirt design being a daycare employee as well.
Following are few tips that won't only save you from choosing any disastrous design but would also help you pick some insightful childcare t-shirt ideas.
Color & Style
Use bright and cheerful colors and keep the design simple and easy to read for kids.
Use high-quality images and graphics
Consider adding personalization options like the child's name.
Choose a comfortable and easy style like the crew neck, v neck, short sleeves (long sleeve for winter), etc.
Tip: Simple Designs and Uni color will cost you a lot less than choosing complex graphics with multiple colors.
Consider the Age Range of the Children.
Ensure the design is safe for kids by avoiding sharp objects or delicate items.
For babies, opting for graphics instead of quotes or educational designs is better. Also, choose soft materials with less friction.
When it comes to toddlers, choose t-shirts made of easy-to-wash materials because there can be a lot of spills and accidents.
Use high-quality material
When selecting t-shirt designs for your daycare, it is important to establish a practical budget.
I'd suggest allocating a significant portion of your budget toward high-quality materials as well along with quality printing.
Select materials suitable for the current season, such as warm fabrics in winter and breathable fabrics in summer.
Opt for standard sizes and choose durable fabrics for children.
Toddlers engage in activities that require stretchable materials in their daily daycare routines.
Select a fabric material that causes less friction for childcare teachers and children.
Make sure the design is appropriate for all cultures and backgrounds
The last thing you'd want is to create a design that may be considered offensive by some of your daycare staff or family members.
Choose designs that are appropriate for all cultures and backgrounds and avoid any kind of potentially offensive content.
Avoid using any graphics that may be considered disrespectful or offensive towards specific cultural or ethnic groups.
Refrain from using language that criticizes someone's body shape or size and avoid using informal or offensive words in your content.
Get input from teachers and staff when designing the shirts
Before designing the t-shirts, it is important to involve teachers and staff in the process.
Get their feedback on possible designs that may be suitable for the daycare center's theme.
Collect input from parents as well to make sure everyone is satisfied with the chosen design.
Engaging in such conversations could provide you with a plethora of excellent ideas.
Frequently Asked Questions
1. How much does it cost to order custom t-shirts for a daycare?
The cost of ordering custom t-shirts for a daycare depends on the type of material, the number of colors used in the design, and the quantity ordered. Generally, you should expect to pay anywhere from $10-$25 per shirt depending on these factors.
2. What kind of materials are best for daycare shirts?
Cotton is a light, breathable, durable, and affordable material perfect for daycare t-shirts. It can also be easily washed and dried with minimal effort. Other good options include polyester and poly-cotton blends.
3. What should I avoid when designing daycare t-shirts?
When designing daycare t-shirts, it's important to avoid certain things that could be offensive or inappropriate. Here are some things to avoid:
Offensive language or graphics. This includes swear words, derogatory language, or any images that could be considered violent or sexual in nature.
Religious or political messaging.
Avoid Poor quality materials, as kids will be wearing these shirts for extended periods of time.
Avoid overly complicated designs as overly complicated designs can be difficult for toddlers to understand and may not translate well onto a t-shirt.
4. How long does it take to receive the t-shirts after ordering?
Typically, it will take 2-3 weeks to receive the t-shirts after ordering. The delivery time may vary depending on the retailer you're using.
Conclusion
Choosing the right t-shirt design for your daycare can be a challenging process. However, with these tips and tricks, you should now have a better idea of how to select the perfect design.
Make sure to involve teachers and staff in the decision-making process, use high-quality fabrics, and avoid any designs that could be seen as offensive or inappropriate.
With these guidelines, you should have no problem finding the perfect t-shirt for your daycare! Good luck!