What Do Baby Wear to Daycare?
We know that childcare is an adjustment for you and your child.
When sending your child to daycare or nursery, the most common question, though not often, is, "what should I get this bunny dressed in?" 
Choosing clothing for your child to wear to daycare can be tricky. Many factors must be addressed based on the season and the activities your child will most likely participate in while at daycare.
Continue reading to learn 3 simple baby dress-up tips that can lead to 3 key benefits based on daycare parents' experience: a happy, healthy, and comfortable baby all day long at daycare.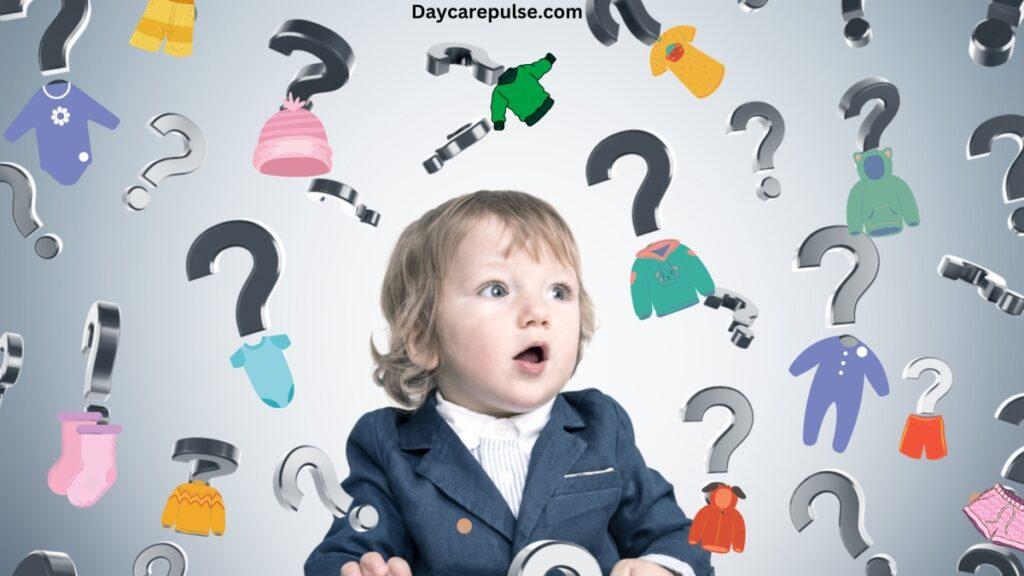 3 Tips to Dress Up the Baby for Daycare
1. Be Practical
There are several variables to consider while selecting practical baby attire. This includes your budget and the clothing your kid prefers.
To guarantee that your baby is happy and well-adjusted in daycare, pick comfortable and appropriate clothing that will not interfere with their daily routine.
Choose Comfortable Fabrics – When choosing clothes for your baby to wear at daycare, it is essential to choose soft and breathable materials. This will help prevent them from getting too hot or feeling uncomfortable throughout the day.

Opt for Stretchy Clothing – Many babies enjoy wearing clothes that give them some freedom of movements, such as leggings or stretchy tees. This can help them feel more comfortable and engaged in the activities at daycare.

Consider Easy-to-put-on Clothes – It is often difficult to change a fussy or cranky baby wearing difficult-to-remove clothes, such as onesies or pajamas. Choosing easy clothes to put on and take off can help you stay calm and patient when dressing your baby for daycare.
2. Consider Age
When choosing clothes for your child to wear at daycare, it is essential to consider their age and developmental needs.
For younger children, especially those under two, it is best to choose comfortable clothes that allow for movement and exploration and are easy to put on and take off. This can include simple one-piece outfits, cozy sweaters and leggings, or soft dresses.
As your child ages, they will likely become more interested in dressing and expressing their own style.
At this stage, you can introduce more varied clothing options that allow them to explore different looks and styles. This may include cute graphic tees, leggings paired with skirts or dresses, and even basic jeans.
Regardless of your child's age or developmental needs, the most important thing to remember when choosing their daycare clothes is that comfort should always come first.
By focusing on finding soft, breathable pieces and allowing movement and freedom of expression, you can make your baby's day much more joyful.
3. Dress for the Season
When choosing clothes for your baby to wear at daycare, it is important to consider the season and weather. This will help ensure that your child stays comfortable and safe throughout the day, regardless of what Mother Nature has in store.
Some practical tips for dressing your baby for daycare during different seasons include:
Layering in the Winter – Whether you live in a cold climate or simply need to dress your baby for an indoor daycare, dressing them in layers can help ensure they stay warm and comfortable all day long. This may include sweaters, leggings, tights, and light jackets or snowsuits.
You might also like to read: Best Way to Label Clothes for Daycare
The advantage of layering is that daycare personnel can remove the baby's clothes layer based on the indoor temperature. And then dress up the outer layer again when it's time to pack it up, and Tada, a neat baby, also looks for pick-up time.
Breathable Fabrics For Summer – During the warmer months, it is important to choose breathable fabrics that will help keep your baby cool and comfortable throughout the day. This may include cotton onesies, lightweight dresses and skirts, or even shorter-sleeved tees and leggings.
Minimizing scratchy or itchy materials during moderate weather could be a great idea.
When choosing clothes for your baby to wear at daycare, it is important to avoid any materials that may irritate their skin or cause discomfort. This can include things like wool or other rough fabrics and certain types of prints or patterns.
For the safe side, always pack an extra pair of pajamas or comfies daily in the baby's daycare essentials bag.
You might also like to read: What Can You Take to Daycare for Baby
3 Benefits of Choosing Daycare Clothes
What use is childcare clothing? Although this minor task appears to be more of a accessory rather than a necessity, I can bet you'll soon agree it offers more advantages than you have ever imagined.
1. Personality Development
Getting up and changing into a new pair of pajamas can instill in your child a healthy habit of starting the day fresh and will prepare them for the day ahead. It would also help kids prepare for their future school schedules.
You might also want to read: How Does Clothing Affect Your Child's Development
2. Clothes Vs. Moods
Research has found that specific colors and patterns could significantly impact a child's overall personality development. 
Colors can elicit sentiments of passion or love, or they can soothe and relax you. Positive thinking is stimulated in your child by symmetrical patterns. Bright hues increase energy, whereas pastel tones assist individuals in achieving calm and relieving tension.
3. Health Factors
Let's face it: we're all guilty of it. Many mothers in a rush tend to drop off their children at daycare in their nightgowns.
Although this is OK when done only sometimes, it should not be made a habit. It is a good practice to change babies' clothes as soon as they wake up. 
Babies, like everyone else, sweat and drool overnight, and bacteria thrive on unclean and sweaty garments.
All-Rounder Clothes Choices For Working Moms
For busy moms on the go, it can be not easy to find time to shop for trends and cute outfits. But by focusing on all-around comfortable, functional, and stylish pieces, you can easily dress your little one in clothes they will love wearing at daycare.
You might be tempted to dress your child in cute little outfits daily to show off their adorable costumes to the other parents. But it is important to remember that your baby will likely spend most of the day crawling, exploring, playing and interacting with other children.
Kids must wear clothes suited for movement and play to feel comfortable and involved in these activities.
So save yourself the trouble of matching and dashing for everyday clothing. Skip the accessories, purchase a comfortable pair of shoes and a couple pairs of kids' activewear and onesies and the baby-boo's daycare wardrobe is all done.
Conclusion: More Than a Chore!
At the end of the day, what really matters when choosing your child's clothes for daycare is that you find something that makes you and your child feel comfortable and confident. Whether that means bright colors and playful patterns or soft and cozy basics.
With all of these factors in mind, it is essential to remember that choosing your child's daycare clothing can be a fun and rewarding experience that can help you bond with your little one and connect with the caregivers at their daycare. So go ahead and pick out your child's perfect daycare clothes together!