What Is the Ratio of Child to Staff in Daycare?
Do you know what is the most common child-to-staff ratio in daycare? The most common Child to staff ratio is 1:4 ratio. The answer may surprise you!
However, having not enough childcare providers each child might be pushed to the point of feeling ignored or neglected, causing them to regress in development or even create behavioral issues.
One of the most significant aspects of caring for children is finding the right balance between child and staff. Too little staff can lead to improperly supervised routines and possibly even accidents.
Here are details of how many kids should be in a classroom, drawbacks for low staff-to-child ratio and how they affect you as a parent. Keep reading for more information.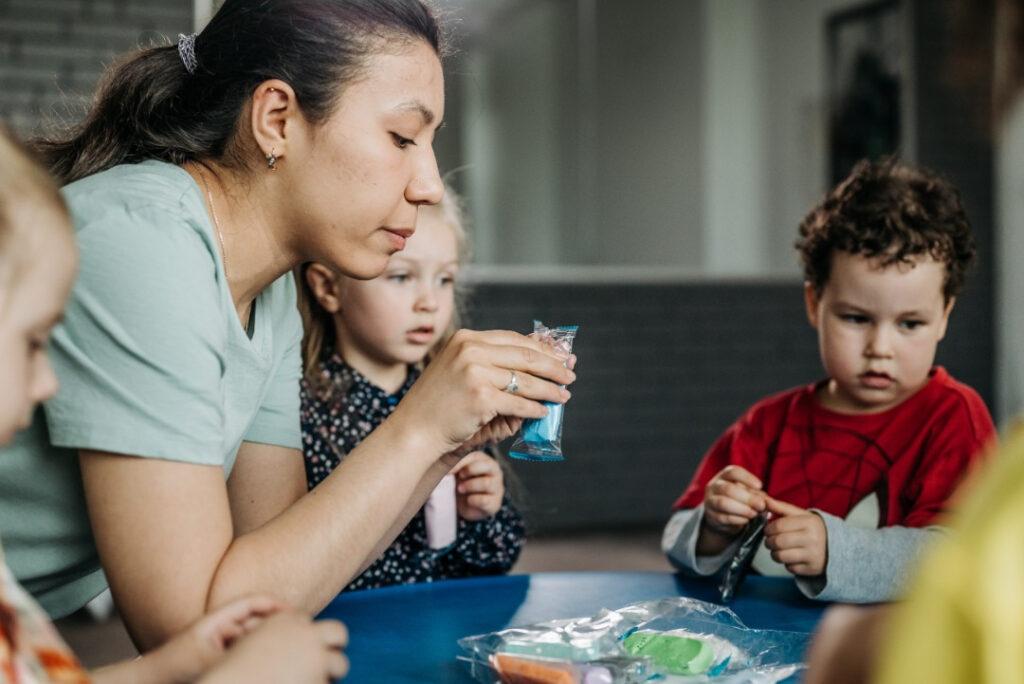 What is Staff-to-Child Ratio in Child Care?
The staff-to-child ratio is the number of staff members working with a group of children in a childcare setting. The ratio varies depending on the age of the children and the size of the group.
For example, the ratio for infants may be 1:3 or 1:4, which means that there is one staff member for every three or four infants. The ratio for toddlers may be 1:5 or 1:6, which means that there is one staff member for every five or six toddlers.
While state governments regulate the daycare industry, no federal laws dictate the child-to-staff ratios. It depends on each daycare center to decide how many children they can care for at one time and what the ratio of staff to children should be.
Why are Child-to-Staff Ratios Important?
The staff-to-child ratio is one of the most important aspects of early childhood education. It measures the number of adults working with children in a given setting.
A high staff-to-child ratio indicates that more adults are available to support and interact with children.
It will positively impact children's development.
On the other hand, a low staff-to-child ratio can lead to problems such as large class sizes and less individual attention for children.
The staff-to-child ratio is regulated by state law in many jurisdictions. In some states, the ratios are very specific, while in others, they are more general.
These ratios are set to ensure that children have the best possible chance to thrive in their early years.
When choosing a child care center, it is important to pay attention to the staff-to-child ratio to ensure that your child gets the individualized attention and care needed.
The staff-to-child ratio is among many important factors when choosing a childcare center. Other important factors include the qualifications of the staff, the curriculum, and the overall philosophy of the center. However, the staff-to-child ratio is a good place to start when narrowing down your choices.
What are the Most Common Staff-to-Child Ratios?
The most common ratio used in daycare centers is the "1:4" ratio, which means that there is one staff member for every four children. However, this ratio is not always possible or practical, depending on the children's age and the daycare center's size.
For example, daycare centers that care for infants and toddlers often have a higher staff ratio to children because these age groups require more supervision and attention.
When choosing a daycare center for your child, ask about the child-to-staff ratio and how they ensure that all children receive the attention and care they need.
How Many Staff Members are Needed for Each Child?
Regardless of the child-to-staff ratio, daycare centers must have enough staff to provide quality care for all children.
Including enough staff members to supervise the children, provide developmental activities, manage meals and snacks, and handle other day-to-day tasks.
Quick Tip for Parents When Considering a Daycare
When looking at the staff-to-child ratio, it is important to consider the age of the children in the group. The minimum number of adults should be 1 adult for every 2 babies under 18 months and 1 adult for every 3 older children.
For example, a group of infants will require a higher ratio than preschoolers because infants are more vulnerable and require a personalized response. The younger the child, the higher the staff-to-child ratio should be.
6 Points to Consider With a Low Staff-To-Child Ratio
A good daycare can be a great thing for your child. A low-staff-to-child ratio ensures that your child will bond with the staff members they come in contact with daily. Some important things to consider:
Staff Members – How many people are working in the daycare? Is there one person responsible for the daily care of all children?
Staff Intervention – Are you comfortable with how much intervention from staff your child will receive at this center? Is the staff going to allow the child to explore by themselves? How will the staff manage supervision around your child during daycare hours?
Facility Hours – How many hours does it operate?
Friendly Staff – You want to ensure that the staff is friendly and welcoming to your child. It gets especially important if they are new or have never been to the daycare. If they feel comfortable with their surroundings and those around them, they will be more likely to open up and interact with other children.
Small group sizes – Means fewer children are being put into groups together where they could fight over toys or food. Too many children in one group can lead to bullying because there will always be one kid who feels left out by not having as many toys or snacks as everyone else.
Kids Safety – Having a low staff-to-child ratio is that it can help keep your kids safe from abuse from other children at the daycare facility.
7 Disadvantages to Having a Low Staff-To-Child Ratio
There are several disadvantages with having a low staff-to-child ratio in daycare centers.
It can be very difficult for parents to get the teachers' attention and have many children in one classroom.
Suppose there is an emergency, such as an illness or injury. In that case, it could be difficult for parents to find out about it quickly enough to make sure their child is ok and that they get medical attention if needed.
It can be difficult for teachers to spend time with each child individually because so many children are in one classroom at once.
It is harder for parents to get information about their child's daycare center if they do not have access to the staff.
Another drawback is that children left alone in their daycare center may develop behavioral problems due to not having other children around them all day.
Another issue with having a low staff-to-child ratio is that it can lead to overstaffing at certain times of the year.
If too many children are in the same room at once, it can lead to trouble sleeping for some kids and make it harder for others with sensory processing disorders to focus on their work or play.
How Does This Ratio Vary From State to State?
The child-to-staff ratio varies from state to state because each state has different regulations regarding staffing ratios in childcare facilities. Some states have ratios that are lower than the national average, while others have higher ratios.
The variation in ratios is due to various factors:
The facility's size.
The age of the children being cared for.
The state's regulations regarding staff-to-child ratios.
The average child-to-staff ratio in childcare facilities nationwide is 4:1. There are four children for every adult staff member. However, this ratio can vary significantly from state to state.
For example,
Arkansas, the average child-to-staff ratio is 3:1,
In Massachusetts, the average ratio is 6:1.
California, the ratios for childcare centers are as follows:
Infants (0-17 months): 1:4
Toddlers (18-35 months): 1:6
Preschoolers (3-5 years): 1:10
Check other state's regulations.
FAQs
What state has the highest childcare ratio?
The highest ratio of staff-to-child can be seen in 10 years or older age group, that goes by 26:1 in Texas.
What is the suggested group size for infants in daycare?
Recommended group size for infants is no larger than 6. Otherwise, the care and attention can be compromised by the staff and the center itself.
Conclusion
A good staff-to-child ratio is important in a daycare because it helps ensure each child receives the individual attention and care they need. When choosing a daycare center, ask about the child-to-staff ratio and how they ensure that all children receive the attention and care they need.
When planning for your child's daycare, make a decision that benefits your child's learning and development. Consider all the important points and drawbacks to avoid future setbacks.
Hope this blog was informative for you. Thank you for reading.