How to Label Pacifiers for Daycare?
Hey Parents!
Ever wondered, "How do you ensure your child's pacifier doesn't get mixed up with others at daycare?"
We all know it can feel like a storm of preparations, especially when it comes to labeling your little one's pacifier.
No need to drown in a sea of options; We are here to break it down into easy-peasy steps.
You can label your munchkin's pacifier with trusty Permanent Markers, go for that extra touch with a Monogrammed Pacifier, or add a unique flair with Engraved Plates.
Start your preparation and planning before time to avoid most problems usually caused during the labeling process. Use this guide to label pacifiers in 7 different ways, including simple tips that will save you money.
Ready for a stress-free daycare labeling adventure?
keep reading!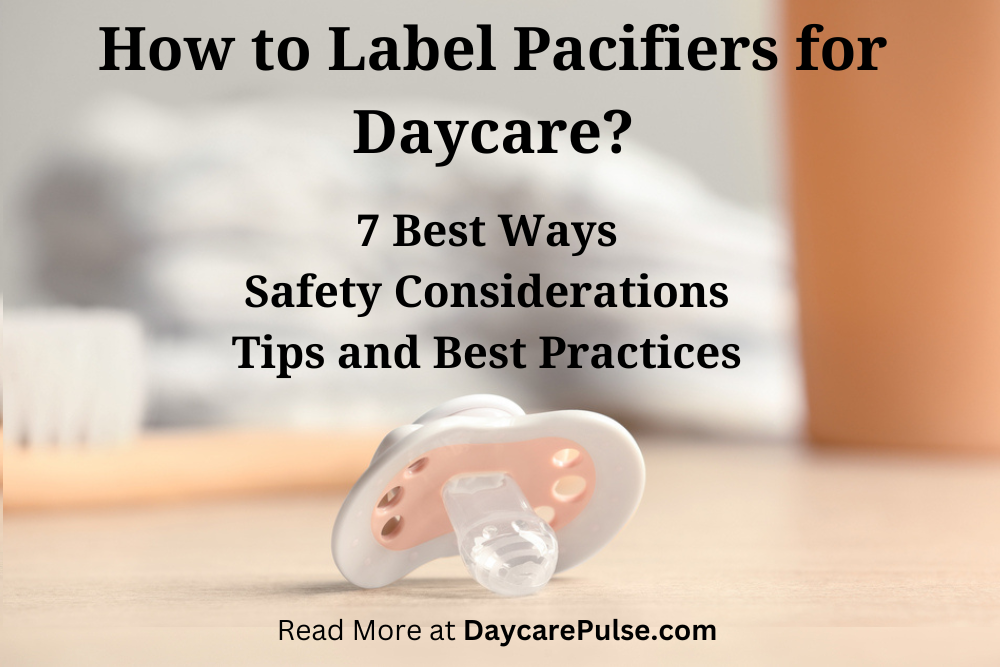 How to Label a Pacifier for Daycare
Labeling your child's pacifiers for daycare is important so the staff can easily identify them. Here are a few tips on how to do this:
Use permanent markers to write your child's name, initials, or a unique identifier on the pacifier.
You can also put your contact information on the label if the pacifier is lost.
If you have more than one child in daycare, label each pacifier with a different identifier.
Make sure the label is clear and easy to read.
These tips help ensure your child's pacifier is properly labeled and easily identifiable at daycare.
7 Best Ways for Labeling a Pacifier
When it comes to labeling a pacifier, it could take a while to decide which label would be the best, considering its shape and space. Here are a variety of labeling options to select from:
1. Permanent Markers
Permanent markers are a popular and straightforward method for labeling pacifiers. Here are key considerations:
Marker Type: Choose a fine-point, non-toxic permanent marker suitable for writing on the pacifier's surface.
Ink Permanence: Ensure the ink is resistant to rubbing off, fading, or smudging, especially after exposure to cleaning or sterilization.
Color Options: Permanent markers come in various colors, allowing you to personalize the label. Choose a color that contrasts well with the pacifier for easy visibility.
Ease of Application: Permanent markers offer a simple and quick application process. Write the child's name, initials, or a unique identifier directly onto the pacifier.
Regular Inspection: Periodically check the label for any signs of wear or fading. Reapply the label as needed to maintain clarity.
2. Monogrammed Pacifier
Monogrammed pacifiers add a stylish and personalized touch to labeling. Here's what to consider:
Brand Compatibility: Confirm that the chosen pacifier brand offers monogramming options. Popular brands like MAM, Philip Avent Freeflow, and Tommee Tippee Closer to Nature may provide this feature.
Customization: Select the initials or name to be monogrammed onto the pacifier. This can add a unique identifier while maintaining an aesthetic appeal.
Material Compatibility: Ensure that the monogramming method does not compromise the pacifier's material or cleaning process.
Limited Applicability: Note that monogramming may not be suitable for all pacifiers, limiting the options available for customization.
But these labels can only be used with some specific pacifiers; not all of them can be customized. A few popular brands offer this feature: MAM, Philip Avent Freeflow, and Tommee Tippee Closer to Nature.
3. Engraved Plates
Engraved plates offer a distinctive labeling method. Here are considerations for using engraved plates:
Plate Material: Choose plates made from safe, non-toxic materials that won't harm the baby. Common materials include plastic or metal.
Attachment Method: While the plate is not directly engraved onto the pacifier, ensure the attachment method is secure. Some plates use glue, clips, or other mechanisms.
Versatility: Engraved plates offer versatility as they can be attached to various pacifier shapes and sizes. Check for compatibility with different pacifier brands.
Aesthetic Appeal: Consider the color and design options of the engraved plates. While functional, they can also contribute to the pacifier's overall aesthetic.
4. Stickers
Stickers provide a visually appealing and customizable labeling option. Here are things to keep in mind:
Size and Design: Choose stickers specifically designed for pacifiers. Ensure they are appropriately sized and feature designs or colors that are visually appealing.
Customization: Some stickers allow for customization with the baby's name or other information. This adds a personal touch to the labeling.
Adhesive Quality: Stickers should have a strong adhesive to remain securely attached to the pacifier. Check for labels that are designed to withstand cleaning and sterilization.
Compatibility: Ensure that the stickers are compatible with the pacifier's material and shape. They should adhere well and not pose a choking hazard.
5. Customizable Labels
Customizable labels provide a personalized touch to pacifier labeling. Parents can tailor these labels to their preferences, adding the baby's name, initials, or a unique identifier. Here's what you need to know about customizable labels:
Material Options: Customizable labels are available in various materials, including fabric, vinyl, or silicone. Choose a material that is durable, safe, and compatible with the pacifier's surface.
Adhesive Quality: Ensure the adhesive used on customizable labels is strong enough to adhere securely to the pacifier. It should withstand daily use and potential exposure to liquids.
Design Flexibility: Parents have the freedom to choose the design, color, and font for the label. Some companies offer online customization tools, making it easy to create a label that suits individual preferences.
Cleaning Compatibility: Consider the label's compatibility with cleaning and sterilization processes. Ideally, customizable labels should withstand regular cleaning without compromising their appearance.
Bulk Ordering: Many customizable label providers offer the option to order labels in bulk, providing cost savings for parents who want a consistent labeling approach for multiple pacifiers.
6. Color-Coded Labels
Color-coded labels offer a visually intuitive way to organize and identify pacifiers, especially useful for parents with multiple children or in daycare settings. Here's what to consider with color-coded labels:
Color Variety: Look for sets that include a variety of colors to allow for easy differentiation between pacifiers. Each color can represent a specific child, making it a practical solution for parents with multiple kids.
Material Durability: Choose color-coded labels made from durable materials, ensuring that the color remains vibrant after exposure to cleaning or sterilization processes.
Clear Printing: Labels should have clear printing of any additional information, such as a child's name or initials, alongside the color coding. This ensures both visual appeal and practical identification.
Compatibility with Different Pacifiers: Ensure that the color-coded labels fit securely on various pacifier shapes and sizes. The labels should be versatile enough to accommodate different brands and types of pacifiers.
Ease of Removal and Reapplication: Parents may need to switch labels between pacifiers. Opt for color-coded labels that are easy to remove without leaving a sticky residue, allowing for seamless reapplication.
7. Pre-Printed Label Options
Pre-printed label options provide a convenient and ready-made solution for pacifier labeling. Here's what you should know about pre-printed labels:
Design Variety: Pre-printed labels often come in a variety of designs, catering to different preferences and styles. Some may feature cute characters, patterns, or themes.
Information Inclusion: Check if pre-printed labels allow for customization with the baby's name or other essential information. Ensure the pre-printed text is clear and easy to read.
Adhesive Quality: The adhesive used in pre-printed labels should be strong enough to remain attached to the pacifier but also allow for removal without damaging the pacifier surface.
Bulk Packaging: Consider whether pre-printed labels are available in bulk packages, providing a cost-effective option for parents who want a supply of labeled pacifiers.
Compliance with Regulations: Ensure that pre-printed labels meet any daycare or safety regulations, especially if they are intended for use in group settings.
Each labeling method offers its unique advantages, so consider factors such as personal preference, pacifier type, and cleaning processes when choosing the most suitable option for your needs.
Read more on best ways to labels clothes for daycare, How to label socks for daycare.
Safety Considerations
Ensuring the safety of pacifier labeling methods is paramount for the well-being of the child. Here are key safety considerations to keep in mind:
Non-toxic Materials
Utilize labeling materials that are explicitly labeled as non-toxic. This ensures that, in the event of contact with the baby's mouth, there is no risk of harmful substances being ingested.
Choking Hazard Prevention
Opt for labeling methods that eliminate the risk of choking hazards. This is especially crucial for small infants who may explore objects with their mouths. Avoid excessively large labels or loose attachments that could pose a risk.
Allergy-Friendly Labels
Consider any potential allergies the baby may have when selecting labeling materials. Choose hypoallergenic labels made from materials that are unlikely to cause skin irritation or allergic reactions.
Regular Inspection of Labels
Conduct routine inspections of the labeled pacifiers. Look for signs of wear, fading, or detachment. Promptly replace labels that show any compromise to maintain clear and effective identification.
Compliance with Daycare Policies
If the baby attends daycare, ensure that the chosen labeling method complies with daycare policies. Some daycares may have specific guidelines regarding the type of labels allowed, especially concerning materials and sizes.
Tips and Best Practices
Clear and Legible Labeling
Ensure labels are clear and legible by using fine-point permanent markers and choosing contrasting colors for visibility.
Regularly inspect labels for wear and fading, promptly replacing them to maintain accurate identification for daycare staff.
Backup Labeling Methods
Have backup labeling methods in place, such as duplicate labels on each pacifier and alternative materials like stickers.
Utilize emergency labels, such as adhesive tape or writable stickers, for quick, temporary identification when needed.
Involving Parents in the Labeling Process
Enhance collaboration by involving parents in the labeling process.
Conduct a survey to understand preferences, organize informational sessions, and establish open communication channels for ongoing feedback and improvement.
Periodic Reevaluation of the Labeling System
Regularly reassess the labeling system's effectiveness through scheduled reviews.
Incorporate feedback from parents and daycare staff, and seek input for continuous improvement and seamless pacifier management.
Is It Necessary to Label a Pacifier?
Labeling a pacifier for daycare is important because it helps the staff identify if it's lost or misplaced. This way, they can quickly return it to your child if you have more than one child in daycare.
Reasons it is important to label a pacifier,
You can help ensure that your child's pacifier is properly labeled and easily identifiable at daycare.
It is important because it will help the staff quickly identify the pacifier if it is lost or misplaced and return it to your child promptly.
Additionally, if you have more than one child in daycare, it is important to label each pacifier with a different identifier to prevent mix-ups.
If there is a spread of illness at the daycare, the label on your pacifier will ensure that no other kid will use it.
By taking these simple steps, you can help create a smooth and hassle-free experience for both you and the daycare staff.
How to Make Sure the Label Stays on the Pacifier?
The best way to ensure the label stays on the pacifier is to use a permanent marker. You'll also want to ensure that you write the child's name in large letters so it can be easily seen. There are a few things you can do to make sure the label stays on the pacifier:
Use permanent markers to write your child's name, initials, or a unique identifier on the pacifier. Sharpie markers work well for this, as long as they are the fine-pointed version.
You can also put your contact information on the label if the pacifier is lost.
If you have more than one child in daycare, label each pacifier with a different identifier.
Make sure the label is clear and easy to read.
Once you've written the name on the pacifier, you're all done!
What Are the Different Types of Pacifiers?
Pacifiers are available in various shapes and kinds, all suitable for children of different ages. There are two main types of pacifiers:
Orthodontic
Non-orthodontic.
Orthodontic pacifiers have a bulbous shape similar to a nipple, while non-orthodontic pacifiers have a more traditional shield shape. Both types of pacifiers can be labeled with the child's name.
FAQs
Do daycare centers allow pacifiers?
Most facilities have mentioned it in a handbook given to the parents. Some daycares allow pacifiers only at naptime, and others have no restrictions.
Why do soothie pacifiers have a hole in the middle?
Commonly used pacifiers come with a handle, but soothie pacifiers have a hole in the middle so your baby can place their thumb. It helps in holding the pacifier in place.
How to sterilize a pacifier?
One common at-home method is boiling the pacifier in hot water to eliminate all the germs. While practicing this method, be careful around the hot pacifier and boiling water.
How often should pacifiers be replaced?
It is recommended to replace the pacifier after every 4-6 weeks to ensure safety and hygiene for the child.
How to store pacifiers?
Storage has to be super clean wherever you keep the pacifiers. Bacteria can easily grow inside the nipple of a pacifier, so it's better to keep it in a zip-lock bag, and if you are using it after a long time, boil it before giving it to your child.
Do you need to label pacifiers for daycare?
Yes, labeling pacifiers for daycare is highly recommended. Labeling serves several important purposes in a daycare setting:
Identification: Daycare facilities often care for multiple infants, and labeled pacifiers help staff quickly and accurately identify which pacifier belongs to each child. This is especially crucial during moments when many pacifiers may be in use, such as naptime or feeding.
Hygiene and Safety: Labeled pacifiers contribute to maintaining hygiene and safety standards. Knowing which pacifier belongs to which child helps prevent the accidental sharing of pacifiers, reducing the risk of the spread of germs and infections.
Parental Peace of Mind: Labeled pacifiers provide parents with peace of mind, knowing that their child's belongings are easily recognizable and won't be confused with those of other children. It adds an extra layer of assurance that their child is using their designated items.
Efficient Communication: Clear labeling facilitates effective communication between parents and daycare staff. If there are specific instructions or preferences regarding the use of
Conclusion
Labeling pacifiers for daycare is a quick and easy way to ensure your child's belongings stay safe and sound. By following the tips above, you can be sure your child's pacifier will be returned to them if it's ever lost or misplaced.
Thanks for reading!