Are Daycare Workers Teachers?
I'm sure you have heard the term daycare teachers. But are daycare workers actually teachers?
First of all, not all daycare workers are called daycare teachers. There are other roles in a daycare as well. Now coming to the teachers, daycare teachers aren't actual teachers.
Then why do we call them teachers? We've answered this question in this article along with 6 differences and similarities between daycare teachers and actual teachers. So let's dive in.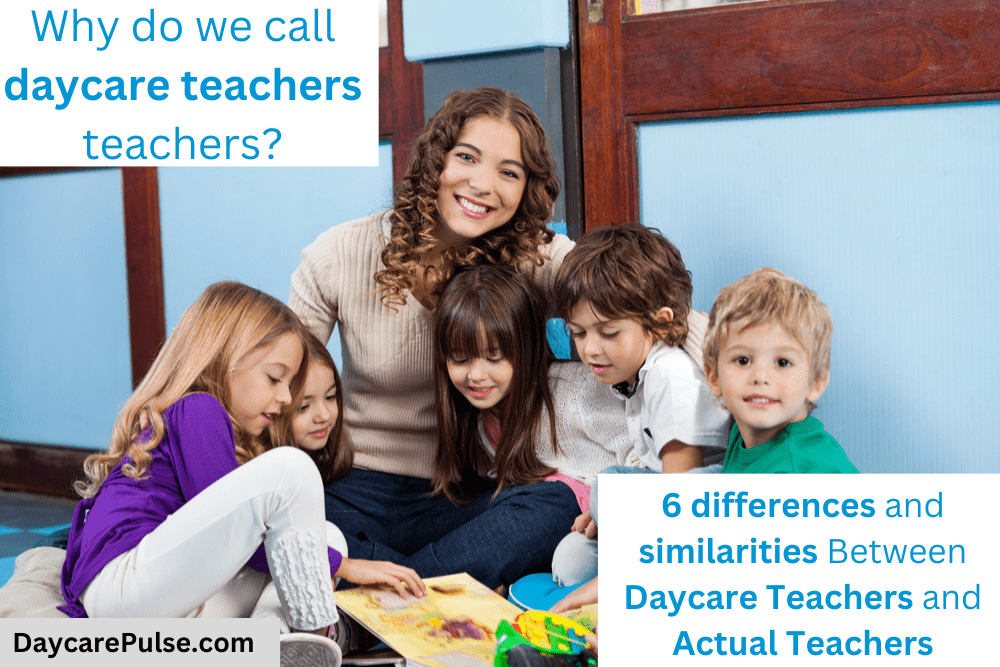 Are Daycare Teachers Actual Teachers?
It varies from state to state and center to center. Some daycares have actual qualified teachers, and some have childcare providers, not real teachers. Daycare teachers are not actual teachers who teach in kindergarten or school.
Daycare teachers are caregivers, and their primary job is to take care of a child and share parental responsibilities. Besides parents, they play a huge role in the learning and development of a child.
On the other side, teachers are educators. Their main objective is to educate kids.
Then Why Do We Call Them Teachers?
The answer to this question is subjective and depends on your definition of a teacher. If you consider only a school teacher who delivers traditional education a teacher, you might be questioning this.
However, a teacher isn't just a person who provides formal education. Anyone who teaches anything is a teacher. And considering this, daycare teachers teach children discipline, kindness and manners. They even help a child talk, walk and provide toilet training as well.
They share parental responsibilities, and so deserve our respect.
Similarities Between Daycare Teachers and Actual Teachers
Here are some similarities between daycare teachers and actual teachers.
Both deal with children and should know how to handle them.
Both maintain a safe and secure environment for kids.
Both discipline kids.
Differences Between Daycare Teachers and Actual Teachers
Here's a quick overview of the differences between daycare teachers and real teachers.
1. Purpose
Daycare teachers and actual teachers have different roles to play.
Teachers educate kids and provide formal education. Their task is to educate the kids through a set curriculum and prepare them for the next level.
Daycare teachers have a totally different purpose. They're caregivers. Their task is to split parents' responsibilities and enable them to be a part of the nation's workforce. They care for infants to school-going kids.
Some daycare programs do offer some kind of formal education. However, that's a secondary thing. Their main task includes caring, feeding, and involving children in various activities for their mental and physical development.
2. Training
Teachers and daycare teachers receive different training. Daycare teachers have and license in childcare. In comparison, actual teachers have qualifications and licenses in teaching and education.
3. Teaching
Daycare teachers teach basic life skills to kids according to their age. It includes kindness, discipline, hygiene, expressing themselves and much more.
Contrary to that, teachers provide formal education.
4. Responsibility
Daycare teachers have a vast spectrum of responsibilities. They've to take complete care of a child, which includes feeding, washing, looking after them and playing. They also arrange activities that help in a child's personal, physical and mental development. They ensure a safe and secure environment for kids as well.
A teacher is responsible for educating a child and giving them formal education. They prepare a child for the next stage of their educational journey.
5. Child Age
Daycare teachers provide childcare from infants to school-going kids in the form of after-school programs. They are trained in dealing with children of all ages. They also know how to discipline and calm problematic kids.
Teachers mainly deal with kindergarten and preschool kids. And their training isn't focused on calming kids. Its focus is on delivering education.
Debate: The Teacher's Arguments
There's an argument proposed by some teachers regarding the term daycare teacher. They say teachers get years of education and training to get their license, and it's not quite appropriate to call daycare caregivers teachers. They think it's unfair to them and their efforts are not righty recognized.
As said before, daycare teachers deserve respect and appreciation. They're a significant part of our society. And calling them teachers doesn't take away an actual teacher's importance or respect. They're an essential part of the childcare system.
Plus, A lot of daycares offer educational programs as well. And many trained teachers work there too.
Fun fact: Teachers can work at daycare centers, but daycare teachers can't teach in kindergarten and primary schools.
Frequently Asked Questions
1. Is working at a daycare hard?
Working at a daycare can be a little tricky as you have a huge responsibility. You've to look after kids under your supervision, and in case anything happens, you'll be the first one the parents ask. Other than that, taking care of children can be challenging and tiring if you're new.
2. What makes you a good daycare teacher?
A natural affection towards children is the most important aspect. If you have that, you can be a good daycare teacher. Plus, you should enjoy spending time with kids and caring for them, or else it'll be an exhausting job for you.
3. What Is The Role Of a Daycare Teacher?
A daycare teacher is responsible for taking care of kids, feeding them, and maintaining hygiene and a safe environment. They take full care of kids and look after them as long as they're in daycare.
Conclusion
Are daycare workers teachers? You got the answer now. But don't forget that all daycare workers are not called teachers. There are other roles and positions as well in a daycare center.
We also shared our take on the debate of calling daycare workers teachers.
We hope you enjoyed reading this article and got a new perspective on the topic. Thanks for reading.