Will Daycare Help My Child Talk?
How will I train my child when they spend almost half of their time in daycare? They should get a little training there as well, or things won't be consistent. It'll take them longer to speak. So will daycare help my child talk? Here's the answer.
Yes, daycare can help your child talk and learn new words. But how? Do they have any special programs? No. Then how daycare helps in speech?
Let's zoom in and see, in detail, how daycare helps a child talk and whether it's good for your kid or not.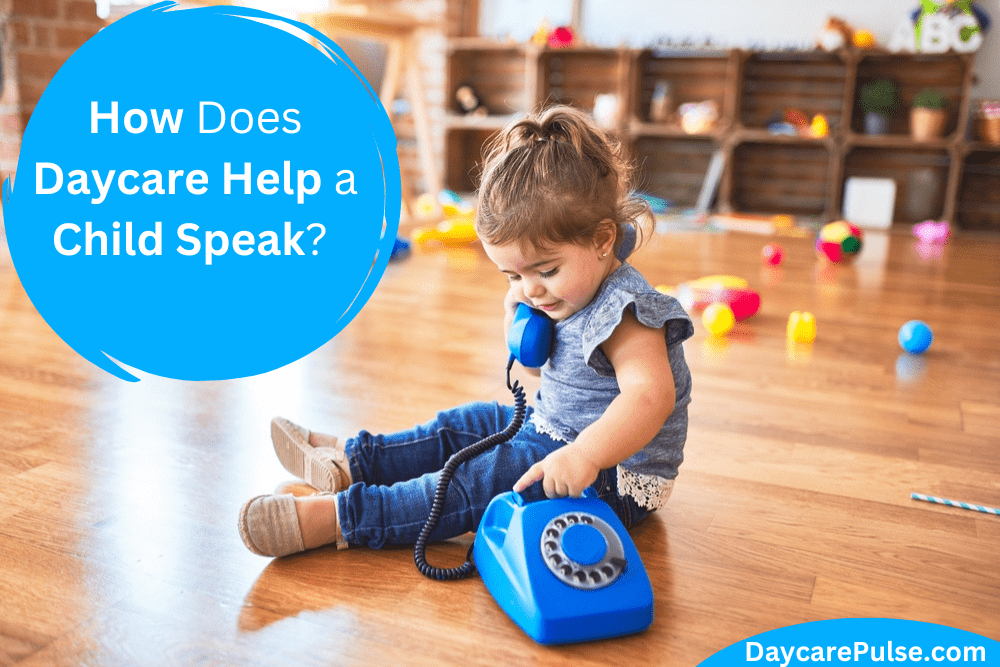 How Do Children Learn to Speak? A Quick Overview
Let's first see how kids learn to speak. It will help us better understand the daycare's role in their speech development.
We're definitely not going into physiological details here. That's not the topic for today. We're going to generally understand the external factors that help a child speak. Note that we're not going to mention all the aspects. We'll only talk about what's relevant to the topic.
So from all the factors, the one which's relevant to us is the environment. A kid's surroundings play a significant role in their development. How much they listen and how much they see other people talking impacts how fast they'll start talking.
So kids learn to speak by listing and watching others talking. The more interaction they have, the faster they'll learn to speak.
How Daycare Helps a Child Talk?
Considering the above information, the daycare's environment seems to be a good place for kids. They get the opportunity to interact with other children, listen to teachers talking, and other kids babbling and talking in their own mysterious language.
Activities like reading also help in developing their speaking skills. They learn new words and phrases besides what parent's teach. And many parents whose kids go to daycare have seen their children talking better and using new words.
In short, a daycare's environment helps kids talk faster and later helps them develop good communication and social skills.
Is It Necessary for a Child to Go to Daycare to Learn How to Talk?
You might be wondering, "Does it mean a child should necessarily go to daycare to learn how to talk?"
Not at all. It's not a necessity. Kids can learn to speak even if they don't go to daycare. It won't even cause any delay in their speech.
Children learn more from watching and observing others. Your kid will learn from you and the people around you. Moreover, small interactions that your kid will have with other kids and people when you take them outside will also help them learn.
The Parent's Role
If a child isn't going to daycare, the parents have complete responsibility to teach them how to talk, right?
Yes, but even if a kid goes to daycare, the parents have a crucial role to play. Spend time with your kids, listen to them, talk to them and appreciate them for their efforts. After all, the moments when your kid learns new words and says things in their own way are priceless. Who wants to miss that?
Can Daycare Help With Speech Delay?
Daycare or any other program can't be of much help in this situation. And it's totally not a treatment or solution for speech delay, which can also be due to a medical condition.
The best thing to do is to consult a speech therapist. They'll identify the problem and prescribe treatment according to it. If they suggest putting your child in a group setting or giving them more exposure, you should send them to a daycare. Only in this case can daycare help with a speech delay.
Some kids get frustrated when they can't successfully put their thoughts across. And daycare teachers might not understand a kid at first. It takes some time for them to know their communication style. Thus, as a parent, talk to teachers and let them know about your kid's communication style.
Daycare Is a Plus for Bilingual Households
Let's first get this across. Bilingual children can have a delay in their speech because they're learning 2 different languages. You'll see them mixing both languages or leaning more towards one than the other.
If you want to improve their native language, daycare can help. When you send them to childcare, they'll spend time with teachers and other children. They'll listen to the native language more, and it'll help them learn it faster.
Even if you don't need childcare, it's a good option to send your kid to a preschool, summer program or daycare once or twice a week. Your kid will have fun there and learn a lot more besides language.
A Major Concern: What if My Child Learns Bad Words at Daycare?
This is a major and valid concern. But shake all of your worries, as this doesn't happen. Daycare teachers are trained and know how to deal with kids. They don't use any inappropriate words with children.
What if any other kid speaks inappropriately?
Daycares ensure a safe and healthy environment for all the kids. If any kid misbehaves or uses bad words, they discourage it and talk to the parents. If the problem remains unsolved even after talking to the parents, they suspend the kid.
If you think your center is teaching kids bad words, take your kid out of there. Admit them to a reputable center. And file a complaint against them.
Conclusion
Not every child is the same. Thus kids show different behaviours in daycare or any other group setting. Some children speak less around other people than they talk at home. While some easily mingle.
The former happens very less. 90% of children get better with their speech and words in daycare. Parents have observed this. And some even send their kids to part-time daycares once or twice a week only to give them a chance to interact better.
We hope this article has answered all your queries related to will daycare help my child talk.