How Daycare Vouchers Work: Understanding the Mechanism
Childcare can be expensive, and balancing work and caring for your children can be challenging. But guess what? I've got great news for you! You can actually save on childcare expenses!
So, did you know about daycare vouchers? Daycare vouchers, childcare assistance, or childcare vouchers – they all refer to the same thing. They're subsidies provided by the government to support parents in paying for their kid's care.
In this awesome blog post, I'm going to take a deep dive into the world of daycare vouchers. I will cover the essentials of these subsidies, highlighting five major benefits that can make a significant impact.
Discover how daycare vouchers can help reduce childcare expenses and alleviate anxiety and stress, bringing you satisfaction and relief.
So, keep reading and get ready to make the most of this promising government initiative!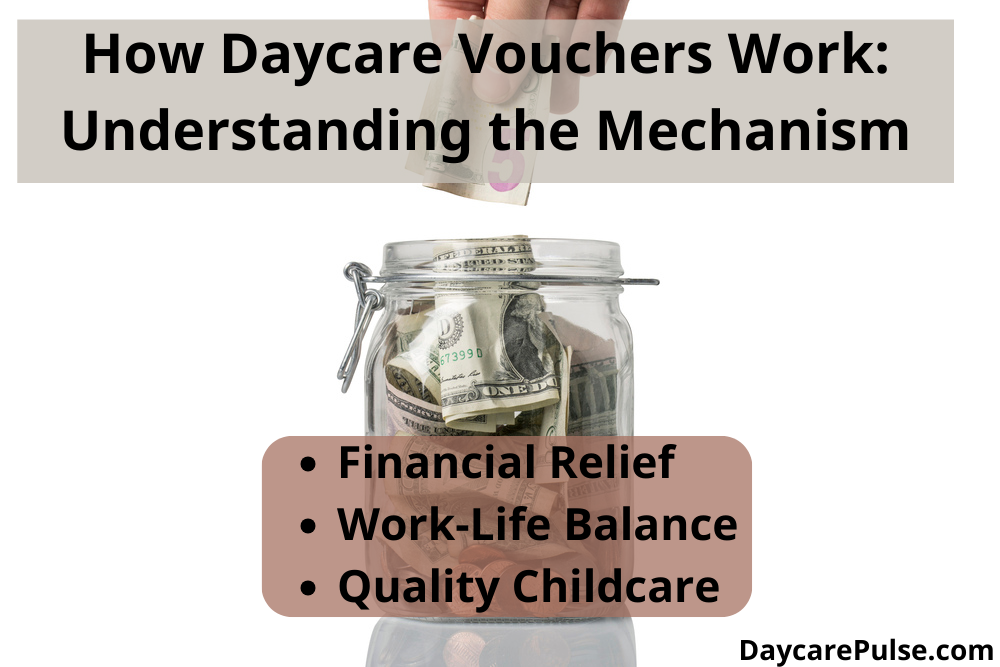 How do Daycare Vouchers Work
Daycare vouchers are a fantastic way for parents to offset the costs of childcare.
They work as a type of subsidy, given by either the government or employers, to help cover the expenses of daycare services, providing relief and support to working families.
Daycare Vouchers
Daycare vouchers, also known as child care assistance, are like special tickets that help you pay for your child's daycare.
Think of it like a gift card for your child's care! This amazing help comes from either the government or your job.
The main goal of these child care programs is to provide a safe and fun place for your kids while you work, without the worry of high costs.
In short, daycare vouchers are a real lifesaver, making the cost of child care a lot less scary.
Working of Daycare Vouchers
Daycare vouchers work in a few straightforward steps:
Application: Apply for the voucher program through your employer or a government agency.
Eligibility Check: The issuing authority will review your application to assess your eligibility based on income, employment status, and number of children.
Approval: If eligible, you'll be approved for childcare assistance, covering part or all of your child care costs.
Redemption: Once approved, you can use vouchers as "gift cards" at eligible daycare providers. Just hand them over, and the voucher amount will be deducted from your bill.
Remember, the main intent of these vouchers is to ensure your child enjoys a safe, fun environment while you're at work, without the financial stress.
Understanding Coverage: Childcare Voucher Funding
The coverage provided by your daycare voucher will depend on several factors:
Household income
Family size
Any special expenses related to your child's medical condition, for example.
Entire expenses are covered for:
Foster parents
Families running on assistance
Homeless families
Unemployed parents
Based on these aspects, your subsidy can cover the full, half, or quarter expenses of your child's daycare.
It's important to note that foster parents, families receiving assistance, homeless families, and unemployed parents have their entire expenses covered.
Additionally, if you qualify for programs like Head Start, have a development fund, or receive cash assistance, you may be eligible for financial support to help pay for quality child care.
Don't forget to consider your income tax return, as it can also play a role in determining the coverage provided by the voucher.
Daycare Vouchers: Providers and Sources
Daycare vouchers are provided by government institutes of early childhood education to eligible families. They have some conditions that the family should fulfill to get the funding.
Often times you don't get the subsidy immediately due to a high number of candidates or lack of funding.
In such situations, you'll be added to a waiting list. The authorities will contact you when it's your turn.
The wait can be of weeks to even months. So it's better to apply as soon as possible.
Eligibility Criteria for Daycare Vouchers
Different states have different requirements and eligibility criteria.
You should visit your country's website to check it. But some general eligibility criteria include:
If you require consistent child care for a child under a certain age.
If you are using a licensed child care provider for your child's care.
If you are receiving child support that does not cover the cost of child care.
If your income is below your state's minimum wage.
If you're jobless and looking for work.
If your residency isn't permanent.
If your family is running on assistance.
Here are the official sites of the United States and the United Kingdom. You can get complete information on childcare assistance from here.
Applying for Daycare Vouchers: Easy Steps to Access Support
Applying for child care assistance is now easier than ever!
You don't need to leave your home – just visit your state's website and navigate to the child care section.
There, you'll find all the information you need about child care services, including eligibility criteria and an online application form for daycare vouchers.
Even if online registration is not available, don't worry! The website will provide you with details on how to apply by mail or in person.
Say goodbye to the hassle of finding child care on your own – let the state help you with your child care expenses!
Long-Term Impact of Daycare Vouchers
Daycare vouchers have diverse and meaningful long-term impacts.
Let's delve into how they contribute to family welfare by reducing financial stress, ensuring access to top-notch childcare, and creating employment opportunities for parents.
Financial Stability: Childcare vouchers improve financial stability by covering high childcare costs, offering parents a budget flexibility, and reducing financial stress.
Career Growth: Childcare vouchers help parents focus on professional growth by eliminating childcare costs, allowing to invest in their careers.
Job Continuity: Daycare vouchers ensure uninterrupted childcare, enabling parents to work continuously without worrying about children's care, reducing the risk of job loss.
Increased Productivity: When parents have peace of mind about children's well-being, they can focus more effectively on work, leading to improved productivity and career growth.
Education and Skills Development: Daycare vouchers help parents address childcare challenges, allowing to pursue education and gain skills for better job prospects and income.
Creating Future Opportunities: Daycare vouchers contribute to family economic stability by providing a safe environment for children during their formative years.
Frequently Asked Questions
How Long Does It Take to Get Daycare Vouchers?
Childcare vouchers can be used as a method of payment at any eligible daycare provider.
The waiting time for receiving daycare vouchers can vary widely, often taking several weeks to months, depending on the availability of funds and the number of candidates.
It is, therefore, advisable to apply as early as possible.
What Can I Use Childcare Vouchers to Pay For?
You can pay for the following childcare services through a daycare voucher.
Preschool
Home daycares
Daycare centers
Summer programs
After school programs
Nannies and babysitters (in some cases)
But all these institutions should be registered with the state.
How Long Can You Use Childcare Vouchers?
Usually, childcare vouchers don't have an expiry. You can use them as long as you meet the eligibility criteria. But in a few cases, the subsidy is time-dependent. And thus it'll end after the specified time.
For example, your state can offer you childcare assistance for 2 years. After 2 years, you'll stop receiving funding from them. You will then have to get a new voucher if you still need it.
Can I Pay My Nanny With Childcare Vouchers?
If your babysitter or nanny is registered with the state, only then you can pay them with your childcare voucher. If they're associated with an agency, that organization should be registered then.
Conclusion
Daycare vouchers represent a lifeline for working families, providing financial assistance for childcare so that parents can focus on their careers and educational endeavors.
The application process may seem daunting, but with the resources provided by the government, it has been simplified for your ease.
Remember, every state has its own set of eligibility criteria, so it's crucial to check your local government website for accurate information.
Whether you're starting your career, pursuing education, or working hard to make ends meet, daycare vouchers offer valuable support for a brighter future for you and your child.
Thanks to childcare assistance programs, achieving work-life balance is no longer just a dream, but a tangible reality.