Does Daycare Potty Train: Smooth Transitions
Potty training kids is a tough job, especially when they go to daycare. How can you train them when they wear diapers half the time? Does daycare assist with potty training?
Want to know how daycares potty train?
Fear not, because this blog post provides the ultimate solution to your concerns.
In this write-up, I explore daycare potty training. I discuss the methods used by daycare centers to incorporate potty training into their routines, managing children in diapers, and facilitating the transition to full potty use.
Through this blog post, you'll gain valuable insights into the daycare potty training process, empowering you to effectively support the child's transition out of diapers.
So, sit back, relax, and let's make your potty training journey a breeze together!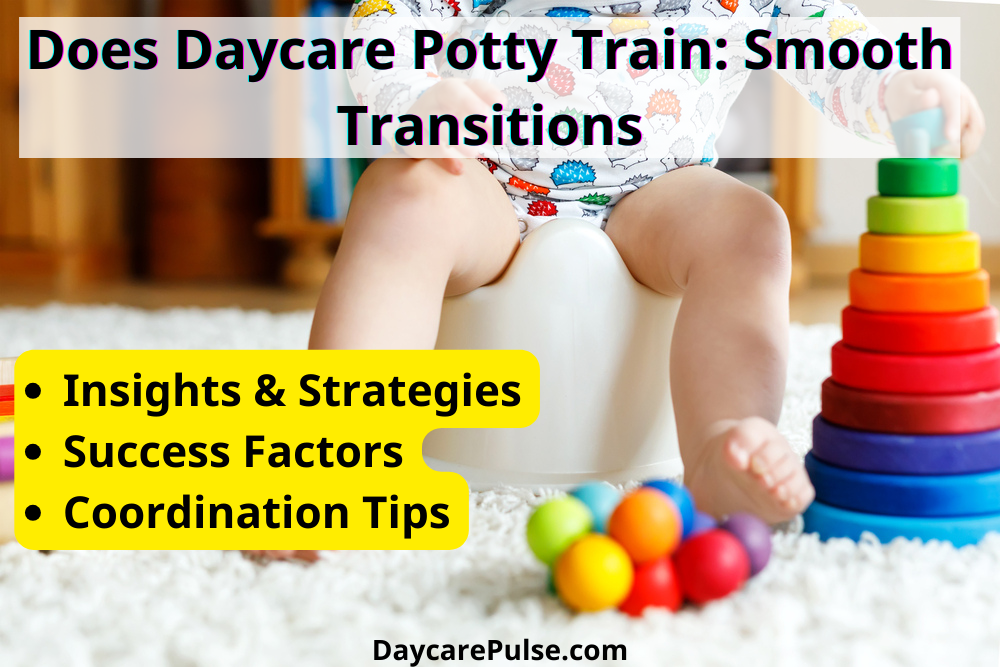 The Role of Daycare in Potty Training
Daycare plays an incredible role in a child's potty training journey!
It provides a structured environment where kids can learn and grow together, often imitating each other's behaviors, including bathroom habits.
The transition from diapers to the toilet can be a challenging phase, but with the help of daycare workers and their trained expertise, it becomes a smooth and playful educational experience.
Did you know that around 75% of daycares actively help with potty training?
Daycare centers are crucial for children's development, making it easier for them to adapt. With structured potty training routines, these facilities help smoothen the transition.
With consistent reinforcement at daycare, kids often find it easier to use the toilet at home too! 😊
Factors Influencing Daycare Potty Training Effectiveness
In this next section, we'll be delving into the significant factors that influence the effectiveness of potty training in daycare settings.
From the role of the staff to the daycare's overall environment, we'll uncover the elements that make potty training a success in these crucial early childhood education centers.
Impact of Child's Personality on Daycare Potty Training Success
The start of potty training can be influenced by a child's personality. For example, extroverted children may show excitement and readiness to begin, while introverted or shy children may require more encouragement.
Peer influence is also a significant factor in potty training success. Daycare provides an opportunity for children to learn from their peers and observe others going through the same process.
The training process also depends on a child's personality traits. Curious and open-minded kids may adapt more quickly, while those resistant to change may need extra time.
Potty training in daycare provides structure, benefiting children who thrive on routine. However, a more relaxed child may be less affected by this.
A child's daycare can significantly influence potty training success. For instance, a daycare that encourages independence is excellent for self-driven children, while one providing more guidance is beneficial for those needing more help.
The decision to start potty training is influenced by a child's personality. Parents of independent and stubborn children may wait for more readiness signs, while parents of adaptable and eager children may start earlier.
Differential Effects: Confident vs. Shy Children in Daycare Potty Training
Confident children, who are usually comfortable with change, may adapt to daycare potty training easily.
Their willingness to embrace new experiences can make the transition from diapers to the toilet smoother.
Seeing their peers use the toilet can also encourage them and create an environment of collective learning and growth.
On the other hand, shy or introverted children might need more time and encouragement.
If they see their peers successfully using the toilet, they may feel pressured or overwhelmed instead of inspired.
It's vital that daycare providers approach these children with patience, understanding, and individualized strategies to support their potty training journey.
The goal is to make the process stress-free and positive for every child, irrespective of their confidence level or temperament.
Approaches and Methods Used by Daycare Centers
Daycare centers use various methods to make the transition from diapers to the toilet a smooth experience, and three main approaches stand out.
Familiarizing Before Formal Training
Childcare providers understand the importance of introducing children to the potty seat before formal training. This helps children feel comfortable with the potty, making it a regular part of their daily routine.
Teachers can read potty training books, demonstrate sitting on a potty seat, and organize fun activities. This helps children feel comfortable and excited about this new phase in their life!
Establishing Consistent Toilet Breaks
Consistency is crucial in potty training. Childcare centers establish a routine for toilet breaks, helping children understand when it's time to use the potty.
Regular toilet breaks at set intervals can reduce accidents and boost a child's confidence. For children attending daycare, this consistent routine can greatly aid their potty training journey.
Rewards as Motivation
Everyone loves being rewarded for a job well done, and children are no exception! Child care providers often use rewards as motivators for successful toilet use.
Using rewards like stickers, stars, or treats can make the process fun and create a sense of achievement. It not only encourages toilet use but also teaches goal setting and the satisfaction of achieving those goals.
Is Daycare Potty Training Good or Bad for a Child?
The impact of daycare potty training on a child is complex. It varies based on factors like the child's personality, readiness, and the daycare's policy.
Daycare can create a nurturing environment that encourages toilet learning as a regular part of a child's journey. Kids feel inspired when they see their friends using the toilet, and the consistent routines set by daycare can help them master this exciting new skill.
However, it's important to consider the subjective impact of daycare on potty training. Every child is unique, and what works for one may not work for another.
For instance, a shy or nervous child may find the group setting a bit intimidating, which could potentially slow down their progress.
Additionally, it's worth noting that a daycare's standardized potty training policy may not always align with the individualized approach that some children may need.
While daycare can be a valuable partner in the potty training process, it's essential for parents and caregivers to remember that every child's potty training journey is different.
Open communication between daycare and families, along with a flexible approach that considers each child's unique needs, can make this milestone a positive experience for all.
The Parent's Role in Daycare Potty Training
The "Parent's Role in Daycare Potty Training" is a crucial aspect in this journey towards independence.
As parents, involvement is a key start to begin potty training the child.
Let's explore how you can effectively support your child's transition from diapers to potty, even while they're in daycare.
Highlighting the Crucial Role of Parents in Potty Training
Be a Comforting Presence: Parents play a crucial role in potty training by providing emotional support and comfort to their child.
Communicate with Daycare: Sharing insights about the child's habits, fears, and progress helps daycare caregivers tailor their potty training approach effectively.
Maintain Consistency at Home: Establishing a consistent potty training routine at home reinforces what the child learns at daycare.
Use Positive Reinforcement: Recognize and reward the child's efforts, even in the face of accidents, to create a positive association with potty training.
Practice Patience and Understanding: Each child has their own pace in potty training, so parents should remain patient, encouraging, and understanding.
Prepare the Child: Before starting potty training at daycare, parents can familiarize their child with the concept at home.
Parental Tips for Discussing Toilet Training with Children
Start Early: Begin discussing potty training well in advance. This gives your child time to get used to the idea and can spark curiosity about the process.
Use Simple, Positive Language: When talking about potty training, use simple and clear language that your child can understand.
Use Storybooks: There are numerous children's books about potty training. Reading these together can be a fun and interactive way to introduce the topic.
Provide Reassurances: Ensure your child knows that it's okay to have accidents and that potty training is a learning process.
Make It Fun: Use games, songs, or silly toilet-related jokes to make the process fun.
Encourage Questions: Invite your child to ask questions about potty training and answer them honestly and patiently.
Coordination Between Home and Daycare
Importance of Consistency Between Home and Daycare
Maintaining consistency is paramount for successful potty training, as it helps children understand and adapt to the routine more quickly.
The rules, rewards, and routines used in daycare should ideally be mirrored at home. This consistency in approach enhances the child's comfort level and strengthens their learning process.
For instance, if a reward system is used at daycare for successful toilet use, implementing a similar system at home can motivate the child and reinforce their positive behavior.
Communication Tips for Parents
Open communication with daycare providers is a cornerstone to align potty training practices at home and daycare.
Parents should regularly discuss their child's progress, challenges, and any changes in behavior with the daycare staff.
Here are some tips for effective communication:
Share updates: Regularly share updates about your child's potty training progress at home.
Ask for feedback: Request feedback from the daycare staff about your child's progress and behavior.
Discuss strategies: Discuss the strategies used at daycare for potty training and try to implement them at home.
Address concerns: If you have any concerns or questions about the potty training process, don't hesitate to address them with the daycare staff.
Dealing with Challenges and Accidents
Accidents are a normal part of the potty training journey – every potty training child goes through them.
It's important to handle these situations with kindness, empathy, and patience.
When accidents happen, stay calm and reassure the child that it's just a part of learning.
Avoid any negative reactions or punishments, as they can cause stress and anxiety, potentially prolonging the potty training process.
When handling setbacks, remember to keep the bigger picture in mind.
Every child learns at their own pace, and it's perfectly okay if the child takes a bit longer to master this new skill.
Encourage them to try again and reassure them that they're doing just fine.
Reinforce the idea that accidents are not failures but steps on the journey to becoming more independent.
Always celebrate the successes, no matter how small.
Keep in mind that potty training a child is a joint effort between parents, the child, and the daycare provider, and communication is key.
If the child is struggling, don't hesitate to discuss it with the parents. They might have valuable insights or suggestions that can help.
Remember, potty training is a significant milestone in the child's development. It's important to approach it with patience, understanding, and lots of love.
What Should a Child Wear?
It depends on what approach your daycare is taking. Some daycares slowly transition from diapers to underwear, while some want kids to be in underwear from day one. Hence some centers require children to be in underwear, while some suggest diapers.
In any case, you should always send extra clothes with your toddler. If anything happens, daycare teachers can easily get them changed.
Frequently Asked Questions
Do Preschool Teachers Help With the Potty?
Daycares tackle potty training by following a structured routine that helps little ones transition from diapers to the toilet. They have experienced staff who offer guidance and support to the children during this stage.
Moreover, they embrace the power of peer learning, as little ones love to mimic each other's actions, creating a more cozy and less daunting potty training experience.
At What Age Should a Child Be Potty Trained?
On average, 2 to 3 years of children are fully potty trained or are in the process. But there's no specific age when your child has to learn it.
You shouldn't compare your child's progress with other kids. Just give them time and attention, and slowly, they'll master it.
What to Do With a Child Who Won't Potty Train?
Encourage them, don't pressurize them and don't stress.
Give them a break and let them know you're there to help. Try rewarding them for every small step they take towards using the toilet.
Is It Normal for a 3.5-Year-Old to Not Be Potty Trained?
It's fine if a kid isn't fully toilet trained at 3 or 3.5 years.
However, at this stage, you shouldn't rely on others and personally train your kid. Try to identify the problem your child is facing and work toward solving it.
Conclusion
Potty training can be a challenging yet rewarding experience for both parents and daycare providers.
By using the tips and strategies mentioned in this document, you can create a positive and successful potty training journey for the child.
Remember to create a positive and supportive environment, maintain consistency, communicate effectively, handle challenges with patience, and celebrate successes in both home and daycare settings.
So stay positive and enjoy the journey!
Happy potty training! 🚽🎉