Is Daycare Considered Preschool?
It looks like you're confused between the 2 terms, daycare and preschool. They're interchangeably used but are they really the same? Is daycare considered preschool? If not, then what's the difference between the 2?
Here's the answer, daycare and preschool are childcare organizations, but they aren't the same. Hence daycare isn't considered preschool.
Let's go deep into the topic and see the 6 differences between preschool and daycare and which one you should choose for your child.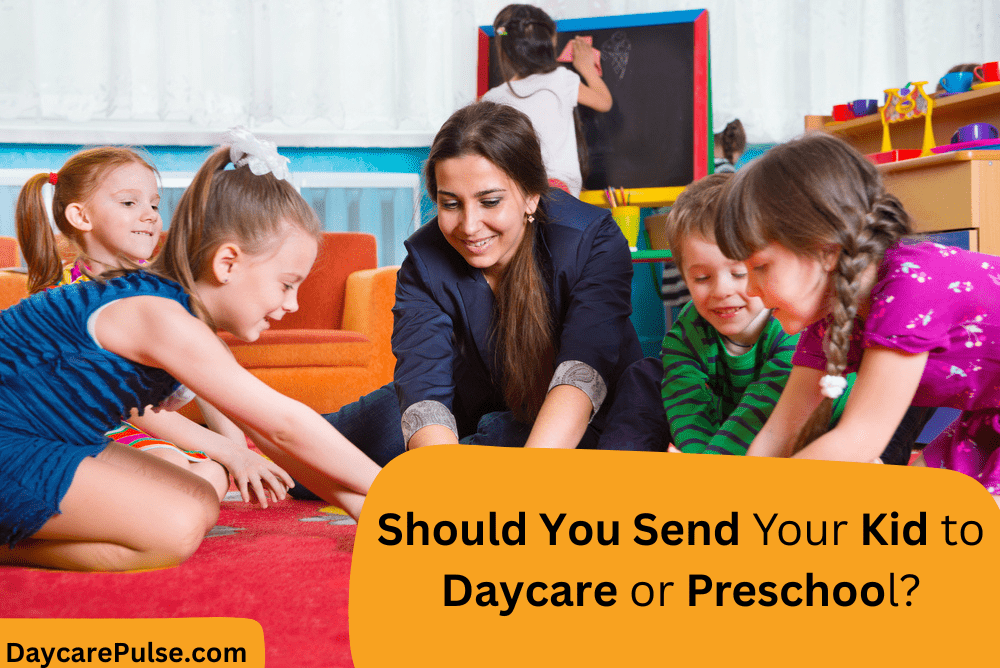 Are Daycare and Preschool the Same? Difference of Motives
The aims and goals of both organizations are different. And this parts their ways.
As well all know, daycares provide childcare assistance to working parents. You can leave your kid at the center, and they'll look after them as long as you're at work. They aim to provide childcare to working parents so they can peacefully continue their work.
Now the preschool has a different motive. As the name suggests, preschool prepares children for kindergarten. It's more academically focused than daycares. They have a proper schedule and curriculum like school.
It does serve as a childcare institute for parents, as children stay there for 5 to 6 hours. However, it's not the primary focus of a preschool.
6 Differences Between Daycare and Preschool
Let's compare preschool and daycare in terms of their services, opening hours, cost and many more.
1. Learning Program
Daycares allow more free play learning opportunities than preschool. They provide a healthy interactive environment where children can explore, learn and grow. They also teach kids primary discipline and daily day-to-day tasks.
Preschools also ensure the same environment but focus more on academics and disciplining kids for kindergarten. They have a fixed syllabus which is similar to kindergarten.
In short, both offer learning opportunities and fun activities, but daycare provides more fun projects, and preschool is a more structured education.
2. Flexibility
Daycares are more flexible in terms of offering their services. For example, you can find home daycares and centers as well. There are also drop-in daycares, and regular centers also offer drop-in facilities if they have empty slots.
You can't find this flexibility in preschools. They're always center-based, and you must admit your child there (no drop-in facility).
3. Child-age
Daycares accommodate a wider age range than preschools. They offer infant childcare to after-school programs for school-going children.
On the other side, preschools cater to children 2 to 5 years of age. As kids under 2 years are too young for kindergarten preparation, and after 5 years, they go to kindergarten. Hence preschool's scope of service is limited.
4. Cost
Prices are subjective to the area you live in, your child's age, hours of care needed and facilities provided by the center. But generally, preschools cost more or sometimes the same as daycares for 2 to 5 years of children.
5. Requirements and Eligibility
Daycares don't have any specific requirements as they accommodate children of all ages and train them as well.
But to admit a child to preschool, there's an eligibility criterion. Your toddler should be able to speak and should be potty-trained. Preschool teachers don't change diapers like kindergarten teachers.
6. Service Hours
Here again, daycares get a point. Preschools have limited service hours as compared to daycares. They follow school routines, off on weekends and during the summer. Preschools usually have half-day programs, but some also offer full-day service to facilitate more customers.
Daycares have full-time services. They're open throughout the year, and some are also working on weekends.
Similarities Between Daycare and Preschool
Despite the differences, preschools and daycares have some similarities. And this is why people often use these 2 terms interchangeably.
Both daycare and preschool are considered childcare centers. They both need licenses to operate and follow guidelines issued by the local childcare authorities. If you've any complaint, you can contact the same department in both cases.
Daycares and preschools focus on grooming, personal development and early childhood education. They teach kids basic life skills (communication, empathy and, socializing) according to their age. Moreover, both institutes offer a safe and secure environment for kids to learn and grow.
Should You Consider Daycare or Preschool for Your Child?
As we just discussed, both institutes will help with your child's personal development and grooming. But the preschool focuses more on academics and has a structured routine like a school. Keeping this in mind, let's see which one is better for you.
Consider preschool if:
You want a more structured routine for your kid
You want to focus on academics
You should go with daycare if you want
Full-time care for your kid
Don't want your kid to have academic experience too early
You should also consider your child's nature. Preschools aren't for all kids. Some toddlers are happier and more comfortable in free play and activities. They get a hard time adjusting to the preschool environment.
Will My Child Lag Behind if They Don't Go to Preschool?
There's no problem if you don't want to send your child to preschool. Your kid won't be deprived of anything or lag behind other kids in kindergarten.
Remember, putting your kid in an academic setting too early can be dangerous, and it's not necessary at all. It's about your child's personality. Some kids learn better freely through activities than in the traditional academic style.
Frequently Asked Questions
1. What Comes First, Preschool or Daycare?
Daycares come first as they offer infant childcare, which goes onwards to toddlers. If you're a full-time working parent, your child will have to go to daycare before they're able to join a preschool (as they've age requirement).
2. What Is the Right Age to Send a Child to Preschool?
2 to 3 years can be the right age to send a child to preschool. Before that, it's too early to put your kid in an academic setting.
3. Are Kindergarten and Preschool the Same?
Preschool is pretty much like kindergarten, but they're not the same. Preschools prepare the children for kindergarten, so they follow a similar routine and curriculum but in a lighter way.
Conclusion
Preschool and daycare are not the same. They both offer childcare and early childhood education. But as we saw, daycare's primary motive is to enable working parents to continue their work, while preschool aims to prepare children for their upcoming academics.
Both of them are a mix of structured and unstructured learning. Preschools have more structured education, and daycares have more unstructured learning.
We hope you've now got the answer to whether daycare is considered preschool.