Can a Daycare Kick a Child Out?
Are you worried if a daycare can kick a child out of daycare? Here's the answer.
Yes, a daycare can kick a child out, which is not uncommon. Centers can also refuse to admit a child even if they have space.
In this article, we're discussing 6 reasons a center kicks a child out, 2 ways to avoid it and what to do if your child is expelled.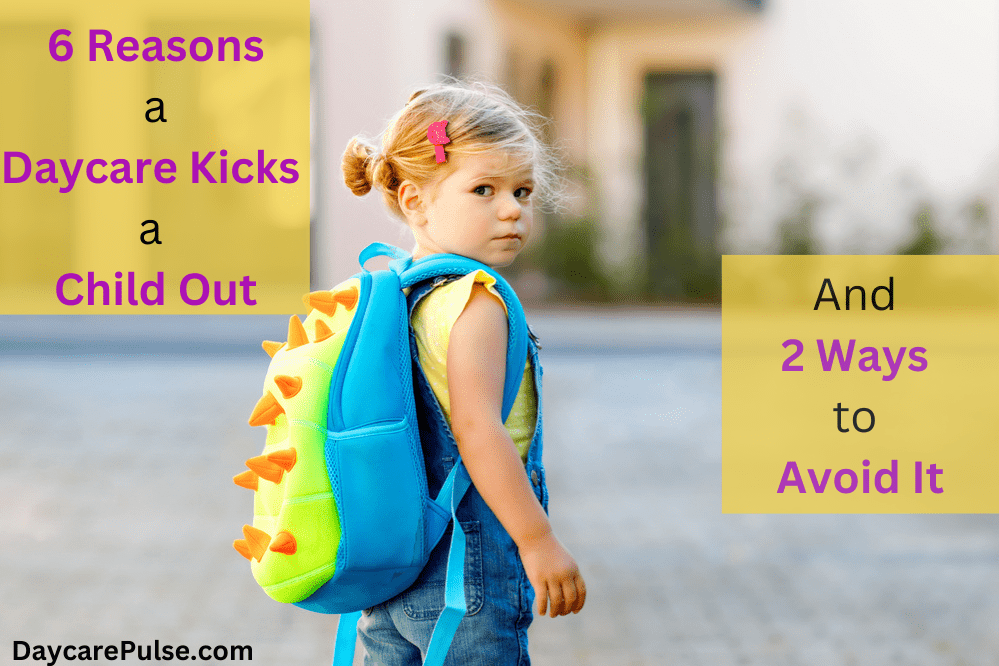 Get Over Your Fear: No Daycare Expels a Child Straight Away
Daycares hate expelling kids as much as a parent would hate their child to be removed. No childcare center turns down kids for minor issues.
In case of any problem, they always try to solve it first by communicating with the parents. They consider suspension only in extreme cases or when things are out of their control.
6 Reasons a Daycare Kicks a Child Or Refuses to Admit
1. Uncontrollable Behaviour
Some children have aggressive behaviour and are extremely difficult to handle. Although daycare teachers are trained to control all types of children, some might just be out of control.
Crying all the time, shouting, throwing things away and not listening to the instructor are a few examples of aggressive children's behaviour. It's extremely difficult to discipline such children in a group setting.
2. If They Harm Other Children
If a child harms other kids and disrupts the daycare environment, they will be removed from the program. Daycares have to maintain a safe and secure environment for kids. And biting, bullying, pushing and hitting are against it.
In such cases, other parents also complain to daycare operators, and if they fail to solve the issue, parents can file a report against the center. So daycares have to take immediate action. They either try to discipline the child or have to expel them.
3. A Child Has Special Needs
If a child has special needs, daycares might just excuse to admit them. And the reason can be a lack of resources or staff.
As a parent of a special child, you shouldn't be upset at all. The daycare wouldn't be able to properly care for your child. Thus, this refusal is better for your kid as being there would have only disturbed them.
4. The Program Isn't Right for the Child
This mostly happens with academic programs. But even generally, your child will have to follow a specific routine and instructions at daycare. And not every schedule and curriculum is right for every child.
Daycare teachers might talk to the parents and work together to make the kid adjust to the environment. Depending on a child's nature, they can also offer alternate activities and programs. But if nothing works, they are left with no option other than to suspend the child.
5. You (Parent) Can Be the Reason
Sometimes, a kid is kicked out of daycare because of their parents. If the parents aren't paying on time, are always late to pick up the child, have arguments with operators and are disturbing the center's environment, the child will have to face suspension.
Some parents are too picky and ask for extra special treatment for their children. For a center with hundreds of children, it's not possible to treat anyone more special than others.
6. Going to Daycare When Sick
This is a big no! If you send your sick child to daycare, you're putting other kids at risk. Daycare will send your child back, and if someone repeatedly does it, they can end the program as well. They have full right to do so as you're making the environment unsafe for other kids.
What Do You Do When a Child Gets Kicked Out of a Daycare?
If a daycare kicks a child out, there can be 2 scenarios. Either the daycare has suspended the kid rightly or falsely. Let's see what you, as a parent, should do in both cases.
If the Daycare Rightly Suspends a Child
In these cases, parents can't do anything as the daycare has a valid reason for refusing the child.
Your next step should be to consider why your child is kicked out of daycare. If it's because of behavioural issues, you should personally work on it. Also, find another daycare that suits your child better. 
If the Daycare Falsely Suspends a Child
If a daycare kicks out a child and doesn't propose a reason or the reason is unsatisfactory, you can report the daycare to your local authorities. 
Daycares can't refuse a child without any valid reason, and if they do so, parents have the right to take action against it. In case of racism or any kind of discrimination, parents can even file lawsuits.
How to Avoid Your Child's Expulsion From Daycare?
1. Know the Daycare's Expulsion Policies
Before admitting your child to any center, always know their policies. Get complete information about their terms and conditions.
2. Communicate With the Operator
If your child has aggressive behaviour or any other special needs, it's best to openly discuss with the operator before admitting your child. They'll let you know if they can handle the kid or not. This will save your time and your child from being in the wrong environment.
Frequently Asked Questions
1. Can a Daycare Kick a Child Out for Crying?
Babies cry, especially when they're around new people and in a new place. Daycares understand that and can handle the situation. However, they can turn them down if a child cries uncontrollably and cannot adjust.
2. Can a Daycare Kick a Child Out for Biting?
Yes, daycares can kick a child out for biting as it harms other kids. This is one of the most common reasons for turning down kids in daycare centers.
3. My Child Keeps Getting Kicked Out of Daycare. What Should I Do?
In this case, you really need to give some time and attention to your child. Consider the reason for continuous suspension and work towards solving it.
Conclusion
This was all about can a daycare kick a child out. Remember, not every daycare is right for every child, and finding a new center is better than being in an unsuitable environment.
We hope you're no longer afraid and concerned about your child's expulsion from daycare. Thank you for staying till the end.