Find Daycare | 3 Sections & 4 Resources to Assist Your Search
Finding daycare is more than just a question; it's a challenge many parents face. But don't worry, we're here to help you solve this problem!
You can start your search by using familiar platforms like Google, Facebook, and Instagram.
Plus, don't forget to ask for recommendations from the people around you; they might have great insights to share.
To make it even simpler, we've broken down the process into 3 easy-to-follow sections that will guide you in finding the best daycare for your kids.
We've also got some recommendations for 3 fantastic daycare search engines (and yes, we're going beyond Google) that will help you discover all the daycares in your area.
Let's get started on your daycare search journey!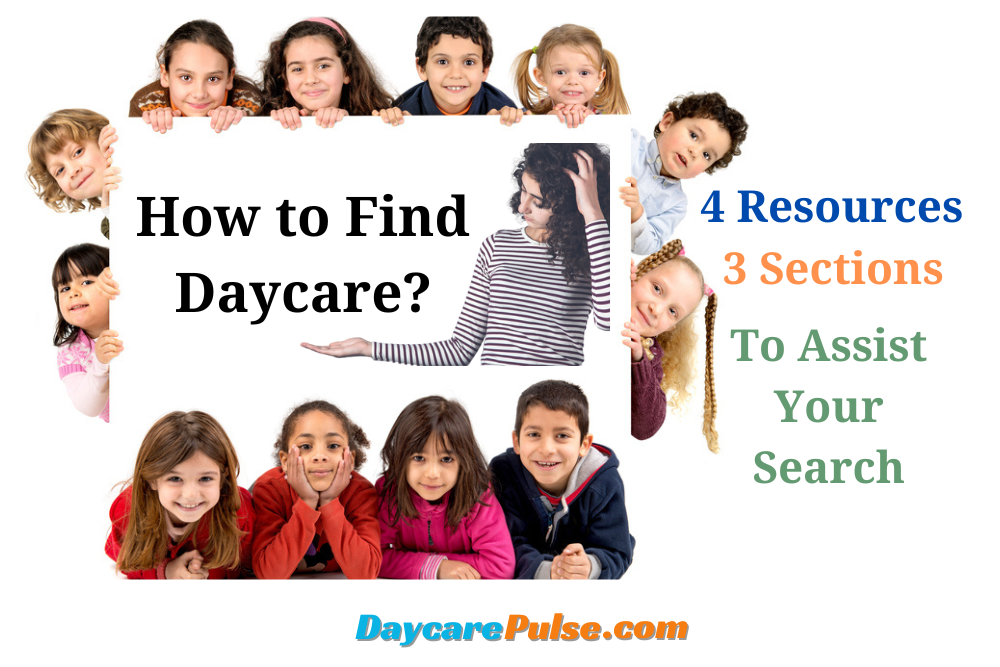 3 Sections to Cover to Find the Daycare for Your Kid.
Section 1- Steps 1 → 3: Identify Your Needs and Preferences
Before starting a search, you should be clear about what you want. You need to identify 2 main things:
Facilities you want for your kid.
Your convenience.
Many parents have specific requirements for meals, activities, special care and the learning curriculum for their child. It would be best to know what you want for your kid.
Plus, parents also have to look for their own convenience. For example, location, cost, and full-time or part-time care. Our goal is to find a daycare with a blend of both of these requirements.
Step #1: Consider Costs
When looking for the right daycare, it's essential to consider the costs involved.
Understand the pricing structure, additional fees, and any payment schedules.
This step will help you stay within your budget and avoid unexpected financial burdens.
Step #2: Explore Financial Aid
Don't forget to explore financial aid options and subsidies that may be available to you.
Some programs and government assistance can help make daycare more affordable.
It's worth checking if you qualify for any financial support.
Step #3: Assess Convenience
The convenience of the daycare's location and operating hours is crucial.
Consider its proximity to your home and workplace, as well as the availability of transportation options.
Convenience ensures that dropping off and picking up your child fits seamlessly into your daily routine.
Section 2- Steps 4 → 14: Evaluating Daycare Quality
Once you have identified your needs and preferences, it's time to evaluate the quality of each potential daycare. Here are some steps to help you with this process:
Step #4: Research and Make a List
Begin your daycare search by conducting thorough research and creating a comprehensive list of potential options.
This step sets the foundation for your decision-making process.
Step #5: Check Licensing and Accreditation
Ensure that the daycares on your list are properly licensed and accredited.
This step is essential to guarantee that they meet the required safety and quality standards for childcare.
Step #6: Consider Types of Daycare
Understand the various types of daycare available, such as childcare centers, family daycare, in-home daycare, and more.
Choose the type that aligns best with your child's needs and your preferences.
Step #7: Visit Daycare Websites and Social Media
Explore the online presence of daycare centers.
Visit their websites and social media pages to gain insights into their programs and philosophy.
Step #8: Read Reviews and Testimonials
Learn from the experiences of other parents by reading reviews and testimonials about the daycare centers you're interested in.
These insights can provide valuable information about the quality of care.
Step #9: Evaluate Safety Standards
Assess the daycare's safety measures, including childproofing, emergency plans, and access control. Safety is paramount in your child's care environment.
Step #10: Assess Staff Qualifications
Check the qualifications and experience of the daycare staff. Well-qualified caregivers are essential for your child's development and well-being.
Step #11: Consider Child-to-Staff Ratio
Evaluate the child-to-staff ratio, as it impacts the level of individual attention your child will receive. Lower ratios often lead to better care.
Step #12: Explore Educational Programs
Understand the educational approach and programs offered by the daycare. Ensure they align with your child's developmental needs.
Step #13: Visit in Person
Arrange visits to the daycare centers you're interested in. This allows you to assess the environment, meet the staff, and gauge your child's response to the surroundings.
Step #14: Ask Questions
During your visits, ask the daycare staff pertinent questions about their curriculum, safety measures, and how they handle various situations. Open communication is key to making an informed decision.
For Example:
General Questions
What are your operating hours, and are you open on weekends or holidays?
What if a child is crying for their parents?
Emergency Procedures
How do you handle emergencies or unexpected situations?
Safety and Supervision
Is the facility childproofed and equipped with safety features?
Curriculum and Activities
What types of activities and learning experiences do you provide for different age groups?
Related: Activities to do with infants in daycare
Enrollment and Policies
What is your enrollment process, including registration fees and required documentation?
References and Feedback
Can you provide references from current or past parents?
Section 3- Steps 15 → 19: Decide the Best One 
After completing the previous steps, you should have a clear idea of the daycare centers that meet your requirements and preferences.
It's now time to make a decision on which one is the best for your child.
Step #15: Review Your Notes and Impressions
Take some time to review your notes and impressions from each daycare visit. Consider factors such as cleanliness, safety measures, staff qualifications, and educational programs.
Refer back to your initial list of requirements and see which daycare aligns best with them.
Step #16: Consider Your Child's Needs
Keep your child's specific needs and preferences in mind when making a decision. Consider their temperament, any special care requirements, and how they interacted with the environment.
Step #17: Trust Your Instincts
Ultimately, you know your child best. Trust your instincts and make a decision based on what feels right for your family. Remember that it's okay to take some time and revisit daycare options if needed.
Step #18: Stay Informed
Even after you have chosen a daycare, it's important to stay informed and involved in your child's care.
Stay updated on the daycare's policies and educational programs, and communicate regularly with their caregivers.
Step #19: Be Involved
Being involved in your child's daycare experience can make a significant impact on their development and overall well-being.
This involvement can come in many forms, such as volunteering at the daycare, attending parent-teacher meetings, or simply engaging with your child and their caregivers regularly.
Find Child Care | 4 Essential Resources to Assist Your Search
Search on Google: Type phrases like daycares near me or daycares in your area name. You'll get a bunch of daycares, their location, social media pages, and reviews.
Search on Facebook: Facebook is an excellent resource. You can search for daycare company pages on Facebook to find daycares. Plus, there are multiple groups for parents that you can join and get recommendations from there.
Use the state's official site: The US government has this search portal to help parents find daycares in their states. Visit Childcare.gov and select your state. You'll be redirected to that state's individual childcare search portal. Enter the zip code of your area to find childcare centers.
Care.com: http://Care.com is a popular online platform that connects families with caregivers, including daycare providers. You can search for daycare centers or in-home daycare services in your area.
Winnie: Winnie is an amazing daycare search engine. You can enter your kid's age and the zip code of your area, and it shows you the best daycares in town. You can see details about any specific daycare, visit their website or social media pages, and read reviews as well.
Yelp: Yelp is a review website that includes information and user reviews for various businesses, including daycare centers. You can search for daycare options and read reviews from other parents.
If You Can't Find Daycare
If you're facing difficulties finding suitable daycare options, consider these alternative steps and resources:
Expand Your Search Radius:
If you're struggling to find daycare in your immediate area, consider expanding your search radius to include neighboring neighborhoods or towns.
A slightly longer commute might be worth it if you find the right daycare.
In-Home Daycare Providers:
Explore the option of in-home daycare providers.
These providers often offer a more personalized and home-like environment for your child.
You can find them through online platforms or local childcare directories.
Family and Friends:
Ask trusted family members and friends if they can assist with childcare, even if it's on a temporary or part-time basis.
Sometimes, informal arrangements can be a valuable solution.
Nanny Services:
Consider hiring a nanny or au pair who can provide one-on-one care for your child.
Nannies can work in your home and tailor their care to your child's specific needs.
Flexible Work Arrangements:
Discuss flexible work arrangements with your employer, such as working from home or adjusting your work hours.
This might allow you to take on more of the childcare responsibilities yourself.
Parent Co-Ops:
Explore the possibility of joining or forming a parent co-op with other parents in your community.
This cooperative arrangement involves parents taking turns caring for each other's children.
Local Community Resources:
Check with local community centers, churches, and schools.
Some may offer daycare services or have information on daycare providers in the area.
Childcare Assistance Programs:
Look into government-sponsored childcare assistance programs that can help subsidize the cost of daycare or provide alternative solutions for eligible families.
Waitlist and Future Openings:
If your preferred daycare facilities are fully booked, ask to be placed on their waitlist.
Often, spots may become available as other children transition to other programs or schools.
Online Forums and Groups:
Join online parenting forums, social media groups, or local community groups where parents share information about daycare openings and recommendations.
Childcare Agencies:
Consider reaching out to childcare agencies that specialize in helping parents find suitable childcare options.
They can connect you with available providers.
Temporary Solutions:
In the short term, you can explore temporary solutions like babysitters or drop-in daycare centers while you continue your search for a more permanent arrangement.
Consider Alternative Schedules:
Explore alternative schedules, such as part-time daycare or evening/weekend care, which may offer more flexibility.
Stay-At-Home Parenting:
If possible, one parent may temporarily consider staying at home to care for the child until suitable daycare is found.
Relocation Consideration:
If finding daycare is a consistent challenge in your current location, you might consider relocating to an area with more available childcare options.
Remember, the search for daycare can be challenging, but with persistence and creativity, you can find suitable solutions that meet your child's needs and your family's requirements. It's essential to remain patient and flexible during the process.
Frequently Asked Questions
When Should I Start Looking For Daycare?
You should start looking for daycare at least 2 to 3 months before enrolling. Finding a daycare might take you more time than expected.
Plus, sometimes there are waiting lists as well. There's no harm in selecting a daycare early. It'll only save you from last-moment hassles.
For an infant daycare search, you should start looking even before your child's birth. Because in the first few months, you'll be busy with your newborn and won't get time to search for daycare.
Characteristics of a Good Daycare?
Here are some qualities you have to look for when deciding on a daycare for your kid.
Friendly staff
Trained teachers
Safe and secure environment
Activities and a good curriculum for kids
Kids to staff ratio according to the state
Accommodation for all sorts of kids and their needs
Related: Is daycare good for kids? | Learn 5 Good & Bad Factors to Consider – DaycarePulse.com
Conclusion
We shared 3-sections to help you decide the best childcare center for your kid. Ensure you do your complete research about every daycare from social media and by visiting. At last, go with the one that satisfies you the most and where you're 100% comfortable leaving your kid.
This is just one step in your journey as a parent, but an important one nonetheless.
Parenting is full of tough decisions, but with love and care, you're sure to make the best choices for your child.
Keep learning and growing together as a family!
We hope we were able to simplify your struggle. Thank you for reading, and we wish you good luck in your daycare search.
Happy daycare hunting!