Passion to Profession: Guide to Becoming a Daycare Provider
Hey there,
Are you passionate + excited about creating a positive and enriching atmosphere where children can explore, learn, and have fun?
I've got something to share with you. Becoming a daycare provider? It's no walk in the park.
It takes a whole lot of heart, patience, and a deep understanding of child development.
But you know what? We're in this together, ready to embark on an extraordinary journey of nurturing young minds.
Your answer lies within two critical sections:
Prerequisites, which lays out the fundamental requirements.
Essential Elements, which delves into the crucial components necessary for becoming a daycare provider.
This guide will walk you through the steps to becoming a daycare provider, setting the stage for a rewarding career that not only touches lives but shapes the future of our society.
Join us to make a difference!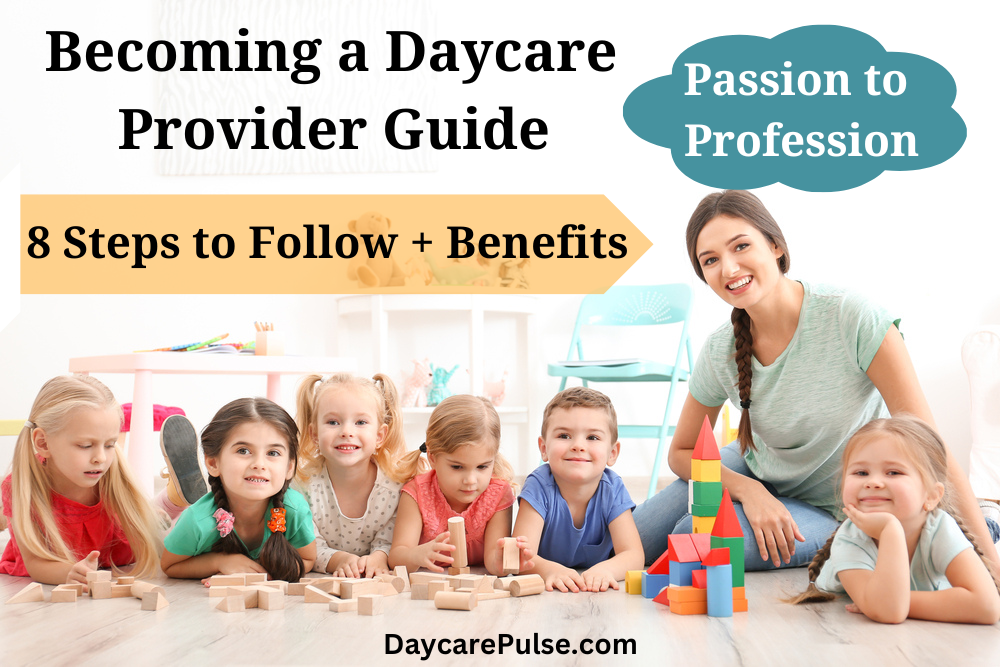 8 Steps to Follow to Become a Daycare Provider
Part 1: Prerequisites
Before embarking on the journey to becoming a daycare provider, several prerequisites must be fulfilled:
1- Educational Requirements
Pursuing further education in child development and early childhood education is highly recommended for aspiring daycare providers.
Education: A high school diploma is the minimum educational requirement. However, some states require additional education in early childhood development. In many states, the owners and managers of the daycare center are required to have a bachelor's degree in any field.  
Experience: Having experience working with children, such as through volunteer work, internships, or previous employment, is highly beneficial.
Age Requirement: All states want daycare providers and teachers to be 18+. This is mandatory, and you can't get into the childcare business before the required age.
You can volunteer or get a position as a teacher's assistant at the age of 16 but can't become a daycare provider.
Child Development Courses: These courses offer a comprehensive understanding of a child's cognitive, emotional, and social growth.
They cover topics such as child psychology, children's health and nutrition, and developmental milestones. Some colleges and universities offer these courses, and you can also find them online.
Certification Programs: There are several reputable certification programs for daycare providers.
For instance, the Council for Professional Recognition offers the Child Development Associate (CDA) credential, which is widely recognized in the field of childcare.
Another certification to consider is the Certified Childcare Professional (CCP) designation, offered by the National Early Childhood Program Accreditation. These certifications demonstrate your knowledge and commitment to quality childcare.
Training: Prospective daycare providers must complete a certain number of hours of professional training. This includes child safety training, first aid, and CPR certification.
Health Screening: A health screening is mandatory to ensure that the daycare provider is healthy and up-to-date on all necessary immunizations.
Remember, the educational requirements can vary by state and the age group of children you plan to care for. It is essential to research and understand the specific needs in your area.
2- Licensing Process
Once you have fulfilled the educational requirements, the next step is to obtain a license to operate a daycare facility.
The licensing process can vary by state but generally includes the following steps:
Application: You must complete an application form and provide all required documentation.
Inspection: A representative from the state's licensing agency will inspect your facility. This is to ensure that the daycare meets all health and safety standards.
Background Check: As part of the licensing process, you will undergo a thorough background check to ensure the safety of the children in your care.
This may include a criminal background check and any history of child abuse or neglect.
Fire Safety Inspection: A fire safety inspection is often required to ensure that your daycare facility meets all necessary fire codes and regulations.
Once you have successfully completed these steps, you will be granted a license to operate your daycare facility. It is important to note that maintaining compliance with licensing requirements is an ongoing responsibility.
3- Legal Structure
Legal Structure: As a daycare provider, you will have to decide on the legal structure of your business.
This can include being a sole proprietor, partnership, or incorporating as a limited liability company (LLC).
It is essential to consult with a lawyer or tax professional to determine the best option for your situation.
Permits and Regulations: Every daycare facility must adhere to a specific set of regulations and permits to ensure the safety and well-being of the children.
This includes complying with building codes, zoning laws, and health and safety regulations.
Specific permits may be required depending on your location and the services you provide.
It's crucial to understand your local regulations and ensure your facility complies.
4- Budgeting and Financial Planning
Starting a daycare facility requires a significant financial investment. It is essential to create a budget and carefully plan your finances to ensure your business's success.
Business Plan: Developing a business plan is crucial for any new business, including a daycare facility.
A well-designed plan will help you clarify your goals and objectives, determine potential challenges, and create a realistic budget.
Other than the business-related stuff, think about kids as well. Think of the activities, meals and facilities you'll offer.
Budgeting: Budgeting requires careful consideration of all expenses associated with running a daycare facility.
Continually monitoring your finances will help you stay on track and make any necessary adjustments to ensure the success of your business.
Financial Assistance: There are several options available for financial assistance when starting a daycare facility.
These include small business loans, grants, and subsidies from government or nonprofit organizations.
It is essential to research and understand the various options available to determine which ones fit your needs and goals.
Tax Considerations: As a business owner, you must also consider tax implications.
Consulting with a tax professional can help you understand the various taxes and deductions available for daycare providers.
Insurance for Daycare Providers: Another important thing is insurance. It protects you in case of lawsuits or accidents that may occur on your property.
Some types of insurance to consider include liability insurance, which covers any injuries or damages that may arise under your care, and property insurance, which covers the building and equipment in case of damage or theft.
Capital
Last but most important of all, money.
Getting insurance, a license, location, furniture and all other things will require money. Allocate a fair amount for all these expenses. "But how do I know how much I should allocate?"
It's easy. List down all the expenses first, then look at how much they'll cost. This way, you'll know all the expenses and how much they'll cost.
Tip: If possible, allocate 5 to 10% extra in case anything goes off the plan. This is a small step to save yourself from panicking at that moment.
Tight on budget and want to reduce expenses? Here's how you can start a daycare with no money.
Remember, the exact prerequisites may vary depending on state regulations and the age group of the children who will be under your care. Always check with your local licensing agency to ensure you meet all necessary requirements.
Part 2: Essential Elements
Starting a daycare facility can be a rewarding and fulfilling experience.
However, there are essential elements that must be in place to ensure the success of your business. These include:
5- Designing a Safe Daycare Space
The safety and well-being of the children in your care should be a top priority. This includes designing a space that is child-proof and meets all necessary safety regulations.
Consider factors such as proper lighting, secure doors and windows, appropriate storage for hazardous materials, and designated play areas. You'll have to get toys and furniture. You'll also need some stuff to decorate the classroom.
Childproofing: Take the necessary steps to childproof your facility by covering electrical outlets, securing cabinets and drawers, and removing any potential hazards.
Safety Regulations: Familiarize yourself with all safety regulations for daycare facilities in your area.
This may include requirements for fire extinguishers, first aid kits, and emergency evacuation plans.
Designated Play Areas: It is essential to have designated areas for different activities, such as napping, eating, and playing.
This will help maintain a safe and organized environment for the children.
Child Transition and Separation: For many children, daycare may be their first experience being away from their parents.
It is essential to have a plan in place to help ease the transition and separation anxiety for both children and parents.
Staffing: Hiring reliable and qualified staff is crucial for the success of your daycare facility.
It is essential to have enough employees to meet the required adult-to-child ratio based on the age group of children in your care.
If you're starting a home daycare, you might not need to hire people. You alone can handle the kids. If you're expanding it or starting big, you can get help from family and friends or hire someone. 
If you're not sure what are the prominent positions at a daycare center. Check out this article; it'll tell you all the main staff you need to hire.
6- Age Appropriate Learning
A daycare facility should provide a nurturing and stimulating environment for children to learn and grow.
This includes age-appropriate activities and curriculum that promote physical, cognitive, and social development.
Lesson Plans: Develop lesson plans that cater to the different age groups in your care. This may include activities such as arts and crafts, music, outdoor play, and educational games. See here how to make a lesson plan for daycare: https://www.daycarepulse.com/how-to-make-lesson-plan-for-daycare/
Creative Play Ideas: Encourage creativity and imagination in children by providing materials for open-ended play, such as blocks, dress-up clothes, and art supplies.
Daily Schedule: Establish a daily schedule that includes designated times for learning, play, and rest. This will help children develop a routine and provide structure to their day.
7- Building Trust with Parents
Trust is crucial in any business, especially when caring for children. Building trust with parents begins before the child even enters your facility.
It includes effective communication, transparency, and a welcoming environment.
Communication: Establish open and transparent lines of communication with parents through regular updates and progress reports about their child.
Transparency: Be transparent in your policies and procedures to build trust with parents.
This includes sharing information about your staff, safety protocols, and any potential incidents that may occur in the facility.
Welcoming Environment: Create a welcoming and inviting atmosphere for both children and parents.
This can be achieved through small gestures such as personally greeting each child and their parents, providing a tour of the facility, and having an open-door policy.
Parent Involvement, Participation and Feedback: Encourage parent involvement and participation in their child's daycare experience.
This can include inviting parents to participate in activities, seeking feedback on the facility and staff, and involving them in decision-making processes.
8- Handling Behavioral Issues and Socialization Opportunities
It is essential to have a plan in place for addressing and handling behavioral issues that may arise in your daycare facility.
This can include providing positive reinforcement, implementing behavior management techniques, and encouraging socialization opportunities among children.
Conflict Resolution: Both between children and between staff and parents should also be addressed in your plan.
This includes handling disagreements calmly and professionally, actively listening to all parties involved, and finding a resolution that is in the best interest of the child.
Socialization Opportunities: Encourage socialization among children through group activities and play.
This will help them develop important social skills such as sharing, taking turns, and resolving conflicts.
Is It Worth Becoming A Daycare Provider?
The question of whether becoming a daycare provider is worth it can be a complex one and highly dependent on individual circumstances and motivations. Here are some key factors to consider:
Pros:
Positive Impact on Children:
Educational Development: You play a crucial role in the educational development of young children, helping them learn and grow during their formative years.
Emotional and Social Growth: You provide a nurturing environment where children can develop essential social and emotional skills.
Fulfilling and Rewarding:
Emotional Fulfillment: Caring for children and witnessing their growth and development can be highly rewarding and emotionally fulfilling.
Helping Families: You support working parents by providing a safe and enriching environment for their children.
Flexibility:
Flexible Hours: Operating a daycare can offer more flexible work hours compared to traditional 9-to-5 jobs.
Work-Life Balance: You have the opportunity to achieve a better work-life balance, which can be especially valuable for parents.
Independence:
Being Your Boss: Running a daycare allows you to be your own boss and create a work environment that aligns with your values and philosophy.
Community Building: You become an integral part of your community, building relationships with parents and children.
Stable Income:
Income Potential: A successful daycare business can provide a stable source of income, offering financial security.
Learning and Personal Growth:
Continuous Learning: You have the chance to continuously improve your skills and knowledge, staying updated on best childcare practices.
Problem-Solving: Handling various challenges and situations can sharpen your problem-solving skills.
Business Skills:
Entrepreneurial Skills: Running a daycare enhances your entrepreneurial skills, which can be valuable in other ventures.
Financial Management: You gain experience in budgeting, financial planning, and managing a small business.
Building a Positive Reputation:
Word-of-Mouth Referrals: Providing excellent childcare services can lead to positive word-of-mouth referrals and a strong reputation in the community.
Job Security:
Steady Demand: The demand for quality daycare services remains relatively steady, providing a degree of job security.
10. Sense of Purpose:
Contributing to Society: Your work directly contributes to the well-being and development of the next generation, which can give you a strong sense of purpose.
Cons:
Regulations and Licensing: The daycare industry is subject to extensive regulations and licensing requirements, which can be complex and time-consuming to navigate.
Emotional and Physical Demands: Caring for children can be emotionally and physically demanding. It requires patience, energy, and constant attention.
Financial Risk: Starting and operating a daycare involves financial risks, including initial investments and ongoing expenses.
Competition: Depending on your location, there may be significant competition in the daycare industry, which can make it challenging to establish your business.
Legal Responsibilities: Daycare providers are legally responsible for the children in their care, which means they can be held liable for accidents or incidents.
Ultimately, the worth of becoming a daycare provider depends on your personal values, goals, and the specific conditions in your region.
If you have a genuine passion for working with children, are willing to meet the requirements and responsibilities, and understand the potential rewards and challenges, then it can be a fulfilling and worthwhile career choice.
However, thorough research, preparation, and a clear business plan are essential to make an informed decision and increase your chances of success in this field.
FAQ's
How many kids can you babysit without a license in NY?
In New York, it's not permitted to provide care for more than two children without a license.
If you offer regular paid childcare to three to six children in your home, you must register as a family daycare.
A family daycare involves providing routine childcare in a family's residence for more than three hours per day per child.
What are the requirements to open a daycare in NY?
Requirements to open a daycare in New York include obtaining the necessary licenses and permits, meeting safety and health regulations, and undergoing background checks.
What is the best age to start daycare?
The best age to start daycare varies for each child but is generally around 6 weeks to 18 months, depending on the family's needs.
How do you name a daycare?
Naming a daycare involves choosing a unique and child-friendly name, checking for trademark conflicts, and registering the name with the appropriate authorities.
Indeed, here are some daycare name ideas that are unique and child-friendly:
Little Explorers Daycare
Happy Hearts Preschool
Tiny Toes Learning Center
Mini Miracles Childcare
Bright Beginnings Preschool
Dreamy Daycare Delights
ABC Adventure Academy
Creative Kids Corner
Little Learners Wonderland
When choosing a name, ensure it's not in conflict with any existing trademarks and check local regulations for any naming requirements for daycare centers in your area. Additionally, consider the appeal and suitability of the name for young children and their parents.
Best of luck in your journey as a daycare provider
Congratulations! You've completed our comprehensive guide on becoming a daycare provider.
Armed with knowledge and insights from these twenty essential steps, you're well-prepared to embark on this fulfilling career path.
Your dedication and passion for providing high-quality childcare services will benefit not only the children under your care but also your personal and professional growth.
As you move forward, always remember the importance of ongoing learning and staying updated with the latest trends in childcare and education.
Thank you for reading!