What are Daycare Workers Called?
What's the first thing that comes to your mind when you hear the word "daycare workers"? Childcare providers and daycare teachers, right?
But do daycares consist of only childcare providers? Definitely no. Childcare providers don't manage and run the center. There are more people involved, which makes a daycare center run successfully.
So what are daycare workers called, what roles are at a childcare center, and what do daycare workers do? Let's find out.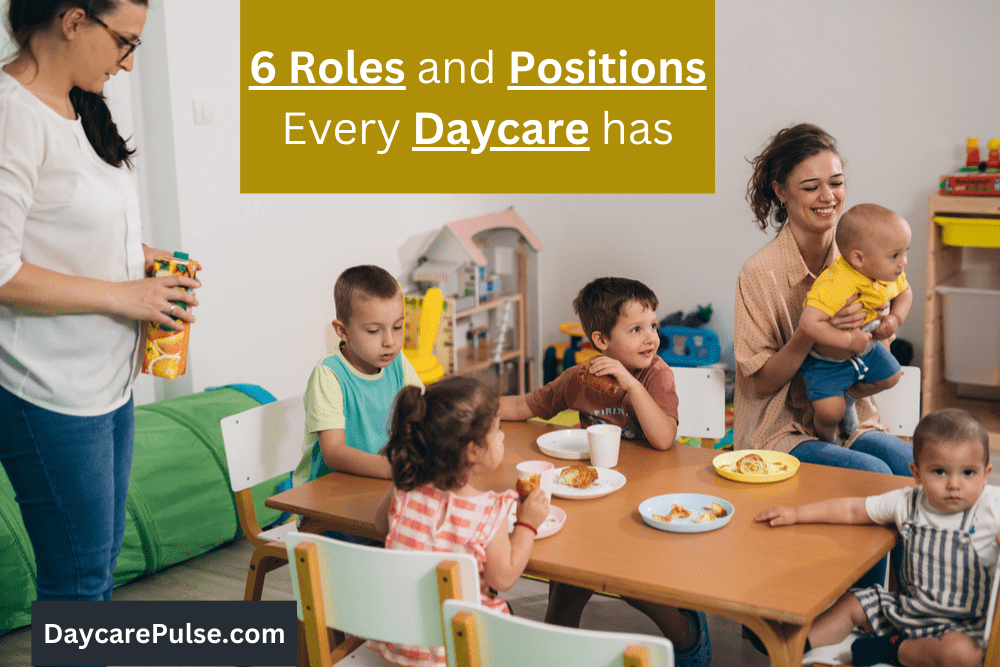 Roles and Positions at Daycare
You can find 3 sectors in a daycare center.
Childcare sector
Management sector
Administration sector
This division is based on what each department does, and it's not a standard classification at all. We've grouped the daycare positions into these 3 sectors to make it easy for you to understand.
Childcare Sector
This division includes people who look after the children and are involved in their learning and care. There are 3 essential roles here.
Daycare Teachers
Childcare providers at daycare are called daycare teachers or childcare teachers. This is the most important and known position at daycares because daycare teachers are the ones who look after children. 
Childcare teachers have the most interaction with children, and their responsibilities are
Preparing children's meals
Engaging them in educational and fun activities (colouring and stories)
Monitoring their behaviour
Children's grooming and teaching (according to the daycare's education plan)
Taking care of hygiene
Changing diapers
Update parents about their kid
In short, when a parent leaves a child at a daycare, they're under the daycare teacher's supervision.
Teacher's Assistant
One teacher doesn't handle one child in centers. They have multiple kids under them (depending on what your local childcare authorities suggest). To assist daycare teachers, there's a position called teacher's assistant.
Think of them like junior teachers. They are with daycare teachers all the time and assist them in their work, which is childcare. Usually, teacher's assistants get promoted to daycare teacher positions as they know the work in and out.
Early Childhood Educators
These are professionals having a degree in early childhood education. They specialize in infants' and toddlers' learning and development.
In daycare centers, they design and plan educational content and activities for kids' mental, physical, emotional, and behavioural development. They make sure the child learns and develops skills according to their age.
They're not directly working with children but preparing and structuring their learning plan, which is then passed to daycare teachers.
Administration Sector
A daycare center is a business, after all, and it does need administration.
Administrator
An administrator is the one who manages the files and paperwork and deals with parents. They manage multiple small tasks like
Attending parents who are walking in to get information
Dealing with parents who want to enroll their child
Handling all the paperwork and files
Attending calls
Managing insurance and licensing filing and paperwork as well
Hence administrators work in 2 areas, receiving parents and managing files. This role is split into a receptionist and administrator in a few daycares.
Accountant
Who'll look after the cash flow of a daycare center?
Daycares have an accountant whose responsibility is to keep a record of all the cash coming in and going out. They deal with expenses and manage the profit.
Management Sector
Daycare Manager
Ok, we've covered the childcare roles at a daycare. But in a childcare center with 100 to 150 children, there should be someone to manage everything. This is where the daycare manager's role comes in.
A manager ensures a smooth workflow and supervises all the childcare center's staff. This is what a daycare manager does:
Make sure everybody is doing their job properly
Take notice of the shortage of staff
Ensure everyone is following rules and regulations
Keep a check on daycare teachers and the rest of the staff
Often, early childhood educators are hired as managers as they can regulate a daycare better than any other person because of their educational background. Some early childhood educators own the daycare and manage it themselves.
What About Home Daycare? Does It Also Have These Roles?
Home daycares don't have all these roles. It's a small set consisting of 4 to 5 children. It doesn't require much management; thus, the owner handles all the responsibilities.
They might need help in taking care of children, and for that, they hire a childcare assistant or get a family member to help.
Frequently Asked Questions
1. What Is the Difference Between a Daycare Worker and a Teacher?
As we said, there are multiple roles at a daycare center, and they all are considered daycare workers.
A teacher looks after the children. They are under the daycare teacher's supervision from entering till leaving the daycare. On the other hand, not all daycare workers are involved in childcare. They take care of different aspects of the center, like management and administration.
2. Which Daycare Worker Is the Most Important Part of a Daycare Center?
It has to be daycare teachers; they're the most important part of a daycare center. A childcare center aims to look after children when their parents are unavailable. Daycare teachers are the ones who do that, and this makes them the most crucial part of a daycare center.
3. Are Daycare Workers and Childcare Providers the Same?
Although these 2 terms are interchangeably used (because from daycare worker, people usually mean a daycare teacher) but no, daycare workers and childcare providers are not the same.
A daycare worker is anyone who works at a daycare center. They might not be involved in childcare but handle other aspects of the business, like management. In contrast, childcare providers are those who assist parents in taking care of children.
Daycares do have childcare providers, but not all daycare workers are childcare providers.
Conclusion
In this article, we discussed what daycare workers are called and what they do. Often people refer to daycare workers as teachers only, they play the central and most important part, but they're not the only ones.
A daycare needs management and administration as well. All the staff members contribute to making a daycare center a safe place to leave your kids.
We wish you got the answer to your question. Thank you for reading till the end.