Does Daycare Affect Attachment?
As kids start to spend more and more time in daycare, a question irritates parents, does daycare affect attachment? Will my children get distant from me and get more attached to their childcare provider? 
A quick answer is yes. Daycare can affect attachment.
However, it's not that simple. Kids don't get distant from their parents no matter how close they're to someone else. Want to know the real cause of attachment issues and how you can prevent it? Then continue scrolling.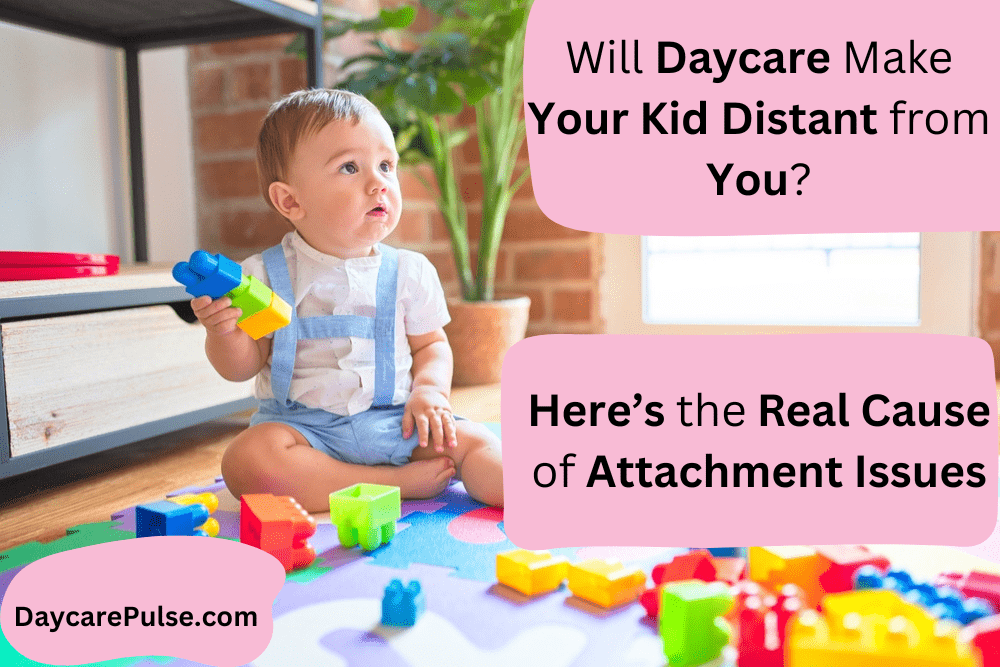 A General Concept of Attachment
Here's a rule of thumb about children's attachment.
Children are close to those who care for them, show them love and give them attention. Parents (especially mothers) do that, and that's why children are attached to their parents the most.
Other than that, they can have a good bond with their grandparents or someone in your friends and family. And if you observe, you'll notice it's because they give love and attention to children in the first place.
So children connect with those who give them attention, love and care for them.
Does Daycare Cause Attachment Issues?
The shortest answer is no. There's no proper evidence that daycare causes attachment issues.
A few studies have been done to find the effects of daycare on child-parent relationships, but they all show different results. Hence they're not reliable and consistent.
On the contrary, researchers have seen that daycare children are more social than home-cared kids. And it makes sense as kids at daycare get more social experience.
"But how can you say that? I've seen daycare kids getting distant from their parents."
There's no denial to the fact that there are examples of children getting detached from their parents. However, the reason isn't daycare at all. Let's first understand why children lose the bond with their parents.
Why Do Children Get Distant From Their Parents?
Parents are a child's first caregivers and share a special bond that no one can replace. Children expect their parents to give them attention and love and want their time.
But when a parent isn't able to give time to their children, they try to find that comfort and care somewhere else. They develop a strong bond with those who care for them and spend time with them. They can be daycare teachers or someone in your friends and family.
So children get distant from their parents not because of daycare but because they didn't get the love and care from their parents. In the case of daycare kids, they often find that love and affection in their childcare provider, so it looks like the daycare is the reason behind their attachment issues. .
In cases where kids lose their bond with their parents, consider looking at the parent's attitude towards their children. You'll find they're not giving proper attention to their kids.
The Mother's Insecurity: What if My Kid Has a Stronger Bond With Caregiver
Mothers often have this insecurity that their kid will be more attached to caregiver than them because childcare providers are doing their job. But if you have a good bond with your child, you shouldn't worry about it.
This isn't a competition. Your child can be close to you and their caregiver simultaneously. Just like they can have a good bond with someone in the family. You won't be insecure in this case, and so you shouldn't be in the former one.
Kids have an exceptional bond with their parents, and any other bond cannot replace it unless the parents aren't playing their part.
Interestingly, children who're close to their parents easily get comfortable with other caregivers as well. And this doesn't affect your bond with your child at all.
Do Increasing Daycare Hours Affect Attachment?
If your child is in daycare for 7 to 12 hours a day, there's a chance of disorganized attachment. It's crucial at this stage to dedicate a few hours to your child and make it consistent. Spend weekends with them and give them the time, love and attention they want from you.
How to Fix Attachment Issues and Make Sure Your Child Doesn't Get Distant From You?
Whether you're feeling your bond is weakening or want to prevent it from wearing out, there's only one solution. Give love, time and attention to your child and make it consistent.
Listen to them and ask them how was their day
Play with them and do activities together
Spend weekends together
If possible, consider working part-time, so your child can get more time with you
Spending time with your child and making them feel your affection is the only way to revive and strengthen your bond.
Frequently Asked Questions
1. What Is the Root Cause of Attachment Issues?
Parents' behaviour and attitude toward their kids is the root cause of all attachment issues. If kids receive proper care and affection from their parents, they won't have any attachment issues. However, if a child wants to share their day and parents don't have time to listen, this behaviour is what weakens the bond.
2. Are Daycares Good or Bad for Attachment and Future Outcomes?
Daycares are neither good nor bad for attachments. They don't affect kids' bond with their parents. It's also notable that daycare kids are more social than other kids.
3. How Do You Fix Attachment Issues in Toddlers?
If your toddler is having attachment issues, it means they need more of your time. They're looking for your love and care. So consider spending more time with your little ones.
Conclusion
This was our take on does daycare affect attachment.
Parents, especially mothers, need to understand that no one else can take their place unless they leave their space in their kid's life.
Also, increasing attachment with a caregiver or with any other person doesn't mean your child is getting distant from you. These attachments don't compete; they work together as long as everyone fulfills their duties. 
We hope you're not worried anymore now about your child getting far from you.