When Should You Consider Looking For Daycare?
Are you a new mommy getting worried about the time you need to go back to work? Worry no more! Daycare is the perfect solution for working parents who want their children to be well taken care of while they're at work.

It's a good idea to get everything ready early, ideally before the middle of your pregnancy. This will make your life less stressful later on. Do you want to know why it is so early? Keep on reading.
In our blog post, I will discuss the best timing for enrolling an infant in daycare, considering factors like work constraints, the child's age, types of daycares, and the benefits of early enrollment, as well as alternative childcare options to help you deal with your anxieties and stress.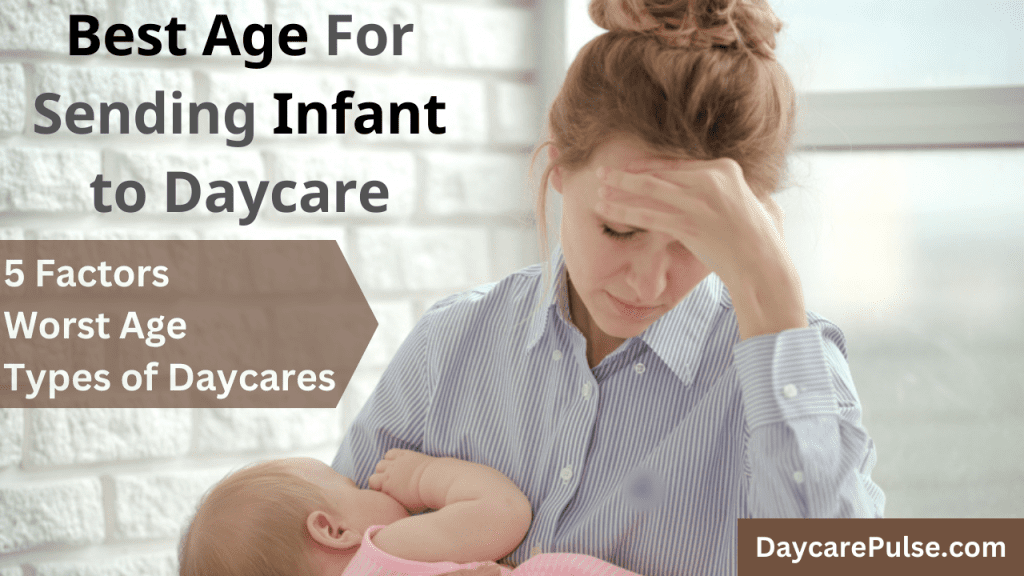 Best Time For Considering Looking For Daycare
When it comes to enrolling your infant in daycare, timing is crucial.
Determining the best time to start your child's daycare journey involves considering various factors to ensure a smooth transition and positive experience for you and your little one.
Several crucial factors should be considered when determining the best timing for daycare enrollment:
1. Planning Ahead: Waitlist
Ideally, you should start your daycare search several months before you need it. This allows you to take your time researching and visiting different facilities to ensure you make the best choice for your child.

Enrollment in childcare centers can vary at different times of the year, so it's advisable to have everything in order as early as possible, preferably before you reach your second trimester. This way, you can alleviate one of your concerns in advance.
Some high-demand daycares have long waiting lists. If you have a specific facility in mind, check their enrollment policies and consider getting on the waiting list as early as possible.

Related: Daycare Waiting List
2. Child's Age and Developmental Stage
The right time to start looking for daycare can depend on your child's age and developmental stage.
Infants may require specialized care, while older children thrive in a more structured environment. Consider your child's unique needs and the types of programs that best suit their age.
A child's age and developmental stage can significantly impact the best time to start looking for daycare. Here's how:
Infants (0-12 months) – Infants have unique care needs, including feeding, diaper changes, and nap schedules. If you have an infant, you may need to start your daycare search early, even during pregnancy, to secure a spot at a reputable infant care facility. High-quality infant care can be in high demand.

Toddlers (1-3 years) – Toddlers are curious and starting to explore the world. They benefit from a structured and safe environment. Begin your search several months before you plan to return to work or when your toddler reaches the age where social interaction and learning become essential.

Preschoolers (3-5 years) – Preschoolers are at an age where early education becomes crucial. Look for daycare options that offer educational programs and prepare them for school. Starting your search at least a few months before the start of a new school year is ideal.

School-Age Children (6+ years) – Older children may require after-school care. It's best to start looking for daycare as needed, especially if your child's school schedule or extracurricular activities change. Plan your search based on your specific schedule requirements.
3. Work
Your work schedule plays a pivotal role in daycare timing. Determine when you're expected to return to work and whether you need daycare during standard work hours or if you have a more flexible schedule.
Your work schedule dictates when you need childcare. If you work regular office hours, you'll need daycare during those hours. To ensure a seamless transition, start your daycare search early, ideally several months in advance. This allows you to find a daycare with hours that align with your work schedule.
Consider your commute time when searching for daycare. If you have a long commute, you may need extended daycare hours. Starting your search early ensures you can find a convenient location that minimizes travel time.
Related: 24-Hour Extended Daycare Services
4. Costs And Budgeting
Daycare costs can vary significantly, and they may impact your budget. Starting your search early allows you to explore different pricing options, subsidies, or financial assistance programs, ensuring you can afford the chosen daycare.
Read on: How to Get Cheap Daycare?
5. Parental Leave & Backup Plans
If you or your partner have parental leave options, consider how this period will affect your daycare needs. Develop a backup plan for when parental leave ends, and you need to return to work.
Pro Tip: Remember that daycare licensing and regulations may change over time. Staying informed about local laws and the daycare's licensing renewal status is essential for the safety and quality of your child's care.
Worst Age to Start Infant Daycare
While there isn't a universally "worst" age to start daycare, it's generally recommended to avoid enrolling an infant under the period of 3 months.
Newborns require a lot of care and attention, and they need to bond with their primary caregivers, typically their parents, during the early weeks of life.
Starting daycare too early may disrupt this crucial bonding period.
Related: Worst Age to Start Daycare
Types of Daycare Centers to Consider
When choosing a daycare for your child, you have several options to consider:
Daycare Centers: These are typically more extensive facilities that offer a structured curriculum and a variety of age-appropriate activities for children of different age groups.
Check: 11 Daycare vs. Babysitting Differences
In-Home Daycare Providers: These are smaller, home-based daycare services run by individuals or families. They often provide a more personalized and homely environment.
Family Daycare: Family members or friends who offer childcare services in their homes. This option can provide a familiar and comfortable setting for your child.
Related: Daycare vs Grandma Care
Preschool Programs: Some preschools offer extended care options that include daycare services before or after regular school hours.
Nanny or Au Pair Services: Hiring a nanny or au pair to care for your child at home is an alternative to traditional daycare settings.
Related: Nanny vs. Daycare
Benefits of Daycare For Signing Up Early For Daycare
Enrolling your child in daycare early, typically around 6 to 12 months of age, can offer several advantages:
Socialization – Early daycare enrollment allows your child to interact with peers, promoting social and emotional development.
Structured Learning – Daycare centers often provide educational programs and activities that can stimulate your child's cognitive development.
Consistent Routine – Daycare can establish a routine for your child, which can be beneficial for their overall well-being and adjustment to schedules.
Preparation for School – Daycare can help prepare your child for the structured school environment, teaching them essential skills like sharing, listening, and following instructions.
Parental Work Commitments – For parents with work obligations, daycare provides a reliable and safe environment for their children at work.
Related: 4 Daycare Jobs Where I Can Bring My Baby
Alternatives For Daycare
If daycare isn't the right choice for your family, consider these alternatives:
In-Home Care – Hiring a babysitter or nanny to care for your child can offer a more personalized and one-on-one experience.
Cooperative Care – Consider sharing childcare responsibilities with another family. You can take turns caring for each other's children.
Family Support – Rely on the support of extended family members or close friends who can assist with childcare.
Parental Leave – If possible, take advantage of parental leave policies to care for your child during their early months.
Flexible Work Arrangements – Explore flexible work options that allow you to spend more time with your child while still fulfilling work responsibilities.
Related: 5 Alternatives to Daycare
Frequently Asked Questions
What Is the Best Age to Take a Baby to Daycare?
The best age to take a baby to daycare can vary depending on your child's developmental stage and your family's needs.
Generally, many parents consider enrolling their infants in daycare when they are around 6 to 12 months old.
This age allows for early socialization while considering the child's comfort level with separation. However, the optimal age may differ for each family.
How Do You Know if Your Baby Is Ready for Daycare?
Knowing if your baby is ready for daycare involves observing their developmental cues and considering your childcare needs.
Signs that your baby may be ready include their ability to adapt to a routine, their growing interest in social interactions, and their readiness to return to work.
It's essential to communicate with your chosen daycare provider to ensure a smooth transition.
Related: How to Make First Day of Daycare Easier
What Factors Need to Be Considered When Choosing a Child Care Program?
When choosing a childcare program, several factors should be considered, including your work schedule, the availability of other caregivers, your child's age, the type of daycare (e.g., daycare centers, in-home providers, family daycare), and your child's specific needs.
Consider the program's reputation, safety measures, educational offerings, and how well it aligns with your family's requirements.
What Qualities Should I Look For in a Daycare?
When evaluating daycare options, consider safety, cleanliness, licensing and accreditation, qualified and caring staff, a stimulating learning environment, a structured daily routine, a well-thought-out curriculum, and open communication with parents.
Trust your instincts and visit potential daycares to get a feel for their atmosphere and how your child might thrive there.
Conclusion
Choosing the right time to enroll your baby in daycare and selecting the ideal childcare program are important decisions for any parent. It's a deeply personal choice that depends on your family's unique circumstances and the needs of both you and your child.
By carefully considering factors like your work schedule, your child's age, and the type of daycare, you can make an informed decision that sets your child on a path to positive social and educational experiences.
Remember to trust your instincts and prioritize the well-being and happiness of your little one as you navigate this critical journey.