5 Alternatives to Daycare: Comparisons, Factors to Consider and Reasons
Are you a parent feeling overwhelmed by the challenge of finding the perfect child care solution? Don't worry – we've got you covered! Say goodbye to high daycare costs and say hello to smart alternatives that will ease your child care expenses.
Some alternative options to daycare can be Nannies, Grandparents, Shared child care, Montessori schools or Babysitters.
Are you a parent looking for ways to foster stronger bonds between your children, provide a holistic education, and promote community engagement? Look no further! We have a list of alternatives to daycare that will prioritize your children's growth.
Plus, we've included 5 key factors to help you compare daycare with these alternatives. Discover the top reasons why parents are choosing these alternatives over traditional daycare options.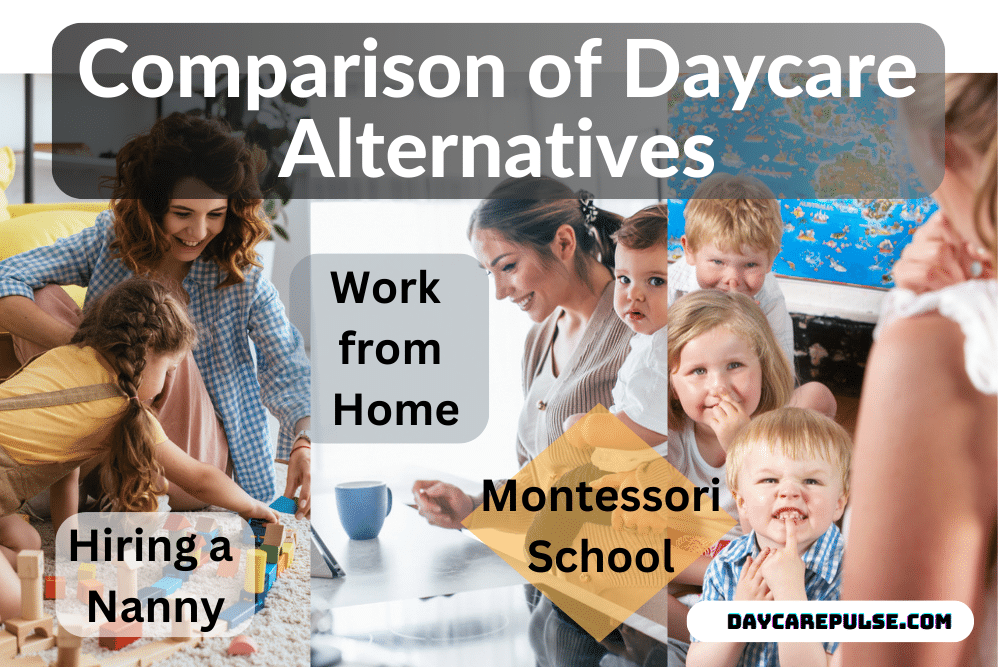 5 Alternative to Daycare
Here are some alternatives to daycare that could help you in your quest. Remember, the journey of finding the right childcare alternative is a vital investment in your child's growth and development. Explore the options available, connect with other parents, and make a choice that brings you peace of mind and your child happiness.
1. Hiring a Nanny or an Au Pair
When considering a nanny or au pair for in-home childcare, several factors come into play. Think about the candidate's experience, qualifications, and compatibility with your family's routines. Assess their ability to engage and nurture your child effectively.
Benefits of hiring a nanny include personalized attention and flexibility. A nanny can tailor care to your child's needs. However, drawbacks might involve cost and a potential lack of structured social interaction compared to daycare.
For working parents seeking personalized attention, a nanny share arrangement can be a game-changer. This involves sharing a nanny's services with another family, allowing your child to benefit from one-on-one care while also enjoying social interaction.
If you're looking to introduce cultural enrichment into your child's life, hosting an au pair could be a wonderful option. Au pairs offer a unique blend of childcare and cultural exchange, turning your home into a global learning environment.
2. Sharing Child Care Responsibilities
Parent co-ops involve families taking turns caring for each other's children. This provides flexibility and shared responsibilities, allowing parents to manage work and personal time. Challenges can arise due to scheduling conflicts and varying commitment levels.
Joining or forming a cooperative childcare group with other families can provide a cost-effective and community-driven solution. Co-ops allow parents to share responsibilities and create a supportive network.
3. Montessori Method
The Montessori method emphasizes self-directed learning and individualized development. It contrasts with traditional childcare services by fostering independence and active engagement.
Benefits include critical thinking skills, creativity, and respect for others. Yet, drawbacks may include limited structured curriculum and potential variance in the quality of nursery school programs.
4. Professional Babysitting
Professional babysitters possess experience, training, and certifications in childcare. They often engage children in educational and fun activities. Unlike casual babysitting, professionals offer a more comprehensive approach, focusing on child development, safety, and a structured routine.
Collaborating with other parents for a babysitting exchange allows you to take turns caring for each other's children. This not only saves costs but also builds a strong sense of community.
Babysitting exchange offers a cost-effective, community-based alternative to traditional daycare, fostering a deeply personalized care environment for your child.
5. The Grandparents' Role
Grandparents can be valuable contributors to child care and involvement of family member in the child's transition to daycare or alternative childcare can significantly ease anxiety, fostering a sense of security and belonging.
They offer a loving, familiar environment. Their experience is invaluable, and they often have a deeper emotional connection. However, challenges might involve differing parenting styles or health constraints.
For those fortunate to have family nearby, utilizing their support can be an ideal solution. Grandparents, aunts, uncles, or even close family friends can provide a nurturing and loving environment.
Why Do Some Individuals Choose Alternatives to Daycare?
Financial Reasons
Financial considerations often drive the search for daycare alternatives. Daycare can be costly, particularly for larger families.
Options like sharing a nanny's cost with other families or involving grandparents can save money while still providing good care.
Exploring these choices helps families manage their resources better and give their kids the best care possible.
Quality and Individual Attention
Many parents opt for alternatives due to valuing quality and special attention.
Options like nanny or grandparent care offer personalized care and focused attention, which can be especially helpful for children with unique requirements or those uncomfortable in larger groups.
These alternatives empower parents to have more influence over their child's experiences, unlike daycare centers that often have more children for each caregiver.
Work-Life Balance
Seeking alternatives to daycare often stems from parents' desire for improved work-life balance.
These options, such as live-in nannies or co-ops, offer flexibility that aligns work and childcare needs.
If your job permits, exploring flexible work arrangements that allow you to spend more time with your child can be a valuable option.
Whether irregular hours or extended workdays, these alternatives cater to diverse schedules, helping working parents better manage their professional and family responsibilities, ultimately reducing stress and fostering a healthier balance.
Daycare vs. Daycare Alternatives Comparison
It's important to recognize that there's no one-size-fits-all childcare solution. Factors such as your child's age, your work schedule, budget, and personal preferences all play a role in determining the best fit.
By researching and considering these alternatives to traditional daycare, you can find the perfect arrangement that aligns with your family's values and goals.
Presenting affordable alternatives to ensure your child receives quality care within your budget.
Full-time childcare, whether traditional daycare or alternative options, requires careful consideration of many factors, including social interaction, confidence building, language development, emotional expression, and resilience.
Social Interaction and Adaptability
Daycare:

Social Butterflies: Interaction with peers fosters sociability and the ability to navigate social situations.
Adaptability Boost: Exposure to different personalities encourages adaptability and the capacity to handle diverse social dynamics.

Alternative Childcare:

Familiar Circles: Interactions primarily within a known environment might lead to a deeper bond with familiar caregivers.
Comfort Zone: Less exposure to varying social contexts might result in slower adaptability to new situations.
Confidence and Independence
Daycare:

Emerging Confidence: Engaging with peers and caregivers can instill a sense of confidence in a structured setting.
Nurtured Independence: Guided autonomy in activities cultivates independence and decision-making skills.

Alternative Childcare:

Personalized Attention: One-on-one interactions with caregivers can foster a strong sense of security and emotional support.
Less Peer-Driven Influence: A more controlled environment might encourage self-reliance but potentially limit exposure to peer dynamics.
Communication and Language Development
Daycare:

Early Language Skills: Frequent interactions can accelerate language development through exposure to varied vocabulary.
Communication Practice: Engaging with peers promotes communication skills and verbal expression.

Alternative Childcare:

Personalized Conversations: More focused interactions with caregivers can lead to deeper language connections.
Limited Peer Interaction: May result in slower exposure to conversational dynamics outside of family.
Emotional Expression and Attachment
Daycare:

Emotional Intelligence: Navigating group interactions fosters emotional understanding and expression.
Broader Attachment: Forming bonds with both caregivers and peers enhances emotional connection.

Alternative Childcare:

Caregiver Bonding: Strong emotional ties with caregivers can contribute to a secure attachment style.
Limited Peer Influence: Emotional interactions might be more centered around caregivers, potentially delaying peer bonding.
Resilience and Adaptability
Daycare:

Resilience Building: Exposure to various challenges and social dynamics can nurture resilience.
Flexibility in Diversity: Adapting to different personalities fosters a flexible approach to new experiences.

Alternative Childcare:

Familiar Comfort: Staying within a familiar environment may lead to a deeper sense of security and stability.
Adjusting to Change: Limited exposure to new situations might result in slower adaptability.
Consider implementing a point system to evaluate various childcare options based on your specific needs and priorities.
Every parent, while considering full-time childcare options, should thoroughly evaluate the social, emotional, and cognitive implications for their child's development.
Frequently Asked Questions

How Do I Deal With My Child Not Wanting to Go to Daycare?
Dealing with a child's resistance to daycare can be tough. To address it, it's crucial to identify the underlying cause – it could be separation anxiety or discomfort in a new setting.
Open communication plays a vital role. Discuss their feelings and reassure them, emphasizing the positive aspects of daycare like friends and activities.
A gradual transition helps. Begin by spending time together at the daycare, then easing them into longer periods independently.
Consistency is key. Set up a routine to provide a sense of security. Remember, each child is unique, so patience and collaboration with daycare staff are essential for a smoother transition.
What is the typical cost difference between traditional daycare and alternative childcare options?
The cost difference between traditional daycare and alternative childcare options varies significantly based on location, the child's age, the number of children, and the specific type of alternative care chosen.
For example, nannies or au pairs are typically more expensive than traditional daycare, particularly if they provide care in the child's home.
Conversely, care provided by friends, family, or in-home care groups may be less expensive or even free.
However, it's important to note that the cost isn't the only factor to consider. The quality of care, the child's comfort and happiness, and the caregiver's qualifications and experience are also crucial in making this decision.
Conclusion
Finding the ideal childcare services can be challenging. Quality child care is fundamental in fostering a child's social, emotional, and cognitive development, thereby shaping their future success.
Consider all aspects and pros and cons before deciding – traditional daycare, nanny shares, or Montessori. The choice should fit your family's needs and budget.
In today's parenting landscape, information is vital. Research well, seek assistance, and secure the best care. With proper resources, you can find the perfect childcare solution for your family.