Is daycare good for kids? | Learn 5 Good & Bad Factors to Consider
Is sending kids to daycare good for them, and why do parents sometimes feel unsure or guilty about this decision?
Daycare can be good for kids in terms of socialization, structure, routines, and creating independence.
Some of the negative side effects of daycare can be time away from family, limited individual attention, and exposure to illnesses.
📚 This blog aims to provide you with
Confidence in making an informed choice
Clarity on the intricacies of daycare decisions
Empowerment as you navigate this important decision
Let's chat about daycare and how it can affect our little ones. I'll share some good and not-so-good factors, what to look for when choosing daycare, and answer some common questions. Let's navigate this together!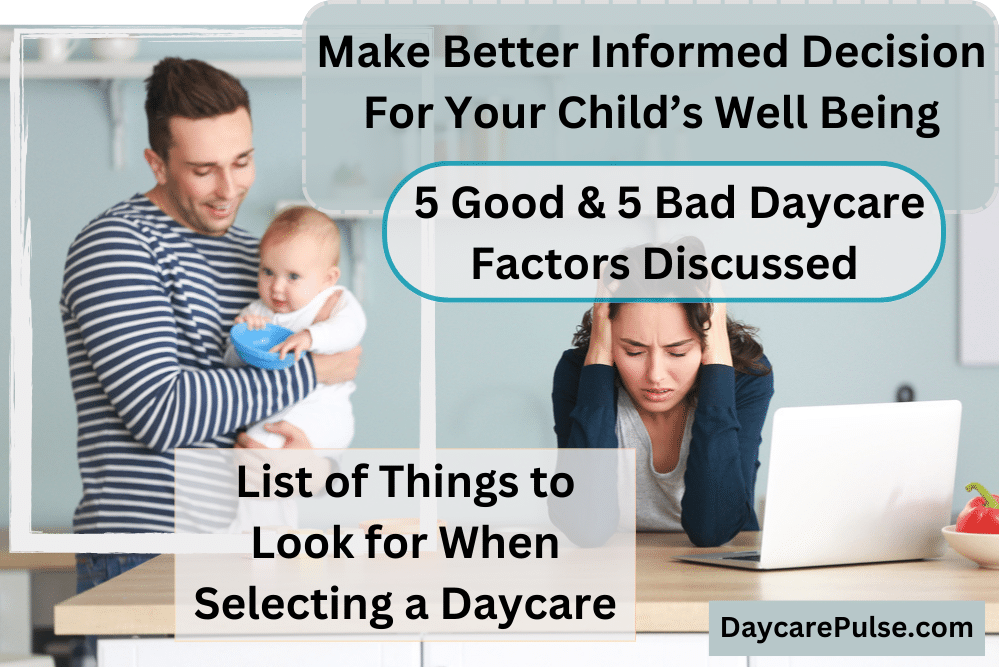 5 Factors That Can Be Good for Kids in Daycare
Socialization and Peer Interaction
Daycare exposes children to a diverse group of peers, fostering social skills, empathy, and teamwork from an early age.
Interacting with others can prepare kids for future school experiences and collaborative environments.
Structured Learning Opportunities
Many daycares offer structured educational activities that stimulate cognitive development and lay the foundation for learning.
Early exposure to age-appropriate lessons and activities can spark a love for learning.
Routine and Preparation for School
Daycare routines establish consistency, helping children adjust to schedules and transitions more smoothly.
Learning to follow rules and routines in daycare can aid in preparing kids for the structured school environment.
Independence and Self-Reliance
Daycare encourages independence through self-care tasks, decision-making, and problem-solving.
Learning to interact with caregivers and peers independently contributes to a child's sense of self and confidence.
Early Exposure to Diversity
Daycare exposes children to various cultures, backgrounds, and viewpoints, fostering cultural sensitivity and open-mindedness.
This exposure can help children develop a well-rounded understanding of the world around them.
5 Factors That Can Be Bad for Kids in Daycare
Time Away from Family
Extended time spent in daycare can lead to less time spent with parents, potentially affecting attachment and family bonds.
Parents may feel guilty or miss out on important milestones and moments.
Behavioral Challenges and Peer Influence
Peer interactions in daycare can sometimes lead to negative behaviors or the imitation of undesirable habits.
Children may pick up behaviors from peers, impacting their emotional development and behavior at home.
Limited Individual Attention
In a daycare with higher child-to-caregiver ratios, individual attention might be limited, impacting a child's emotional needs.
Children with specific needs or learning styles might require more personalized attention.
Transition Challenges and Separation Anxiety
Some children experience separation anxiety when starting daycare, leading to emotional distress during drop-offs.
The transition from home to daycare can be overwhelming, requiring time and support for adjustment.
Exposure to Illnesses
Daycare settings can be breeding grounds for common illnesses due to close contact and shared spaces.
Frequent illnesses can result in missed workdays for parents and disrupted routines for children.
Major Factors to Consider When Choosing Daycare
1. Staff Qualifications and Ratios
Qualified and trained caregivers in daycare centers are essential for your child's development. They create a safe and stimulating environment, understand individual needs, manage emergencies, and keep parents updated. When selecting a daycare, staff quality is a vital consideration.
Low caregiver-to-child ratios in daycare are crucial for personalized attention and quality care.
A lower ratio allows caregivers to focus on individual needs, monitor progress, and build strong relationships, fostering a sense of security. When choosing a daycare, consider this ratio as a pivotal factor for optimal child development.
2. Curriculum and Activities
A balanced daycare curriculum intertwining structured learning and play is vital. Structured activities boost cognitive skills, while play nurtures creativity, social abilities, and physical growth. Opt for a daycare center that offers this blend to ensure holistic development for your child.
Engaging activities are essential for holistic child development, nurturing critical thinking, creativity, motor skills, and emotional growth. Art, group tasks, and outdoor play enhance various skills.
When selecting a daycare, prioritize centers offering diverse and high-quality activities for your child's overall growth.
3. Parental Involvement and Communication
Open parent-daycare communication is vital for effective childcare, exchanging important details about behavior, health, and progress.
Regular communication helps address issues and plan collaboratively for the child's development. It also lets parents share concerns and stay informed about daycare activities. When selecting a center, prioritize those with quality and consistent communication.
Parental involvement enhances daycare experiences, easing transitions and fostering parent-child bonds.
Making the Best Decision for Your Child's Care
Selecting a daycare is significant, offering structured learning and social growth, yet potentially causing adjustment stress and limited attention. Weigh pros and cons based on your child's traits and family values to ensure their well-being and development.
Your child's education journey surpasses daycare, adapting to evolving learning needs. Consider transitions like preschool or alternative methods (e.g., Montessori).
Prioritize a child-centered approach that nurtures curiosity, creativity, and socio-emotional growth, setting the stage for lifelong education.
Frequently Asked Questions
Is Daycare Stressful for Children?
Varying Experiences: Daycare experiences differ for each child.
Transition Challenges: Some may face stress during the transition, including separation anxiety and adapting to a new routine.
Trained Staff: High-quality daycare centers have trained staff to manage these stressors and provide support.
Nurturing Environment: Quality centers create a nurturing space to help children adjust and thrive.
Overcoming Challenges: Time helps most children overcome stress, embracing social interaction and structured activities.
Long-Term Benefits: While initial stress might exist, the lasting benefits of daycare often outweigh the initial challenges.
Is Daycare Good for Kids? The Benefits of High-Quality Child Care
When it comes to child health and cognitive development, quality child care can have a significant influence. Numerous studies suggest that children exposed to high-quality care experience positive caregiving, leading to better outcomes in behavioral skills, social development, and even cognitive abilities.
The supportive environment provided by daycare centers and home-based daycare contributes to early childhood education and school readiness.
Parents seeking childcare solutions often wonder about the impact on their child's future. Studies from the National Institute of Child Health and Human Development underscore the positive influence of daycare on youth development, leading to achievements like higher education and improved graduation rates.
Age matters when considering daycare. Younger children often gain more from socialization and developmental aspects. For parents, quality child care brings peace of mind, ensuring nurturing environments that fuel learning and growth. High-quality daycare experiences can significantly impact overall development.
Conclusion
At the end of the day, trust your parental instincts and select the daycare center that feels like the best fit for your child's needs.
A well-chosen daycare can provide a safe, nurturing environment where children can learn various skills, form relationships with peers, and develop into confident individuals.
As parents, it is our responsibility to ensure that our little ones receive the best care possible, so it is essential to take the time to choose a high-quality facility that meets their individual needs.
In conclusion, the question "Is daycare good for kids?" receives a resounding positive response, especially when prioritizing high-quality care. Children's milestones, social skills, and cognitive outcomes thrive in daycare's supportive environment.