One of the most critical decisions you will make as a parent is to leave your child in someone else care.
Daycare and grandma are both great options for childcare.
But daycare is more structured and offers more socialization, while grandma is more personalized and affordable. Ultimately, the best option for you will depend on your family's needs. Here are some factors to consider when making your decision:
Your child's age and needs
Your work schedule
Your budget
Your preferences
Want to make the best decision for your child's childcare?
Read on to learn the detailed pros and cons of daycare vs grandma care, and determine which option is right for you. We'll cover everything from cost to health, so you can make an informed decision to avoid future complications.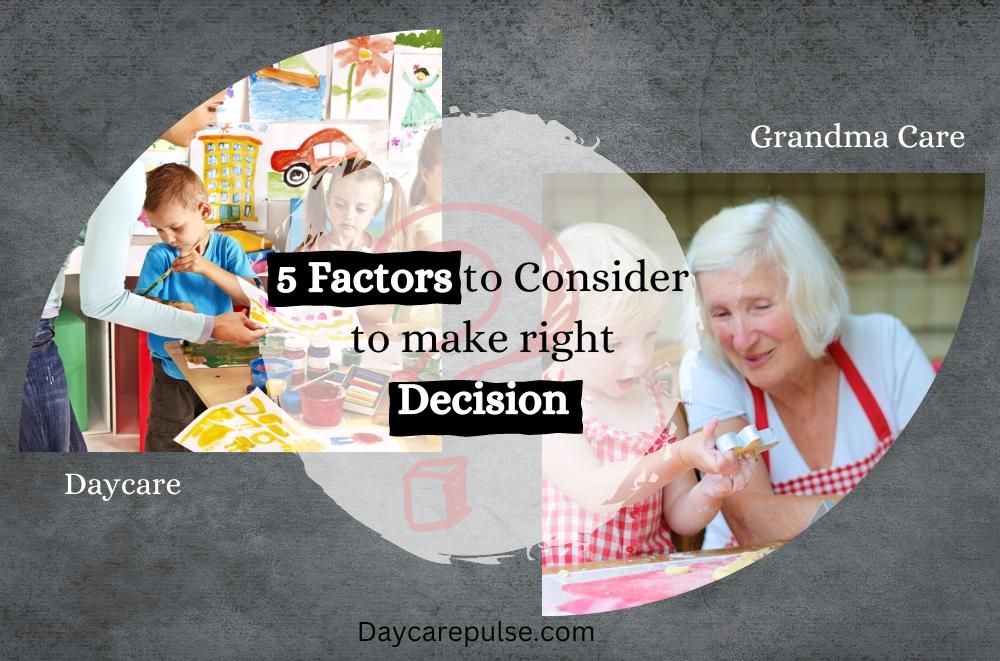 5 Factors to Consider for Daycare or Grandparents
There are a lot of factors to consider when deciding whether to send your kid to daycare or their grandparents. But ultimately, the decision comes down to what's best for your child. Here are a few factors to keep in mind as you make your decision:
1. Money
If money is tight, don't think twice!
You might also want to read: How to Get Cheap Daycare?
Because quality daycare can be really expensive, especially if you have more than one child. Grandparents, however, could offer to watch your kid for free or for a much lower cost. And if you are lucky enough, you could also get a free pick-and-drop service.
You might also want to read: How Do Daycare Vouchers Work?
2. Social Skills
Your child's communication and other social skills would improve around more kids at daycare. Later in school, such social skills acquired via childcare will provide your kid with more confidence and a sense of familiarity in a new school setting.
You might also want to read: What Do Infants Do at Daycare?
3. Health
Expanded socialization at daycares may come at the cost of greater exposure to diseases. With so many kids in one place, it's hard to avoid contact with seasonal flu and cold viruses. However, if a child is cared for by their grandparents, they would have less exposure to these viral and contagious infections.
You might also want to read: How to Choose Right Infant Daycare for Babies?
4. Education
If you want your child to learn more about respect, family values, traditions and love, then grandparents are the way to go.
However, if you want your child to learn diverse activities, socializing (along with picking up weird habits and tantrums from other kids), and a sense of familiarity with the upcoming school, professional daycare is the best option you have.
You might also want to read: Daycare Vs. Montessori| 7 important factors to consider
5. Reliability
Location – If your grandparents live far away, it may not be practical to send your kid to them. Daycare is usually located close to where you live or work.

Time Reliability – You'll need to consider your schedule before deciding reliable option.
Daycare facilities are usually available during standard business hours, which may be inconvenient if you work long hours.

You might also want to read: How much daycare is too much?

So, asking Grandma for childcare assistance may be a more flexible option if you work odd hours or have a tentative, uncertain schedule.

You might also want to read: How to Find Extended Hours Daycare?

Family Problems – It's no secret that grandparents can be a great option for childcare. But it's important to remember that they have their own parenting style and way of doing things.

You might always see eye to eye on different social and parenting practices. And transitioning from granny care to daycare won't be a pleasant, tension-free process, trust me!

You might also want to read: Nanny Vs Daycare

So if you're considering using them as your primary childcare, be ready to deal with some family challenges.
Free $Tip: You can also claim a childcare tax if grandparents look after your kids while you are at work. For more details, keep reading this blog.
Daycare Over Grandma Care
Benefits of Daycare
Diverse activities in a safe and structured environment
Experienced and qualified staff
Easy accountability
Proper schedule
Continuous supervision
Reliability/ No unannounced holidays
Easy transition process
You might also want to read: Daycare Teachers Duties
Cons of Daycare
Quality standard hours daycare would cost you an arm
Extended hours daycare would cost you your other arm as well
Vast exposure to diseases
Underqualified staff or low staff-to-child ratio
Strict daycare policies regarding pick & drop and sick children.
Divided attention & homesickness
You might also want to read: Can Daycare Facilities Expose Kids to Illnesses?
Grandma Care Over Daycare
Benefits of Grandma Childcare
Undivided attention and love of grandparents
Low-cost or free childcare service
Free extended hours care in case of urgent work or planned traveling
No or less issue of homesickness or separation anxiety
Family bonding and outings with grandma
You might also want to read: How Often Daycare Change Diapers?
Cons of Grandma Childcare
Unable to handle the physical and emotional demands of childcare for long hours
Could practice old, outdated child-rearing techniques
Degrading health and age factor
Their own daily work and life schedule
Personal conflicts could adversely affect your free childcare facility.
You might also want to read: Can Daycare Workers Kiss Babies?
Paying Grandma for Childcare
Most grandparents are unlikely to take or charge any money to watch over their grandchildren. But in case they provide a full-time childcare facility, it is preferable to pay them according to your child's financial needs and your income resources.
You can also claim a childcare tax if your grandparents look after your kids while you are at work. You'll need to submit your childcare provider's (Grandparent) information to IRS via the W-10 form.
Should Grandparents Babysit Full Time
Grandparents should not be forced to work long hours or full-time babysitting jobs owing to their old age and health issues. At this age, grandparents should be allowed time to rest and the flexibility to pick how much work they do.
However, if they are willing to babysit your child full-time, look into the following points before making a final decision:
You might also want to read: What is the Ratio of Staff to Child in Daycare?
Child's age and personality (hyperactivity)
Number of children
Energy and fitness levels of grandparents
Whether or not you live nearby, in case of an emergency visit
Grandparents babysitting burnout due to extensive daily childcare.
You might also want to read: How Many Hours a Day Can Child Stay in Daycare?
Frequently Asked Questions
Is it better for a baby to be at home or daycare?
Depends on the child's health and the quality of your available daycare options.

Can I get paid for looking after my grandchildren?
Yes, especially in case parents claim childcare tax credits.

At what age is it OK for a baby to stay with grandparents?
At the age of 9 months to 1 year.

How often does the average grandparent see their grandkids?
According to a 2011 survey, around 67% of grandparents see their grandchildren once a year or every few months.
Conclusion: Choose What is Best for Your Family
When deciding between daycare and grandmother care, there is no right or wrong answer. It all depends on your priorities, need and well-being.
Your child will be in a stimulating setting with other children of his or her age at daycare. They will learn to share and adhere to the rules. On the flipside, they will be exposed to sick children, increasing their chances of being sick. Daycare may also be costly if you want quality.
The perk of Grandma's care is that it is free (usually). Your child will also receive one-on-one care and will likely be a pampered rotten brat. However, Grandparents frequently struggle to keep up with hyperactive children, so this may not be the best option if your toddler is full of energy.