Can Daycare Workers Kiss Babies
You kiss your baby, especially when your baby is crying or needs comfort. But can daycare workers kiss babies too to comfort them?
The answer is "No"; daycare workers can not kiss a baby without the parent's approval.
But what if I tell you that one of the significant drawbacks of daycare is "Child Health"? And the reason could be the physical affection your child receives at daycare.
Let's explore the risks and benefits of showing affection to babies based on their age. In this article, I'll also provide tips to ensure your child's safety at home and daycare so you can have peace of mind.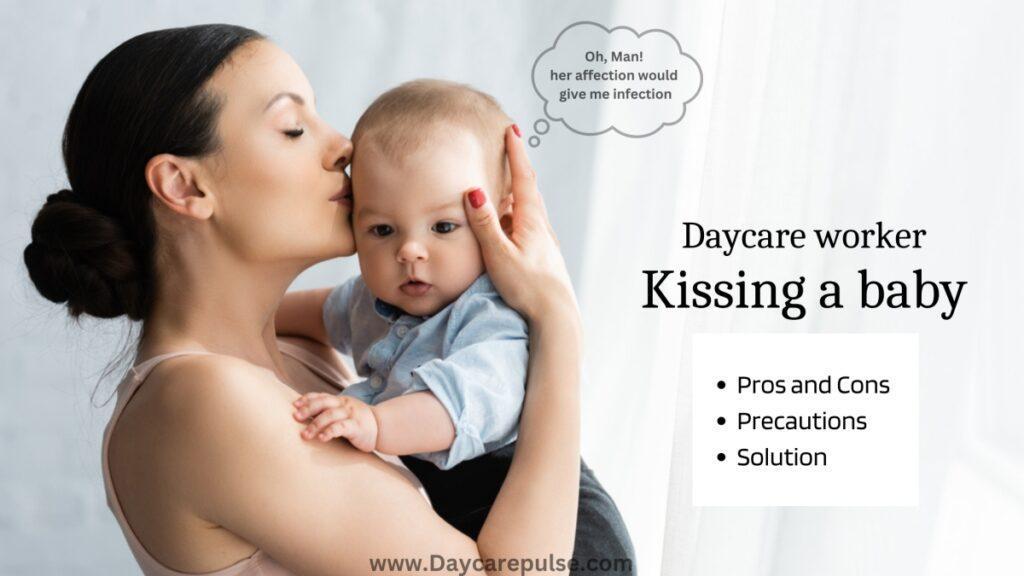 Daycare Health Policy
"Never kiss a baby that isn't yours" is my eternal rule.
Before Covid, I regarded a kiss or two to a baby as a small gesture of love.
But now it's a Big NO! Especially after experiencing the suffering of a 6-month-old RSV-infected baby in my family. Thus ensuring childcare health policy is the best strategy to safeguard your child's health at daycare.
According to Medline Plus Daycare kids are more prone to infections than those who don't attend. Therefore, daycare teachers should avoid kissing sick children, as this can spread germs to other children.
You might also want to read: Can Daycare Give Medicines?
But being exposed to germs in daycare can also help children above the age of 1 year, develop stronger immune systems.
If a daycare has tight restrictions on physical contact with babies, it's sigh of relief for parents.
Otherwise, it would help if you urged the childcare provider to ensure your baby doesn't get unwanted kisses without your approval and concern.
Negative Affects of Daycare Workers Kissing Babies
1. Health Concerns
RSV is Real, and HSV is Fatal:
Respiratory syncytial virus (RSV) is highly contagious and may dwell on the skin's surface layer. A daycare worker working among several kids could easily carry RSV germs from one child to another through physical contacts, such as kissing a baby.
The Herpes simplex virus (HSV) is highly infectious. HSV spreads quickly through contact with contaminated saliva or infected things. Worse, it can apply even if the infected individual has not yet developed symptoms.
HSV could be fatal for children under the age of 2 as their immune is not fully developed. Hence daycare workers must avoid kissing babies at daycares
You might also want to read: When to Keep Baby Home from Daycare?

Seasonal Flu & Cold:
Seasonal flues, in addition to severe viral infections, can harm a child's health. Frequent flu, colds, and coughs at daycare can damage a child's developing immune system. Also, kids could bring infections home from daycare and infect other family members.
You might also want to read: Can Daycare Give Tylenol?
Warning!
Never give children under 12 any over-the-counter medication without a prescription, such as aspirin. Aspirin can expose a kid to Reye's Syndrome, an uncommon but lethal condition.
2. Lesson from Pandemic
For all of us, the pandemic has been a wake-up call.
Schools and childcare facilities are densely crowded; thus, diseases spread more easily among children. Daycare employees should minimize any unnecessary physical contact with children to avoid the unintended transmission of illness or sickness.
Positive Affects of Daycare Workers Kissing Babies
1. Bonding of Child & Daycare Workers
Caring touch in early childhood is much needed. To build trust among kids, childcare workers might need to show physical affection as well towards kids to comfort them in distress, for emotional development and to hone their social skills.
This can include a kiss, hug or a snuggle as well.
You might also want to read: How to Make Daycare Drop-off Easier?
2. Healthy Physical Affection
According to research, babies need responsive care and healthy physical affection to form healthy bonds with their caretakers.
So, if you want your child to feel at ease at daycare, you must enable daycare employees to use safe physical touch on your child.
A daycare professional, for example, may offer a child a morning or farewell hug if he requests one, could assist your child in sleep by caressing his back, holding your child's hand to help him climb or walk, and so on.
You might also want to read: How to Help a Child with Separation Anxiety at Daycare?
Tips for Caregivers and Parents
Share Your Concerns With Caregiver
For your peace of mind and your child's safety, it is always best to share your concerns with your childcare provider. You could discover more about their health and safety practices on a regular basis.
You can also request sanitization, health and background checks for their employees if you have any concerns about germ transfer and inappropriate boundaries between children and staff.
Always Ask for Parents' Permission to Kiss
Children forced to accept or display affection may acquire and develop undesirable social habits. For example, a youngster may believe he has no control over his own body and may repeat the conduct with other children his age or younger. 
You might also want to read: How Do Daycares Take Care of Crying Babies?
Every daycare provider is accountable for inquiring with a parent before performing any direct affectionate gesture toward a child. It is ethical, and you may also learn about the child's preferences for care that comforts him.
You might also want to read: Will Daycare Take Colic Baby?
3 Hygienic Way to Show Affection
1. Hand Hygiene
There are two types of microorganisms on the skin: transitory and resident. While the resident is in the deeper layers of skin, transitory bacteria populate the surface layer of the skin.
Transient bacteria are easily transmitted to other people or items and are a common source of infection in children. Hence thorough hand hygiene should be practiced by daycare workers while handling babies.
2. Avoid Chemicals/ Cosmetics
There is no denying that childcare employees have the same right to self-care and independence as any other employee. However, as a daycare provider, you must take extra precautions. Using strong chemicals-based hand products and cosmetics may cause itching, eczema, and other skin infections in children.
3. Maintain Distance
Maintaining a healthy distance while handling kids in daycare is vital. To show your love and care to your child, opt for more safe methods of affection. I would suggest you go for air kisses, a gentle peck on the head, a pat on the back and greeting hugs initiated by the child.
FAQs
How long should I not let people kiss my baby?
Ideally, no one should be kissing your baby until age 1. But ask people to avoid kissing babies for at least 3 months as newborn babies do not have immune systems.
2. Where should you not kiss babies?
No one, including family members, should kiss your baby around the mouth and eyes.
3. What should I do if someone kisses my baby?
Tell them explicitly not to do that again. Explain the hazards involved and inform them. Tell them that your pediatrician has strongly advised you not to allow anybody to kiss your baby due to the possibility of RSV and HSV since newborns' immune systems are not strong enough to fight viruses until 7.
4. Why can't you kiss newborns?
Because they have a nonexistent immune system to fight off germs transferred via a kiss.
Conclusion
My Opinion on the Matter
I believe that childcare employees should not kiss children at daycare, especially on the mouth or hands. While the health risks appear minor, there is still the possibility of passing on lethal diseases as their immune system is still weak.
Furthermore, parents should be asked if they are okay with the childcare professional kissing their child.
Also, kids should not be deprived of due attention and affection, but there are various methods to offer a baby affection other than kissing, such as caressing, holding, or talking with a child.
What Do You Think About It?
Do share your thoughts on this issue. Did you ever witness a caregiver kissing your child without your consent? How did you deal with this situation? What was your primary concern? And did everything get sorted with daycare after discussing the issue with them?