When to Keep Baby Home From Daycare?
Attention, new parents! Is your baby coming down with the flu? How do you know if it's severe enough to keep him out of daycare? I understand your concerns and desire to prioritize your baby's well-being.
Suppose your child exhibits any of the following symptoms. In that case, it is best to keep them home from daycare.
Fever of 100.4 degrees Fahrenheit or higher
Vomiting more than once in 24 hours
Diarrhea with mucous or blood
Severe cough that is causing difficulty breathing
Rash or skin infection
Signs of pink eye (conjunctivitis)
It is also essential to keep your baby home if they have any contagious illnesses like chickenpox, polio, measles, mumps or rubella.

In this blog post, I will be your trusted guide, unraveling the subtle cues, sharing 12 reasons for keeping your baby home from daycare and expert advice and empowering you to make confident choices about when to keep your baby snugly by your side.
Together, let's delve into this journey of parental care, ensuring the well-being and happiness of your little star.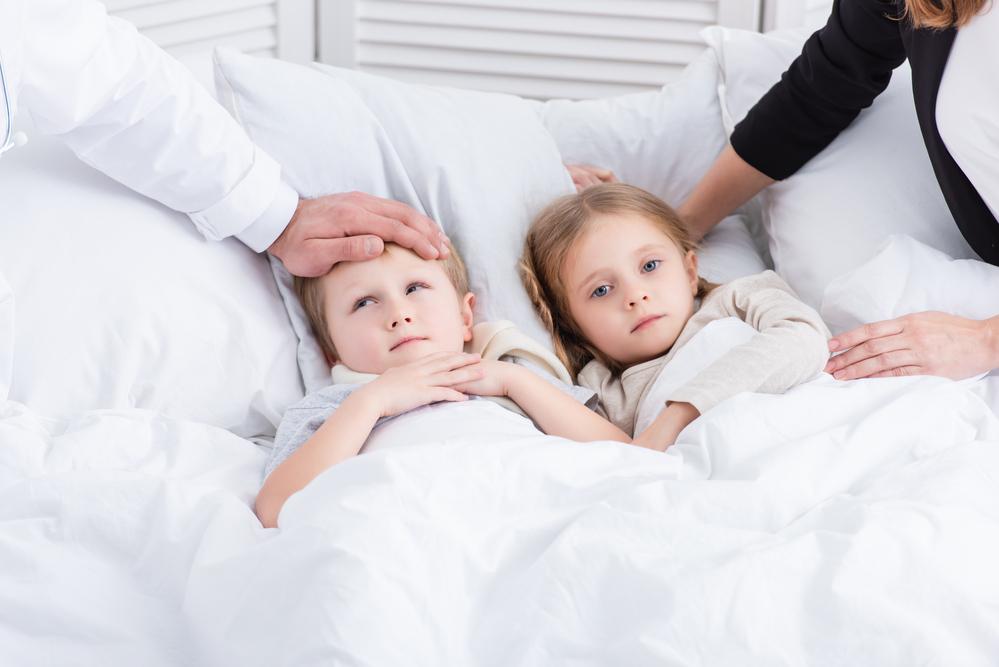 When Should a Baby Stay Home From Daycare?
You should keep your baby home from daycare if one or more symptoms are present.
Fever (100.4 °F or higher) for more than 1 day.
Vomiting or diarrhea for more than 24 hours. With other signs like dehydration, listlessness, and poor feeding.
Cough with noisy breathing, difficulty breathing, earache, or drainage from the ear that persists for more than 48 hours with fever.
Sore throat, trouble swallowing, and swollen glands in the neck (especially with fever).
Read on How can daycare facilities expose kids to illnesses?
12 Reasons For Keeping Baby Home From Daycare
It is essential to know when to keep your baby at home. You should also know the signs of illness that may warrant keeping your baby home.
1. Fever Of 100.4 Or Higher
It's essential to remember that a fever does not cause illness. It indicates disease and indicates that your child's body is fighting off an infection.
Fever generally occurs when the body tries to fight off an infection, so don't worry if your child has a fever. If you're concerned about your child's temperature, check the thermometer reading against this list of common signs and symptoms of illness.
A temperature above 100 degrees Fahrenheit (37.8 degrees Celsius)
Tossing and turning in bed
Generalized aches or pains (aches in every part of their body)
Loss of appetite
Nausea/vomiting
2. Vomiting or Diarrhea
Call the doctor if your baby has a fever, vomiting or diarrhea. Don't wait to see if it goes away on its own, nor should you give them anything to eat or drink until you talk to your doctor.
In most cases, healthy babies will not have any lasting side effects from gastroenteritis (stomach flu). But it can be dangerous for babies under 6 months old and especially for young infants with immune systems that aren't fully mature yet.
3. Cough With Noisy Breathing
It's common for babies to cough, especially when they have a cold. But that doesn't mean you should ignore it. Coughing can be a sign of an asthma attack, pneumonia or allergies.
And the more severe cases are accompanied by noisy breathing, a wheezing sound or grunting noise while exhaling air after every breath. It is usually a symptom of croup (an upper respiratory infection).
Usually, there are other signs, such as high fever and trouble swallowing.
4. Difficulty Breathing
If your baby seems to have trouble breathing, it's essential to bring them to the doctor immediately. If you feel your child may be gasping or experiencing difficulty breathing, don't hesitate to bring them in for an evaluation.
Wheezing is a high-pitched sound when air passes through narrowed airways, often caused by allergies or mucus buildup. It can also cause colds and respiratory infections due to viruses like influenza (the flu).
Coughing can result from mild illnesses such as colds and respiratory infections and more severe conditions such as asthma and pneumonia (infection of the lungs).
Suppose your child is coughing more than usual or has developed symptoms like fever, runny nose/congestion, chest pain, or shortness of breath over time. In that case, whether they need antibiotics is worth discussing with their doctor."
Read on Can Daycare Give Tylenol?
5. Earache or Drainage From The Ear
Strep throat is a bacterial infection of the throat, which can also affect the eardrum. Ear infections are viral or bacterial infections that cause fluid in the ear, pain and fever. Mild to moderate pain with fluid draining from your child's ear may be signs of a viral or bacterial infection.
6. Sore Throat And Swollen Glands In The Neck
If your baby has a sore throat, they should stay home from daycare until it disappears. If they are not eating or drinking, they should also stay home.
If your child has a fever (heart rate above 100 beats per minute) for more than 2 days and you are concerned about being around other children in daycare, it is best to keep them at home until their fever is gone.
7. Stiff Neck And Rash In The Neck Area (Especially With Fever)
A stiff neck and rash in the neck area are also signs of a potential illness. If you notice these symptoms, keeping your baby at home from daycare until you get an appointment with their pediatrician is best.
8. Severe Diaper Rash Or Bleeding Bottom
As a new parent, it's hard to resist bringing your baby everywhere. But it may be time to stay home when your little one has a diaper rash or bleeding on the bottom of their diaper.
Diaper rash is a common problem with babies, including food allergies, yeast infections, or a chemical irritant in clothing or diapers. It's essential to treat this skin condition quickly so it doesn't become infected, leading to more severe problems like diaper dermatitis or strep throat.
If you can't get your child comfortable, no matter how much cream you apply or how often you change them (and most parents can relate!), call your daycare provider (or stay home) until they feel better.

Read more: How Long Is Hand, Foot, and Mouth Contagious for Daycare?
9. Lethargy And Poor Appetite
In addition to the signs of poor appetite and lethargy, there are many other symptoms of illness that an infection can cause. Here are some of the most common symptoms.
Fever
Diarrhea (a change in the number or consistency of stools)
Vomiting (throwing up)
10. Trouble Eating and Drinking
If your baby has trouble eating and drinking, it's essential to get them checked by a doctor. While this may just be a temporary problem related to teething or something else that goes away in a few days, trouble eating and drinking can also signify more severe illnesses like dehydration or cancer.
If your baby is having trouble eating or drinking, it may not get enough nutrition from its food. It can lead to other health problems for them later on in life, such as stunted growth and malnutrition.
Read on Can Daycare Give Medicine?
11. Chicken Pox
Chickenpox is a common childhood illness that causes itchy red bumps on the skin. It is due to the varicella-zoster virus, which can spread from person to person through saliva or mucus from an infected nose or mouth.
The disease usually starts with fever, fatigue, headache and loss of appetite, followed by the development of chickenpox (small red spots with blisters). The blisters typically crust over and turn yellowish before drying up and falling off about three weeks after they first appeared.
Note: Parents must keep their children home from daycare if they have any signs or symptoms of chickenpox. And most importantly, keep them away until all blisters have crusted completely (usually 7–10 days after appearance) since there is a small risk of severe complications if you don't follow these instructions!
12. Cold Symptoms
If your child has a cold, keeping them home from daycare is essential. A runny nose and cough are the most common symptoms of the common cold. If your child has a fever, sore throat, or earache, they should stay home from daycare until they feel better.
It can take two days and two weeks to go away if you have a cold. To help your child feel better.
Give them lots of fluids (water, juice) during the day because dehydration is one of the things that makes people sicker.
Make sure they rest when possible so their body can fight off whatever virus caused their illness in the first place; this includes sleeping at night and taking naps during daylight hours if possible!
Rubbing Vicks Vapor Rub on your feet before going out helps prevent catching germs in public places like grocery stores or movie theaters (this works wonders!).
Conclusion
As a parent, there are many reasons to want to keep your infant home from daycare. It may be that you're not ready for them to be away from you, or they might not be fully vaccinated yet. The decision can sometimes be overwhelming, but with all the information, it shouldn't be too tricky!
Related: Best First Aid Kit for Daycare