Best First Aid Kit for Daycare
What if a child got hurt at your daycare and you didn't provide them adequate first aid? Remember that when it comes to daycare, words circulate rapidly in the parent community.
Safety is one of the most critical factors parents search for in childcare. In the event of an accident or injury, each childcare provider must have a well-equipped first-aid kit on hand. However, with so many options available, how can you identify best option?
The best first aid kit for daycares should be:
Readily Available
Preserve Life
Prevent Further Injury
Relieve Pain Quickly
Aid Recovery
This article will provide tips on what to include in your kit and how to use it properly. By the end, you'll be an expert on first-aid kits and ready to care for your daycare kids confidently!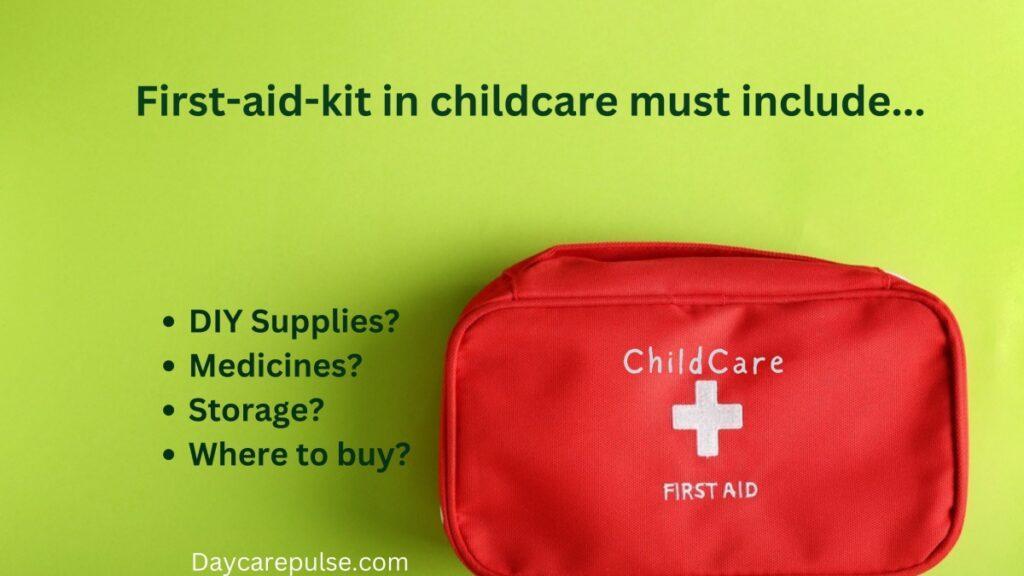 5 Objectives of Daycare First Aid Kit
Any daycare first aid kit should fulfill these 5 objectives to be effective:
1. Readily Available
First aid kits in daycare centers should be readily available, clearly labeled, and easily accessible to staff. All staff should be trained in basic first aid and CPR. A list of emergency numbers should be posted in a prominent location along with a first aid box.
2. Preserve Life
A well-stocked first aid kit is a necessity in any childcare setting. In addition to the supplies listed in the American Academy of Pediatrics (AAP), daycare providers should have supplies on hand to treat more serious injuries and illnesses.
Some of the additional supplies that daycare providers should keep in their first aid kit include:
Airway and breathing supplies, such as a resuscitation mask
Oxygen tank
A suction device
Medications, such as epinephrine and antihistamines
Supplies for treating burns, such as water-soaking Burn Gel
By having these additional supplies on hand, daycare providers can be prepared to treat more serious injuries and illnesses and preserve life until emergency medical assistance arrives.
3. Prevent Further Injury
A daycare first aid kit should be able to prevent further injury by being properly stocked with supplies and a manual. This includes items like bandages, antiseptic, and a cold pack. By having these items on hand, you can quickly treat minor injuries and help prevent them from becoming more serious.
4. Relieve Pain Quickly
Over-the-counter drugs should be included in family and daycare first aid kits to alleviate discomfort caused by injury or illness.
In the event of drowsiness, vomiting, or a headache, contact the pediatrician and guardian right away. Aspirin should not be given to children for fever without contacting a doctor since it might trigger Reye's syndrome.
5. Aid Recovery
A childcare first aid kit should be able to aid in the recovery of any illness or injury that a child may suffer while under the care of the daycare. This may include antiseptic wipes, petroleum gel, anti-allergy lotions, band-aids etc.
Essentials for Daycare First Aid Kit
Supplies
Thermometer
Adhesive bandages
Cotton roll
Tweezers and Scissors
Sterile gauze
Antiseptic wipes
Hot and cold packs
Gloves
OTC Medicines
Pain and fever-relieving medication
Saline wash
Calamine lotion
Petroleum gel
Antibacterial Cream
3 Best First Aid Kits for Toddlers
It is essential to have a suitable first aid kit in your facility and with the multitude of selections available on the market, that can take time to discern which one stands out for daycare. To make sure you're making an informed decision about what will work best for you, we've gathered three of the most dependable first-aid kits you can find!
4 Tips for Storage and Safety of First Aid Kit
While owning a first aid kit is essential in any daycare, understanding how to store and secure it properly is of equal importance. Here are some critical tips on preserving your first-aid supplies safe and sound.
Make sure your first aid kit is kept cool and dry.
Keep it out of reach of children.
Inspect it regularly and replenish it as needed.
Keep a list of the contents of your kit in an easily accessible place.
If you adhere to these straightforward tips, your first aid kit will always be ready for use and in top-notch condition.
Conclusion
An essential component of any preparedness plan is a fully-stocked first aid kit. Although the risk of a severe injury to children in daycare is low, it's always best to be ready for anything!
Investing in an excellent first-aid kit will guarantee you have everything on hand needed to manage minor wounds and more serious injuries should they occur. Ensure that your selected set includes all supplies required for scrapes, bruises, or other medical scenarios.