Best Bag for Daycare Everyday Use
The right bag can make all the difference in making your daycare drop-off and pick-up experience as smooth and stress-free as possible.
Here are a few things to keep in mind before grading any bag as the best bag for daycare:
Right Size: Ample space but not too bulky.
Durability: Easy to clean, durable materials.
Organization: Plenty of compartments.
Style: Dark tones, comfortable to carry.
A daycare bag is more than a necessity. It's an investment in your peace of mind. Read on to learn important guidelines to follow when shopping for a daycare bag, along with our top recommendations for daycare bag.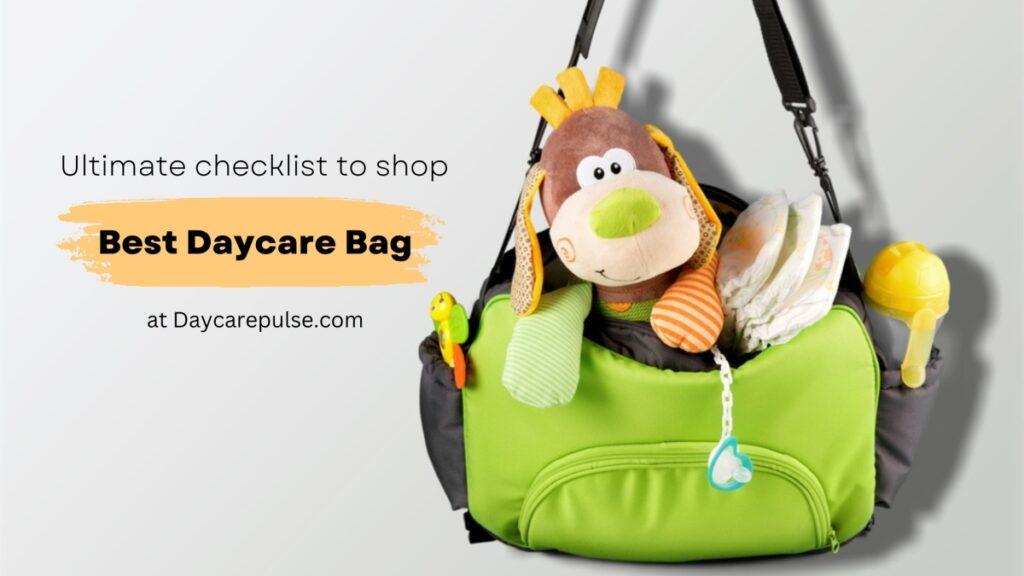 Size and Capacity
Selecting the ideal bag for your toddler's daycare supplies is essential. You must ensure ample space in the bag so that it can fit all of your child's essentials throughout their day at daycare.
You May Also Want to Read: Daycare Checklist for Babies
For this reason, seek out a bag with various compartments and pockets; not only will they help keep things organized, but they also give you enough room for everything that needs to go inside! Most mothers go with lunch or diaper bags when choosing something suitable for daily use – these are great choices!
Lunch Bags
Lunch bags are often smaller than backpacks but offer enough room for necessities like diapers or wipes. With a range of fun designs, you won't have difficulty finding one that will make your toddler beam with delight!
Moreover, lunch bags don't have straps or handles, which means they're easier to carry and eliminate the chance of them getting tangled up in something.
You might also want to read: Best Backpack for Daycare
Diaper Bags
When it comes to transporting all of your little one's essentials, you can't go wrong with a diaper bag!
Not only are they made from extra durable materials and come equipped with padded shoulder straps that make them easy for parents and toddlers to carry around, but they also include insulated and wet/dry pockets.
It also have compartments designed specifically for bottles or pacifiers. Everything has its designated spot, making these bags the perfect choice when on the go with kids!
You might also want to read: What to Pack for Daycare?
Durability
No one wants a bag that wears out quickly or causes undue discomfort. Rather, select bags made from durable materials like polyester and canvas, which can handle daily use and any unexpected messes along the way.
Stain-resistant fabric with simple washing capabilities should be your go-to in order to minimize daycare costs. To prevent accidentally switching backpacks at daycare, you might also look for distinct patterns that stand out easily among other bags.
More so, don't forget practicality doesn't mean boring – why not get creative by DIYing your own unique style?
You might also want to read: How Many Bottles to Bring to Daycare?
Style and Comfort
To make your toddler's daycare experience a bit more enjoyable, why not invest in an extra pretty little backpack specifically for their daycare supplies? This way, they can carry their beloved stuffed animal and bottle with them.
Kids usually take interest in vivid colors or fun designs, so let them pick out something that speaks to them!
You can find plenty of customizable bags on Amazon- cartoon-themed backpacks are always popular, as well as those featuring characters from TV shows and kids movies.
However, it is wise to buy one with broad cushioned shoulder straps in order to prevent any back strain later down the line.
Our Recommendations for Daycare Bag
Here are some of our top picks:
The JuJuBe Be Right Back Backpack: This backpack is a great all-around choice for daycare. It's spacious, durable, and has plenty of compartments to keep everything organized.

The Skip Hop Forma Backpack: This backpack is perfect for parents who are looking for something stylish and functional. It's made from durable materials and has a sleek, modern design.

The Eddie Bauer Stowaway Backpack: This backpack is a great option for parents who are on the go. It's lightweight and compact, so it's easy to carry with you.

Petunia Pickle Bottom Meta Backpack: This backpack is a classic choice that's perfect for daycare. A bit pricey but compact design with compartments, padded straps, water resistant lining, insulated pockets, changing pad, and other functional details.
You might also want to read: Best Daycare Lunch Box
Frequently Asked Questions
What should I pack for daycare daily?
Preparing your little one for daycare can be overwhelming, especially if you're not sure what they may need while away. To help make the packing process easier, we've compiled a list of must-have items based on age group – so all you have to do is choose which ones are right for your child!
For infants (0-6 months), you'll need to pack:
Diapers
Wipes
Extra pair of clothes
A blanket
Beddings
Formula or breast milk
Snacks
Prescribed medicines
For toddlers (6-24 months), you'll need to pack:
Diapers or pull-ups
Wipes
Extra pair of clothes
A blanket
Snacks/ formula/ breast milk
Comfort object or toy
Prescribed medicines
Do toddlers need backpacks for daycare?
Backpacks aren't usually essential for toddlers, but they can help them learn independence and responsibility. A backpack is a convenient way to carry basic stuff such as toys and snacks on a regular basis. Backpacks are also helpful if your child is enrolled in a program that asks them to carry their meals.
When selecting a backpack for your child to take to daycare, make sure that it is the correct size and age-appropriate. Opt for backpacks with adjustable straps and strong construction; stay away from those featuring embellishments or characters, as these pose a choking hazard.
What size bag for daycare?
When selecting the right bag size for daycare, there are a few items to remember. First and most importantly – account for the daily necessities your kid will need, like diapers, wipes, clothing pieces, snacks and toys.
Additionally, ensure that the bag is spacious enough to hold any additional materials you may require, such as bedding or an extra set of clothes. For this purpose, 10 – 15 inches can be considered a suitable range when it comes to selecting appropriately sized bags!
What should I pack my 2 year old for daycare?
For 2 years old, you'll need to pack:
Diapers or pull-ups
Wipes
Extra pair of clothes
A blanket
Snacks/ formula/ breast milk
Comfort object or toy
Prescribed medicines
Conclusion
When selecting the perfect bags for daycare, you can ensure that your little one's needs and personal sense of style are catered to. Be sure to examine capacity, strength, comfortability and design elements when looking around – this will guarantee they have just what they need!
Following these tips makes it easy to find the right bag, making mornings smoother (and cuter!) than ever before!