Do I Need My Child's Birth Certificate for Daycare
Whether or not you need to provide a copy of your child's birth certificate for daycare depends on your state's law
But yes, you may need to provide your child's birth certificate to daycare for following reasons:
To verify your child's identity and age for safety reasons.
Daycares need to obtain your child's medical records in case of an emergency.
Some daycares are required by law to have a copy of your child's birth certificate.
Let's answer all your questions about why you need your child's birth certificate for daycare, what risks come with providing it, and how to avoid those risks. Hope this will help ease your mind!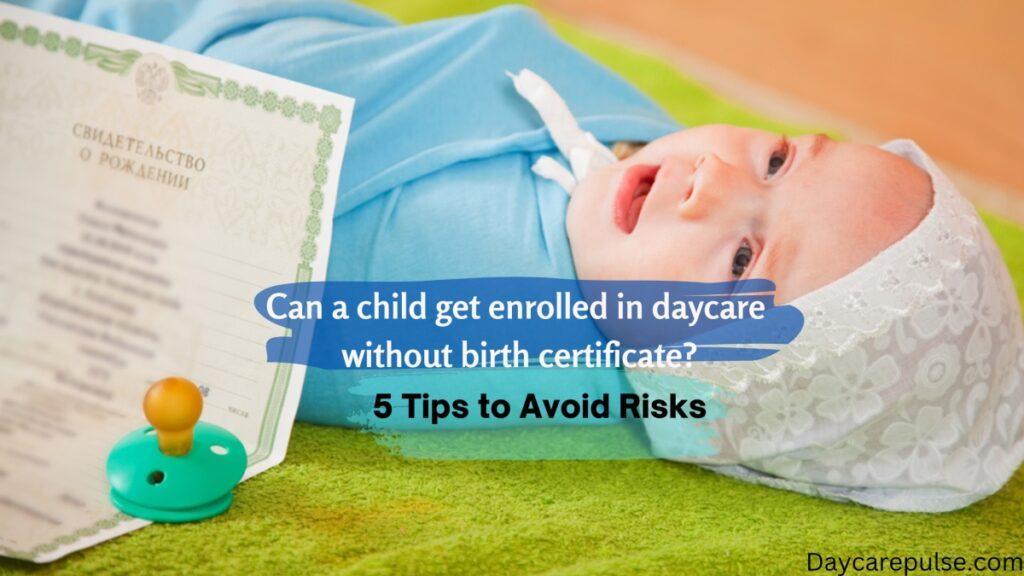 Documents Often Required at Daycare
Each state has its own laws regarding daycare requirements. Most states require that daycares have a record of each child's age for licensing purposes.
Some states simply ask for an age verification form (which includes the parent's parent's signature), while others require that parents submit a copy of the official document.
The most frequently asked documents during the daycare enrollment process are:
Child Documents
Birth Certificate
Depending upon your state's law, commercial daycares could ask you to provide a copy of your child's birth certificate. The most important reason for providing your child's birth certificate is so the daycare can verify their age and identity. 

The law requires that all children be accounted for, so having an official document on file is essential for compliance. Additionally, daycares often use the information on a birth certificate to determine which programs or activities are suitable for each child based on age.

You might also want to read: First Day of Daycare| All you need to know

Immunization Record
For health and safety concerns, an immunization record is compulsory by law in almost all daycares.
Daycare providers must comply with timely vaccination for kids under their supervision or acquire a formal document exempting children from immunization due to health issues under a doctor's prescription.

You might also want to read: Can Daycare Give Medicine?

Special Diet 
Since many kids could be allergic to a particular food that daycares providers might be giving in their daily meal, as a parent you'd have to inform daycares at the time of enrollment. This could include prescription of an allergy to any OTC medicine or first aid ointment.
You might also want to read: What Food Do Daycare Centers Provide?
Enrollment Documents.
Apart from the child's identification documents, as a parent, you might also need to provide other documentation at the time of daycare admission. Some of these documents can include:
Admission Form
Financial Agreement
Billing Forms/ invoices
Emergency medical authorization
Authorized Pickup forms
You might also want to read: Daycare Enrollment Process
Documents Safety and Misuse
As a parent, it's understandable that you are worried about risking your child's personal information. And your concern is due.
The risk of submitting a copy of your child's birth certificate is that it can contain their social security number, potentially putting them at risk for identity theft or fraud.
You May Also Like to Read: Why Daycare Centers Ask for SNN?
It is also possible that an unscrupulous individual could use the copies to commit immigration fraud, such as claiming they are the legal parent or guardian of the child to gain access to benefits or services they would not otherwise be entitled.
5 Tips to Avoid these Risks
Avoiding the maximum risks associated with your child's birth certificate or other personal documents is pretty feasible. For instance, inquire about daycare and why they need the document. Then if possible, offer them an alternate but more safe option, for example:
You can request daycare to simply authenticate the child's identity and age by looking at the original birth certificate at the time of enrollment and exempting you from providing any copy.
If possible do not provide your home address to avoid instances of kidnapping.
If your state requires a copy of the official document, ask daycare that it is kept secure and only accessible by authorized personnel within the daycare facility.
You can also contact your state's daycare regulatory office to confirm the need for such documents.
You could also follow this link to get more insights: Documents Required for Childcare.
Most importantly, ensure that the daycare has strict data privacy and security policies so that you can feel confident in knowing your information will be safe in their hands.
Conclusion
The safety and security of our children should be our top priority when making decisions regarding their care.
If you are required to provide documentation for daycare enrollment, ensure it does not include any sensitive information such as their Social Security number or home address; request an alternative form if possible.
Ensure that any copies are kept secure and only accessible by authorized personnel within the facility. By following these steps, you can rest assured that your little one is safe and protected while starting their exploration journey!