What food do daycare centers provide to children?
Is it worth the effort to make healthy meals and snacks instead of reaching for the easier option? The answer is a resounding yes! Giving nutritious food is one of the most important things you can do for your child at an early age.
Daycare centers usually provide finger foods, yogurt, fruits and veggies in purée form, or for older kids whole fruits & veggies.
Children who eat well are more likely to have better overall health, be thinner, have better muscle development, perform better in school, and have higher IQs than their counterparts. A healthy diet help prevent obesity, diabetes, and heart disease later in life.
Read to find 5 best practices for childcare nutrition and get to know how children are introduced to a variety of healthy meals every day. Let us discuss more in this post.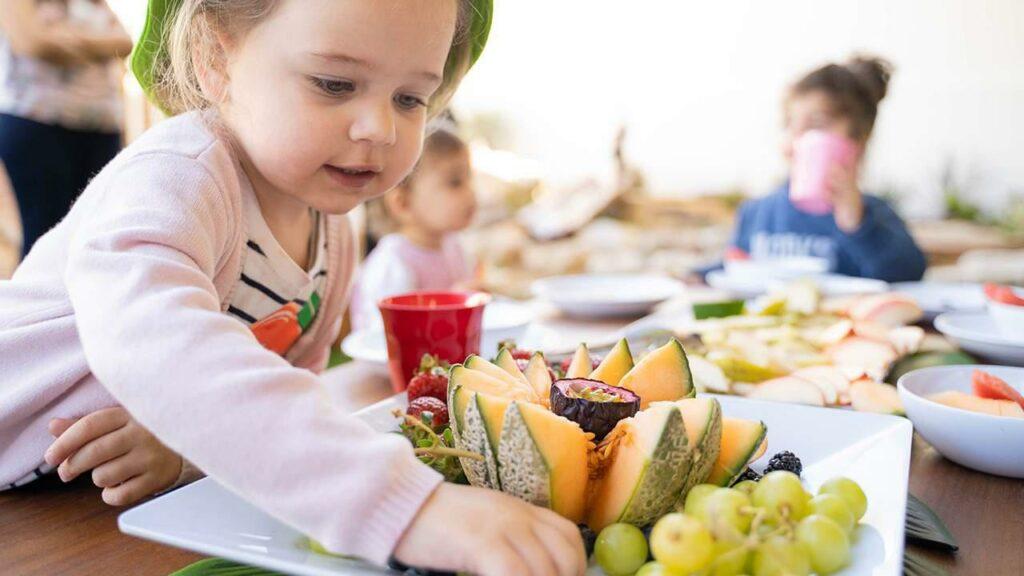 Do most daycare centers provide food?
The answer may vary depending on the daycare, but most daycares typically offer food for the children in their care. It can be anything from snacks and drinks to full meals. Daycare centers have food policies that vary from a child enrolled in a part-time or full-time program.
Therefore, most daycares provide food that includes two snacks and a lunch for children; this perk is only for children enrolled in a full-day program. Some private daycares will serve morning and afternoon snacks and no lunch.
CACFP (Child and Adult Care Food Program) is a federal program responsible for providing nutritious food to all daycare centers that have signed up with them.
Parents should ask the daycare authorities if they have signed up with CACFP because they provide healthy meals and snacks to your child under the program guidelines.
Important meals of the day for Infants and toddlers at the daycare
One thing that comes to my mind when I read a headline like how do we know which meal is most important or how many meals are essential? Plenty of moms out there are concerned over the same question.
For further explanation, I have narrowed down some information that could significantly help everyone reading this article and hopefully get their answers.
Starting with the fact that every child has a different tendency and appetite from one another, some eat 3 meals a day, including snacks, and some children have a total loss of appetite. It matters how you set up your child's eating routine and also maintaining it.
Let us dive into 2 categories to make it easy to understand.
Infants
Toddlers
So when it comes to the daycare center, the meals, and the children, we naturally ask what kind of food is available for the kids. Do they provide formula milk to kids or regular milk? Do they feed solid food or pureed food to the infants?
Here are some best-suggested meals for infants and toddlers.
6 to 11 months old
Firstly, to begin with, get your research done and ask your daycare centers if they have assistance from CACFP.
No juice for infants from 6-11 months old
Healthy snacks to be included both vegetables and fruits in puree form
Extra salt and sugars are to be avoided
Adding plain natural yogurt
Introducing finger food
Cool boiled water for the baby if feeling thirsty in the middle of the meal
Only a few daycare centers provide formula milk for infants.
1 year and above kids
Children aged 1 year and above do not need mashed food; they are trained to eat solid food items and have started growing their teeth.
At least one portion of whole grains
Juice can be served 1 time in a day
Must not add more sugar to their cereal
Fried food should not be allowed
Lunch includes a fruit and vegetable
Does daycare center also supply a special diet?
Daycare centers supply special diets under the circumstances, such as if the reasons for the diet are valid, the daycare policy supports the diet, and lastly, it depends on the diet.
Well, some daycares will do an excellent job meeting the challenges of dietary requirements, while others will simply ask the parents to send home-cooked food.
Food intolerance and allergies are common among children, so many daycare centers will provide food suitable for the child's health, like dairy-free food items, or avoid serving ingredients like eggs, fish, or gluten. They might cater to it with a vegetarian diet instead.
In some situations, like personal preference, or religious reasons, the daycare center will not accommodate you but ask you to bring your food. Continue reading for more menu information.
What to consider when forming a menu?
Healthy food is every parent's concern when they send their child to a daycare center, and it comes to the authorities' responsibility to provide the best nutritional food.
The few points that should be kept under consideration while forming a menu for the kids are,
Firstly daycare centers should have enough budget to arrange all food items required in the early days of child development.
Safety and regulation are essential in the process, as the center must provide fresh and healthy food.
Planning a healthy childcare menu can be tricky. Still, suppose the daycare center controls the budget, safety, and regulation. In that case, it has enough resources to form a healthy menu, ensuring kids are provided all portions of nutrition their body requires daily.
Lastly, keep everything interesting for the kids because children lose their patience soon. And if the same food is served after some time, they will become bored. So it's important to keep meals exciting and interesting.
Safety and regulation
Consideration for food handling is vital because of food borne sickness. Food borne sickness is brought about by eating food tainted by germs, parasites, infections, or bacteria and happens when food is not ready or put away appropriately.
The staff is responsible for food preparation and storage. Are you still unsure about the selection of food items on the menu? Keep on reading.
Planning a healthy childcare menu
Here are some guidelines that can help make a healthy menu for kids.
| | |
| --- | --- |
| Food Group | Examples |
| Protein | Seafood, lean meat, poultry, eggs, beans, peas, soy products, unsalted nuts, and seeds |
| Fruit | Fresh, canned, frozen or dried fruits. |
| Vegetables | Provide a variety of fresh, canned, frozen, or dried vegetables, including dark green, red, and orange beans and peas. |
| Grains | Provide whole grains, such as whole-wheat bread, oatmeal, quinoa, or brown or wild rice. Limit refined grains such as white bread, pasta, and rice. |
| Dairy | Fat-free or low-fat dairy products, such as milk, yogurt, cheese, or fortified soy beverages, are healthier. |
| Healthy Fats | Vegetable and nut oils, olives, nuts, avocados, and seafood must add. |
Sourced from: How to Plan a Daycare Food Menu (With Weekly Sample)
Unhealthy Foods to Avoid
| | |
| --- | --- |
| Food Type | Examples |
| Sugar | Added sugars such as brown sugar, corn sweetener, corn syrup, and honey avoid them. |
| Saturated and trans fats | Animal fat from red meat, poultry, and full-fat dairy products |
| Sodium | Check product labels to ensure they are low in sodium. |
Sourced from: How to Plan a Daycare Food Menu (With Weekly Sample)
4 ways to keep the eating routine interesting
It is vital to incorporate a range of healthful meals to encourage healthy eating patterns in children because how they eat when they are young can indicate what foods will be preferred as they grow.
Serving a range of foods, like yogurt, ricotta-topped fruit slices, fruit smoothies, and thinly sliced fresh veggies, will help to encourage those early eating habits.
Young children like exploring the world through touch, smell, taste, and examination, so by offering a selection of finger foods in bite-sized portions for snacks, kids may get familiar with various possibilities.
Offer soybean beans, apple slices with sunflower butter, avocado on toast triangles, muffin cups full of fruit, or soybean as a snack.
The food at childcare facilities must offer choices. Consider vegetarian and vegan alternatives when creating a meal, as well as frequent problems like lactose or gluten sensitivity, allergens like peanuts, and family preferences.
Pick a meal considering children's dietary preferences, age, and developmental stage, keeping in mind an engaging menu that features a variety of meals from various ethnic backgrounds.
Due to parental choices, religious reasons, or personal preferences, many kids avoid particular meals. Look out for tips and questions coming next. Keep reading.
8 Questions to ask daycares about meals as a parent
When considering sending their child to a daycare center, parents should take the matter more seriously as the child will be going for a long time. On the parent's part, they need to ask questions from the staff before sending the kid to the daycare center.
Here are a few questions and information that parents can share and discuss with the childcare center staff.
Ask to see the weekly menu, so you know what your child will eat.
Ask how many meals and snacks are given to the child.
Ask for your child's eating pattern and how much is the kid eating every day
Ask the staff how meals are prepared and look around to see if they have a kitchen open for visiting.
Ask who is creating the menus and if they follow the nutrition guidelines.
Tell them about your kid's likes and dislikes.
Talk about if there are any dietary restrictions or any religious prohibitions.
Any concerns related to what your child eats at the daycare center must speak to the supervisor.
6 Quick tips for parents
In this blog, we will suggest some helpful tips that you can use with literally any food item.
When you plan on cooking for your kiddo's lunchbox, try not to add any new food items first. Try it at home.
Add finger food to the lunch pack.
If you are adding fruit or vegetables, cut them into small pieces, so your baby doesn't choke on them.
Add variety to the lunchbox and mix up food to make it look more appealing.
Adding nuts or other dry food items is the best snack-time option.
Keep less quantity of water or milk in food, as the chances are great for it to go bad.
Conclusion
Daycare centers are always ready to lend a hand when you can't spend the whole day with your child. Some daycare places are not prepared to cater to your needs; for moms, you better pack a lunch box for your child.
Always take a report of your child's eating habits from the staff. If formula milk is not provided, you should talk to the supervisor about any extra charges they take.
I hope this blog post helps you, as there is all you need to know.