7 Creative Ideas For Kids Daycare Rooms: Budget-Friendly Ideas
How is your daycare treating you? Are you facing space issues managing your home daycare? And looking for creative ideas to manage daycare room space while staying on the budget.
Have well-structured daycare rooms by creating designated areas for different activities, flexible seating options, installing room dividers, and many explore other creative ideas for accessible storage.
Read more and get to know 7 Budget Friendly Daycare Rooms, 7 Tips For Daycare Rooms, and Critical Considerations For Creative Daycare Room Setup Ideas so that you can save your time and resources to attract more parents and create a vibrant atmosphere in your daycare.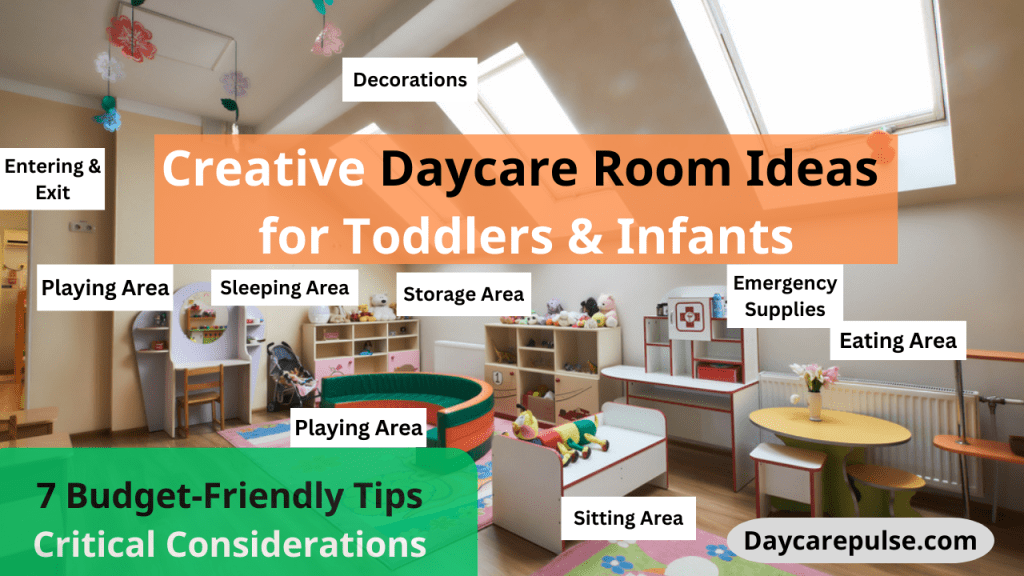 7 Budget-Friendly Creative Ideas For Infants, Toddlers & Pre-schoolers Daycare Rooms
Designing a daycare space is like painting a canvas with creativity and purpose.
The room layout, colors, and activities combine to create an enriching environment for kids.
Let's explore innovative ideas for each area within the daycare structure that cater to infants, toddlers, and preschoolers.
1. Design Areas: Daycare Structure Ideas
Designing a daycare space tailored to infants, toddlers, and preschoolers is a journey of imagination and love.
Incorporating these creative ideas ensures that every corner of your daycare room serves a purpose, stimulating young minds and fostering a love for learning.
Reading Area
Infants – Soft, cushioned mats with plush board books. Hang colorful mobiles overhead to stimulate their senses.
Toddlers – Low bookshelves stocked with interactive picture books. Create a reading corner with comfy bean bags and stuffed animals.
Preschoolers – Provide a reading nook with colorful bean bag chairs, a small reading table, and various picture books, storybooks, and beginning reader books.
Activity Area
Infants – Floor-based tummy time mats with hanging sensory toys. Mirrors at low levels for self-discovery.
Toddlers – Child-sized tables with washable surfaces for painting, drawing, and playdough fun. Display their artwork on a designated art wall.
Preschoolers – Activity tables with LEGO sets, building blocks, and arts and crafts supplies. Include a showcase area for their masterpieces.
Playing Area
Infants – Soft play mats with gentle, age-appropriate toys that encourage exploration and crawling.
Create a soft sensory wall with fabrics, soft toys, and baby-safe mirrors for touch and visual exploration.
Toddlers – Imagination corner with play kitchens, dollhouses, and dress-up clothes. Promote social play and role-playing.
Set up a sensory table with colored rice, water beads, and kinetic sand. Let them squish, mold, and discover.
Related: Daycare Playroom Ideas
Preschoolers – Provide a variety of learning centers, such as a science corner with simple experiments, a cozy reading corner, and a pretend play area.
Offer themed sensory bins filled with colored pasta, textured materials, and scented objects. Please encourage them to explore, sort, and experiment.
Nap Area
Infants – Individual cribs or soft cots with soothing music and dim lighting. Ensure a safe, quiet, and peaceful atmosphere.
Toddlers – Nap mats with their favorite blankets and stuffed animals. Create a cozy and relaxing ambiance.
Preschoolers – Provide small, comfortable mats for nap time. Use soft music or calming stories to help them unwind.
Related: Daycare Nap Room Ideas
Eating Area
Infants – Highchairs with comfortable cushioning for feeding. Incorporate soft music or lullabies to create a pleasant mealtime experience.
Toddlers – Child-sized tables and chairs for independent dining. Use colorful placemats and child-friendly utensils to make meals engaging.
Preschoolers – Set up dining tables with a fun theme, like a pretend restaurant. Encourage kids to help set the table and serve their meals.
Related: Daycare Kitchen Ideas
Bathroom Area
Infants – Baby changing stations with gentle lighting. Ensure a peaceful environment for diaper changes.
Toddlers – Child-sized toilets and sinks for potty training. Use colorful, child-friendly décor to make it inviting.
Preschoolers –Teach independence with step stools and child-sized hygiene supplies. Make handwashing an enjoyable ritual with fun, foamy soap.
Related: Daycare Bathroom Ideas
Entering & Exit Area
Infants – Hang colorful mobiles and baby-friendly artwork to engage their senses from arrival.
Toddlers – Add low hooks for backpacks and jackets to encourage independence. Display their names and artwork to make them feel at home.
Preschoolers – Create a bulletin board for important announcements and art displays. Use their artwork to create a sense of ownership in the daycare.
Related: 10 Daycare Entrance Ideas
2. Install Flexible Seating
Flexible seating options provide comfort and adaptability. Consider the following ideas:
Floor Cushions – Scatter colorful and comfortable floor cushions throughout the room to create cozy spots for children to relax, read, or engage in activities.
Bean Bags – Child-sized bean bags offer a fun and comfortable seating option. Choose various colors and textures to cater to different preferences.
Small Stools – Incorporate small, lightweight stools that can be easily moved around. Chairs are ideal for activities that require a little extra elevation.
3. Use Multi-Purpose Furniture
Multi-purpose furniture is a fantastic way to optimize space and functionality. Here are some options to consider:
Furniture With Built-in Storage – Choose tables, chairs, and benches with built-in storage compartments. These pieces not only serve their primary function but also help keep the room organized.
Ottomans With Hidden Compartments – Ottomans can provide extra seating while concealing hidden storage spaces. They are perfect for storing toys, books, or art supplies.
Tables With Drawers – Select tables with drawers to store art materials, puzzles, or board games. These tables serve as workspaces while keeping the room clutter-free.
Read on: Where Can I Buy Daycare Furniture?
4. Custom Mobile Storage Units
Mobile storage units offer versatility and adaptability. You can customize these units to suit your specific needs and preferences. Consider the following options:
Wall-Mounted Storage
Wall-mounted storage solutions are excellent for saving floor space and keeping things within easy reach. Here are some wall-mounted ideas to consider:
Shelves – Install sturdy wall shelves to display and organize books, educational materials, or decorative items.
Hooks – Use hooks to hang backpacks, jackets, or hats. Clips can be placed at different heights to accommodate children of various ages.
Pegboards – Pegboards are versatile for hanging and organizing small items, from art supplies to play costumes. Customize the layout to suit your needs.
Related: Equipment Needed for a Daycare Center
Mobile Storage Units
Mobile storage units offer versatility and adaptability. You can customize these units to suit your specific needs and preferences. Consider the following options:
Carts With Bins – These mobile carts come with bins that are perfect for storing art supplies, toys, or even snacks. They can be easily moved around the room for convenience.
Rolling Drawers – Incorporate rolling drawers under tables or workstations to keep materials easily accessible while maintaining a clutter-free surface.
Custom-Built Cubbies – Customize cubbies to fit the available space and needs of your daycare. These cubbies can store individual items, shoes, or even small backpacks.
Cubbies With Labeled Bins – Label the cubbies to help children identify and store their personal belongings. This fosters a sense of responsibility and organization.
Under-Bed Storage – Utilize the space under beds or bunk beds for additional storage. Consider using low-profile bins or drawers to keep items like bedding, extra clothing, or more giant toys neatly stored.
5. Use Flexible Furniture
Flexible furniture is a game-changer in a daycare room, as it can be tailored to meet the specific requirements of different age groups. Here are some ideas to consider:
Foldable Furniture – Opt for tables and chairs that can be easily folded and stored. This flexibility allows you to adjust the room layout quickly and accommodate varying group sizes and activities.
Foldable Tables – Invest in tables with foldable legs that can be adjusted to different heights. These tables can serve as versatile workstations for arts and crafts, group activities, or mealtime.
Stackable Chairs – Choose stackable chairs that are easy to store when not in use. They can be quickly rearranged to accommodate different group settings. Select child-sized stackable chairs for convenience.
Fold-Down Desks – Install fold-down desks along the walls to create individual workstations for activities like drawing, writing, or reading. These desks can be folded when unused, freeing up floor space.
6. Creative Decor and Features
By incorporating this creative decor and features, your daycare room can become a haven of inspiration and learning.
1. Rotating Art Display
Install a rotating art display that showcases children's artwork. This not only boosts their self-esteem but also adds a vibrant and ever-changing decorative element to the room.
Use child-friendly materials like clips or magnetic boards to make it easy to switch out the artwork.
2. Sensory Boards
Sensory boards are a fantastic addition to your daycare room. These wall-mounted boards feature various textures, providing children with tactile experiences.
Consider incorporating fur, sandpaper, or fabrics to create a sensory-rich environment.
Related: Bulletin Board Ideas for Daycare
3. Interactive Room Layout
Involve the children in setting up the room. Let them participate in arranging the furniture, choosing the location of play areas, and decorating the room.
This interactive approach not only fosters a sense of ownership but also encourages decision-making and creativity.
4. Wall Decor
Decorating the walls can transform the look and feel of your daycare room.
Related: Daycare Wall Decoration Ideas
Consider the following ideas:
Room Themes – Design the room around a particular theme. Whether it's a jungle adventure, an underwater world, or a space odyssey, a themed room can spark children's imaginations and make learning more engaging.
Pro tip: You can add paintings in the room to keep in colorful, so read on Daycare Painting Ideas
Clipboards for Hanging Children's Artwork – Hang clipboards on the walls where children can display their masterpieces. This makes the room more personalized and allows children to showcase their creations proudly.
Interactive Wall Decals – Opt for interactive wall decals featuring educational elements like numbers, letters, or animals. These decals not only decorate the room but also serve as learning tools.
Related: 8 Daycare Room Setup Ideas
7. Room Dividers and Partitions: Ideas For Small Spaces
Room dividers are a fantastic way to create separate spaces when needed. Consider the following ideas:
Foldable Room Dividers – Use foldable room dividers that can be easily stored when not in use. These dividers can be quickly set up to delineate areas for play, learning, or napping.
Portable Partitions – Wheelable partitions provide flexibility in arranging your daycare room. You can effortlessly create different sections for different age groups or activities.
Ceiling-Mounted Curtains – Install ceiling-mounted curtain tracks to hang curtains that can be drawn or pushed aside as needed. This allows you to have open spaces or separate sections for various activities.
Curtain Panels – Use curtain panels to create smaller nooks within the room. These can be reading corners, play areas, or cozy nap spaces.
Related: Home Daycare Ideas For Decorating
7 Amazing Tips For The Creative Daycare Room
The following 7 tips will help you create the best space possible for your child. Do you want to learn more about the home daycare setup in the living room?
Our fantastic guide on this topic will surprise you and give you unique ideas. Set up room in daycare wondering where to read? Here you go.
Read on Complete Guide to Small Home Daycare Setup in Living Room.
1. Keep It Colorful
The use of color is a critical aspect of any playroom design. You can arrange the playroom in various colors with so many options available. The most important thing to remember when choosing colors for your child's room is to keep it bright and colorful.
2. Keep It Cozy
To keep the room warm and inviting, you'll want to use a variety of textures of fabrics, cuddly toys, etc. It would help if you ensured the children were comfortable in their space.
This includes ensuring the temperature is correct, and toddlers' body temperatures fluctuate more rapidly than adults, so they may sometimes feel too hot or cold.
3. Make It Flexible
A good daycare room setup can accommodate different activities. You'll want to ensure enough space for the children to play, learn and eat.
You'll also want a place where the kids can nap if tired. Ensure your daycare room setup is flexible so You can use it differently throughout the day.
4. Create Zones
You can use different colors to create zones, such as a red zone for the bathroom and a blue location for the bedroom. You can also use different textures to create zones.
Try an area rug on the floor made of soft wool or cotton, compared to one made from stiff synthetic materials like nylon or polyester.
There are many ways to create sensory-free zones in your daycare room without having any distractions at all! But if you're looking for ideas about how much sensory overload is too much, keep reading!
5. Give Kids Space To Roam
Make sure your daycare room is safe. Give kids space to roam. This will help them stay active and make friends with other kids. Be creative in arranging the play area, but remember that children's safety should always be your top priority.
Read on: Daycare Flooring Ideas
6. Make It Safe
Safety is a top priority when it comes to daycare. The Centers for Disease Control (CDC) estimates that, on average, 2,000 children are injured in non-fatal accidents yearly, and over 400 unintentional injuries.
To ensure the safety of your child, be sure that you.
Keep small objects out of reach during playtime. Children can choke on buttons, beads, and other small items like pens or pencils if they get into their mouths.
Please ensure all stairs leading up to the daycare area have gates at the top and bottom so your child cannot accidentally fall them.
Avoid placing windows directly above a crib/playpen where small children could climb onto them and fall through the glass panes above. It also wouldn't hurt to keep blankets covering these windows so that nothing falls in when you don't have them closed yet!
If accidents happen anyway (they always do!), ensure an ample supply of first aid kits throughout the daycare center rooms. Hence, everyone knows where they're located if someone gets hurt while playing games together on rainy days like today."
7. Keep Room Organized
The room is your student's home away from home. It's essential to make it feel as welcoming as possible. You'll want to organize the space into manageable categories for your students to understand and remember.
One way you can do this is by organizing the room by subject i.e alphabetize books by title under each wall color (red, blue, and green), or organize art supplies in drawers according to their shape (triangles go on top of squares).
Another way would be by activity. Create a place for painting/coloring supplies near a window so that kids can see outside while working on projects; keep musical instruments stacked together so that they're easy for kids who are learning how to play them; divide up blocks into sections based on age groups (for toddlers) or size groups (for older children).
If you'd like an even easier option, consider organizing things based on their physical characteristics, such as texture and color, instead of purpose or location; this will help keep things looking neat without sacrificing organization!
Pro Tip: A well-planned daycare classroom can help the children learn and explore in a safe environment.
What Are The Key Considerations For Daycare Room Setup Ideas?
There are many factors to consider when selecting a daycare setup for your child. Here are 4 of the most important factors to consider.
1. Safety
Safety is always a top priority, so ensure you know what materials and toys are used in the daycare's play area. You can also ask about any safety measures they have in place, such as emergency exits or a sprinkler system.
2. Age-appropriate activities
The activities offered in the daycare should be appropriate to your child's age and interests. For example, if your child loves art projects, look for a daycare with an art table available so they can do their work instead of just coloring with crayons on paper.
Read on: 43 Activities for Infants in Daycare
3. Structure
Look for a daycare that offers structure and discipline through consistent rules and routines while providing daily fun activities (like art projects).
4. Parent involvement
Find out if parents are welcome at any point during the day or if they can participate in activities with their children outside of drop-off and pick-up times.
FAQs
1. How Do I Layout by Daycare Room?
The most important thing to remember is that your daycare room needs to be safe and comfortable for the children.
You want to ensure that there are no sharp edges or corners that can hurt the children and enough space for them to move around without bumping into each other.
2. What Should I Put In My Daycare Room?
Your daycare room should have a variety of different types of furniture and equipment that are all designed for the specific needs of your business.
This will allow you to provide a wide range of activities for your children and give them different areas where they can play and interact with one another.
Some examples include play kitchens, bookshelves with toys, puzzles, train tables, dollhouses, dress-up clothes, and more.
Plenty of seating is also essential so everyone can be comfortable playing or working on an activity together. This can include benches, chairs, and stools or cushions on the floor for reading or nap time if appropriate for your age group.
3. What Type of Toys Should I Buy?
It would be best if you bought toys that encourage creativity and learning. Toys that promote problem-solving, like puzzles and building blocks, are great choices because they help kids develop critical thinking skills.
You should also buy educational toys that teach letters, numbers, and other concepts and books to help your child learn to read early.
Read on: Best Toys for Daycare | Must have toys for all daycares
4. How Do You Make Homemade Room Decor?
These DIY ideas are budget-friendly and allow you to add your personal touch to your room decor.
Custom Wall Art: Create canvas paintings or photo collages with printed pictures.
Upcycled Furniture: Refurbish old furniture with paint or decoupage.
Handmade Wall Hangings: Craft macrame or fabric hangings.
DIY Lighting: Make paper lanterns or mason jar lights.
Personalized Pillows: Decorate plain pillow covers with markers or photos.
Wall Decals and Stickers: Design vinyl decals or create sticker art.
Personalized Corkboard: Customize a corkboard with fabric or paint.
Related: Home Daycare Ideas For Decorating
5. How to Make Cheap Room Decor?
Get creative with DIY projects like customized wall art, upcycled furniture, handmade wall hangings, DIY lighting, personalized pillows, wall decals and stickers, and a personalized corkboard.
6. How Do I Style My Room Ideas?
Style your room with personalized decor, creative furniture arrangements, attractive color schemes, proper lighting, and functional storage solutions. Incorporate your personality and preferences into the room's design.
Conclusion
The best daycare rooms are the ones that give kids a space to learn, play, and explore. They need to be safe and colorful, but they also need flexible furniture that allows children to create their own spaces within the classroom.
The teacher needs to be organized and prepared with everything she needs; most importantly, she must create an atmosphere where everyone feels comfortable learning together!