Are you a daycare owner trying to figure out the best daycare bathroom ideas? Having bathroom amenities stocked and easily accessible in your daycare facility is essential for ensuring the health, hygiene, and overall comfort of the children under your care.
If you're looking for tips to help make your daycare's restrooms inviting and fun for children of all ages, consider these 4 bathroom setup ideas.
Diaper Changing Stations
Wall Decorations for Bathroom
Diaper Storage
Step Stools for Kids
Let us help you kickstart your journey today toward designing the perfect daycare restroom area that is safe, clean and creative! For instance, I have curated 4 daycare bathroom ideas, 6 proper placement tips and, most importantly, 4 bathroom setup factors to consider so you can acquire confidence, satisfaction, and inspiration in creating an ideal space for young ones.
So keep reading for more inspiration on creating a fantastic bathroom in a breeze!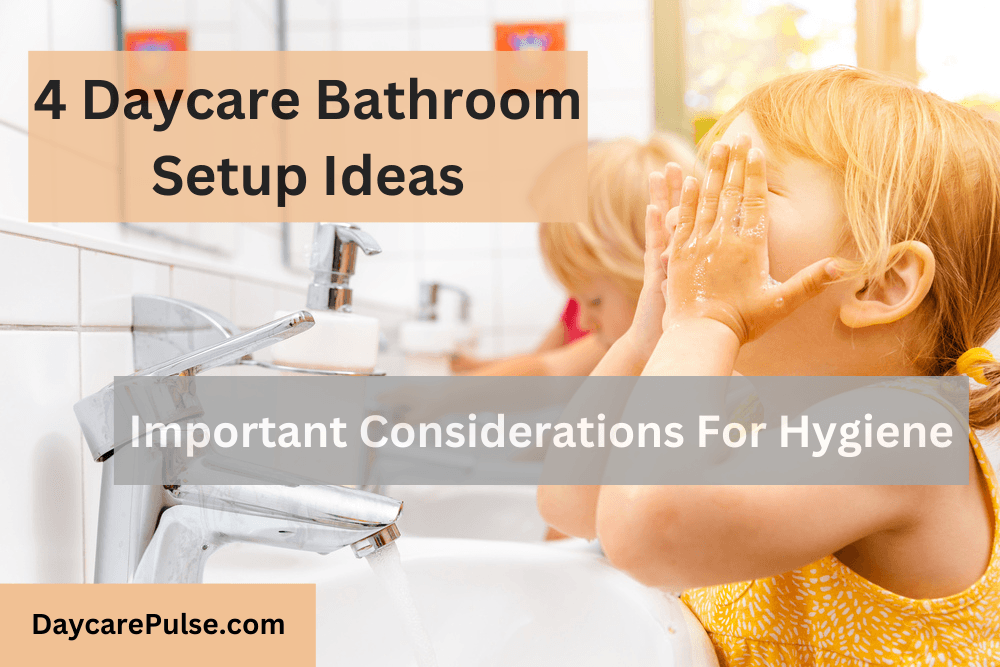 4 Daycare Bathroom Setup Ideas
Let's explore the bathroom setup ideas that will enable you to uphold your daycare bathroom at its highest level of safety and sanitation. Let's get started!
1. Diaper Changing Stations Daycare
Any daycare facility must have separate diaper changing tables: one for boys and one for girls, each within a restroom.
Furthermore, stock the apparel with disposable diapers, wipes and latex gloves to ensure sanitation is prioritized, plus an extra change of clothing in case of emergency. Above all else – always remember hand sanitizer!
2. Wall Decorations for Daycare Bathroom
Transform your daycare bathrooms into a captivating, stimulating space with imaginative wall decorations! From decals to posters and artworks to even an alluring mural painted on some of the walls – there is no limit to creating something unique.
Let their creativity thrive as they discover this vibrant new atmosphere alive with color. Your little ones will be in awe at what you have created for them!
3. Diaper Storage
Ensure maximum safety and hygiene in your daycare bathrooms by ensuring enough storage space for diapers.
By installing shelves or cabinets dedicated explicitly to storing these items, you can guarantee that they'll be kept away from prying eyes yet remain organized and accessible – this is an easy way to keep your little ones secure!
4. Step Stools for Kids
Enhance your daycare space by providing several step stools so children can independently access their bathroom sinks, toilets and fixtures.
They will gain greater self-confidence by granting this independence with the right tools nearby! Installing these valuable items around the room will be a game-changer for kids everywhere.
6 Proper Placement Tips
When designing your daycare center's bathrooms, ensure visibility and accessibility remain top priorities. All fixtures must be placed carefully to avoid any potential accidents or harm.
For instance, position light switches at a height right for children, while mirrors should stay low enough so that kids can see their reflections in them.
Additionally, keep hazardous items such as cleaning products out of sight from little ones' curious hands – this way, you guarantee the safety level of all kiddos around! These tips will help create an optimal atmosphere of security and care within your childcare facility!
1. Bathroom Fixtures to Maximize Visibility
Create a well-lit bathroom environment in your childcare facility; installing low-hanging lights and wall sconces near the mirrors is recommended.
This way, children can accurately observe themselves when brushing their teeth or washing their hands – an essential part of fostering healthy hygiene habits. Remember to keep all wiring and electrical outlets away from water sources for safety reasons!
2. Lightening
Adequate lighting is essential for creating a safe and pleasant daycare bathroom. To maximize visibility, position great light fixtures throughout the area – particularly near sinks and toilets to enable youngsters to see what they're doing.
For added appeal, install bright task lights above mirrors or low-hanging luminaries close to the ground that are easy to turn on/off!
3. Infrastructure
When planning your daycare's bathroom, consider safety, sanitation and comfort. Ensure the fixtures, so children can move around freely without feeling cramped or overwhelmed.
For added security, install non-slip floor mats throughout areas where water may accumulate on the ground to prevent accidents from occurring while they use it. With these essential steps, you can confidently provide a safe atmosphere for your cherished guests!
4. Walls
Transform your daycare's bathrooms into vibrant, inspiring spaces with beautiful wall art and vivid colors!
For added convenience, install hooks near the sink and toilet areas to hang towels or other necessary items. Transform those walls from an ordinary backdrop to a unique feature that will invigorate children's imaginations!
Read these 6 Daycare Wall Decoration Ideas.
5. Floors
Keep your daycare's bathrooms hygienic and safe; the floors should be covered with tiles or linoleum. These materials are easy to clean and disinfect, ideal for busy days at the center.
It would help if you also placed non-slip mats throughout these areas to prevent slips or falls due to wet surfaces in sink areas and showers.
By taking extra precautions like this, you can guarantee that your daycare facility is a secure environment for everyone who visits it!
6. Doors
In conclusion, be sure to install safe and reliable doors in all the bathrooms of your daycare. Furthermore, each entry should have a secure lock outside so no one can enter the restroom without supervision.
Also, near the handwashing stations, think about installing automatic door openers, so children never have to touch dirty handles while washing their hands.
Read my detailed blog on 5 Daycare Door Ideas
6 Functional Considerations For Daycare Bathroom
Creating the perfect daycare bathroom requires meticulous attention to detail. In addition to selecting durable, low-maintenance materials and a space-efficient layout, consider adding aesthetically pleasing features such as cozy seating areas or artwork.
Additionally, ensure your bathrooms have proper ventilation systems and physical safety requirements to guarantee an inviting yet secure atmosphere for children of all ages! With careful planning and execution, you can craft a restroom that kids can't wait to explore!
1. Durability
When selecting pieces for your daycare's washrooms, the utmost priority should be durability. Stainless steel fittings and flooring are ideal options because they can withstand constant use from children while requiring low maintenance.
Not just that, these materials also possess high water resistance to safeguard against any possible flooding incidents!
2. Easy Maintenance
When selecting materials for your daycare's bathrooms, make sure to pick options that are both simple and easy to keep clean.
Adding cabinets or shelves provide more storage space and keeps potentially hazardous items away from curious little hands! Select mold-resistant and mildew-proof material that can withstand frequent cleaning without damage to guarantee a hygienic environment.
3. Space Efficiency
Taking advantage of the available space is essential when designing your daycare bathroom. All fixtures should be adequately placed and comfortable for children to move around in quickly.
Moreover, shelves or extra storage compartments are necessary for safely organizing toiletries and other items. Considering these considerations during layout planning, ensure this room is as functional as possible!
4. Aesthetically Pleasing Elements
Transform your daycare's bathrooms into a vibrant and inviting atmosphere by incorporating captivating colors, playful wall artwork, and stylish fixtures.
These tasteful touches are guaranteed to add personality to the space and make it more enjoyable for children.
5. Ventilation
Keep your daycare's bathrooms healthy; adequate ventilation is essential. Installing a fan or window can both increase airflow and provide refreshing air to the restroom. It will help ensure that your bathrooms remain sanitary for all users!
6. Physical Safety
For the utmost security of your daycare center, it is essential to incorporate protective features like skid-proof floors, sturdily lockable doors and smooth fixtures. Furthermore, bolster safety measures by affixing child-safe locks on all cabinets that store hazardous items.
8 Daycare Bathroom Furnishing Tips
Outfitting your daycare's bathroom with the proper accessories is crucial for providing a comfortable and safe environment. Therefore, sinks, mirrors and storage containers are essential pieces of equipment that you must install.
In addition to these fixtures, adapted toilet equipment such as potty chairs should be provided for toddlers, while sturdy step stools should be available to help those who need assistance reaching the sink. For convenience, you should securely place a container for soiled diapers in an accessible room area.
1. Sinks
Ensure that each of your daycare's bathrooms includes one sink for the children to wash their hands. Choose durable sinks, easy to clean and safe for the little ones. Moreover, consider installing smaller sinks so toddlers can reach them with ease.
2. Mirrors
Incorporating shatter-proof mirrors attached to the walls in your daycare's bathrooms is an excellent way to cultivate positive hygiene habits in children. It will ensure you can avoid injuries from broken glass or loose fixtures.
3. Storage
It's essential to store things like toiletries and to clean supplies in areas inaccessible to kids. Seek out storage solutions that are simple to access and mount securely.
4. Adapted Toilet Equipment
To ensure the safety of children with special needs, adapted toilet equipment such as grab bars and elevated seats can make bathrooms easier to navigate. For optimal security, these items must be securely installed and inspected regularly for potential damage or wear and tear.
5. Toilet Paper
Without question, any daycare bathroom must be stocked with high-quality toilet paper! When selecting the right option for your facility, you should prioritize a non-toxic and biodegradable product that respects human health and our planet.
6. Potty Chairs For Toddlers
Potty chairs are crucial for assisting toddlers in learning how to use the bathroom independently. For additional support and stability, seek wider backrests and armrests that keep your tiniest daycare goers comfortable yet secure.
7. Sturdy Steps Stools
Incorporate durable step stools into each bathroom to help your daycare's children reach the sink or toilet more easily. Ensure these pieces of furniture can carry the weight of all your kids and are firmly mounted in place to limit their chances of slipping or falling.
8. Container For Soiled Diapers
Although it may seem insignificant, including a sealed diaper container in each of your daycare's bathrooms is essential for preserving the pleasant atmosphere you desire. It will help keep odors at bay, and children can also learn critical hygiene habits.
When selecting a receptacle, choose one that seals tightly and is accessible to empty and clean. Considering all these facets when furnishing your daycare's bathrooms, you will cultivate an inviting ambiance where kids feel safe while learning essential life lessons about keeping clean!
4 Factors to Consider For Daycare Bathroom Setup
When designing a daycare bathroom, you can ensure the utmost safety and convenience for everyone who visits by considering these essential elements. This way, you will create a pleasant atmosphere that both kids and adults will appreciate.
1. Safety
The safety of your daycare children should always be at the forefront when designing bathrooms. To minimize slips and falls, ensure that you choose non-slip flooring; furthermore, safeguard against shocks or electrocution by ensuring electrical outlets are not exposed in any areas easily accessed by kids.
Additionally, it's essential to fit all bathroom entrances with securely latched doors so little ones do not wander inside without supervision.
2. Non-slip flooring
Make your daycare's bathrooms a safe, stable place; non-slip flooring is essential. Not only does it provide added traction and reduce the chance of slips and falls, but you should also select a waterproof option, so it doesn't get damaged when wet and is easy to clean for maximum hygiene levels!
3. No exposed electrical outlets
To ensure the safety of young ones, cover all accessible electrical outlets with tamper-resistant receptacles. Scrutinize your wiring and guarantee it meets current standards of code – this will drastically reduce the odds of an electrocution-related electrocution-related incident occurring.
4. Securely latched doors
Installing secure latches on your bathroom doors is necessary to protect your children from unsupervised accidents.
Be sure to choose locks and latches that are easy for adults to open but difficult enough for kids to avoid being able to gain entry into the restroom by themselves.
Practicality
Establishing your daycare's restrooms should include practical components. It is necessary to provide individualized areas for sinks and toilets to uphold handwashing hygiene; if possible, consider including partitions between these two spaces.
Also, seek out surfaces that are incredibly durable yet easy to clean – this will significantly reduce the time you need to maintain it each week!
Lastly, storage containers can be exceptionally helpful in preventing overcrowded bathrooms from cleaning products or necessary supplies – make sure you have enough stowed away!
Separate Toilet And Sink Areas
Handwashing is necessary for keeping your children healthy, so providing separate restroom and sink spaces is necessary.
If you have the room to spare, why not incorporate separators between the two areas as a visual reminder that they should always clean their hands? Doing so will promote good hygiene while making it easier for them to learn this essential habit!
Durable Surfaces that are Easy to Clean
Make your life simpler by opting for long-lasting and easily cleanable surfaces, like tile or laminate. It will help you maintain hygiene and keep undesirable smells away from the room!
Storage For Supplies and Cleaning Products
Utilizing organized storage containers in each restroom will make accessing cleaning materials and supplies much easier when necessary.
Consider selecting accessible containers for the littlest children at your daycare center to grab what they require without climbing the furniture or struggling with opening a container.
This type of organization can save everyone some frustration!
Comfort
As you set up the bathrooms for your daycare, comfort should take center stage.
From adequate ventilation to keep the air fresh and a comfortable seating area for children who need to rest, all these elements will ensure that your bathroom is an inviting space.
You could also add cheerful wall decorations to bring life and color into the room.
Accessibility
To ensure that all the children in your daycare can safely and efficiently access restrooms, consider adding low sinks, toilet handles for little ones to reach fixtures easier, and storage containers so they can independently get supplies. It will enable them to use the amenities without anyone else's help.
Education
Besides creating a safe and comfortable environment, teaching children proper bathroom etiquette as they develop is essential.
You can achieve this by hanging posters in each restroom showing the steps for washing their hands and using the toilet properly. Your daycare staff can also give lessons during bathroom visits to support these behaviors.
Parent Involvement
Ultimately, ensure that parents are part of setting up your daycare's bathrooms.
Welcome their ideas on creating a space best suited for their kids and making them feel involved with decorating or organizational tasks. It guarantees you and your families benefit from an optimized bathroom system in your daycare center.
Fun
Integrating fun into any daycare is essential, including the bathrooms! Music and stories can be a great way to bring an inviting atmosphere for kids.
You could even add sensory items like bubbles or sand tables in the restroom that would promote exploration and learning. Designating arts and crafts areas will allow children to express their creativity while using the toilet, making it less of a task and an enjoyable experience.
These activities keep youngsters focused and motivated during bathroom visits, so this daily routine does not discourage them.
Multi-tasking
When designing your daycare's bathrooms, maximizing the space is essential. Install a changing table or diaper station for the littlest children in your care, and make sure there are laundry baskets close by to store used linens.
Utilize shelves or hooks to save floor space while making jackets, backpacks, and other items easily accessible for everyone! By being creative with this area of your facility, you can ensure that each person takes full advantage of the available resources.
4 Considerations For Daycare Bathroom Sanitation and Hygiene
No matter how fun and inviting you make the bathrooms at your daycare, proper sanitation and hygiene are essential for a healthy environment.
It means regularly cleaning the restrooms to prevent spreading bacteria and ensuring that fixtures, such as toilets and sinks, are in good working condition.
1. Strategically Placing Towel Racks
A great way to encourage good hygiene habits in your daycare's bathrooms is by strategically placing towel racks.
This way, children can quickly grab a fresh one after washing their hands and will be less likely to spread germs by reusing the same towel.
2. Hand Dryers to Minimize Germ Spread
Installing hand dryers in your home or business can be beneficial when it comes to reducing the spread of germs.
Kids can use them without concern since they use warm air instead of a shared towel, eliminating any possibility of contact with other people's bacteria.
3. Design Features That Encourage Good Handwashing Habits
Transform your daycare into a hygiene haven with splash-free sinks and faucets that turn off automatically, as this will help promote proper handwashing.
Keep little ones engaged by setting up automated soap dispensers in the sink area to make it easier for them to get adequate soap without using too much.
Additionally, liven things up with visuals or signs featuring beloved cartoon characters washing their hands correctly near the sink – adding these can encourage children to maintain good habits even further!
4. Installation of Automatic Soap Dispensers and Faucets
Ultimately, you should install automatic soap dispensers and faucets to save time and money cleaning your daycare's bathrooms.
It will reduce the need for manual labor, which can be tedious and costly. Not only that, but these tools are also more sanitary since they prevent bacterial spread from multiple users.
Frequently Asked Questions
What to Keep in Mind When Building a Bathroom?
Crafting a bathroom requires mindful consideration of the layout, installing technology such as automatic soap dispensers and faucets to foster handwashing efficiency, and placing towel racks for added convenience. You should also choose design elements with hygiene in mind.
How Do I Choose a Bathroom Layout?
To design the optimal bathroom for your daycare center, reflect on its small visitors' age, size and requirements. It will help to create an area that is both practical and cozy.
What are 2 Things to Consider When Designing a Bathroom?
Two important considerations when designing a bathroom for daycare are sanitation and hygiene, as well as maximizing the available space.
Utilizing shelves and hooks to store items can help keep the area clutter-free while installing automatic soap dispensers and faucets will allow for more efficient handwashing.
Additionally, adding visuals near the sink – such as beloved cartoon characters washing their hands correctly – can help encourage children to maintain good hygiene habits.
Conclusion
The ideal daycare bathroom can be manageable with the right tips and information. Ensure your facility with safety features, automated soap dispensers, faucets and other technologies.
Furthermore, promoting good hygiene practices through resources such as signs or posters can create an inviting atmosphere for little ones without compromising cleanliness.
Considering these considerations, designing a child-friendly restroom should not cause unnecessary stress! You can easily create an attractive, functional daycare bathroom with strategic planning and thoughtful design!