Outdoor Daycare Ideas: 11 Unique Daycare Outdoor Activities
Hello Daycare Owners!
Do you want to ensure your daycare stands out and provides children with a remarkable experience? Are you searching for different methods of keeping kids engaged, entertained, and having an incredible time?
Here are 11 ideas for taking your daycare outdoors to help provide children with stimulating activities and an unforgettable time at your facility!
Gardening and Nature Crafts
Water Play
Games & Team Building Exercises
Music, Art & Performance Opportunities
Sports & Athletics
Outdoor Education Experiences
Free Time Options
DIY Toy Shed
DIY Playground
Play Houses
Swing Set Plans
In this blog post, I have curated 11 daycare outdoor activities, outdoor setup essentials, safety considerations and outdoor setup preparing and planning ideas so that you can keep your daycare kids entertained and having fun.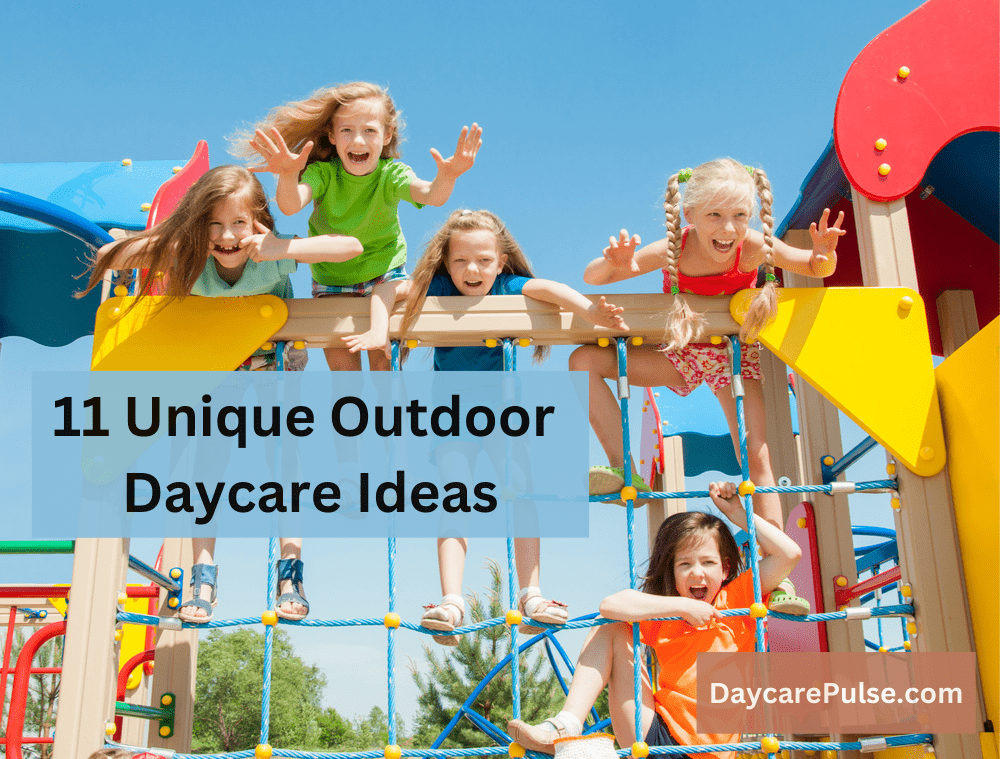 11 Daycare Outdoor Activities
Make the most of your time outdoors today and give your children an unforgettable adventure! These eleven outdoor activities will help you make that happen.
Let them explore, uncover new things, and learn about nature with all its beauty.
1. Gardening and Nature Crafts
Inspire children to venture outside by participating in garden-related tasks! Plant an array of flowers, shrubs, or trees and create awe-inspiring objects from natural materials. Working with nature helps kids discover the beauty around them while learning significant lessons about preserving their environment.
2. Water Play
Let your children's creativities shine through water play! Fill a kiddie pool and add a sprinkler for hours of entertainment. Utilize recycled materials such as hoses, boxes, or containers to craft homemade toys that fascinate their minds.
Moreover, this activity is an incredible opportunity for them to learn fundamental scientific concepts like evaporation and pressure without feeling like schoolwork!
3. Games & Team Building Exercises
Get those kids revved up and running with some outside team-building drills! These fun experiences will assist children in forming friendships while at the same time helping to boost their self-esteem.
Recreational activities such as tag, scavenger hunts and relay races are surefire ways for them to have an unforgettable time.
4. Music, Art & Performance Opportunities
Ready for a symphonic masterpiece? Get the instruments out and let the kids make their compositions!
They can even create art pieces with natural materials like leaves, twigs, and rocks. Why not organize an exciting performance with scripts and costumes so that they can show off their artistic side? Let's bring on a night of creativity!
5. Sports & Athletics
Allow your children to discover various sports activities while playing basketball, soccer, or frisbee in the yard – a fantastic way to keep them healthy and mentally alert! Plus, they'll have an incredible time doing it.
6. Outdoor Education Experiences
Nurture young minds and foster a deep appreciation of the environment by taking learning outdoors. Have children take delight in exploring their daycare's surroundings, whether observing wildlife, gathering insects, or examining plants and trees. Immerse them in nature for an education that goes beyond textbooks!
7. Free Time Options
Give the children a chance to play and explore the great outdoors! Let them run free, use their imaginations, and discover what nature offers.
It is a fantastic way for kids to stay active while allowing their creative juices to flow. Allowing them some unstructured freedom will help nurture their curiosity and spark innovative ideas.
8. Diy Toy Shed
Transform your outdoor space into a cozy corner for kids to play, explore and unleash their wildest imaginations!
A fun-filled area with exciting toys like wooden blocks, stuffed animals, and musical instruments – the possibilities are truly endless. Let them create an adventure of their own in the comfort of this inviting playground!
You may also like to read: Best Toys for Daycare | Must have toys for all daycares
9. Diy Playground
Transforming your outdoor space into an enjoyable playground is a fantastic way to get kids involved in physical activities while they have hours of fun!
Get creative with swingsets, slides, sandboxes and other delightful features that will surely be the talk of the town.
10. Play Houses
Let your children's imaginations run wild in a custom-built playhouse! An array of props, like dollhouses, cars and action figures, will provide endless opportunities for fun not to mention the cozy atmosphere designed solely with their creative joy in mind.
Make sure they have space never to craft before-heard stories and explore ideas that might otherwise remain unthought.
11. Swing Set Plans
Transform your backyard into an entertaining paradise by constructing a swing set from scratch!
It's a fantastic way to help children hone their gross motor skills and offers them a secure and thrilling space for hours of fun.
Daycare Outdoor Setup Essentials
Here are some of the daycare outdoor setup essentials.
1. Equipment
You have plenty of options for creating a fun and safe outdoor space for children.
From DIY playgrounds, classic swing sets and playhouses to sandboxes galore, something age-appropriate out there will bring your little one joy.
Choosing suitable toys or activities can also guarantee the best outdoor experience!
2. Capacity
When selecting equipment, it's essential to consider each item's capacity and ensure enough space for everyone. However, with an intelligent plan, you can ensure that children have plenty of fun activities they can join!
3. Themes
Elevate the fun of your backyard with various themes! From bold colors and captivating patterns to stimulating stories, you can craft an environment that will attract children and be conducive to learning. They'll acquire knowledge by adding educational activities alongside decorations while enjoying themselves.
4. Layout
Creating a practical layout for your outdoor space is critical to ensuring that kids can easily access different areas and engage in physical activities such as running, playing games or tagging.
Consider having designated zones for different types of playtime fun while allowing enough room for everyone to move around freely and enjoy the area without overcrowding.
5. Age Appropriateness
Last but not least, verify the suitability of every game or item for each age group. You must ensure everything is secure and appropriate for all kids so everyone can participate in fun activities without feeling excluded. Since different ages have distinct requirements, always check the safety regulations before buying anything.
6. Safety Considerations
Ensuring your kids are safe is paramount when it comes to having fun. There are a few key aspects one must keep in mind.
With proper planning and vigilance, you can develop an outdoor area that everyone will find pleasurable! Keeping safety at the forefront of your endeavors guarantees children and adults an enjoyable time without worry.
Terrain
Installing a playground in your backyard is thrilling, yet you must guarantee that the terrain of your garden stays flat even for safety reasons.
It's essential to keep uneven terrains away from play areas as they can create serious threats, so when designing a playing space, make sure the surface remains level with no stones or hard items nearby.
Sun Protection
Install a canopy or shade sail over their play area to protect kids from the sun. It will be a great way to keep them from getting too much exposure and suffering from heatstroke or dehydration.
Fencing
By installing a fence around your yard, you can add extra privacy to the area and ensure that children play within the safety boundaries.
From different sizes and materials to various designs, there is an array of options from which you can choose one that best suits your garden's size and style.
Surfacing
Safety is paramount in outdoor play areas, and having a high-quality soft surface is critical.
Rubber mulch or artificial grass are both excellent materials for this purpose; they absorb the impact from falls, which helps reduce potential injuries and is easy to clean after rain. A good quality soft surface can make all the difference in your playground!
You may also like to read: Daycare Flooring Ideas |Safe Childcare Floor
Daycare Outdoor Preparation and Planning
Start by finding an area that suits your budget and has enough room to accommodate all necessary items.
After verifying that all safety guidelines are followed, decide which materials will be most suitable given the capacity limitations.
Subsequently, select supplies and equipment that fit the age range of your kids. Remember to include exciting themes with vibrant color schemes to maximize fun and amusement on your trip!
Location Considerations
When organizing outdoor activities, always be aware of the environment and any potential risks or obstacles that could endanger children.
Ensure two adults are nearby while kids are playing to ensure safety is kept in check. Additionally, steer clear of water sources or areas with deep holes or trenches, which may create hazardous scenarios for small ones who do not understand the dangers they can pose.
Budgeting & Financing Options
It's easy to create a secure and exciting playground for your children, even on a budget! Carefully assess what pieces are essential for each game or activity before allocating funds.
Additionally, investigate financing options in order to get the most bang for your buck. With careful planning, you can ensure that the outdoor area is safe and entertaining – at an affordable price too!
Safety Guidelines
It would help if you always prioritized safety to ensure everyone has a good time and avoid potential injuries or accidents.
Please familiarize yourself with the relevant guidelines, double-check all equipment for suitability according to the age range of the children playing in that area, and ensure someone is always supervising them. Taking these precautionary steps will guarantee an enjoyable experience for all involved!
Supplies and Equipment
It is essential to offer them a variety of activities and equipment. The possibilities are endless, from traditional swing sets, trampolines, slides, playhouses or sandboxes to sports-related items!
Also, why not consider materials like markers or chalk so your little ones can draw their designs? With such a great selection, you can customize the perfect play area without breaking the bank.
You may also like to read: 10 Daycare Entrance Ideas: Childcare And Daycare Designs
Benefits Of Outdoor Play Area
Outdoor play areas are an excellent way to foster children's physical, emotional and cognitive development. They also provide numerous benefits that positively impact every child's learning experience.
Physical Benefits
Outdoor play areas provide a secure setting in which kids can hone their gross motor abilities, sense of balance, coordination, and physical fitness.
They learn to investigate the world through this dynamic environment while developing confidence and social interaction. Moreover, outdoor activity may assist with reducing anxiety levels by giving children an opportunity to express energy efficiently.
Emotional Benefits
Outdoor play areas are the perfect environment for children to foster communication skills, establish peer relationships, and develop creative problem-solving strategies.
Through outdoor activities, kids can also gain perspective on different points of view while learning how to work collaboratively – two critical elements in building strong leadership qualities.
Moreover, this type of physical activity has been proven to help them become more resilient and independent thinkers who can take the initiative when faced with difficult circumstances.
Cognitive Benefits
Outdoor play is the perfect opportunity for children to expand their cognitive development. With activities ranging from counting games and puzzles or constructing objects with natural materials, they can learn foundational concepts that will prove invaluable in life.
Additionally, the outdoor play also helps improve concentration and focus, as well as a child's ability to think on their feet quickly when necessary.
Frequently Asked Questions
1. Why is Outdoor Play Important In Childcare?
Outdoor play is essential for childcare as it provides physical, emotional and cognitive benefits to promote children's development.
It encourages gross motor abilities, balance and coordination and can help reduce anxiety levels. It also fosters communication skills among peers and creative problem-solving strategies.
2. How Long Should Kids Play Outside?
The amount of time spent playing outside should depend on the children's weather, group size, and physical ability.
Generally speaking, kids should be encouraged to play outdoors for at least an hour each day as long as it is safe.
3. What Should Be Included in the Outdoor Play Environment?
When planning an outdoor play environment for children, it is essential to consider the type of activities and equipment it should include.
A wide range of supplies is available, from traditional swing sets and trampolines to sports-related items and chalk for drawing.
Additionally, always ensure safety precautions, such as assessing suitability according to age group and placing safety mats under swings or trampolines.
Conclusion
For children in childcare, outdoor play areas are only sources of physical, emotional and cognitive growth. Plus, with the abundance of options, crafting your customized area without spending too much money is a breeze. Consider these advantages and factors when designing your space – guaranteed that kids will love it!