How to Start Home Daycare in Newyork: Complete Startup Guide
Are you considering opening a home daycare in New York but feeling lost in the details? Don't worry; I have got you covered!
Let's get straight to the point. To open a home daycare in New York you need information about startup costs, state requirements, liability insurance and many more.
In this guide, I will walk you through the steps and requirements to kickstart your home daycare journey in the bustling city.
From getting the proper licenses to creating a welcoming space for little ones. I will simplify the process so you can confidently start and run your home daycare.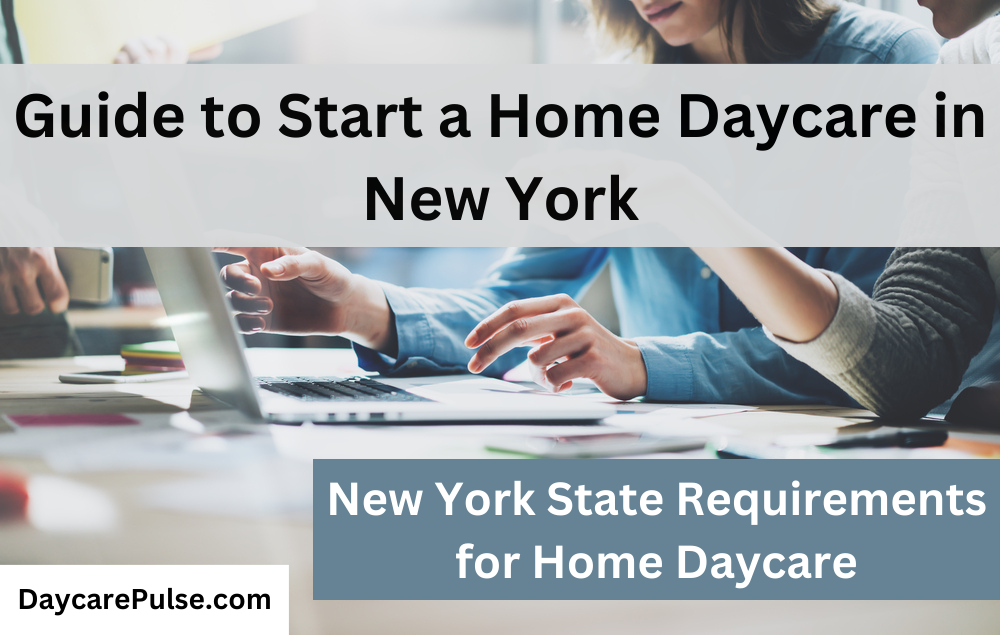 New York Home Daycare State Requirements: Guide
All childcare programs in New York, including home daycares, are overseen by the Office of Children and Families Services (OCFS). Home daycares are termed Family Day Care, divided into regular (up to 6 kids) and Group (up to 12 kids with an assistant).
Choose based on space and preference. Need a license? OCFS requires it if caring for 3 or more non-family children for over 3 hours daily. Now, let's delve into the steps for obtaining your home daycare license in New York.
1. Eligibility Check Up
So, here's the scoop – if you've been in the parenting game for 2 years or have some hands-on experience with kiddos, you're good to go, according to OCFS. Now, if you're clocking in at just 1 year of experience, no worries!
You can bridge the gap by diving into 6 hours of early childhood development training. Oh, and don't forget, if you bring on an assistant, they need to be rocking these qualifications too.
Experience Requirement – A minimum of 2 years of parenting or relevant child-related experience is needed.
Training Alternative – If you have 1 year of experience, compensate with 6 hours of early childhood development training or education.
Assistant Qualifications – If hiring an assistant, ensure they meet the same experience and training criteria.
Reference Submission – Provide 3 references with child care experience, who will be contacted during the application process.
Landlord Approval – Confirm approval from your landlord management company or homeowners association (HOA) before proceeding.Action Item: Here is the link from New York's website to get more details: Office Of Children And Services
2. Refer to Online Orientation
Register for the essential orientation to kickstart your home daycare journey. This session covers licensing procedures, safety standards, and educational guidelines, providing the foundation for compliance.
Connect with fellow providers, share experiences, and gear up for the next steps in obtaining your license. It's not just a formality; it's the gateway to turning your home daycare dream into reality.
Before applying for an OCFS license, applicants must complete orientation through the Office of Children and Family Services.
Action Item: To register for orientation, please register through this link. Welcome to Child Day Care Orientation
3. Background Checks
For those hoping to provide daycare services in New York, You must conduct a series of background reviews. These procedures help confirm that the individuals working with children have no criminal history and can effectively care for minors.
The Office of Children and Family Services website has detailed information on this process, such as who should partake in it, how long it will take, and what fees may include.
Read on: How to Check a Daycare Background
Applicant and Household Members – Thorough background checks are required for the applicant and all adults residing in the home.For each individual listed on your application, including household members, complete a separate "Criminal Conviction Statement" and Staff Exclusion List (SEL) Check form.Additionally, list all household members on the State Central Register (SCR) Form and submit a $25 processing fee. Upon submitting your application and upon its receipt by your Licensor, schedule fingerprinting appointments for yourself and all household members.
Fingerprinting – Mandatory fingerprinting is part of the screening process to ensure a comprehensive check.
Criminal History Review – Detailed review of state and federal criminal history databases is conducted for all individuals involved.
Child Abuse and Maltreatment Registry – Clearance from the New York State Child Abuse and Maltreatment Registry is a prerequisite.
Sex Offender Registry Check – Verification through the Sex Offender Registry ensures a safe environment for children in the home daycare.
These background checks are essential to uphold the safety and well-being of children in New York State home daycare settings.
Action Item: I found this link to Provider Background Checks for New York home daycare businesses.
4. Training Requirements
Training requirements are necessary to maintain a safe and nurturing environment for children in home daycare settings. Child care providers in New York must complete 30 hours of training each year, with at least 15 of those hours being in the specific areas of health and safety, child development, or nutrition.
The remaining 15 hours can be completed in any area related to early childhood education.
Nonetheless, as a home daycare provider, you should always strive to continue your education and stay up-to-date with current best practices in child care.
This not only helps provide quality care for the children in your program but also shows your dedication and commitment to being a professional child care provider.
Check: What Certifications Do I Need to Open a Daycare?
First Aid and CPR
Completing First Aid and CPR training is mandatory for ensuring the safety and well-being of children in your care. This training equips providers with essential skills to respond effectively to emergencies and accidents.
Action Item: To register for classes in New York, follow this CPR Classes, Training & Certification in New York
Abuse and Neglect Class
For your New York daycare to remain compliant with state regulations, all employees must participate in a course on abuse and neglect. This program is designed to give an overview of the indications of child mistreatment and negligence and details on legal requirements when childcare workers discover any possible cases.
To get information about these classes online or in person in New York, please visit Mandated Reporter Training | Child Protective Services.
The New York State Office of Children and Family Services proudly invites you to join their FREE 24/7 online Mandated Reporter Training in Child Abuse and Neglect/Maltreatment Identification.
Action Item: Persistently improve your awareness of child abuse by registering at https://www.nysmandatedreporter.org/ . It's accessible anytime at no expense!
5. Daycare Licensing Application Information for New York
Are you ready to start your home daycare business in New York? The second step is obtaining licensure from the state. It requires participating in an orientation and passing a written and practical examination to evaluate the comprehension of childcare regulations and principles.
Furthermore, before commencing operations, register your organization officially with the state first.
You can find comprehensive details about OCFS licensing on the Office of Children And Family Services website, which outlines all criteria needed for successfully setting up a home daycare center and applying for an appropriate license quickly!
Action Item: Request Application by mail and send completed packet https://ocfs.ny.gov/programs/childcare/become-a-provider.php .
6. Register the Business With the State of New York (In More Than Three Hours)
When registering your daycare business with the state of New York, you must complete a few application forms. These documents are on the Office of Children and Family Services website.
You'll also need to pay any associated fees, submit proof of liability insurance, and ensure that your business complies with local zoning regulations.
Action Item: Please visit Family Day Care Registration for detailed information about licensing and permitting.
7. Clear Home Inspections For New York
After submitting your application and successful fingerprinting, your Licensor will arrange two home inspections. The initial inspection will focus on Fire & Safety, ensuring your home meets childcare standards and emergency plans are in order.
The final inspection, lasting around 2 hours, covers OCFS safety requirements, program supplies, and record-keeping. Establishing a positive first impression is crucial for a lasting relationship with your Licensor.
Action Item: For details on home inspection requirements, contact Home Inspector | Department of State – New York State
The Office of Children and Family Services employs inspectors who will conduct a thorough review and offer necessary suggestions based on their results. If there are any issues or discrepancies, they have to be addressed before you can get approval for the application.
Action Item: Please consider Group Child Care Inspection Checklist.
Following successful inspections, a home daycare license is issued to the provider. Providers must continuously comply with all state regulations to keep this certification active. It involves periodic assessments by inspectors who assess if health and safety protocols are being followed correctly, as well as checking that there are no violations in the daycare center.
Action Item: To apply for inspections or to get inspection details for New York State, please visit the Child Care Licensing and Inspection.
Liability Insurance For Home Daycare In New York
In the process of launching your home daycare in New York, securing liability insurance is not just a smart move—it's often a legal requirement.
This type of insurance provides crucial protection in the event of accidents or injuries that may occur while children are under your care.
Mandatory Coverage – Many states, including New York, typically require home daycare providers to carry liability insurance. This coverage helps safeguard your personal assets and ensures financial protection in case of unforeseen incidents.
Comprehensive Coverage – Liability insurance for home daycare providers typically includes coverage for bodily injury, property damage, and legal fees associated with potential lawsuits.
Licensing Requirement – New York State may mandate liability insurance as part of the licensing process for home daycares. Check with the local regulatory authorities to understand specific coverage requirements.
Insurance Providers – Research and select a reputable insurance provider experienced in offering coverage for home daycare businesses. They can guide you through the specific coverage options tailored to your needs.
Cost Considerations – While cost is a factor, the financial protection provided by liability insurance far outweighs potential expenses in the event of an accident or legal issue. Consider it an investment in the security of your home daycare business.
Action Item: To obtain liability insurance for your home daycare in New York, connect with insurance providers specializing in childcare coverage. Explore options that align with state regulations and provide comprehensive protection for both you and the children under your care.
Startup Costs For Home Daycare In New York
When planning your home daycare business, you must consider many upfront costs. These range from the size of your functional area and required furniture to toys, cleaning materials, licensing or registration fees, and salaries for any extra help you may hire.
You should incorporate all these expenses into a thorough budget that factors in each cost when launching your new venture! Don't forget to ensure compliance with state regulations, too – they can vary significantly depending on local laws.
Operating a daycare in New York necessitates an OCFS license, and you must pass the inspection of your residence. Furthermore, registering with the IRS is essential to pay taxes on any profits earned by your business. Lastly, securing liability insurance is highly suggested for safeguarding yourself against potential lawsuits or legal proceedings.
When deciding how much to pay your staff, consider the number of children in your care. Generally speaking, one qualified childcare provider is advised for every four kids. To draw and keep talented personnel, salaries and benefits must be fair and competitive.
Do you need some funds to start home daycare?
Action Item: Please visit the Office of Children And Family Services to request startup funds.
You may like to read How to Start a Daycare With No Money
Subsidy For Daycare Businesses
New York State offers various subsidy programs and financial assistance to support daycare businesses.
These subsidies aim to ensure affordable and accessible childcare services for families while supporting the sustainability of daycare providers.
It's essential to note that specific subsidy programs may evolve, so verifying the latest details from authoritative sources is crucial.
Child Care Subsidy Programs – New York State implements childcare subsidy programs to assist eligible families in covering the costs of daycare services. These subsidies contribute to making quality childcare more affordable for parents.
Provider Assistance – Some subsidy programs extend support directly to daycare providers by offering reimbursement or financial incentives. These measures are designed to encourage providers to offer high-quality care and accommodate families with diverse needs.
Quality Improvement Initiatives – In addition to financial support, New York may have initiatives to enhance the overall quality of childcare services. These initiatives could include professional development opportunities, resources, and training programs for daycare providers.
Eligibility Criteria – Eligibility for daycare subsidies often depends on factors such as the family's income, size, and the age of the child. Daycare providers may also need to meet specific licensing and quality standards to participate in subsidy programs.
Action Item: For the most accurate and up-to-date information on daycare subsidies in New York, please visit the official website of the New York State Office of Children and Family Services (OCFS) or contact their office directly. They can provide detailed information on available subsidy programs, eligibility criteria, and application procedures.
Check: Home Daycare Schedule Ideas
Daycare Setup For Home Daycare
When creating a daycare center, you must consider numerous necessary factors.
It is imperative to generate an atmosphere that is both secure and pleasant for children of all ages; this includes sufficient space for activities, the right furniture pieces, plus toys appropriate according to their age group.
It will guarantee that your facility allows young ones to play comfortably while facilitating learning through exploration.
Read on: Complete Guide to Small Home Daycare Setup in Living Room
Indoor daycare setup
Carpets or mats should be laid on the floors for a secure and comfortable environment. Furniture tailored to each age group is also essential; high chairs and tables are necessary for children's use.
Furthermore, cabinets that contain books, toys such as puzzles and blocks, and movies suitable for different ages must also be provided so kids can engage in quiet activities. Art supplies and musical instruments create an even more stimulating atmosphere!
Outdoor Daycare Setup
For outside activities, it is essential to provide a space that is well-suited for both recreational and educational experiences. If you run an outdoor daycare center, ensure the premises feature play structures such as slides, swings and climbing equipment.
Additionally, there should be plenty of room for sports and other physical games. Be mindful about protecting children from the harsh sun by installing umbrellas or awnings in appropriate areas; this will also double up as shading when needed!
For safety reasons, ensure any external spaces have secure fences, so kids don't wander unnoticed.
Check: Outdoor Daycare Ideas
Marketing For Home Daycare
After procuring all the necessary permits, it is time to begin marketing your daycare. Fortunately, New York State has a plethora of methods available for you to reach potential customers and promote your business!
To start, design a website for your daycare center with essential information. Incorporate in-depth details such as rates, hours of operation, educational activities and photos of your space. Additionally, please provide contact information so potential families can quickly get in touch with any questions or requests about enrolling their children at your establishment.
Here is 4 steps marketing strategy on How to Promote Your Daycare Business.
Leverage the power of social media to spread awareness about your daycare in New York! Create profiles on platforms like Facebook and Instagram to communicate information regarding events and programs and address any inquiries or concerns from parents. Social media provides an excellent platform for sharing updates with potential customers that is both fast and effective.
Complement your digital marketing efforts by also taking advantage of traditional advertising methods. Publish ads in local papers, and distribute flyers around the neighborhood – just be sure to fulfill any legal prerequisites for advertising, such as including a valid license number on all printed materials.
Lastly, word of mouth is one of home daycare centers' most powerful marketing methods. Encourage current parents to spread the word about your business to friends and family by offering incentives such as discounts or referral programs. With a little effort, you can quickly start bringing in new customers for your home daycare center in New York.
Read my detailed blog on How to Advertise Daycare?
Staff and Training Requirements For New York Child Care
Establishing a dependable and capable staff is crucial for the safety and well-being of children, so depending on how big your daycare center is, you may need to recruit multiple employees.
Look out for experience working with kids and those who are affinity towards teaching and learning.
Furthermore, you must conduct background checks before new members join your team!
You must ensure your staff is adequately trained to create an enjoyable and secure environment for children.
Please provide them with the vital tools they need to keep kids safe, such as techniques to handle behavioral difficulties, proper hygiene habits, and providing healthful meals and snacks suited for all age groups.
Furthermore, remember CPR/first-aid instruction in emergency scenarios!
With dedicated employees who are well-equipped with the knowledge of child safety protocols -you can confidently create a stimulating atmosphere that your little ones will enjoy immensely.
Frequently Asked Questions
1. What are the Common Challenges in Opening Group Family Day Care in New York?
Establishing a daycare center in New York State is a challenging feat. There's fierce competition and an emphasis on finding the right staff, meeting strict licensing requirements, and staying ahead of fluctuations in demand year-round.
Moreover, keeping up with regular maintenance to maintain a safe environment for children is essential. Despite these obstacles, those who are willing to put forth the effort can find success!
2. What are the Benefits of Operating a Family Services Home Daycare Center in New York?
Opening a daycare in New York offers incredible benefits, including access to high-quality resources, state incentives for business owners, and the potential to build strong ties with neighboring communities.
Conclusion
Setting up a home daycare in New York is both difficult and rewarding. By studying best practices, familiarizing yourself with regulations, and building an experienced team of helpers, you will be ready to open your doors before you even know it!
With proper planning and procedures, you can provide quality childcare for families within your area. We wish you luck in this unique endeavor!
Disclaimer: The information on this page is intended to serve as a general guide only and should not be taken as legal advice. It is highly suggested that you acquire professional guidance before acting in response to the data provided here or engaging in activities related to launching a home daycare business. We can't take responsibility for any losses experienced by following the instructions.