What Certifications Do I Need to Open a Daycare?
Congratulations on your new daycare business!
I wish you good luck with your lovely business venture. I know you must be getting anxious and needing clarification while researching the required certifications for registering your daycare business.
Let's make this process easier for you.
Ensure all these documents, such as state, CPR & First Aid, and Safety and Training certifications, are ready before opening a daycare.
Want to know more? Keep on reading!
I have prepared a handy checklist to open a daycare, including state certifications, all required documents, childcare laws and CDC Licensing requirements by states, doing hours of research with all the links and documents you need for your daycare.
Read on to save time and effort in opening your daycare center.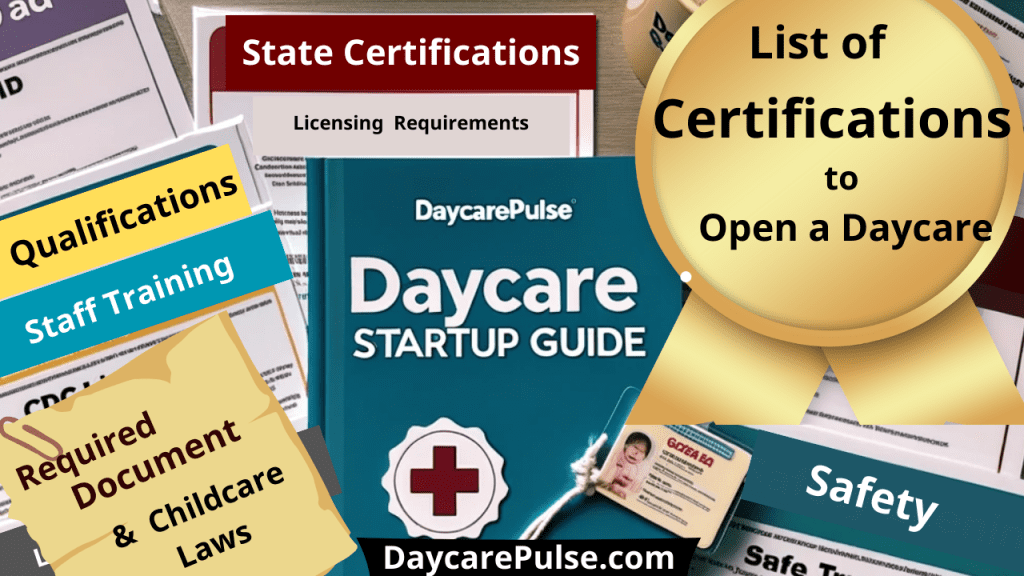 9 Required Certifications to Open a Daycare
Opening a daycare is rewarding but comes with its fair share of responsibilities.
One of the crucial aspects of starting a daycare is ensuring that you have the necessary certifications and licenses.
Each state in the US has its specific requirements, so it's essential to understand what's needed in your area.
Let's examine the certification and licensing requirements in a few states and explore the general steps to obtaining state certification.
1. State Certifications: State-Specific Requirements
Regarding daycare operations, the requirements can vary significantly from state to state. Understanding your state's specific needs is the first step in launching your daycare.
Please check this link for state licensing according to the states.
Here, I will highlight the criteria for a few states as examples:
California – You must obtain a license from California's Department of Social Services, Community Care Licensing Division.
This license involves thorough background checks, safety inspections, and compliance with state regulations to ensure the safety and well-being of the children in your care.
Related : How to Get a Daycare License in California
New York – New York State requires you to be licensed through the Office of Children and Family Services (OCFS).
You must meet stringent standards, including background checks, training requirements, and safety regulations. They also assess your facility to ensure it's suitable for child care.
Read on : How To Start Home Daycare In New York?
Texas – Texas sets its standards for childcare facilities through the Department of Family and Protective Services.
Licensing in Texas involves a rigorous process that includes background checks, training, and ensuring your facility meets the health and safety standards set by the state.
Related : How to Start a Home Daycare in Texas?
Florida – In Florida, the Department of Children and Families governs daycare licensing. They have strict guidelines for background checks, staff qualifications, and facility requirements to ensure children's safety.
Related : Start Home Daycare in Florida
Illinois – The Department of Children and Family Services is responsible for licensing daycare facilities in Illinois.
To meet their high standards, they require thorough background checks, staff training, and facility inspections. Department of Children and Family Services is responsible for licensing daycare facilities in Illinois.
Please check the child care resource center to know the requirements for licensing.
Steps to Obtain State Certification
No matter where you're planning to open your daycare, there are some general steps you'll likely need to follow to obtain state certification:
Research and Education – Research your state's specific requirements and complete any necessary training or coursework. This often includes topics like child development, first aid, and CPR.
Background Checks – Prepare for background checks for yourself and any staff you hire. Ensure everyone involved in your daycare has a clean criminal record.
Facility Requirements – Make sure your daycare facility meets all safety and health standards your state sets. This may include structural modifications and safety equipment installation.
Application Process – Apply to your state's licensing agency and any required documentation, fees, and forms.
Inspections –  Expect your facility to undergo thorough inspections to comply with all regulations. This includes checking for safety hazards and ensuring you have all the necessary childproofing measures.
CDC Child Care Licensing Requirements by States
The Centers for Disease Control and Prevention (CDC) also provides resources and information on childcare licensing requirements by state.
While it's essential to check with your state's specific licensing agency, the CDC can serve as a valuable reference, especially in understanding health and safety standards for childcare facilities.
Opening a daycare may seem daunting, but with the correct information and a commitment to meeting state certification and licensing requirements, you can create a safe and enriching environment for the children in your care.
Always consult your state's licensing agency and stay updated on their regulations to ensure your daycare operates smoothly and legally.
Check out: Child Care Rules and Regulations
2. CPR & First Aid Certifications
Opening a daycare is fulfilling, but it comes with significant responsibilities, especially regarding the safety and well-being of the children under your care.
One of the most crucial aspects of running a daycare is ensuring that you and your staff are adequately trained in CPR and first aid.
How to Get CPR & First Aid Certifications?
Most states require CPR and first aid certification for daycare providers. It is because there are many situations where it will be necessary, such as injuries from playground equipment or burns from cooking. It is a good idea to work with children (even if it's just in an after-school program).
The American Heart Association offers CPR classes that can be taken online or in person at your local hospital or community center.
These classes will teach you how to do chest compressions correctly and what actions to take if someone has choked on food or has stopped breathing due to an asthma attack.
After completing the class, students receive a certificate validating their knowledge of these skills until they reach their next renewal date, which usually ranges between one and two years, depending on the state where they live.
Sources for CPR & First Aid Certification
American Red Cross – The American Red Cross offers comprehensive CPR and first aid courses for daycare providers. They have both online and in-person classes, making it accessible to everyone.
Local Hospitals and Health Organizations – Many hospitals, clinics, and health organizations offer CPR and first aid certification courses. Check with your nearest medical facility for available training programs.
Community Colleges and Vocational Schools – Some colleges provide CPR and first aid certification classes. These institutions can be an excellent resource for in-depth training.
Online Certification Courses – Numerous online platforms offer CPR and first aid certification. While online courses are convenient, ensure they are accredited and follow national guidelines.
Maintenance of CPR & First Aid Certifications
Renewal Period – CPR and first aid certifications typically expire after two years. It's essential to keep track of the expiration dates and renew them promptly.
Continuing Education – Stay updated with the latest CPR and first aid techniques and guidelines. Many organizations offer refresher courses to keep your skills current.
Regular Drills and Training – Conduct regular drills and training sessions for you and your staff to ensure everyone is well-prepared and confident in emergencies.
3. Type of Daycare Licenses
In addition to obtaining certification and licensing for your daycare, you may also need other licenses and permits to operate your childcare business legally.
These requirements may vary depending on the location of your daycare and the services offered.
You should also make sure that you understand what kind of license you will need (e.g., child care center, family child care home, or group home) and whether or not there are any special requirements for obtaining it (such as needing CPR certification).
Pro Tip: There are particular and sometimes state-specific certifications you need to get to open a daycare.
You must get several certifications and licenses before opening a daycare. The first is a license to operate childcare. In addition, you may need state certification or federal certification. You will also need an operating business license and a fire inspection report for your building or home.
Here is the detailed blog What do I need to open a daycare center?
4. Safety and Inspection Lisences for Daycare
Safety and inspection compliance are non-negotiable aspects of running a daycare.
Let's delve into the critical reports and certifications that ensure the safety and well-being of children in your care and maintain the legal standing of your daycare facility.
1. Fire Inspection Report
Fire safety is paramount in a daycare. You must undergo regular fire inspections to obtain and maintain your daycare license.
These inspections assess the readiness of your facility to handle:
Fire emergencies
Checking for fire extinguishers
Fire exits
Smoke detectors, and more.
A fire inspection report is a document that states you have passed a fire safety inspection. It requires law and is generally required annually or semi-annually, depending on your state.
Your daycare must complete an annual fire safety inspection by a local fire marshal or other designated official. It would help if you asked for copies of these documents before opening your daycare to keep them on hand when needed.
2. Health Inspection Report
Health inspections are a routine part of daycare licensing to ensure children's clean and hygienic environment.
These inspections assess various aspects of health and safety, including sanitation, food preparation, and disease prevention. Complying with the health inspection standards helps you safeguard the health of the children in your care.
3. Zoning Certification
Zoning certification verifies that your daycare facility is appropriately located within a designated zone or area.
Different localities have specific zoning laws related to operating businesses, including daycares.
Ensuring you have the proper zoning certification is essential to prevent potential legal issues and disruptions.
4. Certification of Compliance
The Certification of Compliance document attests to your daycare's adherence to all applicable regulations and licensing standards.
It's proof that your daycare operates within the law and complies with local and state requirements.
To obtain this certification, you must demonstrate that your facility meets all necessary standards, including safety, health, staffing, and more.
5. Tuberculosis Testing
Tuberculosis (TB) testing is a health requirement for daycare providers and staff. It ensures that individuals who interact with children are free from active TB infections, which can be highly contagious.
Regular TB testing is essential to maintain a healthy and safe environment for the children and the staff.
You will ask for a urine sample and a test for TB presence. The test is simple and painless. The trial is free. Source
5. Staff Training and Qualifications
Let's explore critical aspects of staff training and the qualifications necessary for a successful daycare team.
1. CPR and First Aid
CPR (Cardiopulmonary Resuscitation) and First Aid training are non-negotiable for daycare staff.
Accidents and emergencies can happen, and quick, effective response is crucial to ensuring the safety and well-being of the children.
All staff members should be certified in CPR and First Aid, and this certification should be kept up to date.
2. Child Development Assessment Training
Understanding child development is crucial for providing appropriate care and guidance to children of different ages.
Child development assessment training equips your staff with the knowledge and skills to recognize and support children's developmental milestones and needs.
This training enables your team to tailor activities and care to the unique developmental stages of each child.
3. Supervisor Certification
In many daycare settings, supervisory roles oversee daily operations, manage staff, and ensure compliance with regulations.
Supervisors should have specific training and certification to fulfill these duties effectively.
Supervisory certification can include leadership, staff management, and administrative skills courses.
4. Early Childhood Education Basic Certificate or Equivalent
Many states require daycare staff to possess an Early Childhood Education (ECE) basic certificate or an equivalent qualification.
This certification demonstrates that staff members have foundational knowledge of early childhood education principles, child development, and appropriate teaching methods.
It's especially crucial for those involved in educational activities and curriculum planning.
5. Child Development Permit
Some states offer Child Development Permits, specialized credentials for those working in early childhood education and childcare.
These permits typically have different levels, ranging from assistant permits to master teacher permits, depending on your level of education, experience, and training.
5. Certifications for Daycare Workers
Certifications are a foundation of competence for daycare workers, ensuring they have the necessary knowledge and skills to effectively care for and educate children.
New daycare staff should participate in a comprehensive orientation program that acquaints them with the facility's policies, procedures, and expectations.
This orientation also serves as an opportunity to cover any required certifications, such as CPR and First Aid.
Here are some essential certifications:
6. Background Checks
Background checks are a fundamental part of the hiring process in daycare facilities. They serve the critical purpose of verifying the suitability and safety of potential staff members. Background checks should encompass the following:
Criminal History – A thorough check of an applicant's criminal history to ensure there are no previous convictions that would jeopardize the safety of the children.
Child Abuse Registry –Screening staff again abuse registries to confirm no records of child abuse allegations or convictions.
Reference Checks – Contacting references provided by the applicant to gather insights into their work ethic, reliability, and character.
7. Health Regulations
Health regulations for daycares are designed to create a safe and sanitary environment for children. These regulations typically encompass:
Immunization Requirements – Ensure that all children attending your daycare are up-to-date with their immunizations to prevent the spread of vaccine-preventable diseases.
Infectious Disease Control – Implement protocols for controlling and preventing infectious diseases. This includes guidelines for handling illnesses, isolation procedures, and sanitation practices.
Sanitation and Hygiene – Maintain high levels of cleanliness and hygiene in your daycare. Regular cleaning and disinfecting of surfaces, toys, and equipment are critical to preventing the spread of germs.
Sick Child Policies – Establish clear policies for handling children who become ill while in your care. This may include guidelines for when to send a child home due to illness.
8. Food and Snack Requirements
A well-balanced and nutritious diet is essential for child development. To meet food and snack requirements in your daycare, consider the following:
Food Handler Certification – Ensure that any staff involved in meal preparation and serving possess food handlerfood handlingo guarantee the safe food handling.
Nutritional Guidelines – Provide meals and snacks that align with established dietary guidelines for young children. These should include a variety of food groups to support healthy growth and development.
Allergen Management – Be vigilant about managing food allergies among children in your care. Keep records of allergies and sensitivities, and take steps to prevent cross-contamination.
9. Legal Requirements
Operating a daycare business involves several legal and administrative requirements that ensure compliance and the smooth operation of your facility.
1. Facility Requirements
Meeting facility requirements is another vital component of daycare operations. Facility requirements often include:
Safety Measures – Ensure your daycare facility is equipped with safety measures such as fire alarms, extinguishers, and emergency exits to protect the children in your care.
Childproofing – Childproofing the facility is essential to prevent accidents. This may include installing safety gates, securing sharp objects, and ensuring that hazardous materials are out of reach.
Space and Amenities – Provide adequate space for children to play, nap, and engage in activities. Ensure that facilities are equipped with age-appropriate toys and amenities.
Sanitary Conditions – Maintain a clean and hygienic environment to prevent the spread of germs. Regular cleaning and disinfecting of surfaces and equipment are essential.
2. Company Identification Number (if you do not have a Social Security number)
If you don't have a Social Security number (SSN), you can apply for an Employer Identification Number (EIN) with the IRS. To complete the application, you will need to have your personal information verified at one of these locations:
Small businesses use an EIN with no separate tax identification number. It can use sole proprietors or individuals who are self-employed. This form aims to keep track of your business and ensure all paperwork is filed appropriately with the government.
3. Department of Justice Fingerprinting
The next step is to be fingerprinted by the Department of Justice. A local law enforcement agency will take fingerprints to you, which is typically not expensive. You can find out which agencies are available in your area by clicking here [link to DOJ website].
Once you have fingerprints, you will need to mail or email copies of both sides of your fingerprint card (front and back) along with an original copy of an official government-issued ID (i.e., driver's license).
You can check for $100 made out to "U.S. Department of Justice" for each person's fingerprints, payable only at one location:
Tucson Field Office
U.S Department of Justice – Criminal Division/MRU
300 North Stone Avenue E., Suite 100-C3
Tucson AZ 85701
4. Child Development Permit
One of the most important things to get right when opening a daycare is obtaining your Child Development Permit.
It also ensures that children are safe from harmful conditions that could harm them or impact their development.
You'll need to get your company identification number before applying for a Child Development Permit through an agency like the child care resource network.
This number will identify your business as having been approved by regulatory authorities, which means it's legitimate and trustworthy enough for them to let parents bring their babies there!
Once that's taken care of, it's time for inspections!
To maintain a safe environment for children and staff, your local government requires that you provide proof of all sleeping areas in the form of photos inside each room.
If something isn't up-to-code, these agencies can send someone out immediately, so there is no time wasted when problems arise during operation hours!
How to Apply for Daycare Licensing: Step By Step Process
Starting the daycare licensing process requires attention to detail and compliance with local and state regulations. Here are the key steps to initiate your application:
Step#1 Research Local and State Regulations
Start by researching and understanding the daycare licensing requirements in your specific area. Regulations may differ from one locality to another.
A business license is an official document that allows you to operate a business in your state. It's essential to obtain one if you want to open an in-home daycare because, without it, you could face fines or even legal action if someone complains about your operation.
If you're considering starting daycare at home, you must apply for a business license from your city or county's revenue department (or equivalent).
Check : Esablishing a Daycare Business Guide
Most applications will require proof that you have liability insurance for at least $1 million ($2 million if children under 2 years old are present) and other types of insurance, such as workers' compensation and fire protection coverage.
Step#2 Contact the Regulatory Agency
Reach out to the appropriate responsible for daycare licensing in your region. They will guide you through the process and provide the necessary application forms and documentation requirements.
Check : National Database of Child Care Licensing Regulations
Step#3 Complete Application Forms
Thoroughly fill out the daycare licensing application forms. These forms often require comprehensive information about your daycare, including the type of facility, the number of children you plan to care for, and the location of your facility.
Check : Child Care Home Provider Application Forms
Step#4 Background Checks
You and your staff may be subject to background checks, including fingerprinting. These checks are crucial for ensuring the safety and well-being of the children in your care.
Step#5 Prepare Your Facility
Your daycare must meet specific health, safety, and building code requirements. Ensure your premises are childproofed and any necessary modifications are made to comply with regulations.
Step#6 Attend Required Training
Some areas mandate that daycare providers attend training programs on childcare and safety. Check with the regulatory agency to see if this requirement applies to you.
Step#7 Pay Application Fees
Be prepared to pay the application fees, which vary depending on your location and the type of daycare you intend to operate.
Keep in mind that in some cases, there may be multiple fees associated with opening a daycare, including initial application fees, licensing fees, background check fees, and fees for required training and inspections. Budgeting for these fees as part of your daycare business plan is essential.
Read on : How Much Does It Cost to Open a Daycare?
Step#8 Submit Your Application
Send your completed application forms and supporting documents to the appropriate agency.
Step#9 Documentation
These are the standard documents and paperwork you will need during the daycare licensing application process:
Business License – Obtain a business license to operate your daycare legally in your city or county.
Company Identification Number – If you do not have a Social Security number, you may require a company identification number for tax and legal purposes.
Department of Justice Fingerprinting – Background checks, including fingerprinting, may be mandatory for you and your staff to ensure the safety of the children under your care.
Age Requirements – Child care centers are usually more formal and may have stricter requirements. The director or primary caregiver at a child care center is often required to be at least 21 years old. Other staff members may have age and qualification requirements as well.
Related: Can You Work at a Daycare at 16?
Step#10 Compliance with State Regulations
Compliance with local and state regulations is fundamental to running a daycare legally and ensuring the safety of children. Here are some key strategies to ensure compliance:
Regular Updates –Stay informed about any changes in regulations, standards, and licensing requirements. Regularly check with the regulatory agency for updates.
Routine Inspections – Be prepared for regular inspections and evaluations to ensure your daycare meets the required standards.
Staff Training – Ensure your staff is aware of and trained in the latest regulations and safety procedures. Keep documentation of their training.
Documentation Management – Maintain meticulous records of all licensing, inspections, and safety procedures documents.
Insurance – Daycare insurance protects your daycare business and its participants. It encompasses various policies such as general and professional liability insurance, property insurance, and workers' compensation. Additionally, specialized coverage like child abuse and molestation insurance can be vital.
Related : How Much Is Daycare Insurance
18 Required Certifications Checklist to Open a Daycare

Before opening a daycare center, it is essential to consider the types of certifications required. The following is a list of some of the credentials that you may need to apply for before opening your daycare center:

Child Development Associate (CDA)
CredentialFirst Aid and CPR Certification
Early Childhood Education (ECE)
Degree or Certificate
Child Abuse Prevention Training
Food Handler's Permit
Health and Safety Training
State Licensing Requirements
Fire Safety Certification
Background Check and Fingerprinting
Immunization Records
Emergency Evacuation Plan
Safe Sleep Training
Medication Administration Training
Playground Safety Certification
Childcare Management Course
Pediatric First Aid Kit
Liability
Insurance
Business License
What Are The State Childcare Laws?
As a daycare provider, you must know the state childcare laws that apply to you and your facility. There are specific regulations for childcare providers to follow. State licensing requirements include:
A valid license or permit from the county Department of Human Services (or another agency designated by the state) with which you are filing your application for licensure
Proof of completion of an approved training program, which includes CPR/First Aid certification and criminal background checks on all staff members who will have direct contact with children; fingerprinting is required when applying for a new license or renewal
A copy of the lease agreement between you and your landlord if renting space
FAQs
How Many Kids Can I Have in My Home Daycare?
The number of children you can care for in your home daycare depends on local and state regulations. Typically, these regulations include child-to-caregiver ratios, ensuring the safety and quality of care.
Research your specific area's rules to determine the allowable capacity for your home daycare. Factors such as the age of the children, staff-to-child ratios, and the size of your facility can influence this number.
Is There a Difference Between Home-Based Daycare and Daycare Center Certifications?
Yes, there is a difference between certifications for home-based daycares and daycare centers. The distinctions typically involve licensing requirements, staff-to-child ratios, and facility standards.
Home-based daycare regulations are often less stringent, given the smaller scale and fewer children involved. Understanding and following the specific certification requirements for your type of daycare is crucial.
What Resources Can I Consult to Get State-Specific Information on Daycare Certifications?
To access state-specific information on daycare certifications, consult the following resources:
State Licensing Agencies – Your state's childcare licensing agency is the primary source of information for daycare certification requirements.
Local Child Care Associations –These organizations often provide resources and guidance specific to your locality.
Online Databases – Some websites and databases compile state-specific daycare regulations, making it easier to find relevant information.
Legal Counsel – Consult a local attorney specializing in childcare and licensing regulations for personalized guidance.
Conclusion
Opening a daycare is a rewarding endeavor, but it comes with a set of essential certifications and qualifications. These typically include obtaining the necessary licenses, permits, and certifications, which may vary depending on the type of daycare you plan to operate and the local regulations in your area.
Common requirements include First Aid and CPR certification, background checks, health and safety training, and often a specific childcare provider certification or license.
Ensuring you meet these requirements is critical not only to launch your daycare but also to provide a safe and nurturing environment for the children under your care while complying with legal and regulatory standards.
Always consult your local childcare licensing agency for precise details and guidance specific to your location.