How to Advertise Daycare? | Promote Your Daycare or Childcare
Do you need help with your daycare business and searching for a way to promote your daycare business and reach more potential parents?
Note down these 6 steps to have an impactful daycare business journey.
Research
Create Messaging That Resonates
Create Social Presence
Develop an Advertisement Strategy
Follow Up
Refine Your Strategy
I have curated 13 childcare advertising ideas, 6 advertising tips, and Do's and Don'ts for advertising daycare that dives into how to craft persuasive messages that appeal to your target market, assess what strategies are being used by competitors, create an impactful marketing plan and bring more customers to your daycare.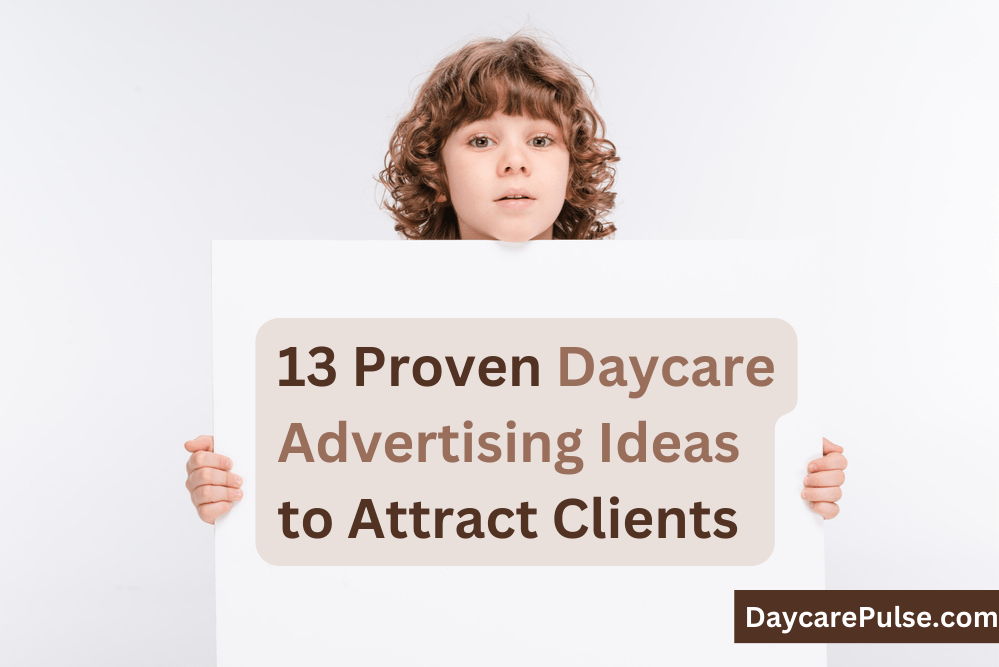 13 Child Care Advertising Ideas
Here are the 13 daycare advertising ideas that would bring many parents' attention to your daycare.
1. Direct Mail And Flyers
Expand your reach, build a more educated customer base, and promote your daycare services using direct mailers and flyers.
Flyers are perfect for getting the word out about discounts or special events, while direct mail allows you to delve into details regarding the facility.
Combining both methods is an efficient way to raise awareness among prospective parents in your region.
2. Email Marketing
Grow the recognition of your daycare enterprise by utilizing targeted email campaigns. By sending timely and pertinent updates to those who have already engaged with you, email marketing can help support customer loyalty and attract new families looking for quality childcare services!
3. Search-Friendly and Responsive Website
To ensure that your daycare website stands out, it is essential to keep it current and make sure its content is optimized for search engines.
Additionally, creating a user-friendly navigation system and optimizing it for mobile devices will make the site much more attractive to potential parents searching online. Positioning your website as one of the first options they see could be vital in obtaining new customers!
4. Online Reviews
In our digital age, online reviews are essential to successful advertising. As such, it is necessary that you proactively request feedback from satisfied customers.
Doing so will help build trust and belief with possible clients and boost your reputation as an establishment dedicated to service excellence.
5. Social Media
Keeping your daycare company prominent in the minds of possible customers is a breeze when you create and maintain a social media presence.
Put out posts regularly, include hashtags pertinent to your business, and interact with followers as much as feasible. It's just that simple!
6. Old School Marketing
Not the strength of traditional marketing tactics! Employing billboards, flyers, and face-to-face advertisements can be a successful method for increasing awareness about your daycare business.
7. Google Reviews
Establishing yourself as the superior choice among your competition can be achieved with a robust presence on Google Reviews. Reaching out to previous and present parents for reviews is an excellent way to start and rapidly respond to each check you receive.
This demonstrates attentiveness and appreciation of customers' feedback, helping you stand apart from competitors!
8. Community Open House
Hosting community open houses is an effective way for potential parents to visit the facility and get a feel for what it is like. Invite the local press, offer refreshments, and introduce yourself and staff members interacting with the children.
9. Paid Ads
Investing in paid ads can be a cost-effective way to increase your reach and visibility. Consider advertising on social media platforms like Facebook, Instagram, or Google.
10. Parent Referral Program
Show your appreciation to parents who refer their buddies and relatives to your daycare business by offering incentives! Generate more referrals through discounted rates or exclusive offers – nothing says 'thank you' better than a reward.
11. Billboards and In-Person Advertising
Utilizing physical advertisements like billboards and bus shelters can be a successful medium for getting the word out about your daycare's services or special deals. Investing in creative, eye-catching materials is critical to maximizing the engagement of potential customers!
12. Management Platform
Securing a top-notch daycare management platform is paramount for staying on top of bookings, payments, and other vital duties. Investing in an efficient system will guarantee seamless operations and maximum productivity.
13. Network with Other Businesses
Networking with schools and other local businesses is an excellent approach to discovering potential customers.
Why not offer discounts or exclusive offers for parents whose children attend the same school as yours? This simple generosity could make a difference in your daycare's success!
6 Effective Advertising Tips for Child Care Providers
Here are the 6 steps to advertise daycare that would bring many parents' attention to your daycare.
1. Research
Uncovering your ideal customer is the starting point for advertising a daycare. Are you concentrating on working parents, joint-income households or families with multiple children?
I know who you pitch to will make crafting a message that resonates and interests these individuals easy. By doing this research, you can be sure that your marketing efforts are for the right people.
Evaluate Your Competition
After pinpointing your ideal customers, it is time to explore the marketing methods local daycares in your area use to attract those same people.
Reading daycare reviews on Google Maps and Facebook and visiting competitor websites, you will understand what information resonates with readers and what should be avoided.
Setting a budget is an integral part of the plan ahead of advertising your daycare services. Having a number in mind will help you make informed choices about where to allocate your marketing efforts and what strategies will be the most cost-effective.
2. Create Messaging That Resonates
Your crafted copy must tailor to them. Here are 4 tips for creating messaging that resonates.
Genuine and original language is essential; use meaningful words that build trust between your daycare and its clients.
Please refrain from using jargon or overly-ambitious phrases.
Concentrate on how precisely you can address their childcare concerns. It will grab attention and emphasize why choosing your service should be easy for any parent seeking quality child care!
Make sure to accentuate the qualities that make your company different from others, like personalized care for children's growth or an excellent safety record. If you have anything unique to offer compared to other providers, put it front and center in your messaging!
3. Create a Social Presence
Harness the power of social media to attract more parents to your daycare center! You can increase brand awareness by creating compelling visual content and providing regular updates.
Using geo-targeting when posting on platforms such as Facebook and Instagram will help people in your area quickly discover all your fantastic services.
Remember to add details like location or address so potential clients can find your daycare business!
Create Social Media Handles
It is essential to have dedicated social media handles for your daycare.
To ensure potential customers can easily find you on different platforms, include keywords such as "daycare" and "child care" when creating accounts. After all, parents will likely search with these words in mind!
You can invest in targeted advertising campaigns on social media to reach more potential customers. Advertising campaigns are cost-effective and allow for precise targeting of prospective clients.
Are you looking for more marketing strategies for daycare? Read on How to Promote Your Daycare Business?
In today's digital world, ensuring your daycare can be accessed online is imperative. Listing your business on Google Maps or other platforms will give parents the simplest way to identify and contact you. This effortless opportunity allows them to discover more about what you offer.
A comprehensive website is essential for any daycare center to draw potential customers and provide them with the necessary information.
Ensure your website contains everything from opening hours, prices, contact details, availability and staff bios/photos to illustrate the quality of care you offer. By doing so, your visitors can make an informed decision about enrolling their children at your facility.
Remember to make your presence felt in the real world as well! You can get your name out there by attending networking events and seminars, establishing contacts with other childcare providers, and gaining invaluable knowledge about the profession.
On top of that, it's a great way to build relationships with individuals who share similar goals and ideals.
4. Develop an Advertising Strategy
Developing an advertising strategy is critical to the success of any daycare. Brainstorm different ideas and come up with creative solutions for marketing your business.
Consider using flyers, radio ads, direct mailers, or even print ads in local newspapers, whatever works best for you!
Remember to track the success of each campaign and use these insights to refine your strategy over time.
Finally, remember to evaluate your progress and success regularly. It will help you identify areas of improvement and ensure that your daycare center is making the most out of its advertising efforts!
Don't be afraid to try something new – it could just be the thing that takes your business to the next level.
Read more: Open House Ideas for Daycare: Unique Ideas, Tips And Guide
An effective ad campaign tailored to specific neighborhoods and demographics can immensely gain prospective customers.
Ensure you include all aspects of your daycare center that make it unique for those ads to stand out. Track the success of each advertisement, tweaking anything necessary as needed.
With careful consideration and inventive marketing approaches, you are well on achieving greatness! Allocating resources to advertising is essential – take the time to investigate, so you can generate buzz that will produce excellent results!
Social media has become an absolute powerhouse for marketing, and daycare centers are no exception. Utilize all the tools available to you and create a dynamic social presence that resonates with prospective customers.
Post exciting content focused on your daycare's strengths, such as how you provide fun activities or cater to children with special needs.
Email marketing is a great way to reach prospective customers and inform them about your services. Compelling email campaigns showcasing your daycare's unique qualities can help boost enrollment.
Remember to include pictures, videos and other exciting content to capture people's attention!
By taking advantage of Google Ads, you can ensure that your daycare is the first result to appear when someone searches for "daycare near me".
Compelling visuals and effective copywriting will entice prospective customers to your website or even encourage them to reach out directly.
Investing in these methods can help elevate enrollment and allow you to target a broader range of people. Through this beneficial strategy, it's possible to maximize the visibility of your daycare center while guaranteeing its success!
Online reviews are vital to the success of any daycare center. Invite your current customers to create a review and get their first-hand insight into your quality of care. It is an effective strategy for promoting your business and will help boost enrollment numbers!
Maximize your daycare center's visibility by initiating a referral program! Offer your loyal customers rewards for referring new ones, and you will soon reap the benefits of word-of-mouth.
This approach is an excellent way to strengthen relationships with existing clients while encouraging them to share the good news about your business.
Start this system today; I guarantee it'll do wonders for you!
A Search-Friendly and Responsive Website
Your website should be search-friendly and modern, appealing to potential customers seeking daycare services. I'd appreciate it if you could provide comprehensive information about your services, prices, facilities and even client testimonials for added credibility.
Furthermore, the navigation must be straightforward so visitors can effortlessly find what they are looking for without wasting time!
Billboards and In-Person Advertising
Remember the power of classic marketing methods like billboards!
Properly placed, these can grab attention and draw in potential consumers. Furthermore, attending local fairs and markets geared towards daycare centers would be beneficial, so you can actively promote your services through interpersonal connections and activities.
5. Follow Up With Child Care Center
Last but not least, remember to follow up with interested customers! Make sure you answer any questions or concerns they might have.
Additionally, offering early enrollment incentives would be wise to attract more people to your daycare center.
Track and Measure Results
To accurately chart your progress, measuring the results of your marketing initiatives is essential. Monitor and assess the performance of each campaign you launch so that you can make any necessary changes, fully grasping what works best for you.
Doing this will guarantee advancement in reach and success when targeting potential customers with strategic outreach strategies!
Adjust Your Strategy as Needed
Please feel free to change your daycare marketing strategy if the current results are satisfactory. Constantly calibrating and readjusting your efforts is critical for any successful promotional plan.
Moreover, monitoring data will help you understand which sections need development and give you a better insight into how many people have been positively affected by your methods!
Ultimately, remember to check in with clients who have already signed up.
Ensure they're pleased with your services and that all their needs are being met promptly – this can help build customer loyalty and boost your business's reputation among prospective customers!
Parent-Friendly Management Program
To take your business to the next level, consider investing in a parent-oriented management program that will extend your reach and the quality of your services.
Parents can have peace of mind knowing experts are looking after their children!
Reap the rewards of a robust parent referral program! It will help expand your reach, give you an edge over other daycare centers, and incentivize customers to spread the word about you.
With diligent effort combined with smart strategizing, success is well within reach – so feel free to experiment and mix up your tactics until you find what works best for you!
As a final piece of advice, offer discounts and incentives to first-time customers and those who sign up for extended services.
Generosity goes a long way in business, so don't hesitate to offer your clients great deals! With these essential points in mind, you should have all the tools necessary to build an effective daycare marketing strategy.
6. Refine Your Strategy
Could you constantly refine your strategy to get the best results? As the market evolves, so should your approach – staying on top of current trends and adjusting will ensure you remain competitive.
Good luck! Your daycare center can be a smashing success with proper planning and dedication!
Related: 10 Creative Daycare Logo Ideas: Free Websites to Design Daycare Logo
Monitor Feedback From Customers
Following up with customers and monitoring their feedback is vital to maintain customer satisfaction. You can send surveys or ask them to leave reviews on your website, social media pages, Google My Business profiles, etc.
Plus, you can utilize listening tools that search for any mentions of your brand online, so you know exactly how they feel about it! Doing this helps ensure all our clients are happy with our service level.
It's essential to keep your messaging fresh and relevant. Take the time to analyze which of your strategies are working and adjust accordingly.
Feel free to experiment with new ideas – it might even help you reach a wider audience or boost customer engagement!
Don't restrict yourself to just one marketing platform for your daycare. Experiment with social media sites, blogs, and other outlets to identify which generates the most success!
It will grant you access to more potential clients and increase engagement.
How to Reach the Target Audience for Daycare Advertising?
As with any business, finding your target audience is the key to successful daycare advertising. Reaching out to parents strategically and thoughtfully will help you maximize your efforts and ensure you're engaging with people who are most likely to use your services. Here are some tips for reaching the target audience for daycare advertising:
Identify Your Target Audience: Before beginning your daycare advertisement, figure out who you want to reach. Consider age range, location, gender, income level and other factors that may be relevant to the specific services you offer.
Use the Right Channels: Once you have identified your target audience, decide which channels to use to reach them. Social media, local newspapers and radio ads are all viable options for daycare advertising as long as you tailor your message to the platform.
Create Engaging Content: Find ways to make your content engaging and relevant to the parents in your target market. Consider their interests, needs and pain points when creating your ads, and use language that resonates with them.
Focus on the Benefits: Remember, the focus of your advertisement should be the benefits of using your daycare services. Highlight features such as convenience, affordability and safety – elements that parents care about most when choosing a daycare center for their family.
Make it Actionable: Ensure you provide a clear call to action in your daycare advertisement. Please include information on contacting you, and make it as easy as possible for parents to take that next step.
Stay Consistent: Finally, stay consistent with your messaging across all channels. This will help cement your brand identity and ensure your advertising reaches the right people.
Read more: Daycare Sign Ideas | Child Care Signage
Do's and Don'ts for Daycare Advertising?
When creating daycare advertisements, there are some essential dos and don'ts to remember.
Do's:
Use language that resonates with your target audience
Focus on the benefits of your daycare services
Include a call to action in your advertisements
Monitor feedback from customers and refine your messaging accordingly
Test different platforms to reach more potential clients
Don't:
Ignore customer feedback or negative reviews
Use generic messaging that doesn't appeal to parents
Overcomplicate your advertisements with too much information
Neglect to stay consistent across all platforms
Forget to track the results of your advertising campaigns
Frequently Asked Questions
How Can I Promote My Daycare?
To effectively promote your daycare, you should create captivating content that allows customers to experience the advantages of utilizing your services.
Additionally, it's essential to use various advertising platforms like Facebook or Google Ads for maximum reach and engagement potential.
Above all else, ensure that your message is consistent across every channel so that prospective patrons know exactly what they can expect from using your service!
As a bonus of staying on top of customer feedback – this will allow you better understand how people perceive and interact with what you are offering them.
How Do New Daycares Get Prospective Parents?
The most crucial factor to attract customers for your new daycare is accurately pinpointing who you want as clients. Begin by determining which audience best fits your product or service and then use appropriate channels to reach them.
Leverage social media outlets, local newspapers and radio broadcasts, and produce content that speaks directly to parents. Emphasize a call-to-action within your advertising pieces so audiences understand what action they should take next, and constantly diligently monitor each campaign's effectiveness through tracking results.
How Do I Attract Parents to My Daycare?
To draw in parents to your child care service, you must communicate effectively with them. Ensure that your words touch their hearts and emphasize all the advantages of using your facility.
Parents are generally concerned about convenience, cost-effectiveness, and safety – so make sure these topics take precedence when selling yourself as a daycare provider.
Moreover, be steadfast with whatever message you convey across all channels; plus, track any campaigns/ads for a more accurate analysis of what works best!
Conclusion
Daycare advertising can be a challenging feat. However, it is a fantastic way to reach the ideal consumer base and attract more people.
To ensure success, create content that captivates viewers; focus your advertisements on the advantages of enlisting in your services; incorporate calls-to-action into all ads; and constantly deliver consistent messages across all platforms.
By following these tips, you can successfully promote your daycare, thus boosting customer count!