10 Creative Daycare Logo Ideas: Free Websites to Design Daycare Logo
Welcome new daycare owners! Have you been spending sleepless nights wondering how to create the perfect logo for your business?
A great logo is essential for building brand recognition and establishing a reputation that parents can trust. In your logo, you can include Playful Animal Characters, Colorful Building Blocks and Happy Sun and Smiling Clouds.
In this post, I have curated 10 logo design ideas for daycare. Step-by-step instructions to prepare a daycare logo, recommended websites for designing, and tips for creating a daycare logo that can resonate with potential customers and build your brand identity.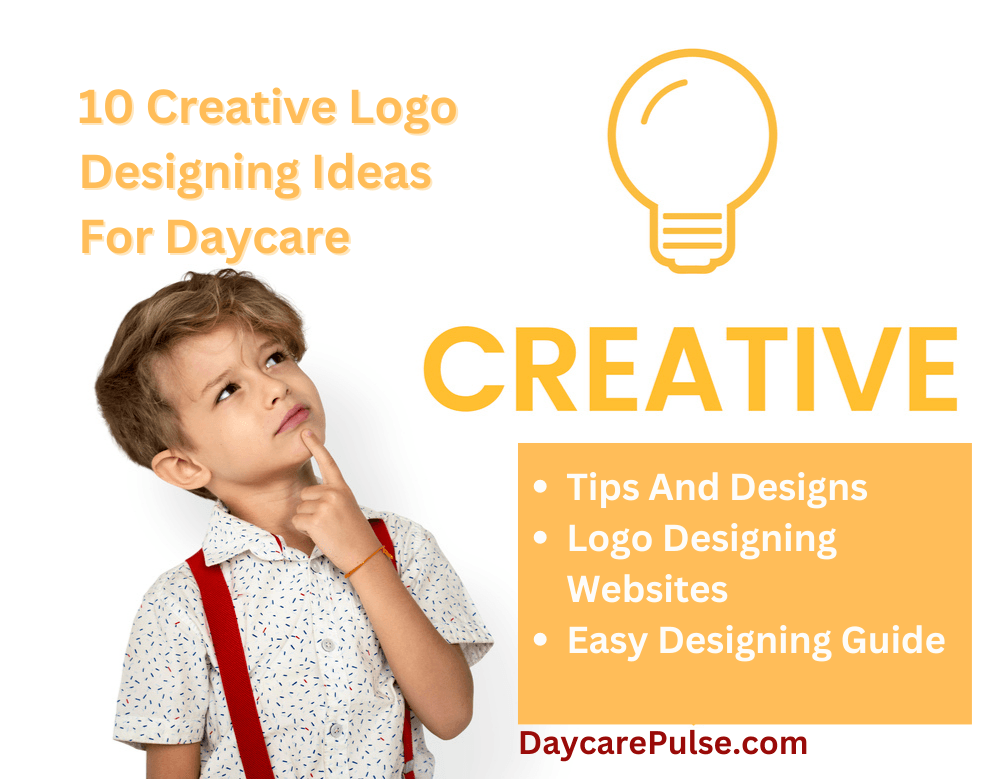 10 Logo Design Ideas For Daycare
Tune in now and start designing the perfect logo for your business!
Related: 12 Creative Daycare Name Ideas
1. Playful Animal Characters
Utilize friendly and cute animal characters to evoke a sense of joy and playfulness.
Choose animals relatable to children, such as dogs, cats, or rabbits.
Incorporate animated expressions and dynamic poses to bring the characters to life.
Use bright and vibrant colors to make the characters visually appealing and engaging.
2. Colorful Building Blocks
Incorporate emotional building blocks to represent learning, creativity, and child development.
Arrange the blocks in a way that spells out the name or initials of the daycare.
Use different colors and patterns on each block to create a visually stimulating design.
To enhance their appeal, include playful elements like children's handprints or smiley faces on the blocks.
3. Tree of Growth
Depict a tree symbolizing growth, with leaves representing children's progress and development.
Show the tree with various stages of growth, from a small sapling to a fully mature tree.
Use vibrant and diverse colors for the leaves to represent the individuality and diversity of children.
Incorporate small details like swings or children climbing the tree to emphasize the daycare's focus on play and exploration.
4. Happy Sun and Smiling Clouds
Use a cheerful sun and friendly clouds to create a warm and inviting atmosphere.
Give the sun a smiling face and vibrant rays to radiate positivity and happiness.
Use fluffy clouds with friendly expressions to create a welcoming and comforting feel.
Add elements like rainbows or kites to evoke a sense of joy and playfulness in the logo.
5. Playful Kids Holding Hands
Showcase children holding hands or playing together, emphasizing social interaction and friendship.
Illustrate children of different ethnicities and genders to promote inclusivity and diversity.
Depict the children in dynamic and active poses to convey a sense of energy and enthusiasm.
Include elements like colorful balloons or playful toys to enhance the sense of fun and playfulness.
6. Educational Tools and Books
Include books, pencils, or other educational tools to represent the daycare's focus on learning and education.
Arrange the books and tools in a way that forms a playful shape or pattern, like a puzzle or a house.
Incorporate elements like letters or numbers to emphasize the educational aspect.
Use bright colors and bold typography to make the logo visually appealing and attention-grabbing.
7. Magical Adventure in a Storybook
Create a logo inspired by a storybook or fairy tale, conveying imagination, wonder, and storytelling.
Illustrate a magical book with open pages, showing colorful illustrations or characters inside.
Use whimsical typography and decorative elements to enhance the fairytale theme.
Incorporate elements like stars, magic wands, or castles to evoke a sense of wonder and enchantment.
8. Child's Handprints
Incorporate handprints to symbolize care, creativity, and the personal touch of the daycare.
Use handprints in different colors to represent the diversity of children attending the daycare.
Arrange the handprints in a playful pattern or formation, like a heart or a circle.
Include small details like fingerprints or doodles within the handprints to add a personalized touch.
9. Friendly Owls and a Crescent Moon
Feature adorable owls and a crescent moon to evoke a cozy nighttime ambiance and a sense of safety.
Show the owls perched on a tree branch or flying together, symbolizing freedom and exploration.
Use soft and soothing colors to create a calm and comforting atmosphere.
Add stars or a moonlit sky as a background to enhance the nighttime theme.
10. Silhouette of a Swing
Use a swing silhouette to represent fun, outdoor play, and childhood memories.
Illustrate a swing with children swinging, conveying a sense of joy and freedom.
Include elements like trees, grass, or flowers to create a natural and playful setting.
Use dynamic lines and curves to depict the motion and energy of the swinging children.
Related: How to Promote Your Daycare Business
7 Easy Steps Guide to Design Daycare Logo
The step-by-step process to design a daycare logo is stated as follows:
1. Research and Analysis
Get to know your fantastic little audience.
Understand what makes each age group unique.
Consider what parents love to see in a logo.
Take a look at the diverse demographics in your area.
2. Review Competitors' Logos
Explore what other daycare logos have in common.
Please take note of their unique and inspiring design ideas.
3. Study the Target Audience
Dive deep into the world of children of different ages.
Discover their interests and passions.
Craft a logo that makes both children and parents smile.
4. Note Unique Design Approaches
Seek out exciting design inspiration from various industries.
Add your creative twist to make your logo stand out.
5. Identify Common Elements
Find out what playful and familiar elements other daycare logos use.
Incorporate these elements to create a sense of connection and joy.
6. Understand Parental Preferences
Put yourself in the shoes of remarkable parents.
Please design a logo that captures their hearts and values.
7. Analyze Demographics
Embrace the rich diversity of your community.
Create a logo that celebrates the unique culture and spirit of your area.
Also read: What Should I Name My Daycare?
4 Tips to Design the Best Logo Daycare
By following these four tips, you can design a logo that effectively represents the daycare, captures the attention of children and parents, and conveys a sense of trust and professionalism.
Remember, simplicity, child-friendly colors, and legible typography are critical elements in creating the best logo for a daycare.
1. Understand the Brand and Target Audience
Take the time to grasp the essence and values of the daycare brand fully.
Consider the target audience, including the age range of the children and their parents' preferences.
Align the logo design with the brand identity and create a visual representation that resonates with children and parents.
2. Avoid Excessive Details
Keep the logo design simple and clean, avoiding overly complex or intricate elements.
Excessive details can make the logo visually cluttered and less recognizable, especially for young children.
Opt for clear and distinct shapes that children can easily understand and remember.
3. Choose a Child-Friendly Color Palette
Select a color palette that is vibrant, playful, and appealing to children.
Bright colors like red, orange, yellow, and blue evoke energy and excitement.
Consider using softer tones for a soothing effect, especially for younger children.
Balance the colors to create harmony and ensure they complement each other in the logo design.
4. Ensure Legible Typography
Choose a font that is easy to read and understand, especially for young children developing their reading skills.
Opt for simple and bold typography that stands out and remains legible even when the logo is scaled down.
Avoid decorative or overly stylized fonts that may hinder readability.
Experiment with typography to find a balance between playfulness and clarity.
4 Recommended Websites to Design Daycare Logos
When designing a daycare logo, various websites offer user-friendly tools and resources to create professional and eye-catching logos. Here are some recommended websites to design daycare logos:
Canva provides many templates, graphics, and customization options for logo creation.
Choose from a vast library of icons, illustrations, and fonts to create a unique and personalized daycare logo.
The intuitive drag-and-drop interface makes experimenting with different design elements and layouts easy.
DesignEvo is a dedicated logo maker that offers a user-friendly platform for designing logos, including daycare logos.
Browse a vast collection of templates and customize them according to your daycare's theme and vision.
DesignEvo provides a straightforward editing process, allowing you to easily modify colors, fonts, and icons.
LogoMaker offers a streamlined logo creation process, providing a variety of design elements and layout options.
Begin by selecting from a wide range of industry-specific icons and then customize the colors, fonts, and layout to suit your daycare's identity.
LogoMaker provides a straightforward and intuitive interface, making it accessible to users with varying levels of design experience.
FreeLogoDesign offers a user-friendly platform for designing high-quality logos for various industries, including daycare.
Please select from a wide range of customizable templates or start from scratch with their easy-to-use logo editor.
With FreeLogoDesign, you can experiment with colors, fonts, and icons to create a visually appealing and representative logo for your daycare.
Frequently Asked Questions
1. How Do I Make My Daycare Stand Out?
You can make your daycare stand out in three simple steps; the rest goes to your creativity and how you execute the plan.
Specialize in a niche.
Emphasize quality and safety.
Create a nurturing environment.
2. How Do You Create a Daycare Name?
You can create a daycare name in these more straightforward steps:
Reflect on your values and mission
Brainstorm keywords and ideas
Consider your target audience
Could you keep it simple and memorable?
Check for availability
Get feedback
Register and protect your name
You may also like to read: 12 Creative Daycare Name Ideas
3. How Do You Make a Logo?
Understand your brand
Hire a professional designer or use design tools
Choose appropriate colors, fonts, and symbols
4. How Do New Daycares Get Clients?
They Advertise locally through online platforms, community boards, and local publications.
Utilize social media and create a professional website
Offer referral incentives to current clients
Host open houses or information sessions for parents
Collaborate with local businesses or organizations for cross-promotion
Engage in community events or sponsorships
Read on How to Advertise Daycare? | Promote Your Daycare or Childcare and distinguish yourself from the competitors and note these 13 steps to attract more clients to your daycare.
5. How Do You Brand a Daycare?
Utilize these easy items to make your brand voice heard and valued.
Define your daycare's mission, values, and unique selling points
Develop a distinct visual identity, including a logo, colors, and fonts
Create consistent messaging and tone in all communications
Utilize social media and online presence to showcase your brand
Provide excellent customer service and maintain a positive reputation
6. What 3 Things Should Every Daycare Have?
The must-have for every daycare are:
Safe and secure environment
Qualified and caring staff
Engaging and age-appropriate activities
Conclusion
In conclusion, making your daycare stand out requires a combination of factors, including specializing in a niche, emphasizing quality and safety, and creating a nurturing environment. Focusing on these aspects lets you differentiate your daycare and attract parents looking for unique, high-quality childcare services.
When creating a daycare name, you must reflect your values and mission, brainstorm keywords and ideas, consider your target audience, and choose a simple, memorable, and available name. Seeking feedback and registering your chosen name will help establish and protect your brand identity.
Designing a logo for your daycare involves understanding your brand, hiring a professional designer or utilizing design tools, choosing appropriate colors, fonts, and symbols, and ensuring the logo is versatile and scalable for various formats.
By implementing these strategies and focusing on quality and differentiation, your daycare can thrive and stand out in a competitive market.