12 Parents Attracting Daycare Name Ideas
Are you starting a new daycare owner and feeling stuck on what to name it? Naming your daycare center is an essential but often tricky task.
You want something catchy yet appropriate, appealing to young children and their parents. So you can name your daycare relevant to location, education and development, nature inspiration, personalization or creativity to grasp customer's attention.
Some of the daycare name ideas are:
Budding Blossoms Childcare
Tiny Tots Learning Academy
Whimsical Wonders Childcare
Rainbow Dreams Daycare
Learning Lanes Preschool
Adventure Land Childcare Center
Sparkling Stars Nursery
Little Scholars Academy
Magical Moments Daycare
Budding Brains Childcare
In this blog post, I have explored 10 creative and fun ideas on how to find an excellent daycare name, easy tips to craft daycare names, and the worst daycare names to avoid while brainstorming daycare names.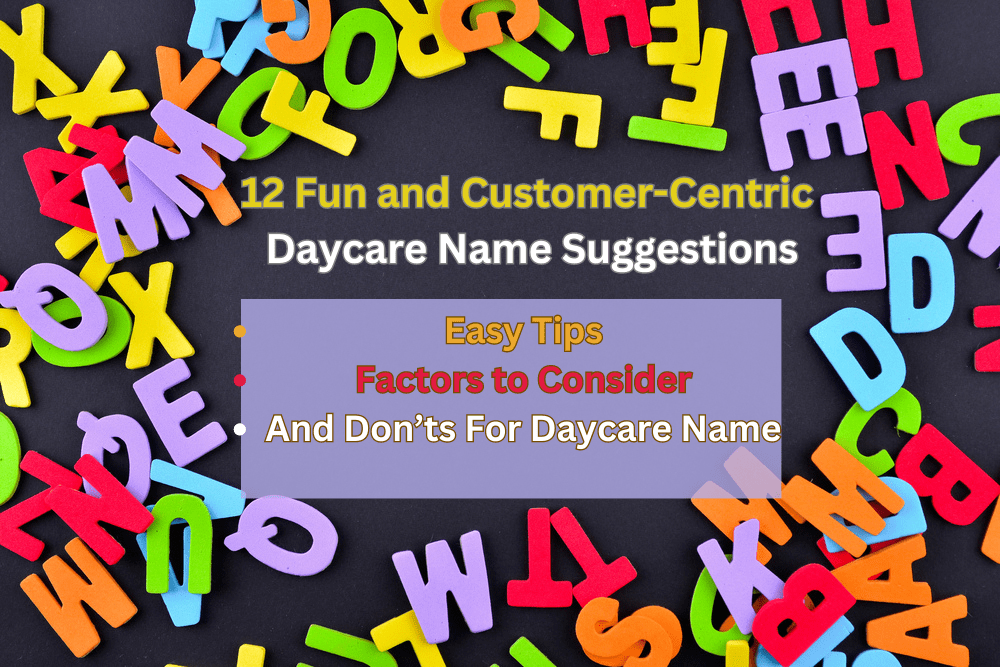 12 Easy Name Ideas For Daycare
Explore 10 easy and creative name ideas for daycares that encompass various themes and approaches. So let's dive in and unleash our creativity!
1. Location-Based Daycare Names Ideas
Location plays a significant role in daycare names as it adds a personal touch and helps parents connect with the local community. You can incorporate the city or neighborhood where your daycare is situated, such as "Sunshine City Kids" or "Harmony Heights Nursery."
Some location based daycare name ideas are.
Sunny Shores Daycare
City Stars Childcare Center
Hilltop Haven Nursery
Meadow View Kids Academy
Riverside Playhouse Daycare
You may also like to read: 10 Creative Daycare Logo Ideas: Free Websites to Design Daycare Logo
2. Playful and Creative Daycare Name Ideas
Incorporating rhyming or alliteration can make your daycare name fun and memorable. Embrace imaginative and whimsical words like "Sparkle Haven" or "Imagination Galaxy" to ignite children's creativity and curiosity.
Imagination Station Preschool
Happy Tots Playcare
Whimsy Wonderland Childcare
Laugh and Learn Daycare
Playful Puddles Nursery
3. Educational and Developmental Daycare Name Ideas
Educational and developmental names are ideal for highlighting your daycare's focus on learning, creativity, and growth. Words related to education, discovery, or exploration can be incorporated, such as "Discovery Den" or "Adventure Avenue Academy."
Little Scholars Learning Center
Growing Minds Daycare
Bright Beginnings Academy
Smart Sprouts Childcare
Wonder World Preschool
4. Nature-Inspired Daycare Names
Connecting children with nature is a beautiful way to promote their well-being and environmental awareness. Nature-inspired daycare names can include names of flowers, trees, or animals, such as "Blossom Buddies" or "Whispering Willows."
Blossom Buds Childcare
Forest Friends Daycare
Tiny Trekkers Nursery
Serene Springs Playcare
Harmony Haven Daycare
5. Personalized Daycare Name Ideas
Adding a personal touch to your daycare name can create a strong bond with parents and children. Incorporating the owner's or founder's name can lend a sense of trust and connection. For example,
Emily's Early Explorers
Johnson's Joyful Juniors
They highlight the personal touch of the daycare experience.
Another approach is to highlight the daycare's unique features or values. Showcase what sets your daycare apart, such as emphasizing a positive and inclusive environment.
Rainbow Connections
Sunny Smiles Academy
Additionally, using family-friendly terms or references like "Cozy Nest Childcare" or "Harmony House Nursery" can create a sense of warmth and comfort.
6. Cute Daycare Name Ideas
Creating a cute and endearing daycare name can instantly capture attention and evoke a sense of affection. Adorable daycare names like the following make a warm and inviting atmosphere.
Tiny Tots Haven
Sweet Pea Playcare
Cuddle Bugs Nursery
Tiny Turtles Childcare
Little Lambs Daycare
To emphasize the playful aspect, consider playful and cute daycare name ideas like "Giggles & Grins" or "Bouncy Bears Playhouse." These names bring a sense of joy and energy to the forefront, capturing the essence of childhood.
7. Daycare Name Ideas Generator
If you're seeking inspiration beyond traditional methods, using a daycare name generator can spark your creativity and offer fresh ideas.
A daycare name generator leverages algorithms to generate unique and creative names based on your input and preferences. These tools are excellent for brainstorming and exploring unconventional name ideas.
To generate creative daycare names, simply enter relevant keywords like "play," "learn," "grow," or any other theme you desire.
8 . Unique Daycare Name Ideas
Standing out with a unique daycare name is crucial in a competitive landscape. Your daycare name should reflect the essence of your business and leave a lasting impression.
Consider unique daycare names like "Whispering Willow Wonderland" or "Luminary Learning Land." These names are exceptional and distinctive, showcasing your commitment to providing a one-of-a-kind experience.
To achieve an unconventional approach to daycare naming, think outside the box and embrace unconventional strategies. Combine random words, experiment with wordplay, or invent new words altogether. The goal is to create a fresh, memorable, and unique name.
Enchanting Explorers Nursery
Sparkle Sprouts Childcare
Joyful Journeys Daycare
Curious Creatures Playcare
Little Luminaries Preschool
9. Home Daycare Name Ideas
Naming your home daycare requires a personal touch that reflects the warm and nurturing environment you provide. Let's explore some home daycare name ideas that capture the essence of your in-home childcare business.
Consider memorable names for home-based daycares like "Cozy Cottage Kids" or "Harmony Haven." These names evoke a sense of comfort and tranquility, emphasizing the nurturing atmosphere of a home daycare.
Cozy Nest Daycare
Home Sweet Home Playcare
Little Haven Childcare
Snuggle Up Nursery
Tiny Trails Playhouse
10. In-Home Daycare Name Inspiration
Finding inspiration for your in-home daycare name can be an exciting journey. Look around your environment, draw from personal experiences, or consider activities and themes that resonate with you. Let your imagination soar as you craft the perfect in-home daycare name.
Consider crafting the perfect in-home daycare name by combining elements that reflect your daycare's unique qualities. Use your personalized name and add descriptors like "Creative Corner" or "Enchanted Explorers" to showcase your passion and values such as
Sunshine Smiles Childcare
Playtime Paradise Daycare
ABC Adventures Preschool
Growing Grins Childcare
Hug-a-Bugs Nursery
11. Daycare Center Name Ideas
For those establishing a daycare center, the name carries the weight of professionalism and trustworthiness. Let's explore some daycare center name ideas that reflect a sense of credibility and expertise.
Naming your daycare center requires a balance between professionalism and a child-friendly atmosphere. Consider names like "Bright Beginnings Center" or "Learning Haven Academy" to showcase your commitment to early education. These names exude professionalism while highlighting a nurturing environment.
Little Sprouts Daycare Center
Bright Beginnings Childcare Center
Learning Land Preschool Center
Tiny Troopers Academy Center
Happy Feet Playcare Center
12. Creative Daycare Name Ideas
Infusing creativity into your daycare's name sets the tone for an imaginative and innovative learning experience. Let's explore some creative daycare name ideas that reflect your commitment to unleashing children's creativity.
Unleashing creativity in daycare naming requires thinking outside the box. Consider innovative and imaginative daycare name ideas like "The Imagination Station" or "Curiosity Cove." These names evoke a sense of wonder and encourage exploration.
Consider thinking outside the box and using unconventional naming strategies to capture attention and inspire imagination. Combine random words, explore unique wordplay, or create whimsical names that transport children to magical worlds.
Imaginative Minds Childcare
Play and Learn Daycare
Wonder Whiz Preschool
Little Dreamers Nursery
Artistic Antics Playcare
You may also like to read: What Do I Need to Open a Daycare Center
Unique Daycare Names Suggestions
| Daycare Name Ideas | Playful Themes | Nature-Inspired | Learning Focus |
| --- | --- | --- | --- |
| Little Sprouts | Yes | Yes | Early Education |
| Sunshine Meadows | No | Yes | Socialization |
| Tiny Explorers | Yes | No | Hands-on Learning |
| Happy Haven | No | No | Emotional Development |
| Creative Kids | Yes | No | Art and Creativity |
| Nature's Nest | No | Yes | Outdoor Exploration |
| Bright Beginnings | No | No | Cognitive Development |
| Adventure Avenue | Yes | No | Experiential Learning |
| Wonder World | Yes | Yes | Imaginative Play |
| Playful Pals | Yes | No | Social Skills Development |
Please note that the additional columns suggest possible themes, such as playful themes, nature-inspired names, and specific learning focuses that can help further tailor the daycare name to reflect your desired approach and atmosphere.
6 Easy Steps to Craft Perfect Daycare Names
Explore easy tips to help you generate creative daycare name ideas for your daycare.
Read on What Should I Name My Daycare?
1. Brainstorming Daycare Business
The first step in creating a compelling daycare name is to unleash your creativity through brainstorming. Brainstorming allows you to tap into your imagination and explore various concepts and themes that align with your daycare's unique qualities.
Let your thoughts flow freely, and consider what makes your daycare unique.
Research popular daycare names in your area or beyond to fuel your creativity further.
Research can provide valuable insights into current naming trends and help you identify elements that resonate with parents and children.
It's important to note that this research is not meant for imitation but to gain inspiration and understand what works well in the daycare industry.
2. Identify Key Themes and Elements
Once you have familiarized yourself with popular daycare names, it's time to identify the key themes and elements closely related to daycare services.
Think about the core values of your daycare, the mission you aim to accomplish, and the emotions you want to evoke in parents and children.
Identifying these key themes and elements will be a solid foundation for generating meaningful name ideas.
Consider words and phrases associated with child development, education, nurturing, playfulness, and safety.
Choose keywords that will help you create a list of potential words and phrases that capture the essence of your daycare.
3. Generate a List of Potential Words and Phrases
With the identified key themes and elements in mind, it's time to generate a list of potential words and phrases for your daycare name.
Start by brainstorming words that reflect the values and mission of your daycare.
Experiment with synonyms, adjectives, and nouns to create diverse options.
Be playful and open-minded during this process.
As you develop your list, consider the characteristics that make a name stand out.
Look for words that are easy to pronounce and spell, as this ensures that parents can effortlessly share and remember your daycare's name when recommending it to others.
A name that rolls off the tongue effortlessly creates a positive and memorable impression.
4. Refining and Evaluating
Once you have a comprehensive list of potential words and phrases, it's time to refine and evaluate each option.
Start by cross-referencing name ideas with your selection criteria
Be reflective of the daycare's values and mission
Make it appealing to the target audience
Make it memorable and unique
Make it positive connotations and imagery
5. Narrow Down the List to the Most Promising Options
After evaluating each name based on the selection criteria, it's time to:
Narrow your list to the most promising options.
Consider the branding potential and how well each character aligns with your daycare's unique selling points.
Eliminate words that don't quite capture the essence of your daycare or fail to meet your expectations.
6. Conduct Market Research
To further refine your options:
Consider conducting market research or seeking feedback from potential customers.
Provide valuable insights into the preferences of your target audience and help you make an informed decision.
Create surveys or organize focus groups to involve potential customers in the naming process.
Seek opinions on the shortlisted names and ask for suggestions.
This interactive approach makes parents feel valued and ensures that the last name resonates with them.
6 Factors to Consider For Naming Daycare
To summarize, here are the key factors to consider when crafting a daycare name:
Easy to Pronounce and Spell: Ensure your daycare name is easily understandable and memorable, making it effortless for parents to communicate.
Reflective of the Daycare's Values and Mission: Your name should accurately convey your daycare's core values and mission, creating a positive and trustworthy impression.
Appealing to the Target Audience: Consider the desires and preferences of parents and children, striking a balance that resonates with both groups.
Memorable and Unique: Stand out from the crowd with a distinctive and memorable name that sets your daycare apart.
Positive Connotations and Imagery: Choose words and phrases that evoke positive emotions and create a welcoming, nurturing, and joyful image.
You may also like to read: What Certifications Do I Need to Open a Daycare?
5 Worst Daycare Names You Should Avoid: Don'ts For Daycare Name
By avoiding these pitfalls, you can ensure that your daycare name is original, respectful, precise, professional, and easily memorable, leaving a positive and lasting impression on parents and children alike.
1. Common Naming Mistakes to Avoid
Overused and cliché daycare names blend in with the competition and lack originality, failing to make a lasting impression.
Generic and bland daycare names that fail to convey your daycare's unique qualities may not capture potential customers' attention.
You are following naming trends that quickly become outdated, risking the relevance and longevity of your daycare's name.
2. Inappropriate or Offensive Daycare Names
Ensuring sensitivity and inclusivity by avoiding names perpetuating stereotypes, excluding certain groups, or offending.
It is understanding cultural appropriation and refraining from using names that misrepresent or appropriate a culture without understanding its significance.
Steer clear of offensive and controversial daycare names that contain foul language, derogatory terms, or references that may be sensitive or controversial to specific individuals or communities.
3. Confusing or Misleading Daycare Names
You are avoiding misleading impressions by choosing a daycare name that accurately reflects the services and offerings of your facility.
You are ensuring clarity in your daycare name to prevent confusion and dissatisfaction among parents.
Opting for a name that conveys the essence of your daycare, making it clear to parents what care, education, and activities you provide.
4. Unprofessional Daycare Names
You are avoiding amateur daycare names that may undermine your reputation and deter parents from choosing your services.
Choosing a character that exudes professionalism, reliability, and expertise instills confidence in parents.
Establishing trust and credibility through your daycare name, emphasizing the high-quality care and education you offer.
5. Overly Long or Difficult-to-Pronounce Daycare Names:
Opting for simplicity and ease of pronunciation in your daycare name, making it easier for parents and children to remember and communicate.
Avoid overly long words that may be challenging to recognize and need to fit better in branding materials.
Choosing a name that is easy to pronounce and spell ensures effortless communication and recognition.
FAQs
Here are answers to some frequently asked questions about daycare names:
1. What Are Some Catchy Daycare Names?
Good daycare names are unique and memorable and reflect the values and mission of the daycare. Examples could include
Little Explorers Daycare
Happy Hearts Childcare
Bright Beginnings
2. How Do I Register My Daycare Name?
To register your daycare name, check with your local government or business registration agency. They will guide you through the necessary steps and requirements for registering your daycare name as a business entity.
3. Why Does Your Daycare Name Matter?
Your daycare name matters because it creates a first impression, establishes your brand identity, and helps with memorability, differentiation, professionalism, and marketing. It also connects with children and influences parents' decision-making.
4. What Should Be the Difference Between Daycare and Preschool Name Ideas?
Daycare names typically focus more on the care aspect and emphasize trustworthiness and reliability. Preschool names emphasize learning, fun, exploration, and discovery. Consider what activities you offer when selecting your daycare or preschool name.
You may also like to read: Daycare vs. Preschool: Best Child Care Selection Guide
Conclusion
Selecting the right daycare name is a significant decision that impacts your daycare's brand identity and ability to attract parents and children. Following this article's easy tips and considerations, you can craft a compelling and fitting name for your daycare.
An easy-to-remember and catchy daycare name can stick in parents' minds, making it easier for them to recall and refer your daycare to others.
With many daycare options available, a unique and creative name can set your daycare apart from the competition. It helps you stand out in a crowded market and attract potential clients.