What Should I Name My Daycare?
So you're opening a daycare. Seems like everything's planned except the name. It looks like a small thing, but who thought it would be this difficult? You spent hours and hours thinking about the perfect name but couldn't come up with anything.
And in the end, you ask, What should I name my daycare?
Don't stress. You can think of not only 1 but multiple good names only if you follow the right techniques.
And what are those right techniques? We're showing you a 3-step process to develop the best name for your daycare. And in the end, we've mentioned a few names to get your creative juices flowing.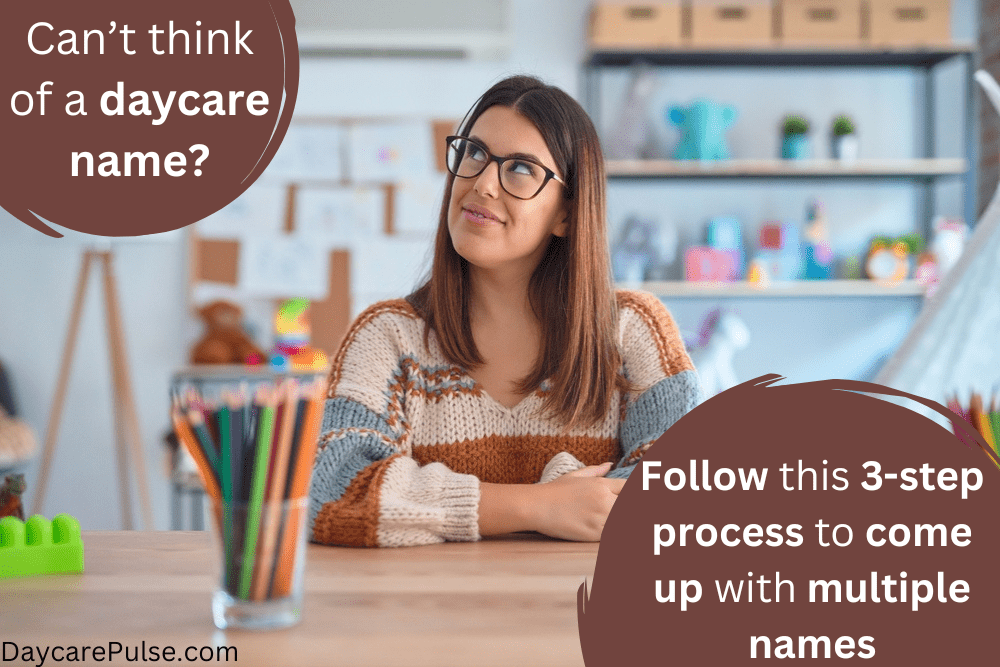 How Do You Come Up With a Daycare Name?
Here's a 3 step process to think and select the best anime for your daycare. First, we'll think, then write and lastly, decide.
Step1: Brainstorm
Let's have a brainstorming session. Think about your story and write down the key points. At this step, you only have to think about the various aspects of your business. Don't try to make a name with them. We'll do that in the next step.
Here are the aspects you should think about.
Your Services
You can make a good and relatable name by simply integrating your services. Here are some questions to help you get started.
What are your USPs (Unique Selling Propositions)?
What facilities you're offering?
Do you focus more on structured learning or fun activities?
What type of daycare center do you have? (center, home or leave-in)
Here are some examples of making a name with your services. 
For leave-in daycare: Leave-in care
For a fun-centric daycare: Kid's Play Daycare
For a home daycare: Kid's home or Children's home
To show both fun and learning aspects: Learn and fun daycare
Your Audience
Daycare goes from infant care to after-school programs. What age group are you targeting? This is important to consider as you can't name an infant daycare kids' play.
You can take one more step and think about your target customers, aka parents.
Your Vision
If you have a specific idea or philosophy behind your daycare, reflect it in your name. Write it down and think of 3 to 4 relevant words that you can use in your name.
For example, if it's a non-profit daycare, you can go with something like unconditional care or love.
If you're opening a themed daycare, then it's best to reflect that in your name.
Step2: Pour Out Your Ideas
Here, our thinking session ends. Hopefully, you'll have some information about your business now. Let's start to use that to coin a perfect name.
Start thinking about a name and write whatever comes to your mind. Don't try to make it perfect. And don't stop yourself from noting down even if you think it's crap. You might get a better idea from that one.
Once you've poured out all your name ideas on a piece of paper, short-list until you're left with 2 to 3.
If your list doesn't have any reasonable names at first, don't worry. Get back to it after a short break. Look for ideas and inspiration. It really helps in getting the creative juices flowing.
Step3: Decide the Name for Your Daycare
Now, let's select the best one from those 2 to 3 names you've short-listed. But what do you do when all those names sound perfect, and you can't decide on 1? 
Here's how to get over this problem.
Come Back After a Break
There'll be a lot going on in your mind at the moment. We need to eliminate all the noise and look again with a calm and peaceful mind. 
Any easy way to do so is to take a break. Rest, spend time doing something else and don't think about it. You can judge and analyze better when you come back with a fresh mind. 
Ask Family and Friends
If you still can't decide, it's best to stop thinking now and ask other people for their opinion. 
Ask your family and friends to pick their favorite one. A text message or a poll on social media can be helpful. 
Ask the Internet Community
You can also ask your virtual community or the general public for a better opinion. Create a poll on networking forums like Reddit and Quora and let the people give their opinions. 
Tips for Naming Your Daycare
1. Make It Stand Out
Suppose there are already some daycares in your area. You should stand out to get attention. And your name has a crucial role in driving people's attention.
You don't have to make it complicated. You can also stand out with a simple and clear name if you integrate your services, values or unique points in your name.
Also, if the other daycares have similar names, you should think of something else. For example, if they all have fun or learn in their name, you should avoid using it.
2. Make It Clear
The customer should understand who you are and what you do from your name. It shouldn't be vague. Instead, it should be extremely clear.
3. Keep It Short
Keep your daycare's name short and concise. We need a name, not a tagline.
4. Make It Memorable
Your business's name should be easy for people to remember. If you follow the above tips and make it clear and short, it'll automatically be memorable.
You can also use rhyming words. It not only makes it unforgettable but also sounds great and thus catches attention.
5. Look For Inspiration
If you're struggling with a name, look for some inspiration. It'll help you get started. And for the same reason, we're giving some daycare name ideas in the next heading.
What Are Some Good Daycare Names?
Little smile
Learn and grow
Sunshine daycare
Care kids
Care for all
Happy kids daycare
Bright little smile
Kid's city
Little World
Safe care
Smile my child
Crib care
Kid's party
Tiny hands
Kid's area
Conclusion
Now, you don't have to ask what I should name my daycare. We have given you a simplified process, tips and inspiration as well. The only thing you have to do now is to get to work.
So let's end this article here, and thank you for reading till the end.