How to Quit Daycare Job?: 11 Easy-to-Follow Steps
Are you tired of changing diapers, dealing with tantrums and convincing your toddlers to nap daily?
It can be scary to quit a job, but it is especially hard for daycare workers. Before taking this step, you should review relevant contracts and understand your rights and obligations as a worker. Talking to your employers about the situation is also a good idea.
By following the 11 steps accessible daycare quitting guide and implementing tried-and-true tips for finishing in style without offending anyone, you can easily say "goodbye" to your daycare job can transform from panic and dread to a liberating and empowering experience.
Read on for more!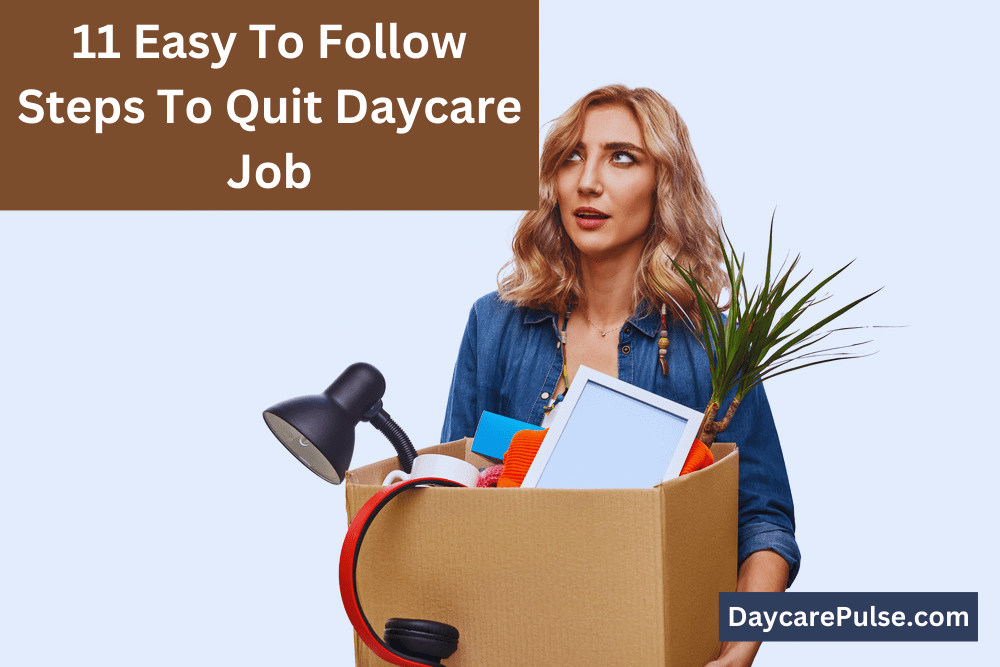 11 Easy Steps To Quit a Daycare Job
Here are 10 easy steps. Plus, tried and tested tips for quitting daycare jobs.
1. Plan Ahead
Planning is critical when you decide to quit a daycare job. Before departing, please discuss with your employer who will handle any tasks the daycare worker was previously responsible for and how they intend to execute this changeover.
With adequate planning and communication, you can be sure that no chaos or disorganization arises during this transition period.
2. Review the Job Agreement
Before resigning from a daycare facility, you must be well-informed of your job agreement and any contracts you may have signed.
It will ensure everyone understands their rights and obligations as an employee and prevent potential confusion or issues once you've resigned. Take the time to become familiar with all the necessary information so that everything runs smoothly when the day comes for you to leave!
3. Create a Resignation Letter
Submitting a formal resignation letter is an essential step in your transition away from this job that outlines the reasons for leaving and how much notice you are providing.
It will inform your employer of your intentions and ensure everyone involved knows the situation. For guidance purposes, you can find helpful examples online when drafting yours.
4. Talk to Your Employer in Person
By speaking with your employer in person, you can ensure everyone is on the same page about your intentions.
It gives them time to ask questions and provide more information if needed. Having this conversation will also help ensure the transition goes as smoothly as possible by allowing everybody to devise a plan together.
5. Be Professional
As you go through the process, you must remain professional and mindful of your words. It would be unfortunate if any comments were taken out of context or misinterpreted by anyone else.
Ultimately, it is in your best interest to depart on a positive note; after all, even future employers may check references!
6. Consider Referrals
If you had an enjoyable and satisfying experience working at a daycare center, take advantage of the opportunity to ask for referrals from your former boss before leaving. It allows you to maintain your professional network and have potential job openings in the future.
7. Talk to Children
If feasible, it is essential to inform the children of your resignation in a manageable manner.
Please explain why you leave with an upbeat attitude so they don't become discouraged or disheartened. By doing this, you can help them stay positive and inspired about taking on new changes and challenges!
8. Followup
After finishing your employment at the daycare, stay in touch with your employer to ensure that all the paperwork is correctly filed and that everyone is content with how everything has been handled.
9. Take Time to Reflect
After you depart your daycare job, take a moment to reflect on all of the knowledge and success experienced during that time. This will keep you in high spirits and help you recall the enjoyable moments from working there.
10. Make a Smooth Transition
To ensure an effortless transition, create a plan of action ahead of time that will provide security and comfort to everyone involved.
Contemplating your obligations when documents must be in order is vital. Planning out details beforehand guarantees a successful changeover!
11. Send a Thank You Note Afterward
Take the time to express appreciation for your employer as you leave your job. You are sending a personalized thank-you note or card to show gratitude for their guidance and support during your employment at the daycare facility. This kind gesture will be remembered long after you have left the position.
Interesting read you may also like: Daycare Worker's First Day | Daycare Job – Men Do Cry
Conclusion
Quitting a daycare job doesn't have to be complicated. With careful planning and professional courtesy, the transition can be smooth and beneficial for all involved.
Utilizing the tips described above will ensure that your employer is taken care of when you leave – which could lead to positive references in the future! And with some forethought and preparation, you can make quitting your daycare job simple.